Courteney and Rob's, lovely and intimate south coast wedding, was held on 26th June this year at Ye Spotted Dogge boutique hotel in Portsmouth.
This classy modern wedding was originally meant to host 120 guests – a number reduced to 30 in the end, because of pandemic restrictions. Reducing their original plans didn't mean minimising the style, joy or celebration in anyway, all of which was captured beautifully by the very wonderful Carrie Lavers, one of our highly recommended wedding photographers.
"We wanted a classic feel but nothing stiff or stuffy. We didn't really buy into anything too 'on trend' as didn't want anything to become dated looking back at photos in years to come."    
Carrie Lavers Photography

+ Follow
Courteney's dress was from Love My Dress favourite, and one of our highly recommended suppliers, Andrea Hawkes. London based Andrea Hawkes creates bridal gowns that have a clean, modern, minimalist vibe.
She has also been producing ethically and sustainable for multiple years now, making it a priority long before many of her bridal fashion counterparts.
"Andrea Hawkes provided an extremely professional yet friendly service. It was the first bridal shop I visited, and I was so impressed with how clean everything was – especially the dresses – so pristine."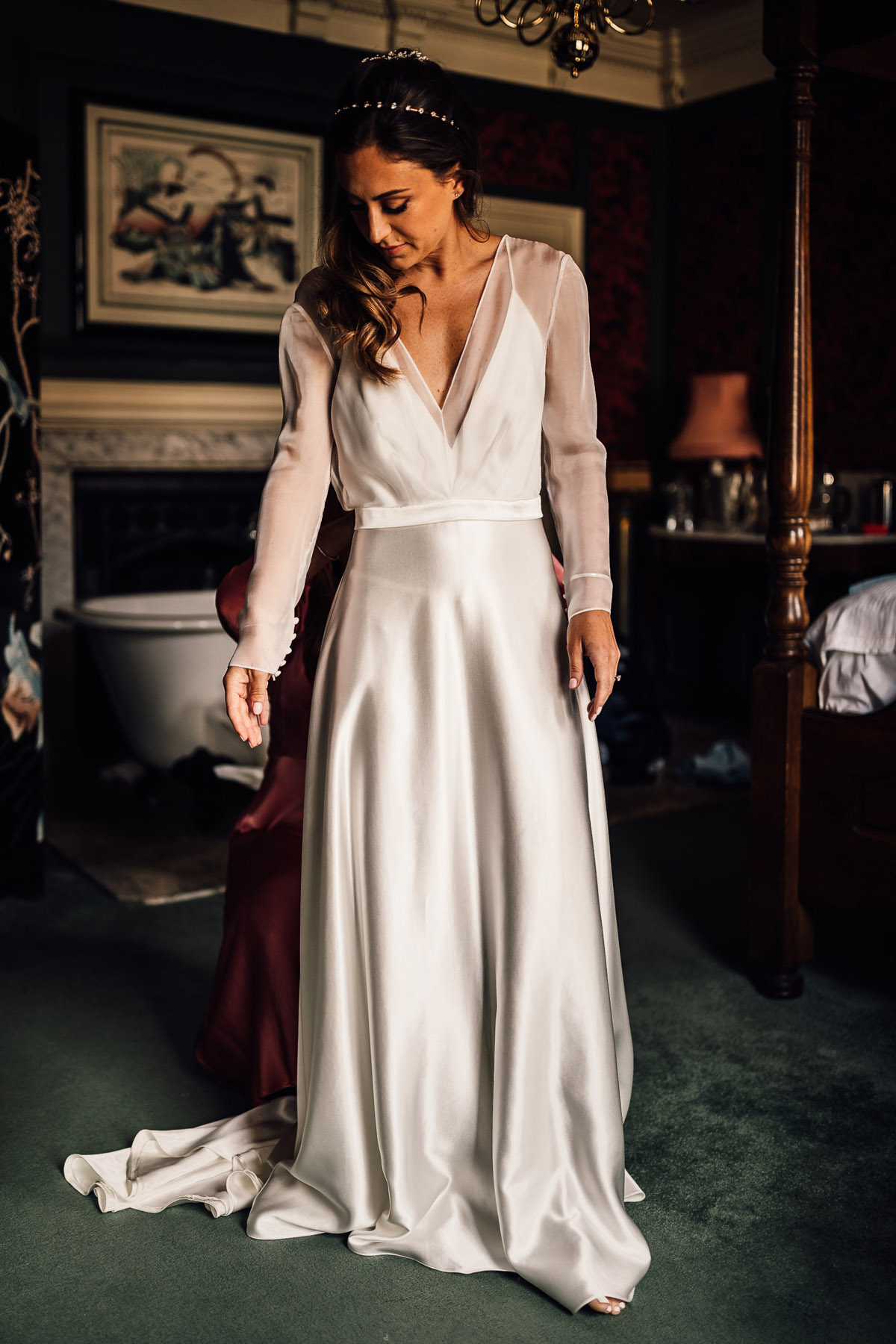 "I found that every shop after Andrea Hawkes was a disappointment – nothing seemed to compare to the luxurious silks and fabrics at Andrea Hawkes, and I knew after day 2 of shopping that I would be back."
The bride completed her look with a pair of silver T-bar heels from Emporio Armani, a rystal headband from Jennifer Behr and baby breath pearl hair pins from 14 / Quatorze.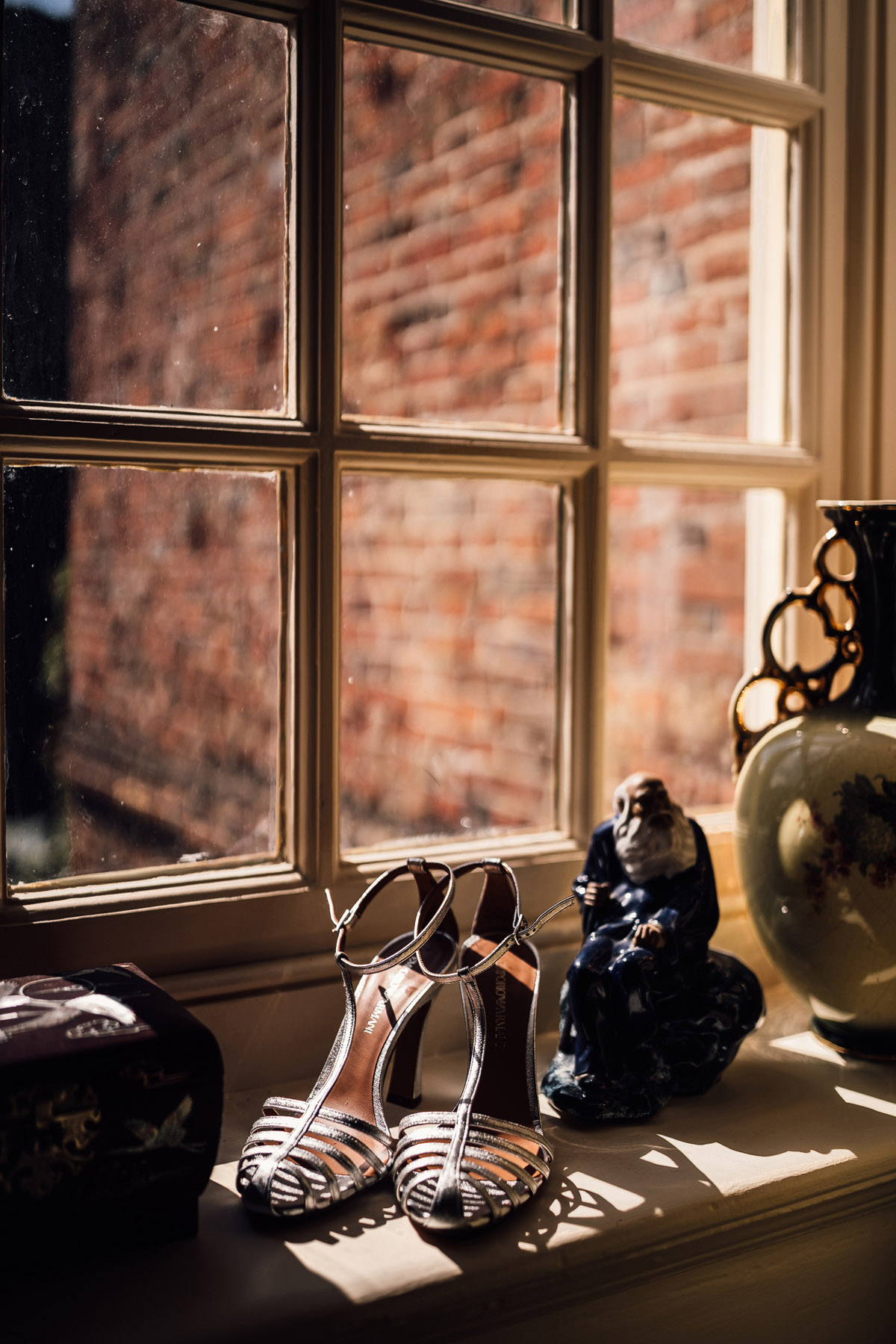 Courteney's maids wore the. most deliciously deep peach bias cut gowns from Ghost.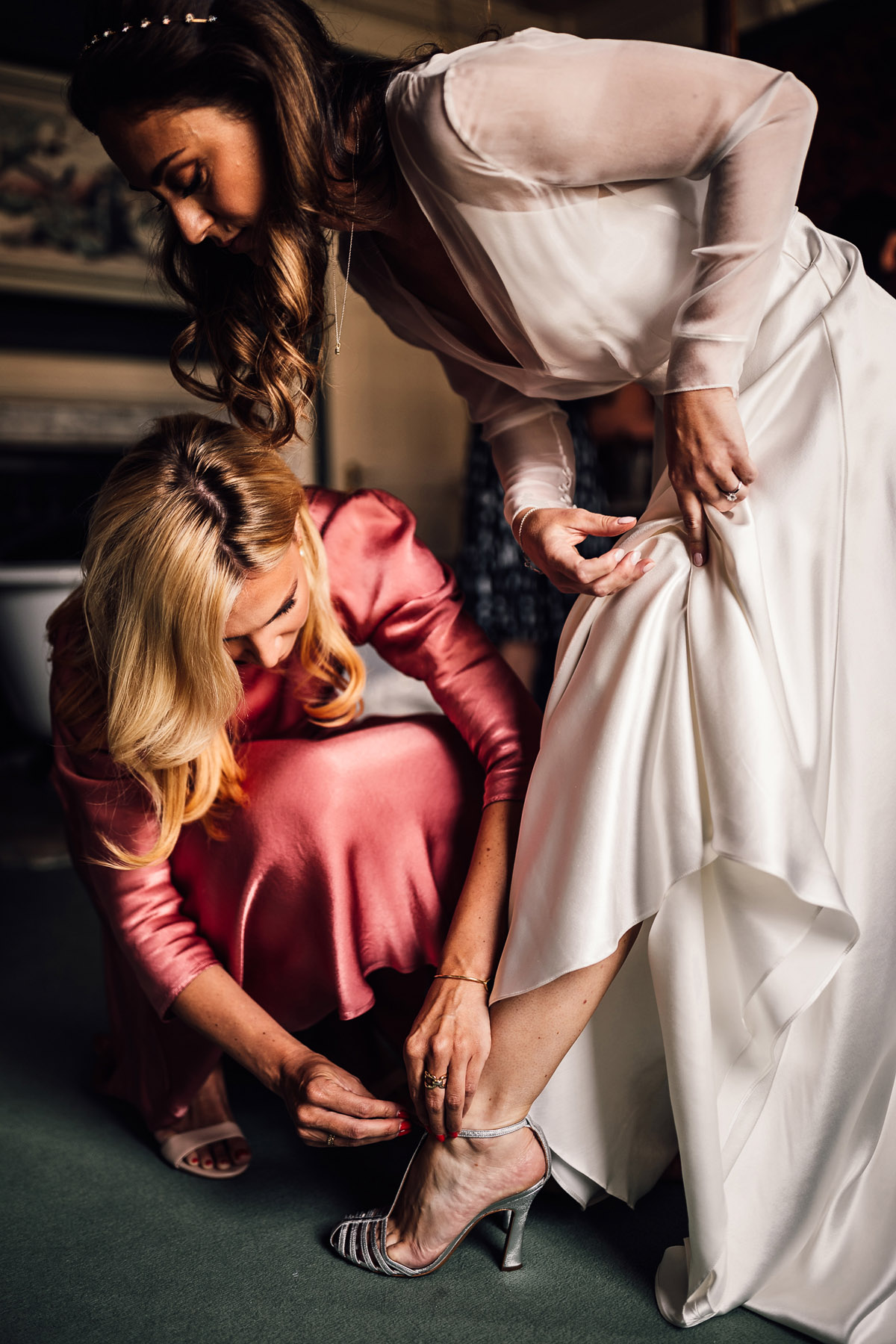 "I was drawn to the styles of a few dresses, and thought I may have to choose one, but Siobhan reassured me that I could take the top of one dress and have the bottom of another dress, add buttons here and there, change the neckline etc."
"Anything was possible, and nothing too much trouble."
"I loved how comfortable my dress was. The way the fabric moved. It was a heavy silk satin, and the light made it appear ethereal."
"I wore a chapel length veil with ladder lace edging from Andrea Hawkes too."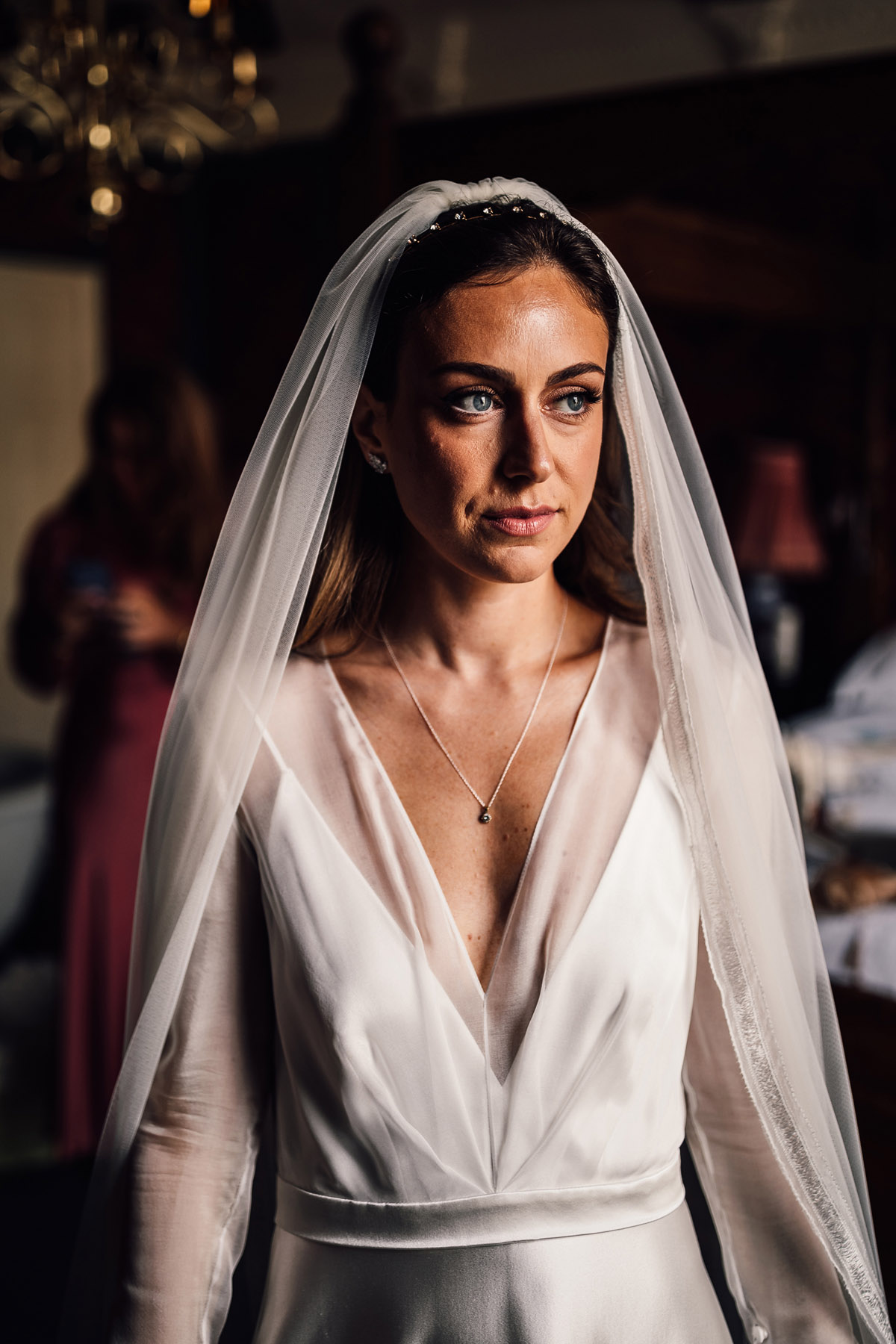 "For the flowers, I wanted to find the right balance of striking and fresh but classic. Camilla had the vision to use beautiful blush and nude blousy roses with dashes of red and fresh green foliage. We used Camilla's Creations Florist."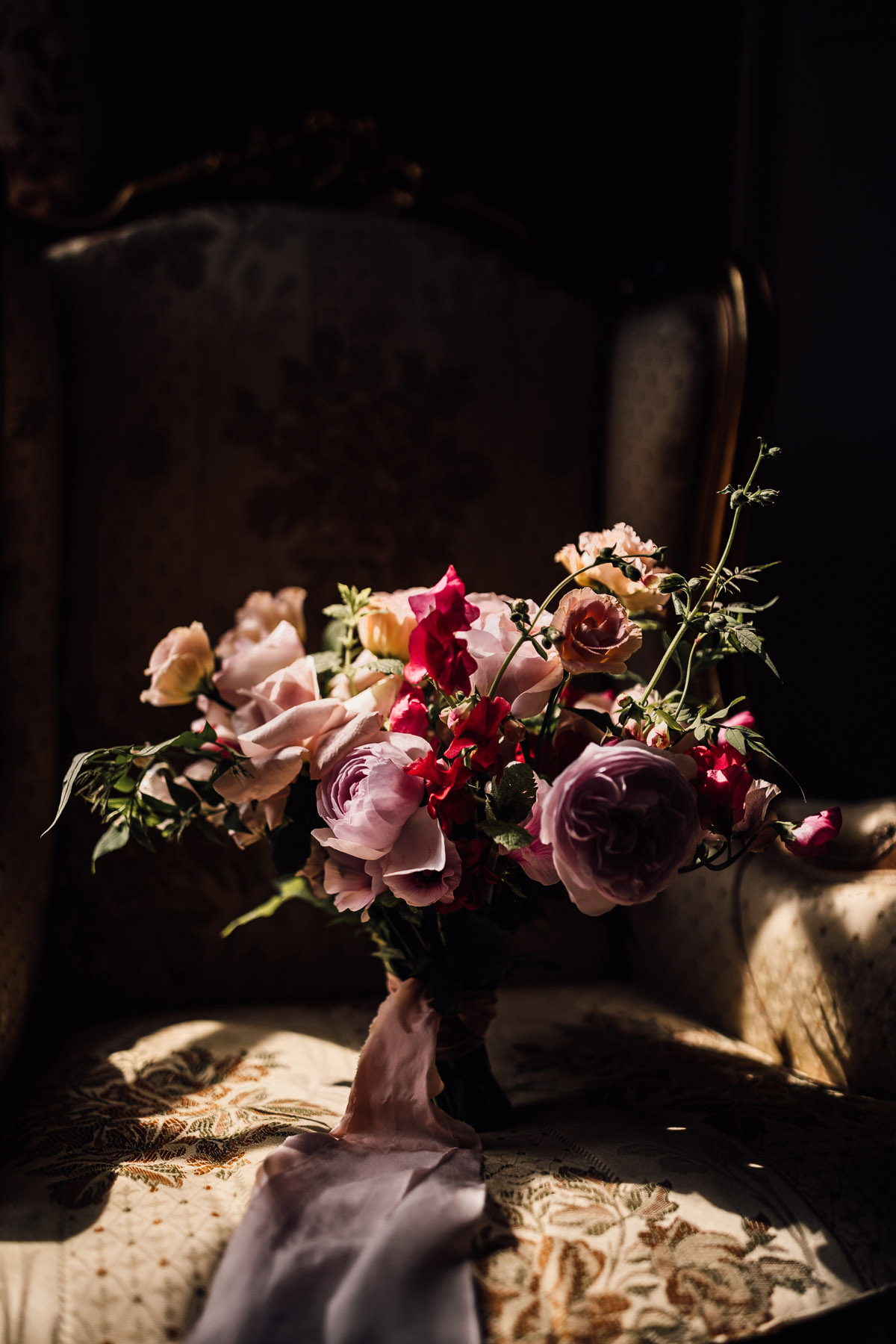 Courteney wore Byredo – Mojave Ghost as her wedding day scent.
"The Mojave flower is native to the Mojave desert in California where we planned to explore on our extremely unlikely honeymoon. ?"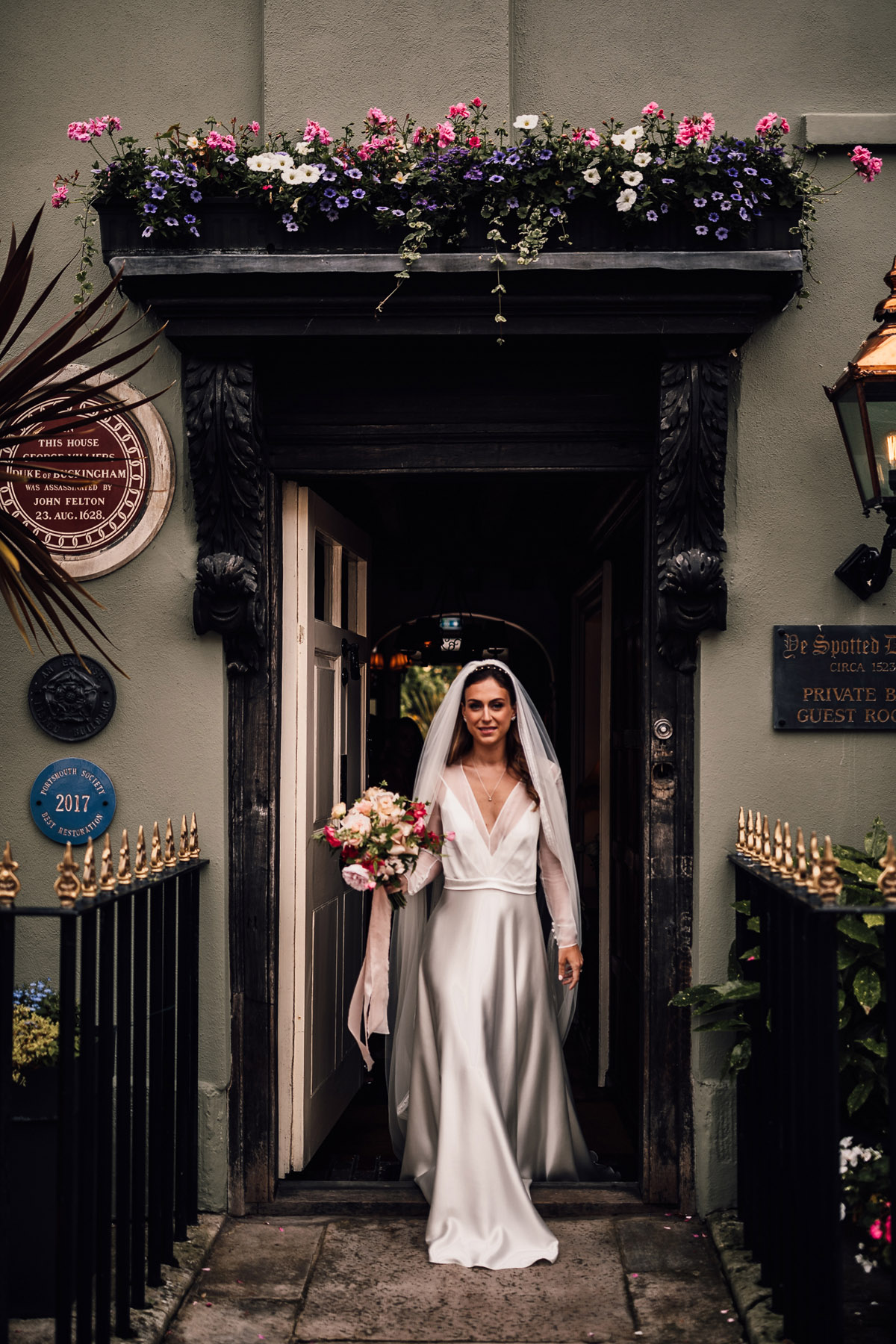 "We actually confirmed our wedding date of 26th June 2021 around about February time, 2020. We had no idea what was about to unfold with Covid, so when everything hit, I felt grateful that we had something secured for the following year."
"The venue we had originally booked was a castle on the sea, for approximately 120 guests."
"I started trying to book suppliers around June 2020 and it dawned on me that we couldn't get wedding insurance, and every deposit I laid down, we could potentially lose."
"It was a worry and a gamble as I didn't want to lose out on great suppliers. In January 2021 it became apparent that 120 guests was out of the question, we would be lucky with 30."
"As it happened, the roadmap out of lockdown was set to end on 21st June, 5 days before the wedding day, so we were super chuffed but still knew we needed to err on the side of caution."
"With that in mind, we actually changed our venue – the thought of 30 people trying to fill a castle was a bit bleak, so we slashed the guestlist to 50 and booked the boutique hotel next door to my family home."
"It made life a lot simpler. All the guests attending the church service had to wear masks and remain socially distant – up to two households per pew."
"I didn't have to wear a facemask and my stepfather and my bridesmaids could walk down the aisle without a facemask."
The couple turned to jeweller Barbara Tipple for their rings.
"We may have overlooked the rings… and she was able to supply beautiful platinum wedding rings in a week."
"We had to ditch the 'dream venue', the ten-man band and oyster bar, but thinking back to the day, the only things we truly needed were – each other, our pals, our family, bucket loads of champagne… and our super chilled photographer."
Courteney's Stepfather, Paul, accompanied the bride into the ceremony to the sound of 'Can't Help Falling in Love', by Elvis Presley – sung by Danielle Celeste, whilst he local Priest officiated the ceremony.
"We had the excerpt from Captain Corelli's Mandolin which starts 'Love is a temporary madness'. It describes our relationship to a tee, so was perfect for our day."
"Rob proposed a few weeks before Christmas on a Friday (13th – lucky for some!) in December 2019. Our favourite Friday nights involve a takeaway Indian and lots of red wine so it couldn't have been more perfect for us."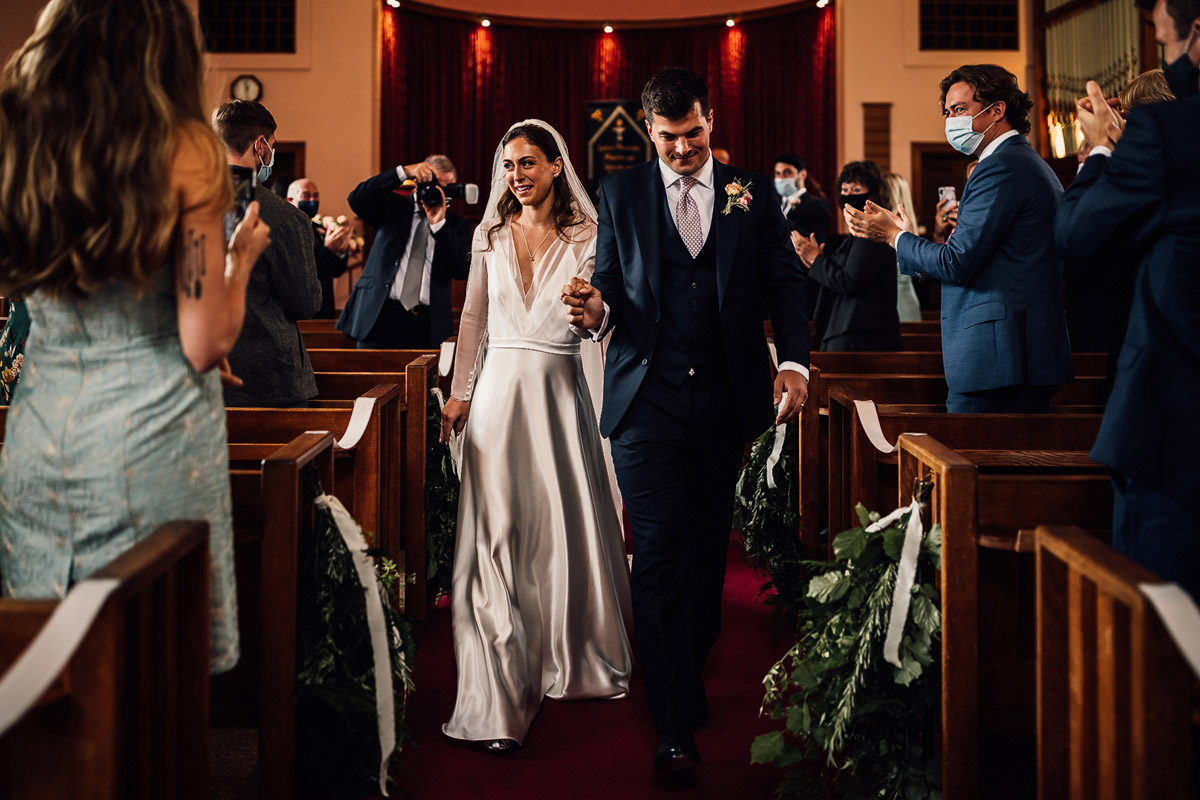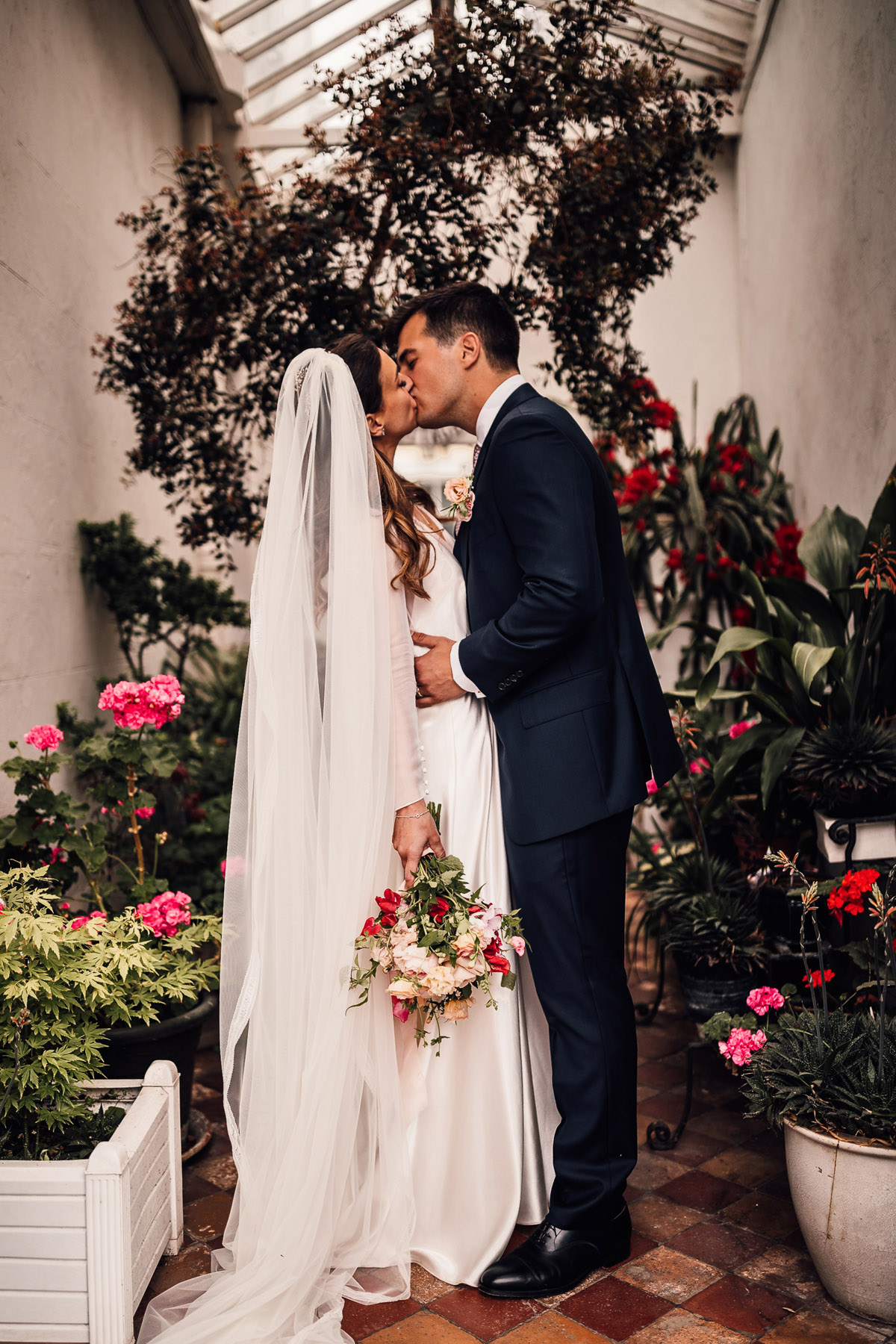 "Ye Spotted Dogge boutique hotel in Old Portsmouth as it is next door to my family home where I grew up and opposite the church we married in."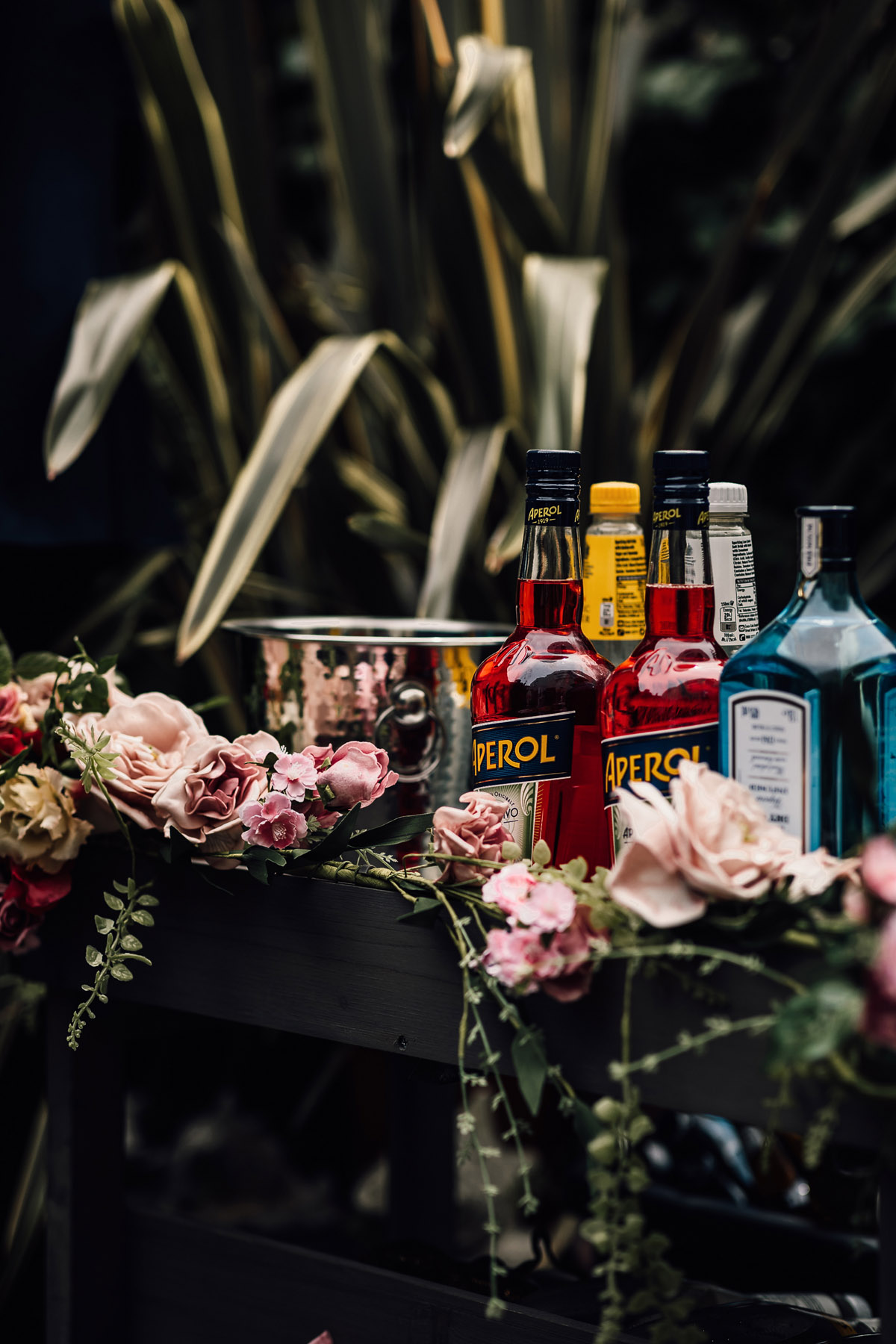 The gloriously showstopping cake was actually made by a friend, but for the most amazing cakes of all time, we highly recommend the wonderful Avant Garde Cake Studio.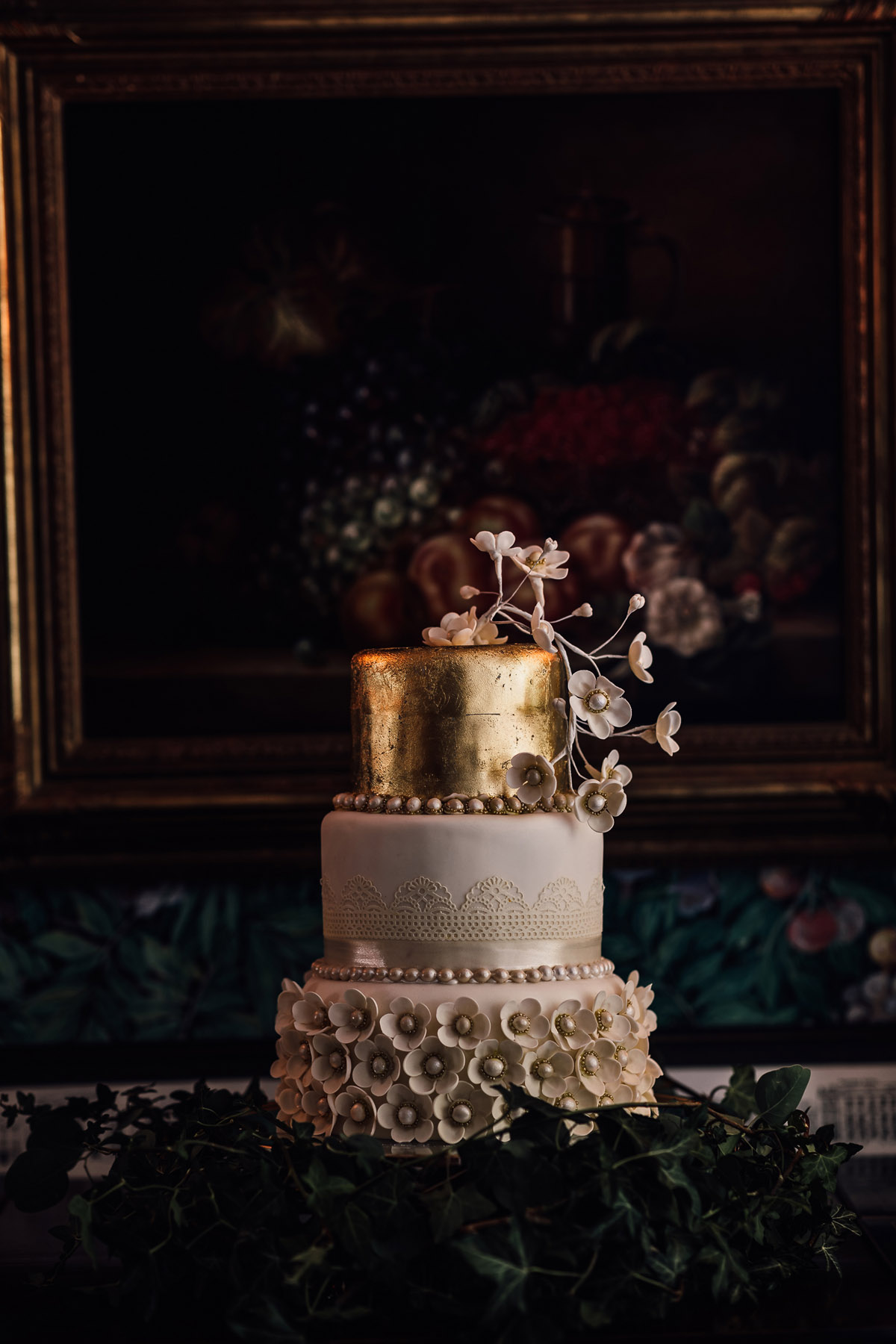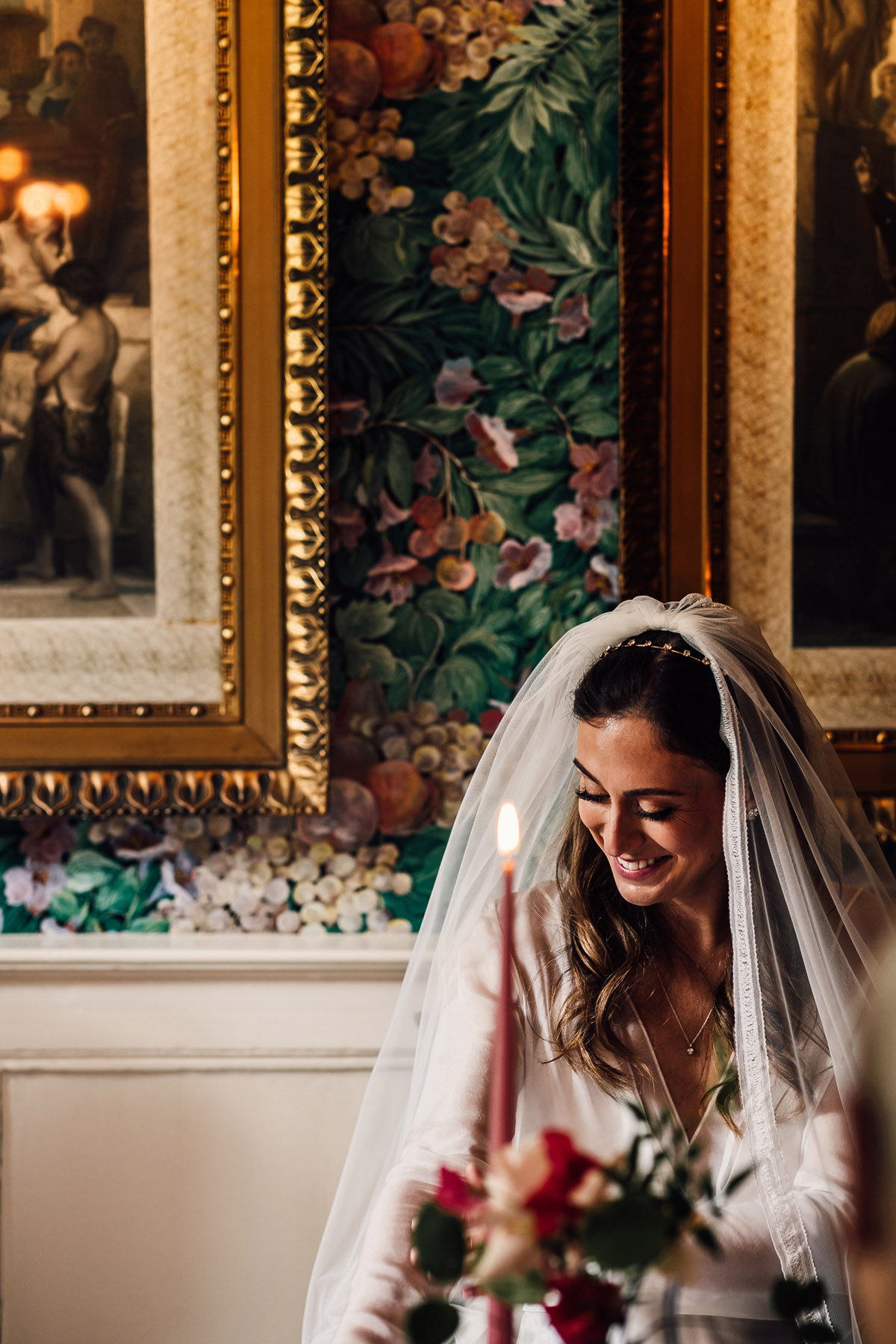 The couple didn't have a traditional first dance, but did say that their speeches made their cheeks ache from laughter.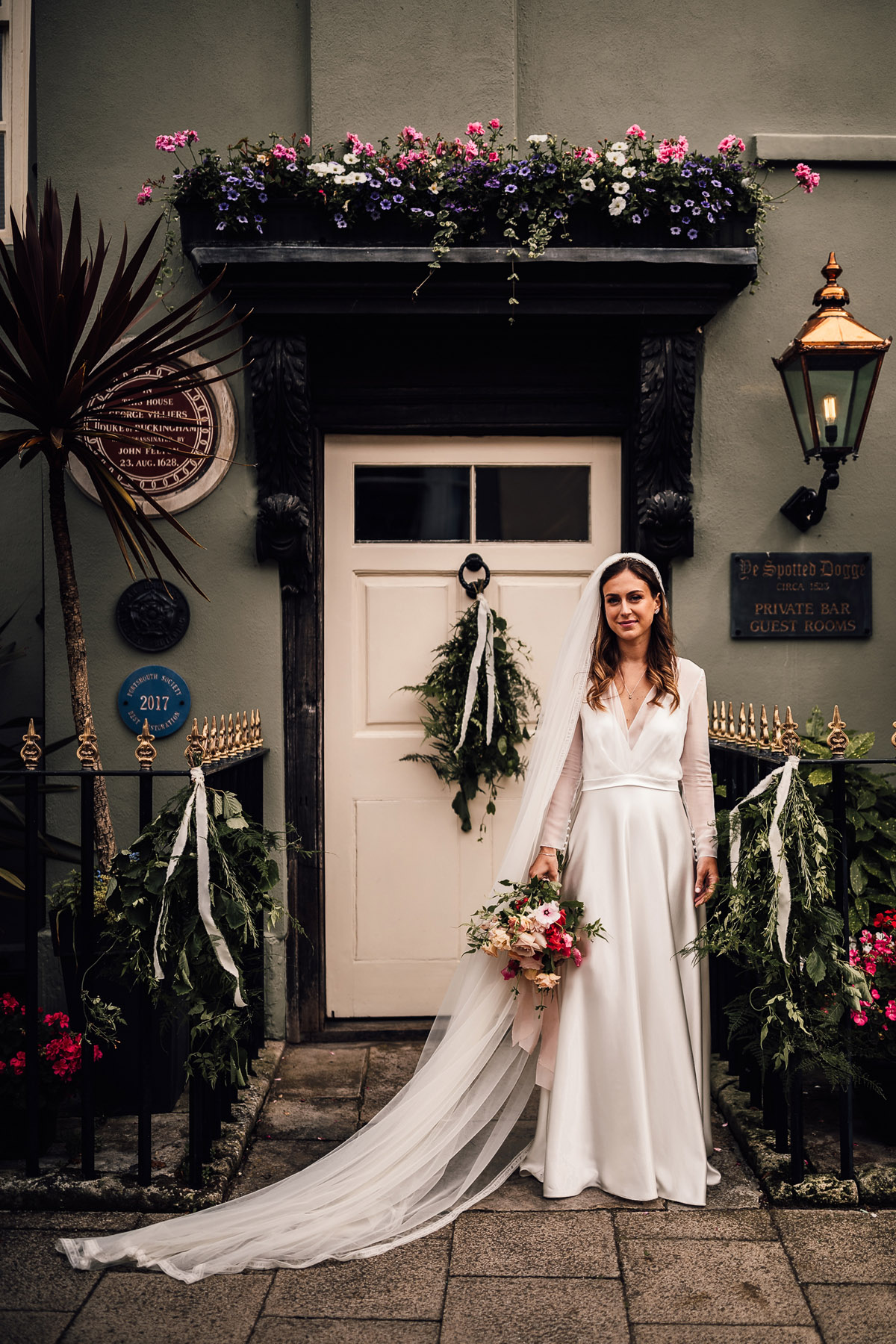 "Our photographer, Carrie Lavers, was just a pro. As soon as she entered the room, she gave off an aura of calm."
"She immediately just got to work, weaving in and out of the chaos in the bridal suite."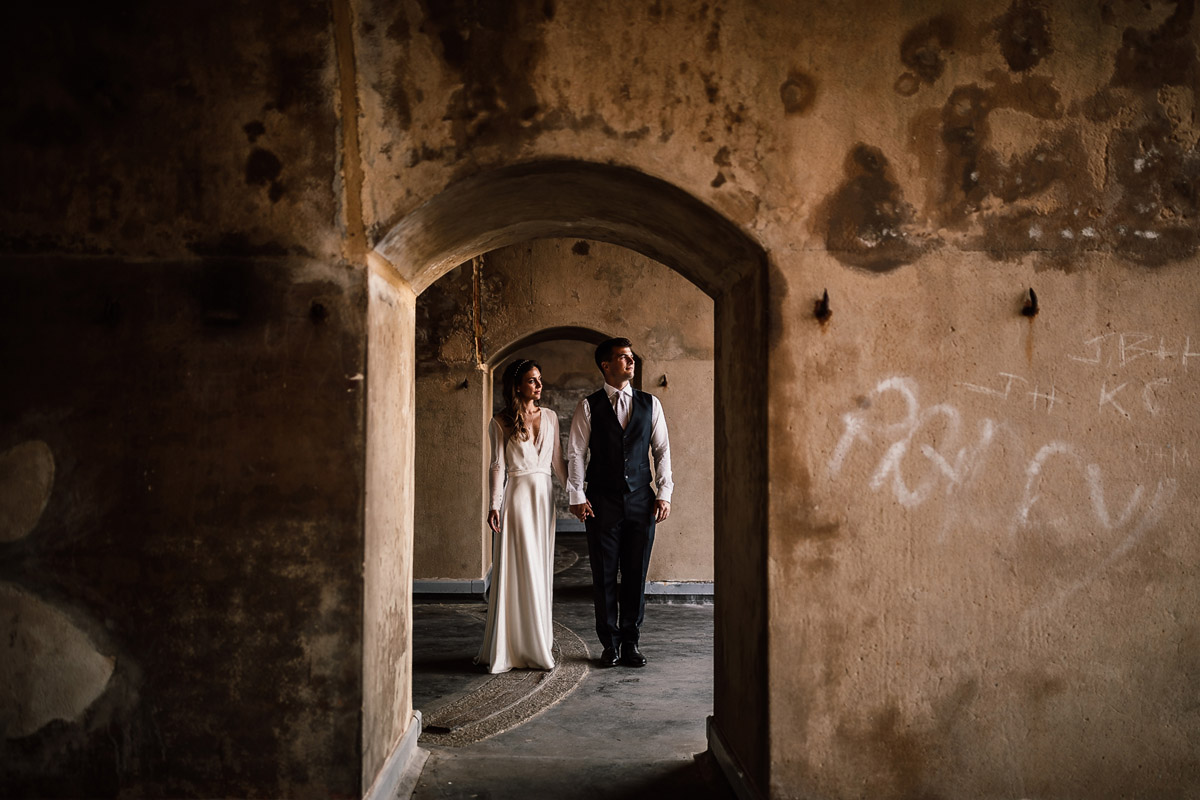 "What I admired most, is the way that she was everywhere but also invisible at the same time. I really love the way she efficiently got the 'staged' family shots done nice and quickly and then spent most of the afternoon capturing real moments."
"Carrie loves a great sunset, and I am so glad she took my new husband and I down to the beach for some sunset photos/alone time. It was perfect."
Words of Wedded Wisdom
"We saved the money on things that we didn't deem important – wedding favours and props like neon signs and donut walls. Instead we used that money to go towards quality food and drink, and to provide a free bar."
Guests have mentioned a few times since the wedding, how they appreciated the quality of food and drink provided."
"We also opted for digital save the dates and wedding invites. We used the budget to get an illustrator to design bespoke artwork and send these via email to our guests."
"It worked well in that it was so easy to keep tabs on acceptances and food choices. Also, we are going to frame the artwork and have in our home."
"What matters is to remain focused on what the day is actually all about – to get married to the love of your life, amongst friends and family who all love you."
"It doesn't matter if this happens next month or next year – it will happen and it will be the best."
Huge congratulations to you both, Courteney and Rob – thank you so much for allowing us the pleasure of sharing your day.
To see more from Andrea Hawkes Bridal on Love My Dress, please click here and for those of you seeking a wonderful wedding photographer, we highly recommend Carrie Lavers.