We have SO many new 2021 weddings to share with you – it is quite something to see all the beautiful images coming through on social media, all that joy and celebration after such a long, long wait.
We also have some precious pre-covid weddings to celebrate, like this beautiful day, when Hannah and Carlos became married. The couple tied the knot on 27th July, with a ceremony at Hull Minster, followed by a reception at Trinity Market, Hull.
"We wanted a traditional ceremony but with a non-traditional reception – we wanted to have a big party! It was important for both of us to get married in church and a city wedding felt right for us."
Hannah's free spirited wedding dress was the Ophelia dress, by US based designers, Daughters of Simone – which she discovered at Hull based bridal boutique, Ghost Orchid Bride.
"I loved my experience trying on dresses at Ghost Orchid Bride. I went to another more traditional shop first but when I looked in the mirror I felt sad that I didn't look like 'me', I looked like someone dressing up as a bride and I was worried that I wasn't going to find something."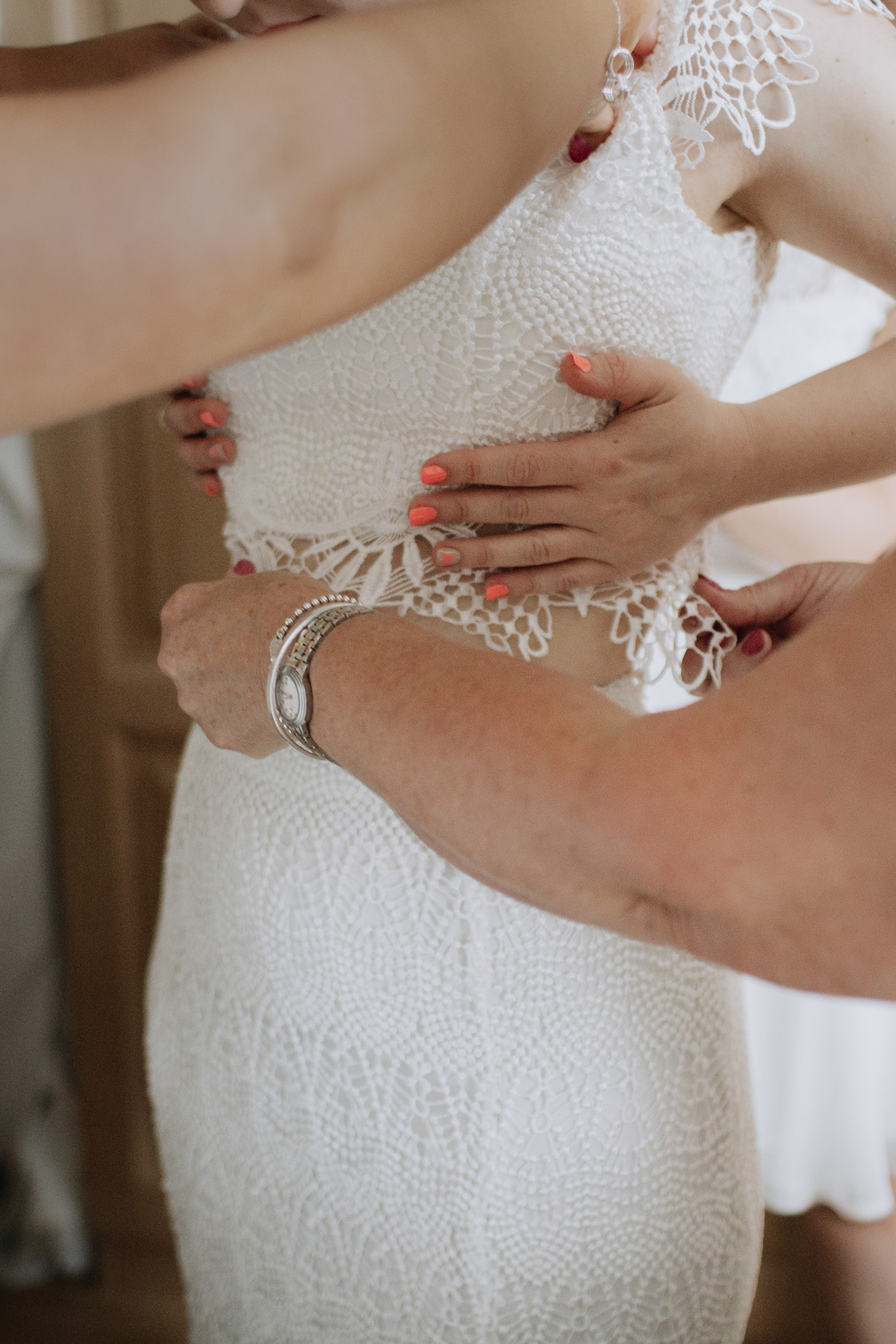 "I know what suits me and I really like having my own personal style and didn't want to lose this on my wedding day. When I saw the dresses at Ghost Orchid I knew I was in the right place – they are all beautiful wedding dresses but in a modern way so didn't feel like I was losing myself."
"Katey at Ghost Orchid is so kind – I miss my appointments with her, her shop design is so beautiful too and she always had the best candles burning."
"When I started looking at wedding dresses I kept seeing two pieces and just really liked the idea of it! When I went to Ghost Orchid I only picked my dress to try because it was a two piece."
"I loved the style when I tried it on but the lining was champagne coloured and I really had my heart set on an ivory dress so I tried some others on instead. "
"Katey from Ghost Orchid kindly contacted the designers to see if it would be possible to make the dress with an ivory lining and then I saw a post on Instagram where someone was wearing the top with jeans and it looked amazing – so I made up my mind and went for the Ophelia."
"I can't wait to take the top on our honeymoon and wear it with a skirt or jeans for fancy honeymoon meals."

The bride discovered her veil designer, Blossom and Bluebird, through these very wedding blog pages.
"I saw a lot of recommendations for Sian of Blossom and Bluebird within the Love My Dress Facebook group for brides – and after ordering a veil from her, I understand why! She's really kind and helped me to select a veil which would suit my style of dress and headpiece. The veil was beautiful and I thought I would take it off before the meal but loved it so much I wore it until the evening."

"I wanted the colourful flowers to really stand out so decided to find white bridesmaid dresses – which was harder than I realised! I had five bridesmaids so didn't have a huge budget for each dress so looked on high street websites and found a white knee length dress from Esprit (via Zalando) which suited all the girls."
"Zalando have a 100 day returns policy which was very helpful for trying on sizes. I made each of them a pair of different coloured tassel earrings to go with the brightly coloured flowers and then made them all hair crowns out of smaller wax orange blossoms."
Carlos wore a blue, slim fit DKNY suit from Moss Bros.
"In Spain, you don't have ushers/bridesmaids. Carlos still decided to pick some friends as "ushers" but they wore their own suits and had a buttonhole.
"He wore a Liberty print, floral bow tie and pocket square from the Belfast Bow Company on Etsy."
"Carlos' parents gave him a pocket watch on the morning of the wedding to the wear as a gift, and he also wore his late grandad's cufflinks."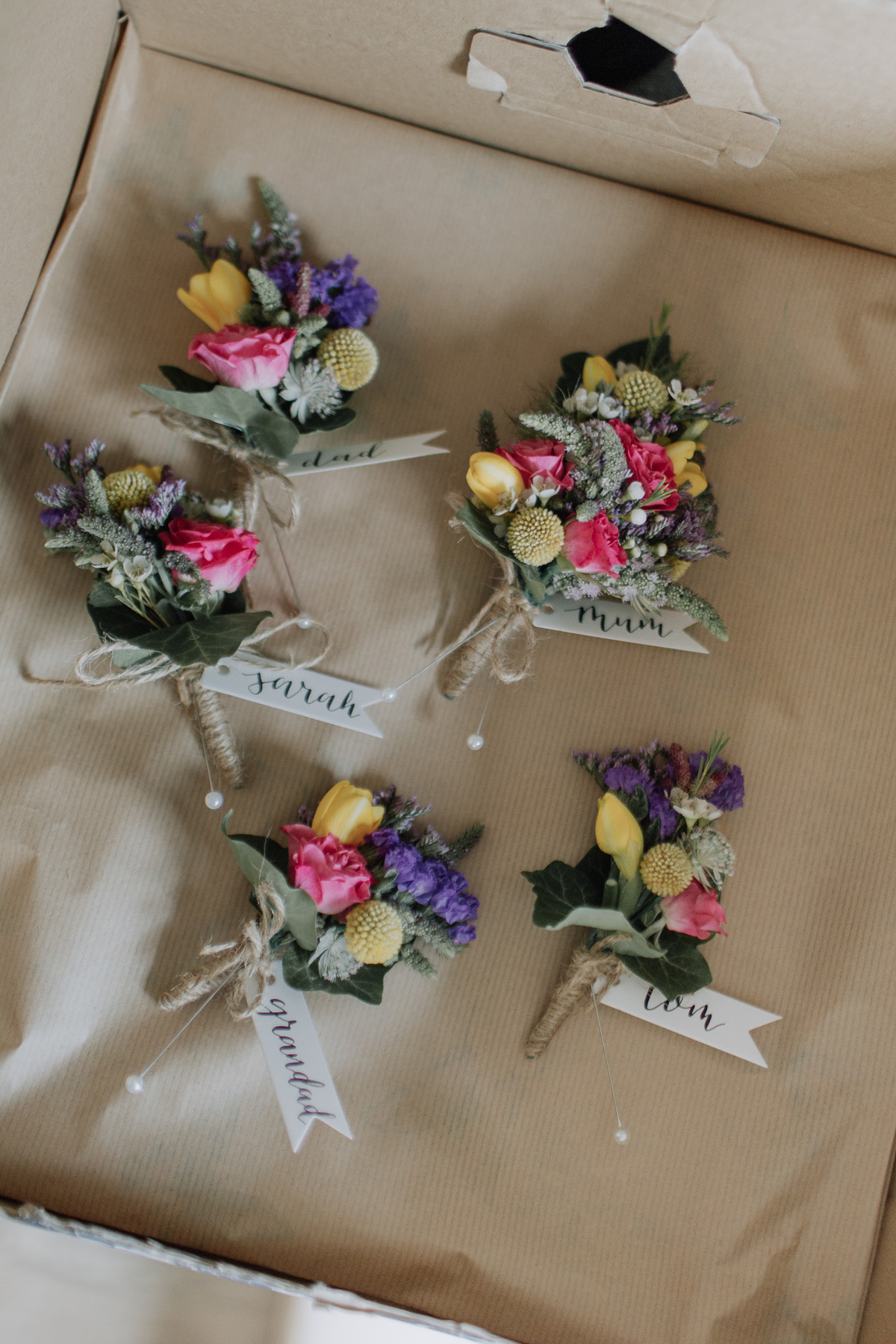 "I run a language exchange evening and Carlos saw the advert for it on Facebook and he thought the organiser looked cute. So he came along and we got talking and realised that we both worked at the same company in Hull (it's a large site so we had never come across each other before!)."
"After a few lunches in the work canteen, we went on our first official date to Hull Fair and after a few more dates I realised it was time for me to start learning Spanish."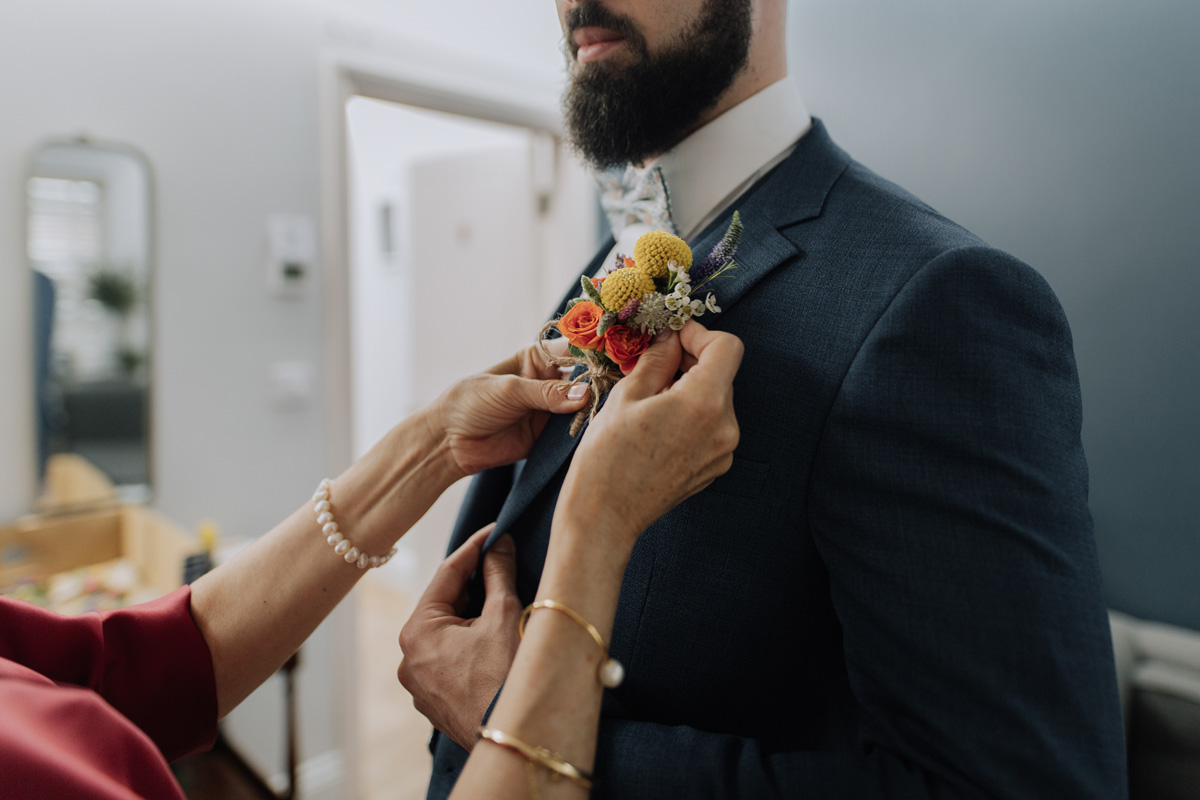 "Carlos proposed on Christmas morning 2017 at our house, it was a surprise for me! But I love Christmas because it always means lot of time with family and friends so it was a perfect time! We were able to celebrate with everyone in England and then went straight to Spain to celebrate again with Carlos' family and friends."
"We didn't want to be engaged for too long but we were also in the process of buying a house so decided that 18 months would give us enough time."
"We are both very sociable – we love a party and being around our family and friends, so we knew we wanted a more informal party atmosphere and to keep things simple so that we could afford to invite everyone who is important to us."
"We just wanted to have everything we liked and make it all tie together somehow, so I guess our theme was 'things we like'."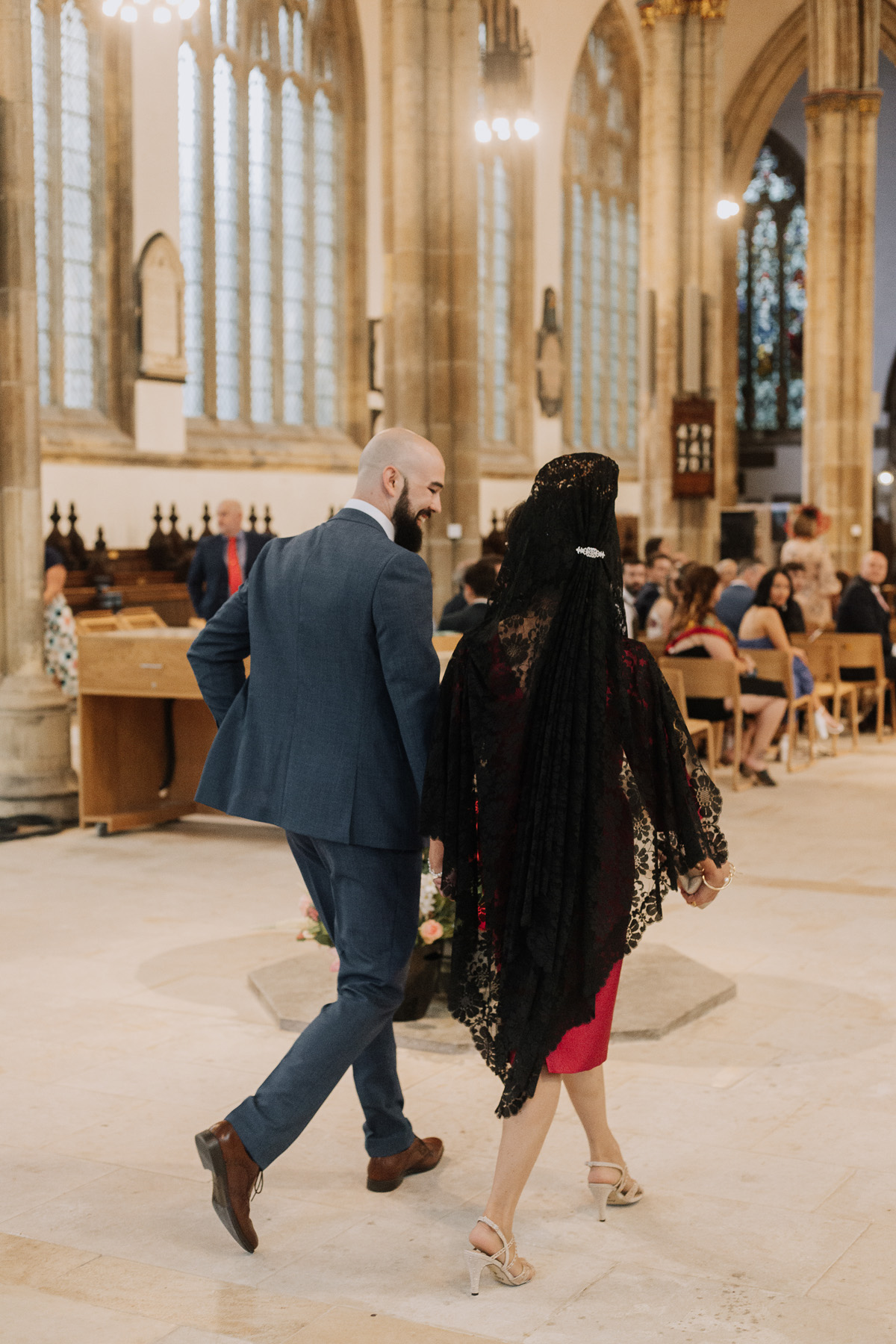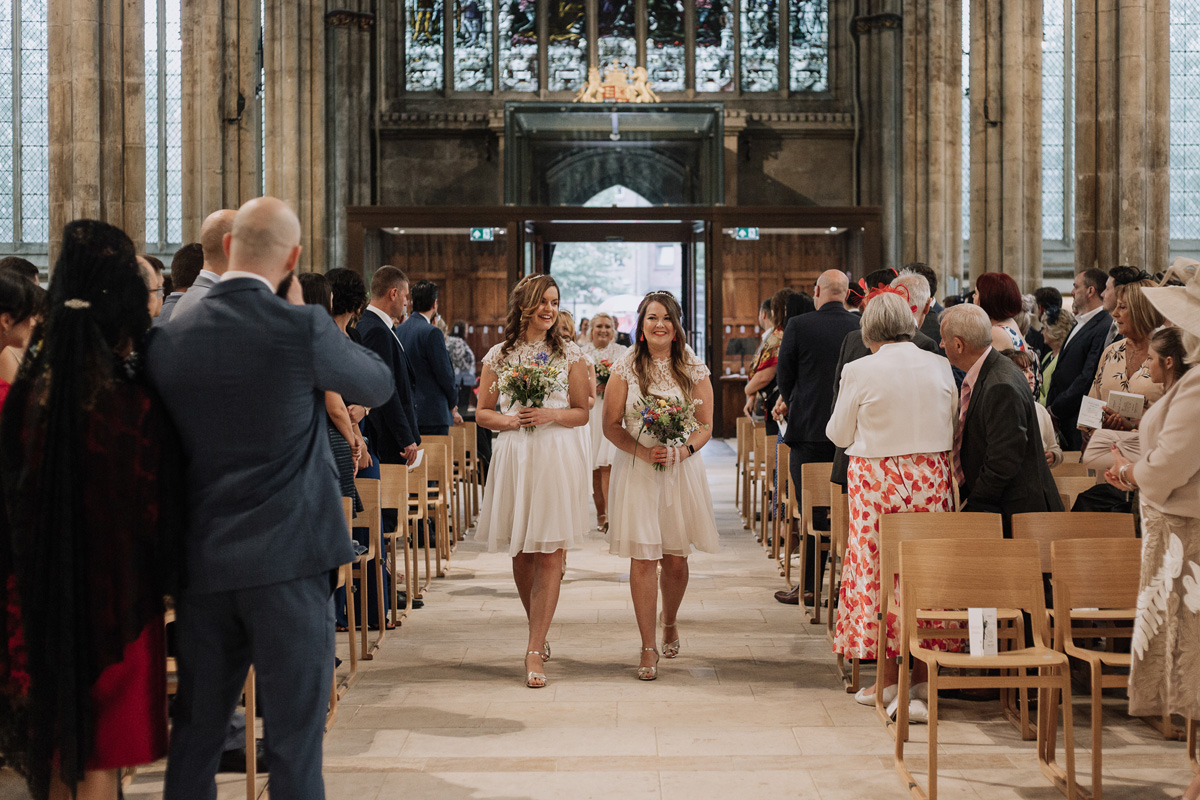 "My dad walked me down the aisle – we had a great time, we are grinning away in all the photos. This was to the 'Arrival of the Queen of Sheba', on the church organ – it is such a joyful piece and it sounded wonderful in the Minster."
"The vicar who was supposed to carry out our ceremony moved to a different church a couple of months before the wedding so it was a bit of a panic to find a replacement for us"
" In the end it worked out even better, as a vicar from another parish offered to perform the ceremony and he spoke Spanish – so we ended up having a bilingual ceremony which was so special as Carlos' family and friends were included. He was also very good at making the Spanish guests be quiet for the important bits as Spanish ceremonies can be quite noisy."

"We had the readings in English and Spanish so we wanted to pick fairly short readings since they would be twice as long. They included 'Ecclesiastes 4. 9 -12′ – we always call ourselves a team and this passage from the bible was simple but meant exactly that – that life is easier if we support one another.
"We also had a reading from Captain Corelli's Mandolin – we both loved this passage and we liked that it was about the long-term marriage rather than just a wedding."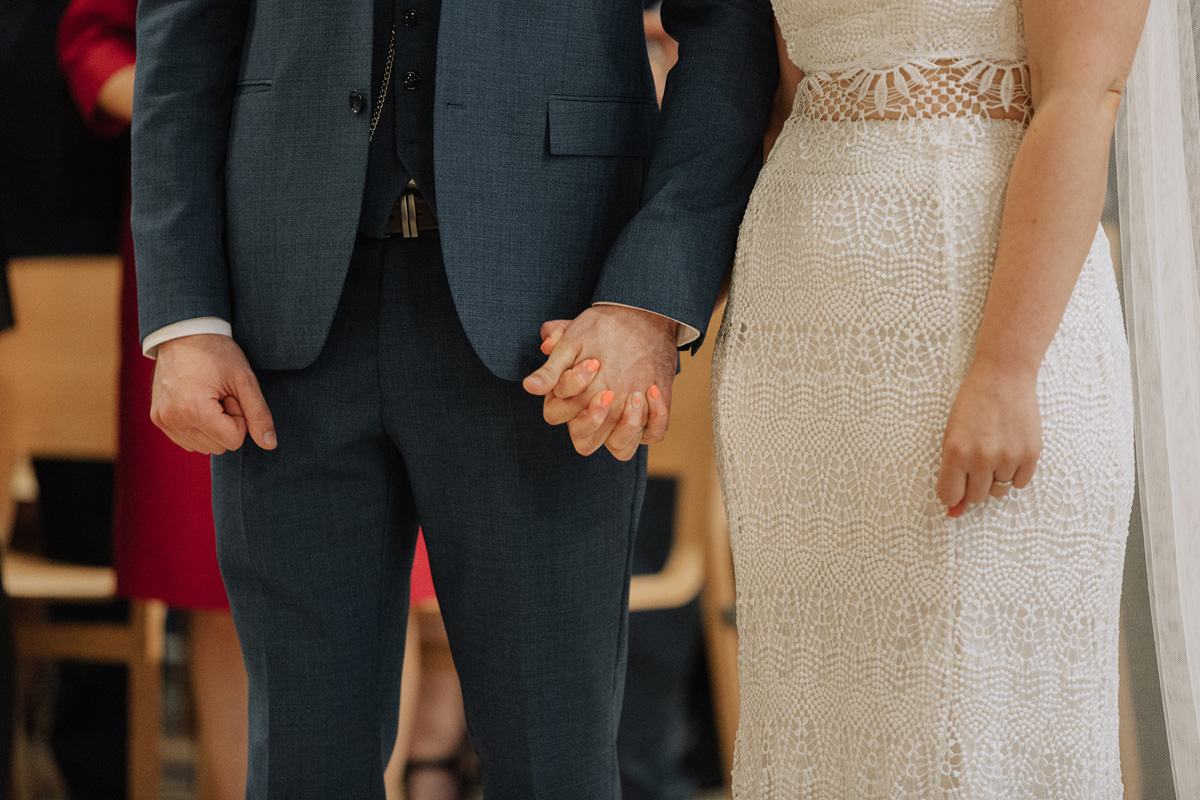 "And finally we had 'I Wanna Be Yours', by The Arctic Monkeys. I really love the John Cooper Clarke poem this song is based on but it wouldn't have worked as a reading as it wouldn't translate well into Spanish."
"We originally wanted an Alt-J song as they are our joint favourite band but after a lot of (bad) practising at home, it seems none of their songs are suitable for a first dance! I remembered that this song was based on Cooper Clarke's poem and we are also Arctic Monkey fans so it worked perfectly."

"We bought our rings from Goldsmiths. We both wanted something simple and timeless and for a "chain" jeweller, the customer service was well above what we expected – a really lovely, personal service."
"Carlos says his favourite part was seeing me coming down the aisle. And his second favourite is when he found his dad downing Jägerbombs with his friends because they had convinced his dad that it was an after-dinner 'digestive' drink."
"My favourite part was the ceremony because being able to have it in both languages was so special and emotional. I also loved watching everyone from the top table and thinking how great (and weird!) it was to have all our favourite people in the same room."

"The Hull Minster catering team organised our post-ceremony drinks and nibbles – they organised an amazing spread of deli meats, olives, cheeses, breads and Pimm's and sangria, and we used this as a starter (a good way to cut catering costs!)."
"It was such a novelty for a lot of our guests to be having a drink in the nave of a church and it was a beautiful setting for everyone to mix after the ceremony."

"I'm very lucky that my cousin Jo is a florist at Floral Studio, so she made the bouquets and buttonholes. We wanted lots of colour and a wildflower-style, and I definitely wanted freesias as they are my favourite but apart from that we let her go with what she thought was best."
"My bouquet was incredible with all sorts of flowers including beautiful pale pink peonies, and as an added bonus it smelt amazing as she had added wild mint."
"My mum is a keen gardener so she grew lots of wildflowers in her garden for the tables. It was really special to have my mum do this, and it was a team effort from both of our families to get the bottles ready and the flowers cut the day before."
"I learned calligraphy as a hobby a few years before as I've always loved doing various arts and crafts. I was so excited to be able to put my skills to use in designing the stationery."
"Although it did involve a few frantic calls to a graphic designer friend when I was trying to learn the software – make use of your friends and family's skills."
"A few weeks before the wedding, it was the Pride celebrations so the market had already been decorated with rainbow coloured lanterns and we asked them to leave them up since they looked great."
"We didn't want to decorate too much and take away from the architecture and style of the market."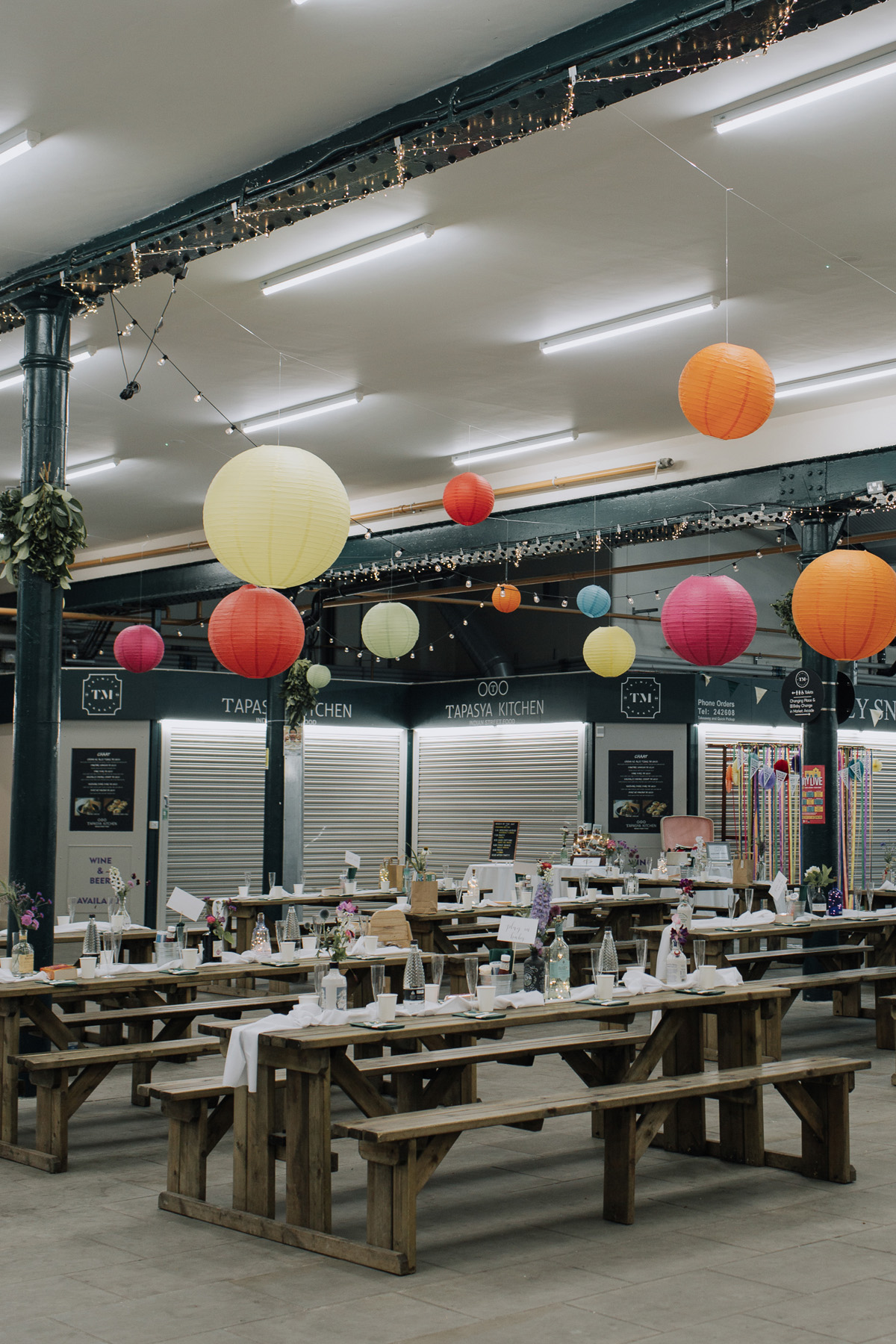 "For the tables we asked everyone to keep gin bottles for us for the table flowers (we love a G&T!) and we made really simple white table runners."
"We went back and forth a lot about these but in the end decided not to have them. We've been to a lot of weddings where sadly the favours are left behind on tables and when I read an article online about how to make weddings more sustainable it suggested not having favours."
"The only thing we had considered was something edible but we knew our dessert selection was going to be amazing so I didn't want to take any attention away from that. I don't think anyone noticed not getting a favour (or they were too polite to say anything)."
"We were struggling to find a venue in the city centre which was unique and allowed us to have a more informal party. One day we were walking through the newly renovated Trinity Market and thought it would be a great space for a wedding."
"We saw on Trinity Market social media that they were starting to hire the space for private events so got in touch to see if they would consider a wedding there. It's a council-run venue so we needed some approvals first but luckily for us they agreed! And the lovely manager Lucy was on board with the idea right from the start. The market is on the same square as Hull Minster so it all worked perfectly on the day."
"It has permanent street food stalls, a bar, a big open space for tables and already hosted live music nights so it already had everything we needed."
"We hired a wedding planner for 'On the Day' coordination but she also took over all the supplier communications 6 weeks before and put together an itinerary for the day too."
"We used Andrea from Moxie Events and for a DIY wedding, we both agreed that she was the best decision we made in the wedding planning."
"She was so helpful and full of amazing ideas and everyone commented how our wedding ran like clockwork – everything was perfectly on time without us even realising."
"I would really recommend considering the services of a wedding coordinator for the day if you are planning everything yourselves, it helps to have someone running everything if you are using somewhere which is not a traditional wedding venue."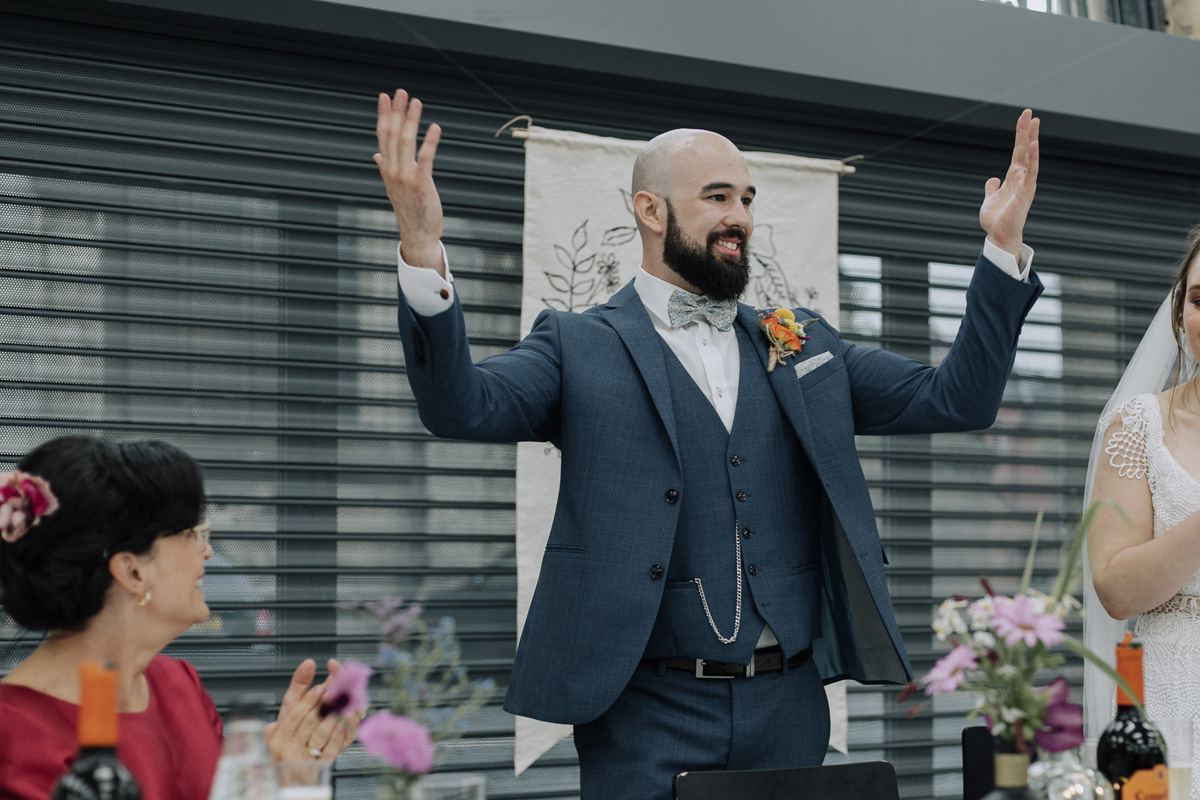 "For the reception we used the amazing street food companies who already have stalls in Trinity Market. We gave each guest a ticket for a main and a dessert and then everyone could get up and visit the stalls to choose what they wanted. This really helped to make our reception lively and sociable."
"For the mains, they could choose from Shoot The Bull (gourmet burgers and hot dogs), Greko (authentic gyros ran by a Greek family) and Falafia (vegan falafel wraps)."
"The desserts were from Cocoa Chocolatier, who also have a stall in the market. They make the best brownies and cakes – the New York cheesecake was a particular favourite."
"My auntie makes delicious cakes and has made wedding cakes before, so she made the cake as her gift to us. We had a three-tier naked cake with edible flowers which she ordered from a specialist supplier."
"We made a gold dinosaur bride and groom cake topper – I had seen something like it on Pinterest and it was a nod to Carlos' love of Jurassic Park."

"We were luckily able to provide our own wine for the meal so took advantage of the Christmas offers at the supermarkets and then on the evening – we had two bars, one at the Shoot The Bull stall and a second craft beer and gin bar at Vittles & Company (a microbrewery in the market)."
"At night we had another stall holder, Cone Queen, who make pizza cones – such a good invention and the perfect food for soaking up the many drinks consumed."

"We hired Turn Up The Sun band who also DJ'd in between their sets. They played a great range of songs for all our guests to enjoy, but with a lot of 00s indie in there at our request."

"When we first worked out our budget we both knew that a live band would be a "must" and I think it creates such a good atmosphere, if it is something you can afford in your budget."

Words of Wedded Wisdom
"Don't get caught up in things you think you need to have. At the start of planning we each made a list of categories we wanted to spend money on and luckily we both said the same – photography, band, food and booze! Pick and choose the bits that you want and be brave and cut anything out that you're not bothered about, or that you can't afford. And a big guest list doesn't have to mean a big budget. It was more important for us to have everyone we loved there and cut out expenses we felt were unnecessary."
"Pick and choose traditions and just don't have any you're not comfortable with – you don't need to have them all (or any!) for it to a be a 'proper wedding'. For example, we didn't have the traditional speeches – myself, Carlos, my dad and Carlos' mum did the speeches. I am so glad more brides are doing speeches now, it's a very unique opportunity to be able to stand up in front of all your loved ones and tell them how grateful you are to have them in your life."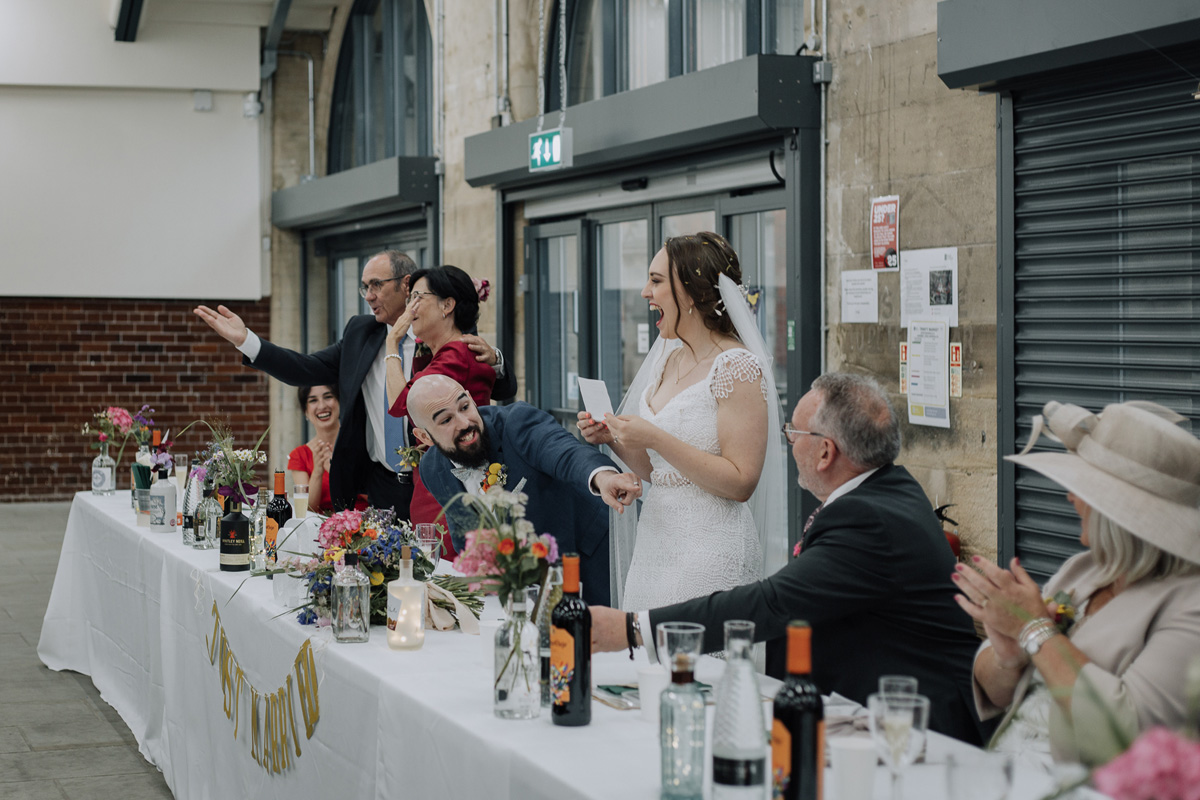 "Don't forget to have fun! All we wanted for us and our guests was to have a really good time and for everyone to feel comfortable to be silly and have a laugh. Weddings don't have to be serious, even if you have a traditional church ceremony. I was having so much fun that it got to about 8pm when I realised I'd forgotten to go to the loo or touch up my make up all day! Our evening reception got pretty rowdy (blame the Jägerbombs!), there was a lot of energetic dancing (sometimes on tables) and some random guest speeches made on the band's microphone towards the end of the night… but that was exactly what we wanted, everyone to feel relaxed and just enjoy themselves."
"Our budget was around £7000 and I think we came in just under £8000 so we were very pleased (this doesn't include our outfits as these were gifts from our parents). I am a keen bargain hunter and also love making things so this helped to keep costs down."
"Now we're married, I appreciate the stress and politics the couple have gone through. And I also make an effort now to look at the little details on the day as I know there will be a bride and groom who sat having hours of discussions on a table layout."
"I would say less stress during the planning would have been nice, but I think this is easier said than done. Carlos was worried about everyone enjoying themselves on the day and how his Spanish family and friends would react to a style of wedding which is not very popular in Spain, where weddings still tend to be very traditional."
"I wish I had involved my friends and family more – I was so concerned with not being an annoying bride that I didn't want to ask anyone for help with the DIY bits or planning and in hindsight it would have made it more fun, and I'm sure they would have liked being involved."
"We had been to a wedding the year before in Spain where they organised a pre-wedding cocktail for just the bride and groom's friends the night before and we stole the idea! We were very conscious of the language barrier and that Carlos's friends from Spain hadn't met any of our friends in the UK. It was a brilliant way for both groups of friends to meet and it was really fun to all be together the night before – we hired a room in a bar in the city centre that does pizzas and cocktails and put some money on a tab for everyone to have a few drinks on us. We would really recommend this for anyone who has groups of friends who haven't met before or even just so you can have a fun night together with your friends and extend the celebrations."
"We were also lucky enough to be able to celebrate our wedding twice – and we had a blessing in Carlos' village in Spain a month after our wedding in the UK and it was very special to be able to celebrate with everyone there who couldn't come to the UK and my family and friends came over to Spain too – we basically celebrated our wedding for a whole month."