As I prepare this article for you to enjoy, there is a gentle Autumn breeze outdoors, causing the leaves to fall, through multiple miniature whirlwinds, into the sparkling early morning grass in the garden.
It's mesmerising – nature's own theatre, and one of the many reasons Autumn is my favourite season. Visually, there is so much to take in and be delighted by, but the colours and the light, especially and those beautifully falling leaves, especially.
This editorial, produced and photographed by the wonderfully talented Kate Cullen, embraces my favourite season too.
I hope you love it as much as I do, and please take a moment to follow and find out more about the work of the brilliant British wedding suppliers involved.
"The editorial, 'Omorfa Fylla', is named after the Greek for 'beautiful leaves' and is reflected in the chosen headpieces and floral designs."
"Inspired by nature we wanted to create different bridal fashion looks for the brides who want to be fashion forward and elegant but also natural and like themselves on their wedding day."
"We chose statement bridal gowns like Kate Edmondson's striking asymmetric gown which has a vintage feel yet with a modern edge, and hairpieces that could just as easily be worn at chic evening events and so have a life beyond the wedding day with lots of options for hair and make-up looks."
"The colour palette of rich emerald greens paired with warm caramels and corals in the floral designs by Bramble & Wild were the perfect foil for the monochrome 'black tie' feel of the rest of the look, ensuring it still felt romantic and timeless."
"With touches like the effortlessly stylish Emmy London heels with their bow flourish and the rich metallic tones from the jewellery, together the whole look became unique and memorable."
"The images were shot on a mixture of digital and vintage film cameras by Kate Cullen, bringing a softness to the bridal portraits and an heirloom quality. "
"We wanted to show you how you can have a seasonal, sustainable and ethical wedding day without sacrificing style and vision."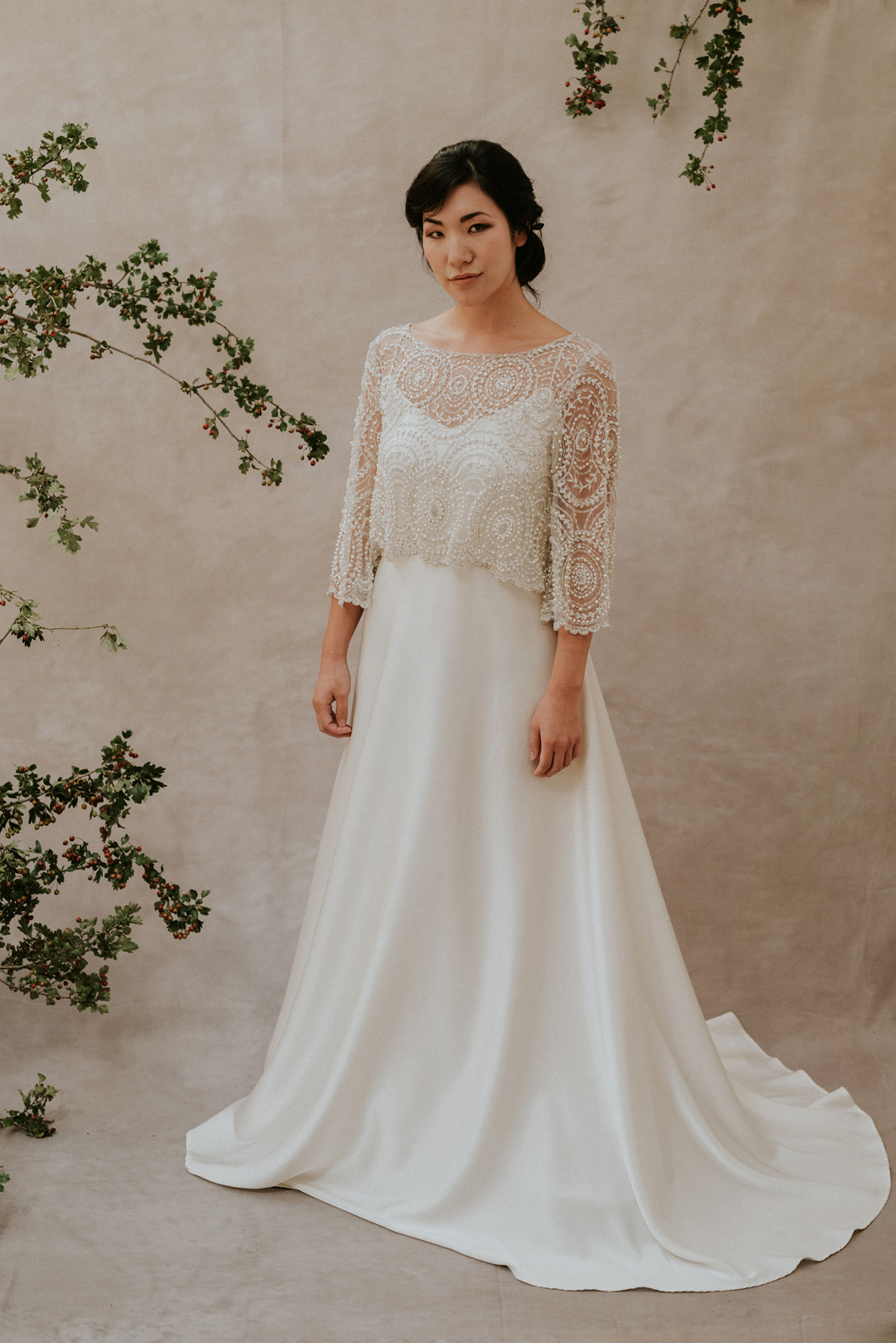 "The dress from E&W Couture, courtety of Rachel Burgess Bridal Boutique, with the long lace sleeves is part of their eco range and is made from recycled materials, and all of Clare of Clare Lloyd Accessories headpieces are made from recycled metals with ethically sourced semi-precious stones."
"Jen of Jennifer's Dressing Table, uses all vegan and natural make-up products and Grace's (Bramble & Wild) flowers are all locally grown and seasonal."
"The venue itself, Silk Mill, is a restored derelict building that's been transformed through a heritage restoration project into a wonderful blank canvas that could be transformed in any number of ways."