There's something so refreshing about the wedding I have the privilege of sharing with you today. Relaxed and charming, it's the ultimate blend of kitsch and traditional, as the couple cleverly wove elements the groom's Iranian culture into their outdoor ceremony and party celebration.
Please meet Kemmi, head of Corporate Events at an East London venue group, and Dominic, a senior communications advisor at an environmental NGO. They chose the vast and unique backdrop of Elmley Nature Reserve on the Isle of Sheppey, Kent for their ceremony and reception on 18 August 2021, inviting their guests to stay onsite for the wedding weekend.
Lyndsey Goddard Photography

+ Follow
The couple's home, personal taste and cultures influenced the style of their 'Middle Eastern boho chic' day which incorporated warm colours and lots of natural materials to blend in with the wild surroundings.
As an event planner, Kemmi naturally took the lead on planning and styling the day.
"I took care of all the planning, styling, creative design and logistics. On the day, one of our trusted friends and incredible event planner, Benjamin Shaw, stepped in to take over the planning and coordination, which allowed me to take a step back and enjoy being the blushing bride."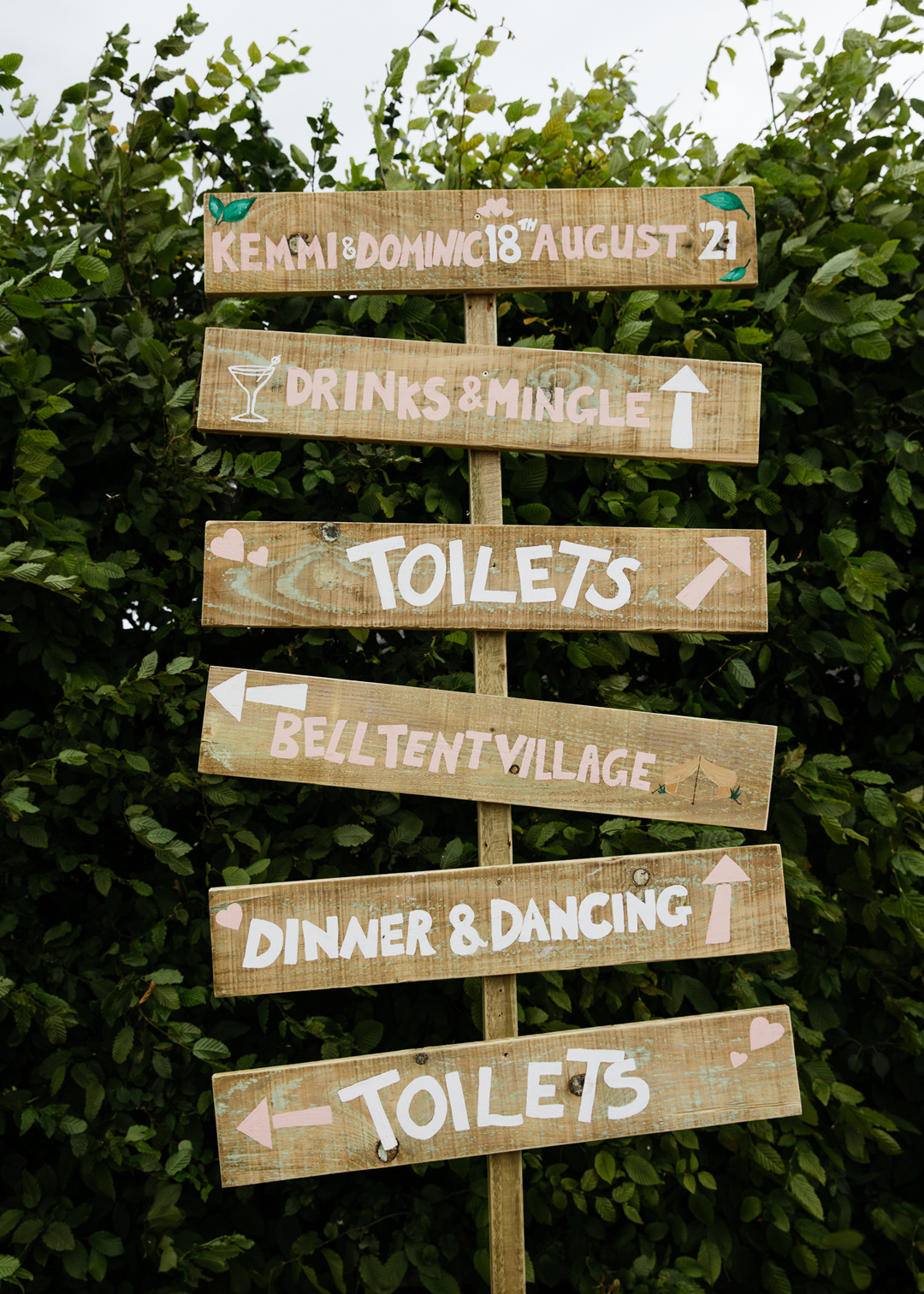 Dominic and Kemmi met in the summer of 2017, working alongside each other in a campaign to encourage young people to vote in the General Election that year.
"After finishing the campaign, we realised how much we missed each other and, to spare all the details and moments, we fell in love. We got engaged on our second anniversary and got married just over two years later."
Like many couples, the original plans were disrupted by the Covid pandemic.
"We settled on the venue a few months after Covid so we were not walking into anything blind. We set the date for May 2021 in full expectation that everything would be fine but realised around December 2020 that was unlikely to be the case."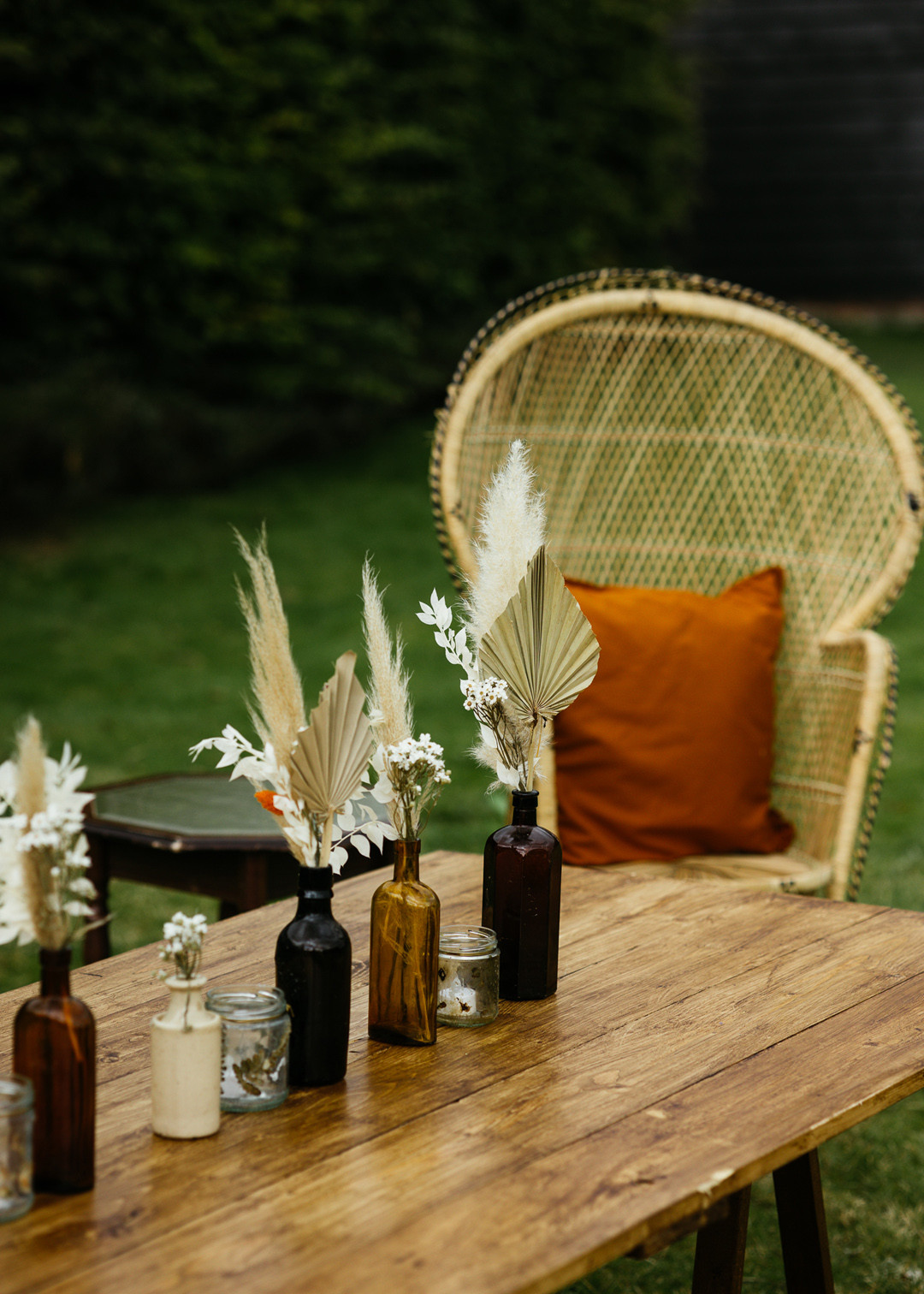 "We arranged a back-up date in August and thankfully those three months made all the difference. There was plenty of contingency planning but we were fortunate that as soon as the 1 July date for reopening was announced, we informed our guests of the new date and didn't look back."
"The real difficulty was trying to arrange suppliers, visits et cetera during the height of the various lockdowns. We also saw one of our favourite suppliers go out of business during lockdown which meant a very difficult last-minute scramble to find replacement tableware and serve-ware."
"Fortunately with my little black book in tow, we found exactly what we were after."
"The venue initiated a Covid protocol that meant all guests had to have either a negative test or be doubled jabbed to gain entry to the site."
We were fully supportive of this and it didn't cause any difficulties, with all guests being more than understanding."
"I guess our wedding was a good example of being a bit lucky on timings and working around Covid to not impact the day. All in all, the disruption was minimal and we were very grateful for that."
The ceremony was held outdoors against the wonderful nature reserve backdrop.
"We hired most of our wedding decor from Locate To Create, a local business with a huge array of furniture, props and furnishing."
"Their stock, a lot of sourced directly from Morocco, very much fitted in with our aesthetic and they were great to work with."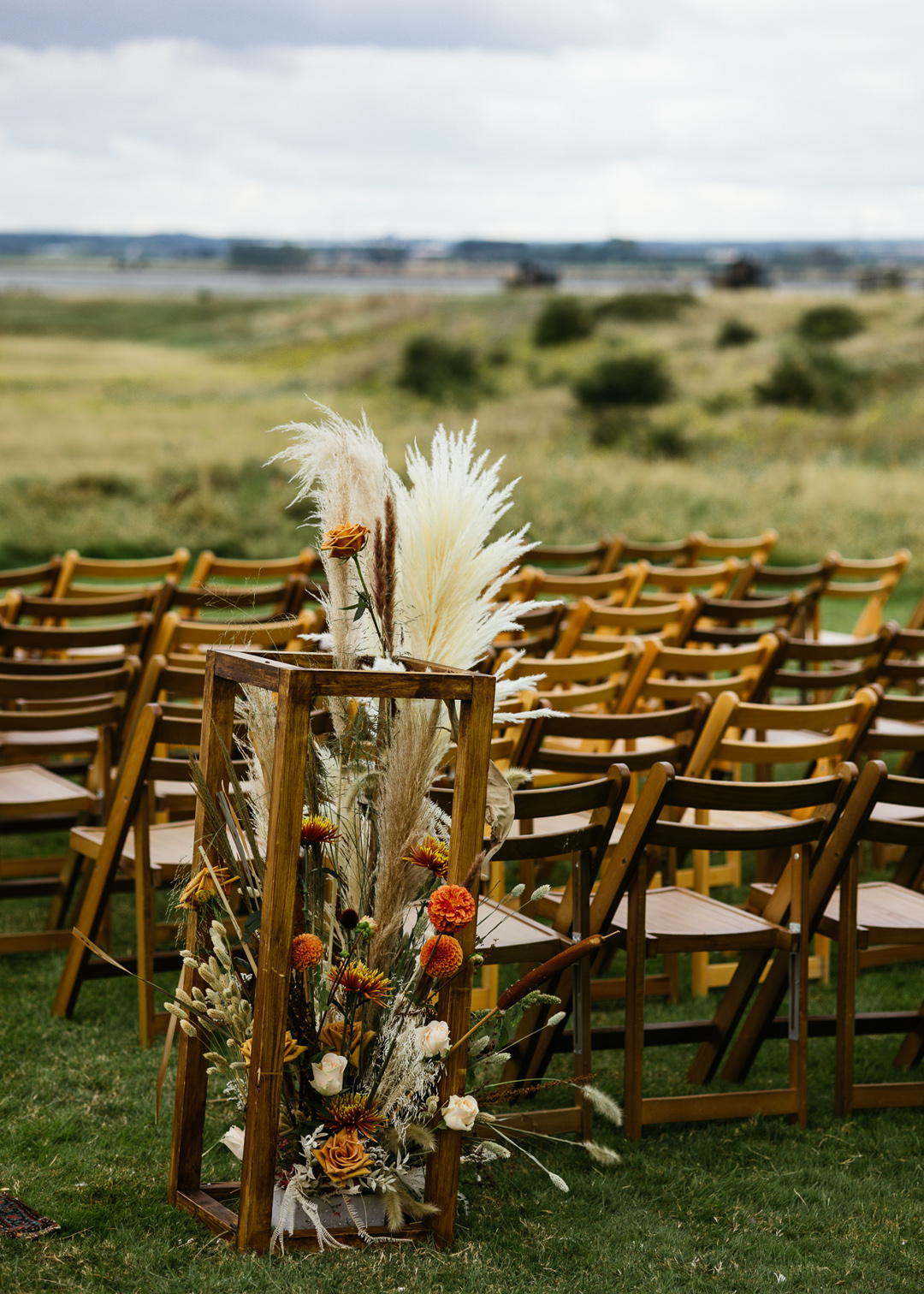 "We provided guests with woven bamboo and paper hand fans from AliExpress which were handed to them as they took their seats."
"As we approached the start of the ceremony, the sun broke through the clouds and guests were able to put their fans to good use."
Dominic looked incredible in his splendid pink suit from Paul Smith. He wore it with a paisley shirt from Etro and belt and shoes from Moreschi.
Over to the groom to explain his choice.
"I knew I wanted to stand out and not wear something traditional, as well as incorporate my Iranian culture. It wasn't the easiest of looks to pull off. I tried several Paul Smith suits before settling for the pink one and I think it worked."
"I paired it with a multicolour paisley pattern shirt as an homage to my Persian roots. I did have to do a last-minute shoe change though. Once the suit came back from tailoring I didn't think the light tan shoes I had gone with worked against the shirt and instead opted for blue leather."
The final touch was Dominic's signature scent, Tom Ford's Oud Wood.
"We didn't have any page boys but we did ask the groomsmen to wear a matching colour suit. We left it up to them to buy their own suits and were happy for them to bring their own individuality to it, as long as it was an oatmeal colour."
"The colour was set to balance the colours of Dominic's pink suit and variety of coloured bridesmaid dresses."
"We really wanted to have a unified design throughout our wedding stationery and felt it was an important feature but it remained at the bottom of our list for the first six months. We took the decision to design it ourselves using Canva."
"We had picked a simple, elegant line drawing of a flower when we set up our wedding website and wanted this to be reflected in the design along with a simple and modern font and colour palette. We printed all of our stationery using Printed.com who were unbelievably cost effective, provided great quality and offered fast turnaround times."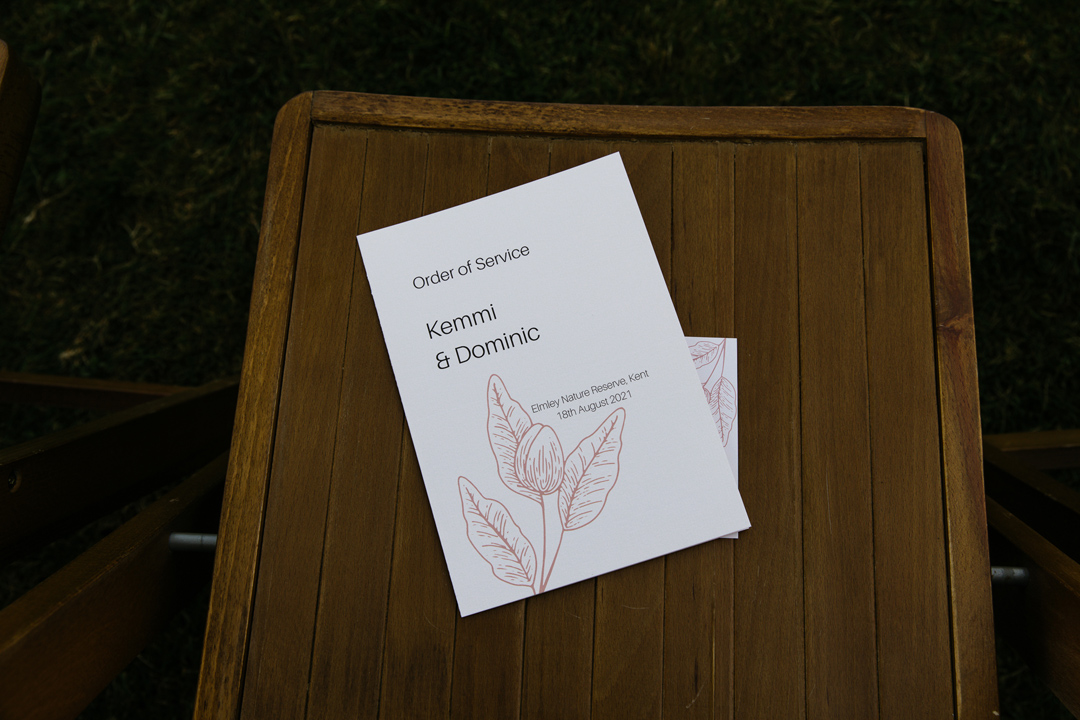 As the bride walked down the outdoor aisle with her parents, music from Ben Noke added to the atmosphere.
"Ben Noke provided so much more for us than just the sing-a-long. He played my entrance song to walk down the aisle. We had really wanted 'I Adore You' by Goldie. However, it has a heavy and fast drum'n'bass drop after the intro, so it would have been impossible to walk down the aisle to, unless I planned on running."
"We wanted the ceremony to be calm and romantic so we spent months trying to find something we loved just as much, but couldn't."
"We reached out to Ben who took the challenge in his stride and arranged a stunning, acoustic version of the song that fitted brilliantly."
"We had shared the news with Goldie after the wedding and received a really lovely message of congratulations from him."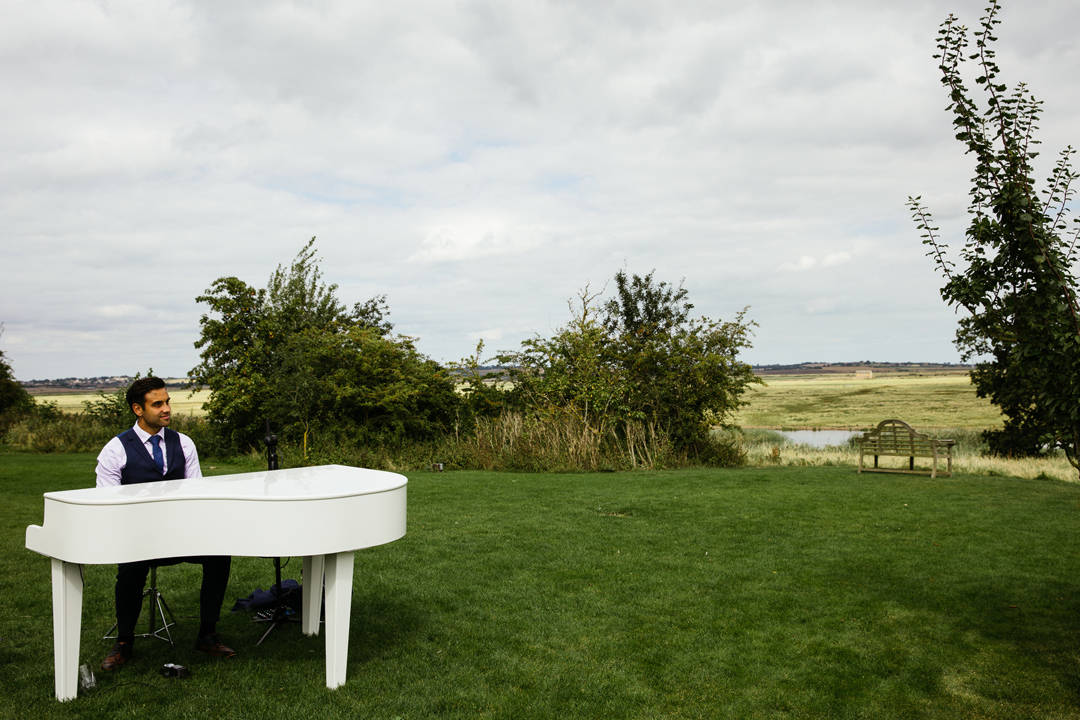 "My parents accompanied me down the aisle. It was initially a nerve wracking idea – they were separated prior to my birth – so having them side by side with me was both incredibly special and unusual."
Both have always shown me immense love throughout my life but the special moments I've had with them always tend to be separate. It was amazing to share this moment with them together, as a three."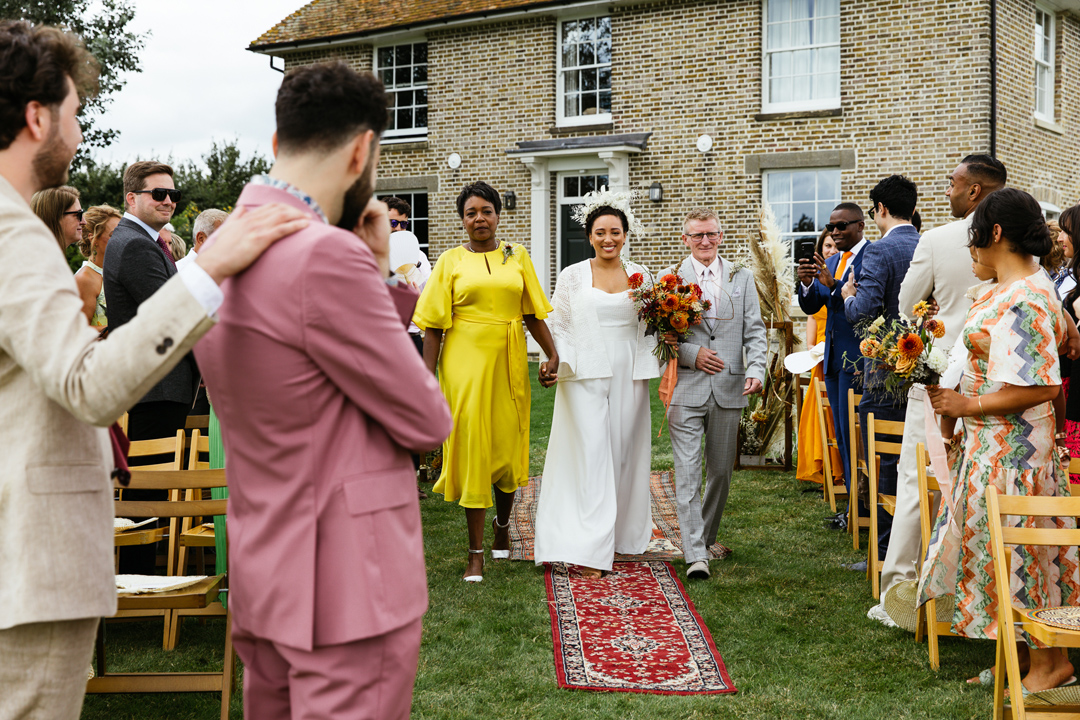 I am totally in love with Kemmi's choice of bridal outfit; an immaculately cut three-piece outfit comprising floor-skimming palazzo pants, a strapless bodice and a modern, A-line mini jacket, all from Jesus Peiro via Miss Bush in Ripley, Surrey.
We are such fans of Miss Bush and her beautiful Surrey boutique and invite you to find out more about her on the Love My Dress Wedding Directory here.
"I was introduced to Miss Bush by my cousin and maid of honour. It was the third or fourth boutique I visited at a point when the fear of never finding the perfect 'dress' was starting to creep in."
"The thing that set Miss Bush apart and made them stand out was not only the absolutely stunning collection of dresses, outfits and designers they carried but also how authentic they were."
"Emma and Corrine were honest, transparent and gave advice and recommendations that reflected that. As women, I trusted them and that made a huge difference."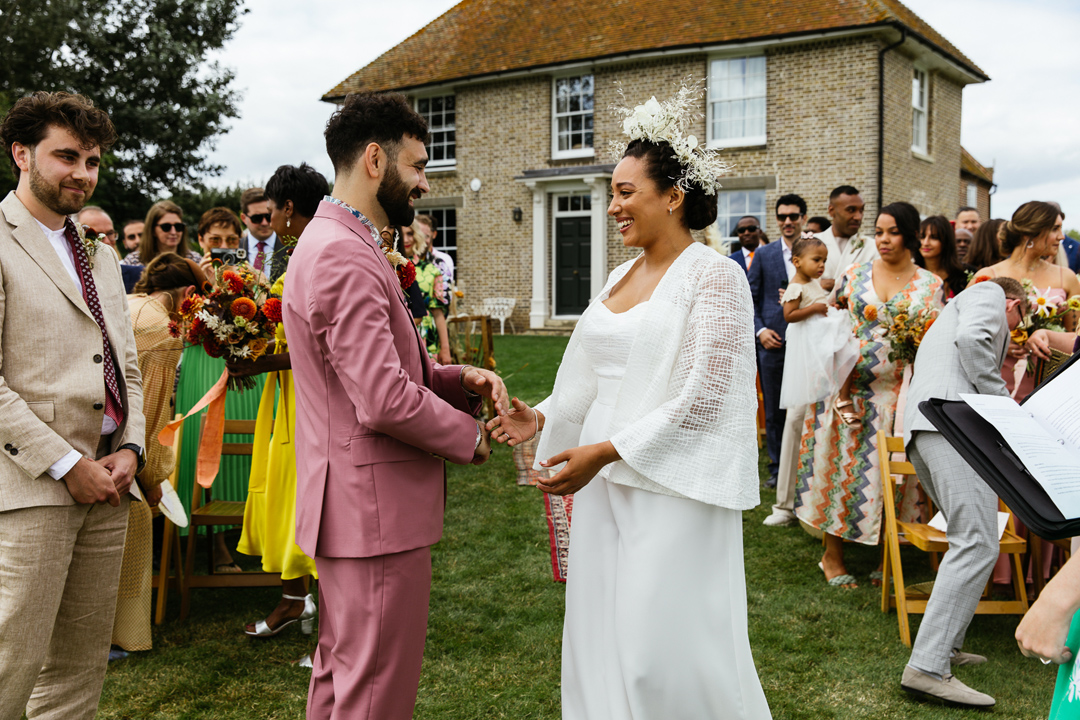 "I knew I wanted it to be fairly modest and not too sexy. I'm a bit of a tomboy at heart and although I like to dress up on occasions, comfort is key."
"I was always open to, and somewhat liked the idea of wearing trousers of some sort, although I didn't try any before the Jesus Piero palazzo pants."
"I wanted to look beautiful and special but more than anything I wanted to feel like myself."
"Once I tried the Jesus Piero 206 outfit it was love at first sight. I adored the fabric; the modern lace with dragonflies discreetly woven in couldn't have been a more perfect fit for the location and natural aesthetic."
"The bodice made the look feel more sexy whilst the pants provided the ultimate comfort. I also just loved the drama of the jacket and being able to take it off later to have a different take on the overall look."
The bride's hair was swept up and away from her face, perfectly crowned by the hairpiece.
"My hairstylist Love Hair By Lou had styled my hair before when I was a bridesmaid at my MoH's wedding. During my first time in her chair, she was confident and handled my hair very well (I have very thick, coarse hair that has intimidated many a hairdresser before) so this really put me at ease."
"I didn't want my hair to become the stress point it sometimes can, so chose to be in the hands of someone capable of styling hair of all textures, which Lou is brilliant at."
"I have a diverse family and bridal party, so that was very important to me."
"My make-up artist was a friend from school. We had lost touch over the years but I had sometimes seen her work online which I'd always admired, so when it was time to find someone for the day I was excited to get in touch with her. I wanted a makeup artist that would enhance my look."
"I don't tend to wear much makeup so certainly wasn't looking for a makeover, just something to make me feel beautiful and special. Siena Powloski did a beautiful job of enhancing whilst keeping the looks natural."
"We each had something slightly different and my sweet mum even cried after seeing herself with her makeup done! She made us all feel amazing."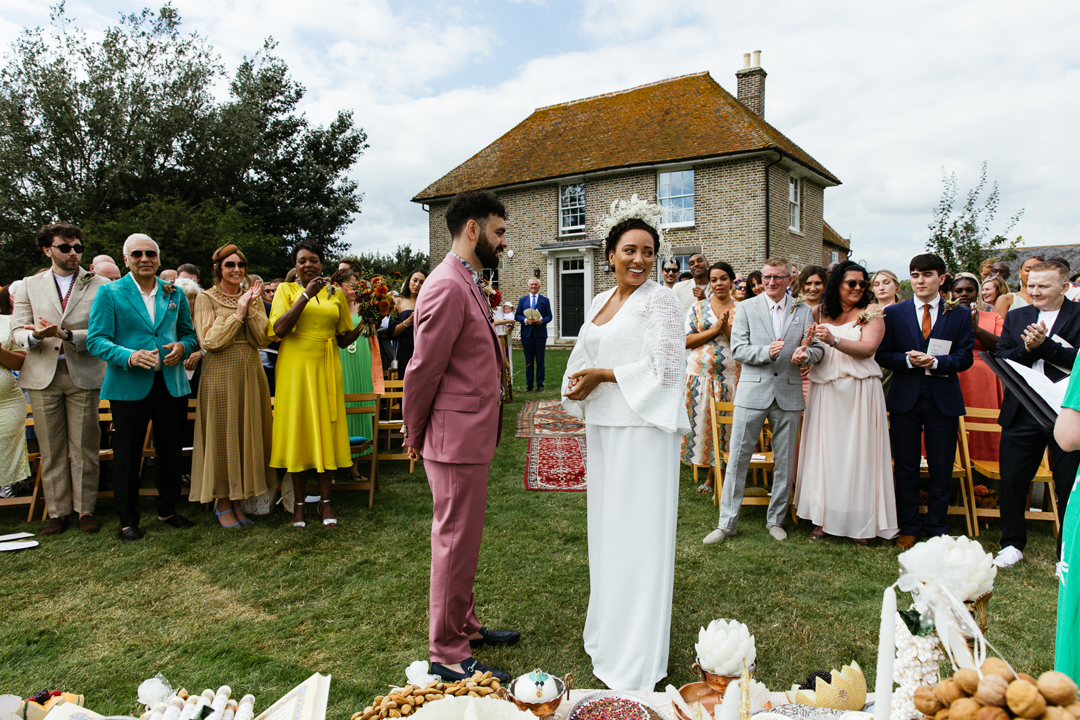 The ceremony was led by Francesca Clark and included a traditional Persion Sofreh Aghd.
"Francesca was everything we hoped for, even taking the time to visit us in our home to learn about us, hear our ideas and suggestions, adapting to what we wanted along the way. She put together a beautiful ceremony, combining romance, humour and storytelling wonderfully."
"Francesca joined us the day before our ceremony for a rehearsal, taking away the pressure you feel on the day and guiding us and our wedding party in the right direction, literally!"
"As part of our wedding ceremony we had a Sofreh Aghd. This is a traditional Persian ceremony where symbolic items are displayed on a large table in front of the couple whilst the ceremony takes place."
"Our stunning Sofreh Aghd was created and designed by Roya Salemi, a family friend of Dominic's. Roya worked closely with us to design the Sofreh, sourcing the perfect tableware and hand-selecting the accessories and fabrics. Dominic's father is from Iran and we were keen to take elements of the culture and incorporate it within our wedding."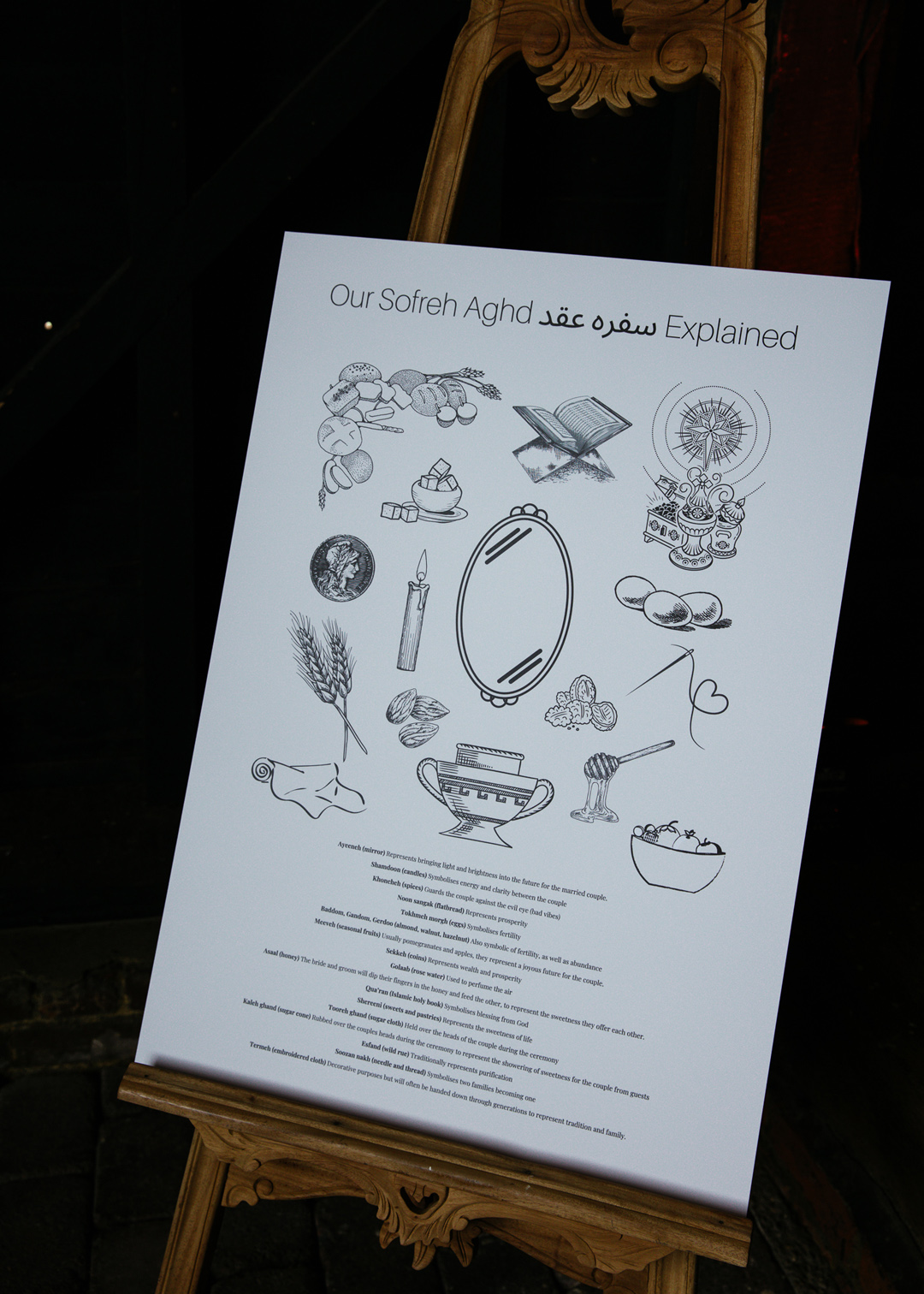 "Part of the Sofreh Aghd is the exchange of honey, during which Dominic's father read a beautiful poem in Farsi from the Persian poet Rumi. The final element was a sugar-rubbing ceremony, where female guests are invited to rub sugar cones over a cloth that is held above the couple's head."
"This represents a blessing of sweetness in the marriage. The cloth is held by the closest friends and family of the bride, so my bridesmaids took it in turns to hold the cloth. I had wanted to incorporate this unique ceremony format into our wedding to reflect Dominic's father's heritage as well as allowing guests to be a part of the ceremony and experience something less familiar. As part of the custom and Iranian tradition, we were extremely lucky to each receive a piece of jewellery."
"Dominic's parents gifted me an emerald and diamond pendant necklace and Dominic received a Tag Heuer watch."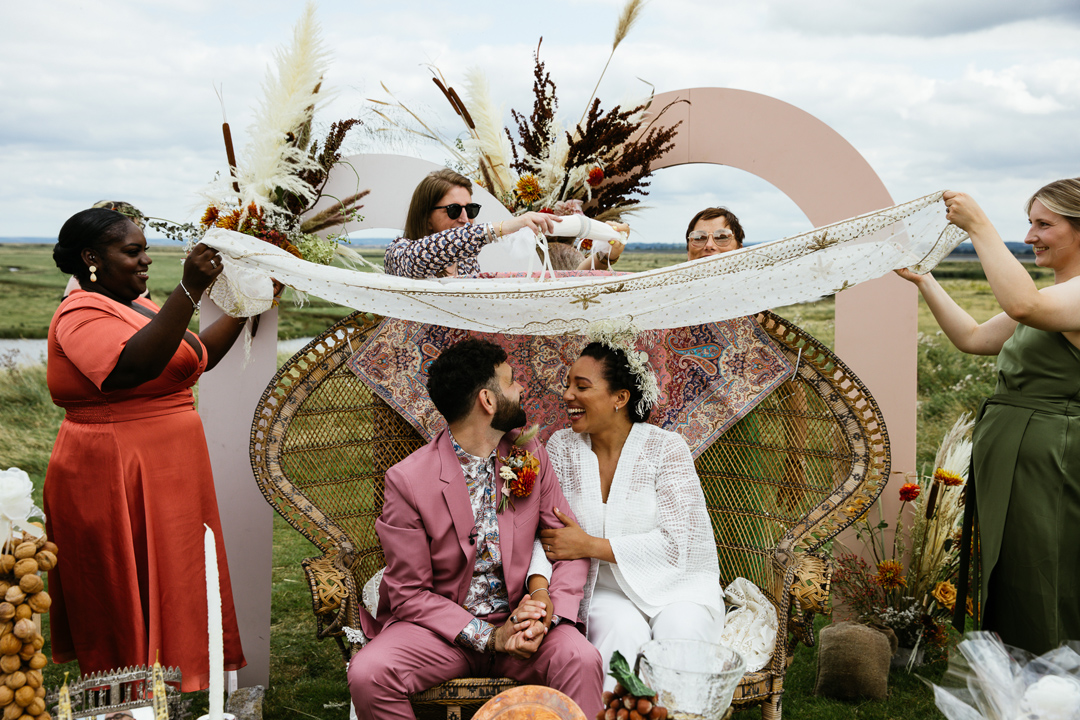 "We both wrote our own vows to each other and felt very strongly about this. It was important that we could carefully choose our own words to one another. Dominic works in communication so has a real skill for expression through language."
"He spent around twelve months writing his vows. I, on the other hand, managed to squirrel away ten minutes two nights before the wedding to write my vows. Neither of us looked at any examples of vows and I think this helped us to keep our vows honest and truthful to us and our relationship."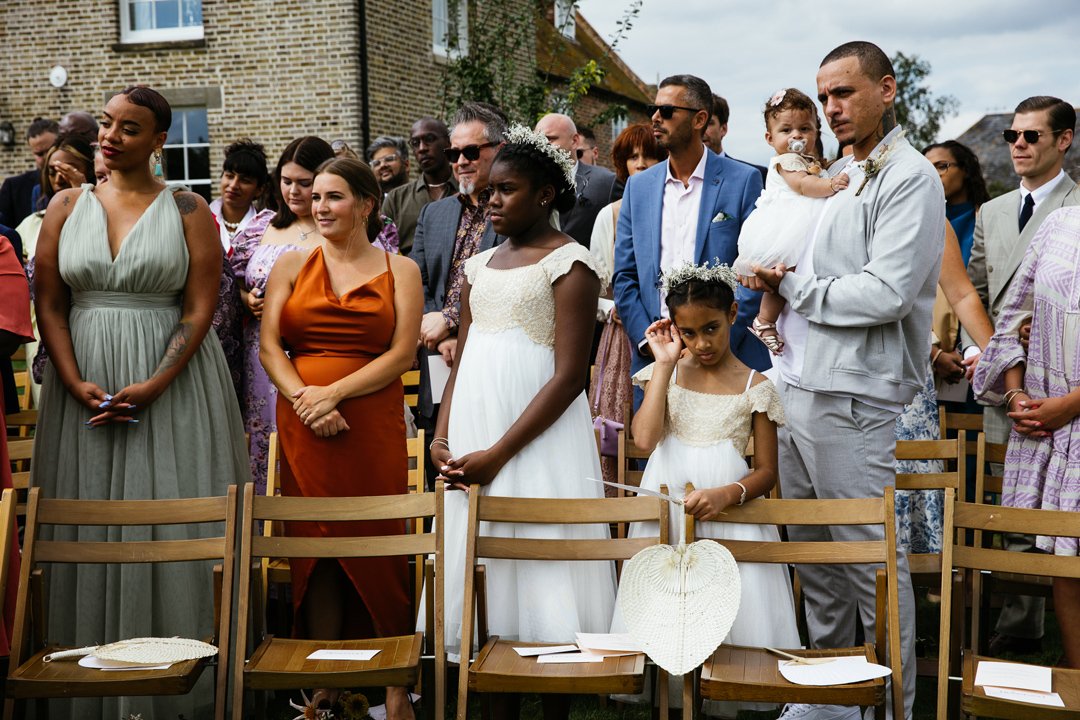 "We had two readings, the first by our friend Becka Hudson who was very much a part of the earliest moments of our relationship. She told the story of when we first met and fell in love; who better to tell it than the friend who inadvertently brought us together! The second was Dominic's father Ali, reading 'What A Miracle' by Rumi. We decided that Ali would read the poem in Farsi to capture the essence and heritage of the piece, whilst we made an English translation available within the order of service."
The couple's wedding bands were from Lila's, where they had also designed Kemmi's engagement ring.
"Dominic proposed with a beautiful sterling silver ring set with a cabochon emerald, made by my godmother and jeweller Maura at Lucky Little Blighters. It was a beautifully unique design I wanted to keep for special occasions."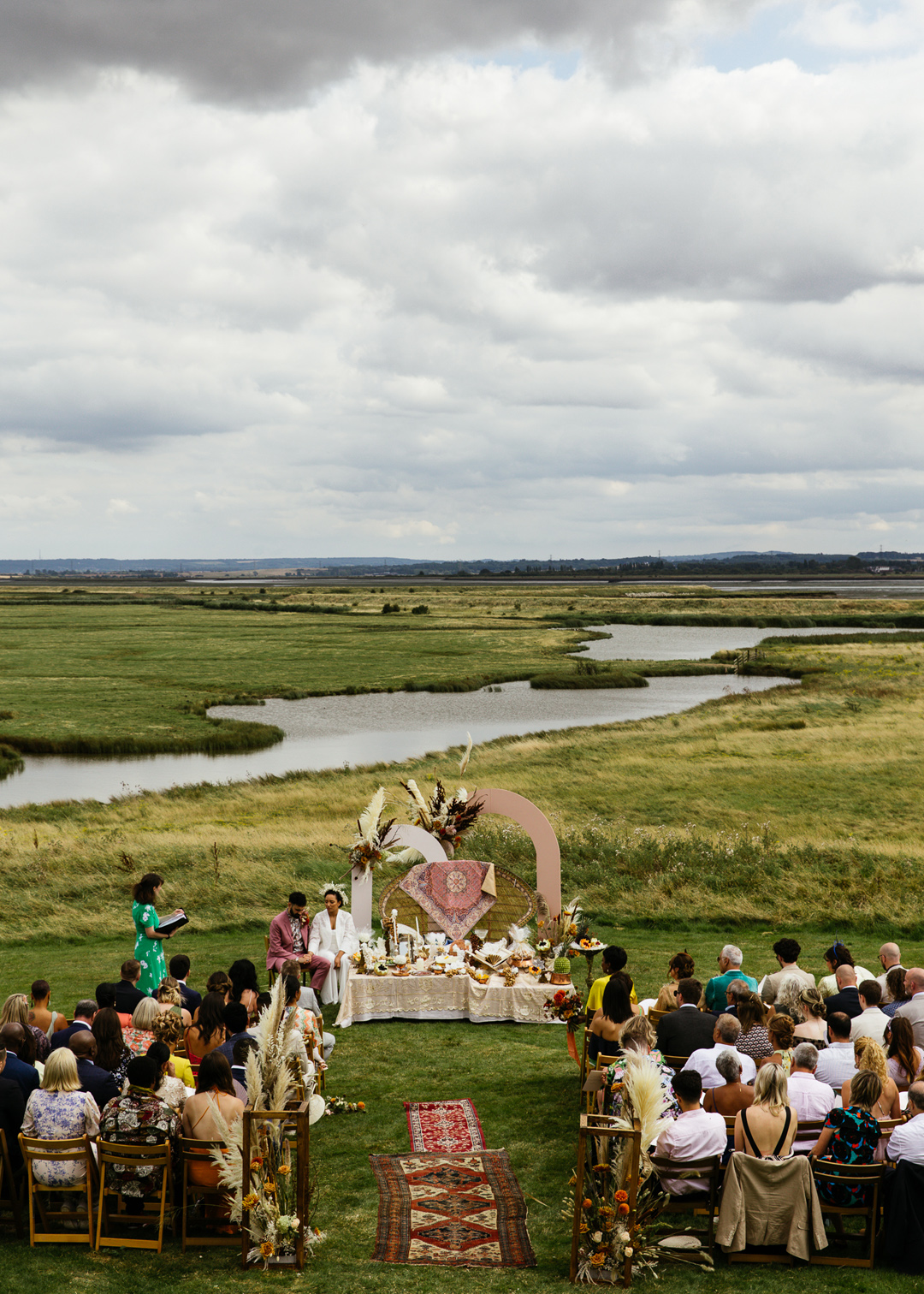 "My job in event production meant a larger ring could find itself in harm's way so we started the design process again, heading to Hatton Garden for another emerald to create a design that I could wear day to day."
We were introduced to Lila's Jewels in East Dulwich and set about creating a design that still had the organic features from the original engagement ring but in a more traditional and simple setting."
I went for a white gold band with an oval faceted emerald flanked with diamonds in an asymmetric leaf setting. We worked with Mia at Lila's on the design and after three or four iterations we finally got the ring into production."
We also worked with Mia to create two beautifully simple white gold bands. I feel so lucky to have two beautifully unique and special rings."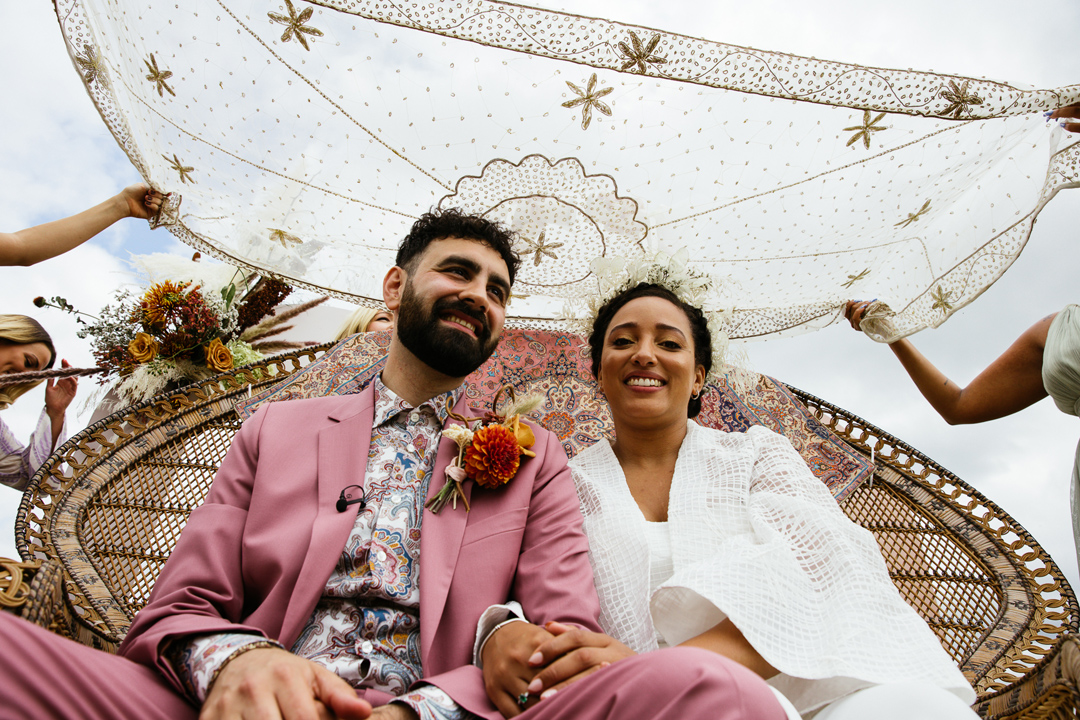 In contrast to the pure white of her bridal separates, the bride carried a vivid and textured bouquet of flowers, created by Design By Nature.
"I have worked with her for many years and I've always adored the artistic elegance of her floristry. Each flower, grass and foliage speaks for itself and she had the perfect, organic approach that was made for us. We chatted through my ideas and we were both so excited afterwards, I knew Emily would execute them perfectly. I left the flower choices to Emily."
"My knowledge is limited in this area and I knew she would have more creative control if she could choose things that worked. I just kicked things off with a moodboard of the colourways and displays that I loved."
"One creation that stands out was the incredible button hole she made for Dominic. It was much larger than the usual and had a large curly twig twisted throughout. It sat just beside his pocket and was stunning."
"We also wanted to support small business as much as possible and Emily is an independent florist who lives and works in Tottenham where I grew up, so that made the partnership all the more special."
"After the wedding, all the displays were gathered for guests to handpick their own bunch to take away and have a lasting memory of the day."
These wonderful, raw, documentary-style images are the work of Lyndsey Goddard Photography.
"We had spotted Lyndsey's work and loved the reportage style. We didn't want our pictures to be 'staged' so knew her approach was perfect for us. In early 2020, a friend from university got married and Lyndsey photographed their day."
When I saw the photos, I was blown away and knew it had to be her. Lyndsey was incredible – we couldn't be happier we chose her. She has an extraordinary talent in making sure she captures all the right pictures at all the right moments but in the most invisible and discreet way. She had a fantastic way of making us feel completely comfortable and at ease; neither of us are that natural in front of the camera. The pictures are amazing! We would recommend Lyndsey 100 times over and we're just waiting for an excuse to book her again."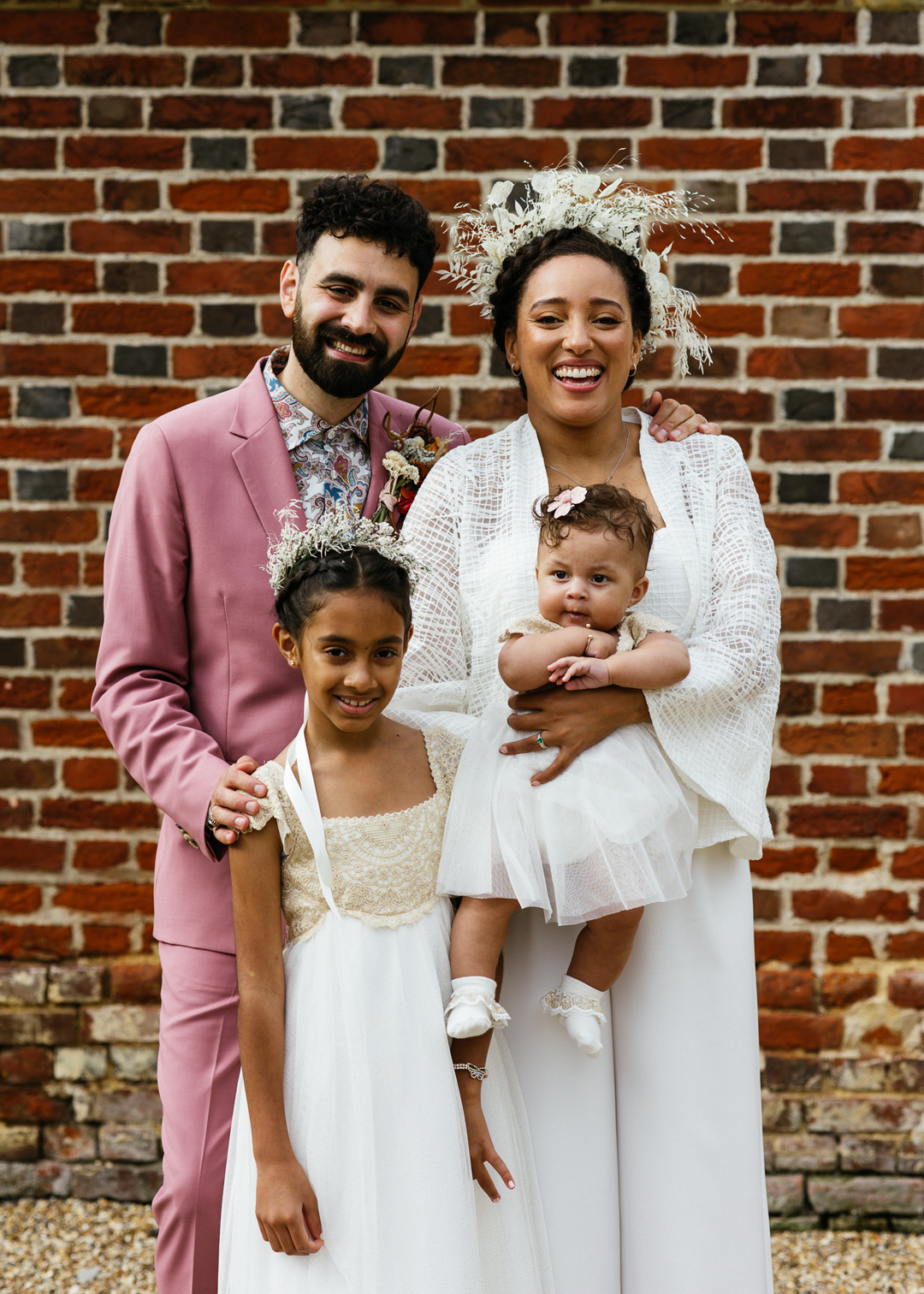 Kemmi and Dominic selected Jade Gooch at Hushabye Films as videographer. We are delighted to list Jade on our Wedding Directory so please take a look at her listing here for more about her and examples of her work.
"We'd met Jade at a friend's wedding and absolutely loved the film she'd created for the couple. It was energetic, exciting and packed with fun, so when our turn came around we had to go for her. Jade was fantastic and made us feel super-relaxed whilst encouraging us to be silly, funny or naughty if we wanted!"
"We worked with Smith & The Magpieto create our bespoke table plan and order of the day, which were beautifully printed onto organic cotton fabric and hung from large copper frames."
"Their Berkeley Square design complimented our existing artwork beautifully."
"We also created a large freestanding directional sign for guests to locate key areas of the site."
"This was lovingly constructed by Dominic's father and hand-painted and illustrated by close family friend and Fine Artist Macy-Leigh Birleson."
"We found it hard to give the style a 'title', but would say Middle Eastern boho chic would likely best describe it."
"It was a huge blend of all the things we think are beautiful. We chose warm, earthy colours that could work with the beauty of the natural surroundings."
"I found lots of the colours I loved were 'autumnal' and there were very few examples of earth tones also being used with rich, brighter colours so we set about creating a dynamic and complex colour palette."
"There wasn't one 'hero' colour that was repeated throughout, but a combination of specific tones and colours, layered in every element of the day."
"We didn't want things to 'match'; we wanted everything to stand out individually but also be complimentary."
"I joined Bungalow by Pink Palms, partly to fine tune my ideas but mostly for reassurance that I was on the right track. I have produced 100's of events but never a wedding."
"The membership include workshops, guidance and lessons as well as suppliers and support available from Ashleigh Li and the community of couples going through the planning process."
It was a safe space for me when I'd been down a Pinterest rabbit hole and got lost along the way."
"It really helped me to see the wood from the trees those last few months of planning."
"Our rough venue specification was big enough to allow up to 150 guests, somewhere with a unique character and charm and ideally a venue that we could use over a few days. We visited at least 15-20 venues before getting the chance to visit Elmley."
"The pandemic started just as we had found it so didn't get to visit for about four months. Within 30 seconds of arriving we knew this was where we wanted to get married."
"It's like an island within an island. As soon as you head up that long dusty track, full of gorgeous wildlife and every now and again a rather immoveable herd of cows, it's like stepping into a different, more peaceful, world with nature at its heart."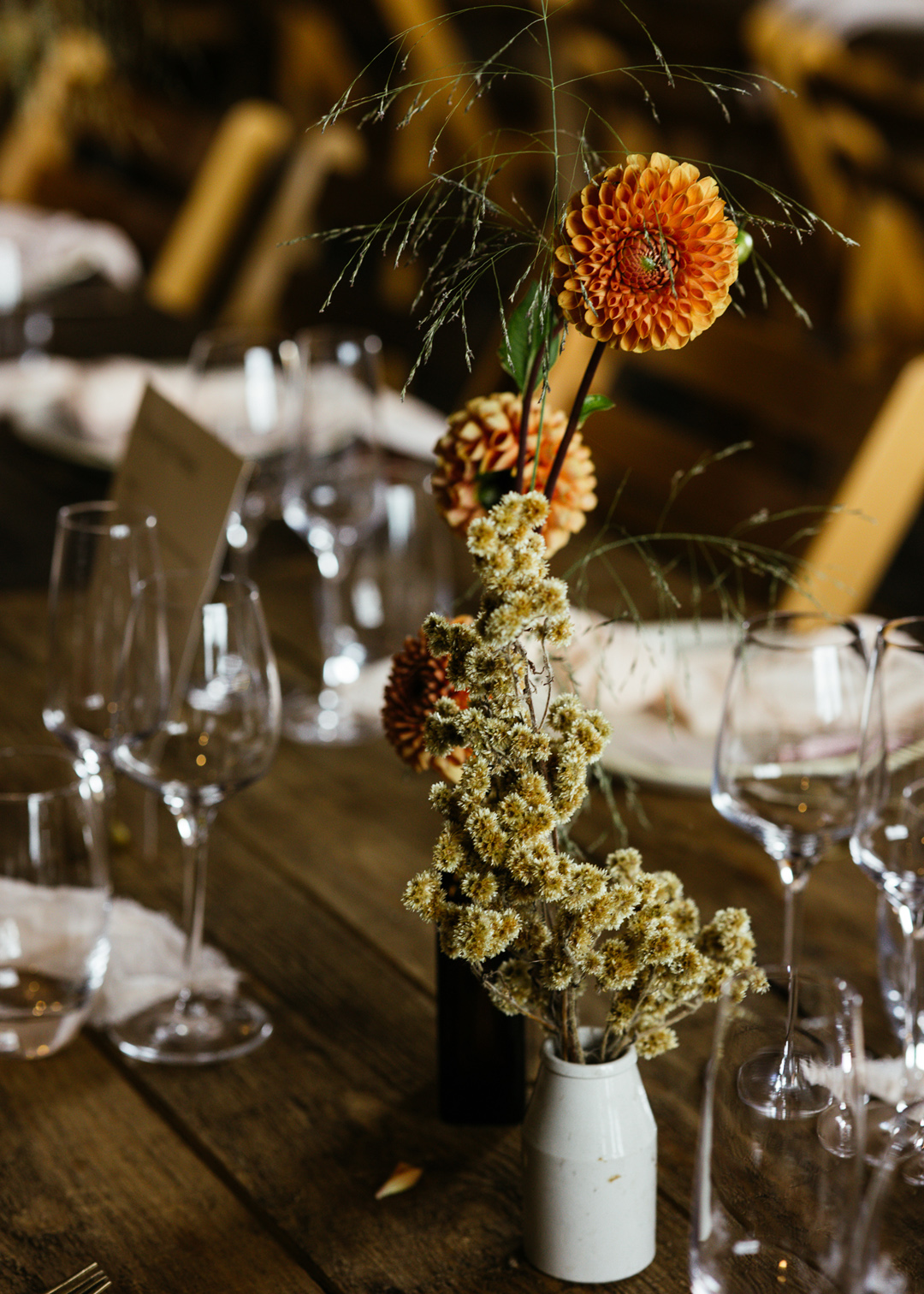 "Despite the nature at the centre, it still had enough amenities to be plugged in, able to cater for 150 guests, as well as luxury accommodation."
"Elmley isn't the raw, rustic venue – it's luxury surrounded by nature. It couldn't have been more perfect."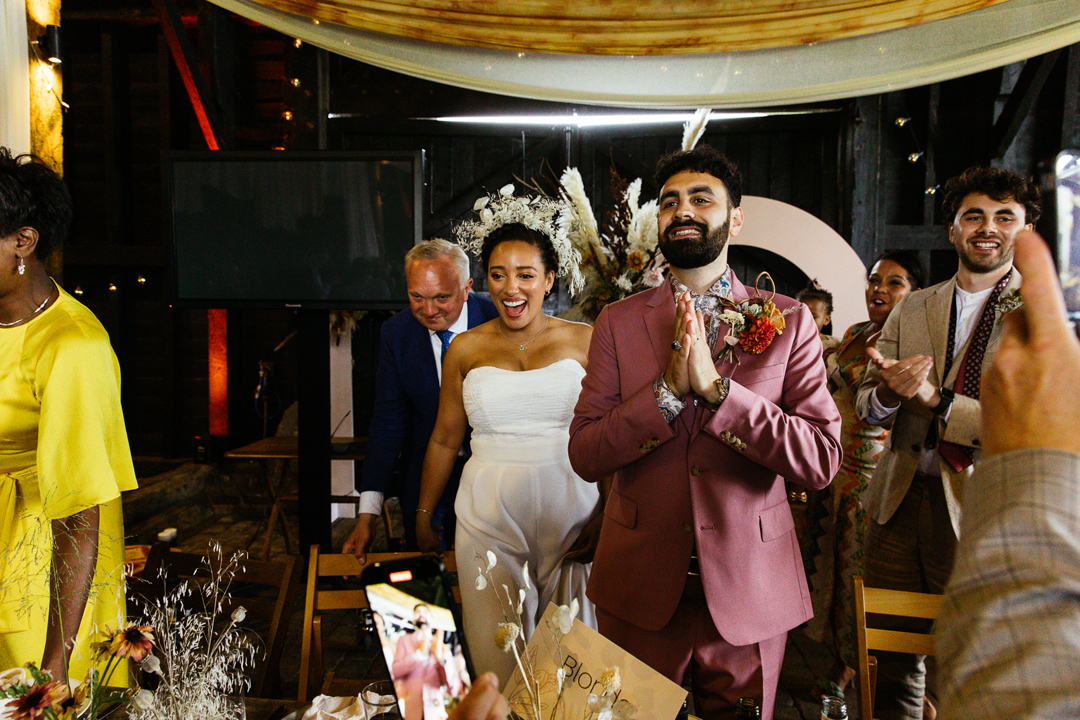 After the ceremony, the guests relaxed over a drinks reception with live music from Ben Noke before being treated to a mezze feast from Funthyme.
"Our absolutely phenomenal catering company Funthyme were a long-standing supplier of mine over the past six to seven years. Their head chef Matt has always skilfully balanced refined and modern cooking with punchy flavours and hearty portions."
I'm a massive foodie and wanted the food to be an experience for our guests, taking them on a journey and creating a menu of flavours that were new and exciting and brought our guests together."
"We worked with Matt to create a stunning menu that captured the spirit of our wedding, inspired by the vast cuisines of the Middle East and North Africa with dishes from Iran, Lebanon, Turkey, Georgia, the Maghreb region and more."
"We wanted our food to feel abundant and relaxed, so we had a mezze grazing table for starters followed by a sharing main course."
"For our late night food, we served Jamaican patties from Flakey Crust Bakery which was a reference to my West Indian heritage and the fact that I and Dominic just love them and eat them every chance we get."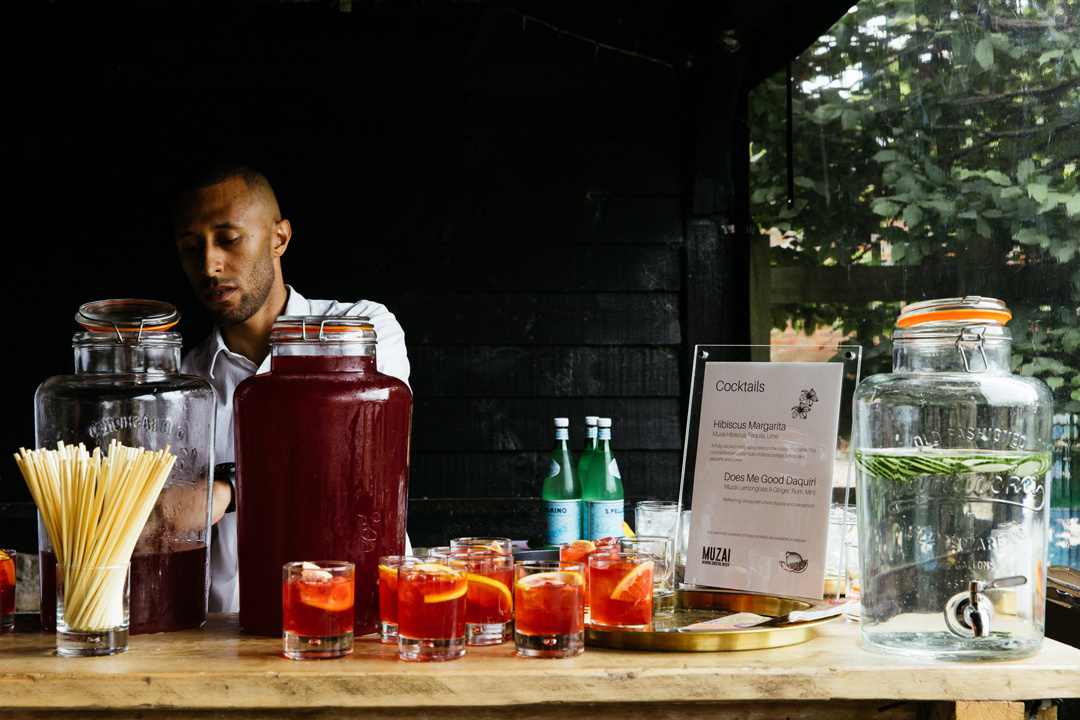 "Our gorgeous stoneware crockery and glassware were supplied by local Kent company Cameo Event Hire who were an amazing help and stepped in when our original suppliers folded due to Covid."
"Our stunning vintage Thai rosewood and brass cutlery was supplied by Helene Millot who had a lovely, mismatched set."
The incredible hanging fabric installations, napkins and ribbons were supplied by talented artist,  Mia Sylvia.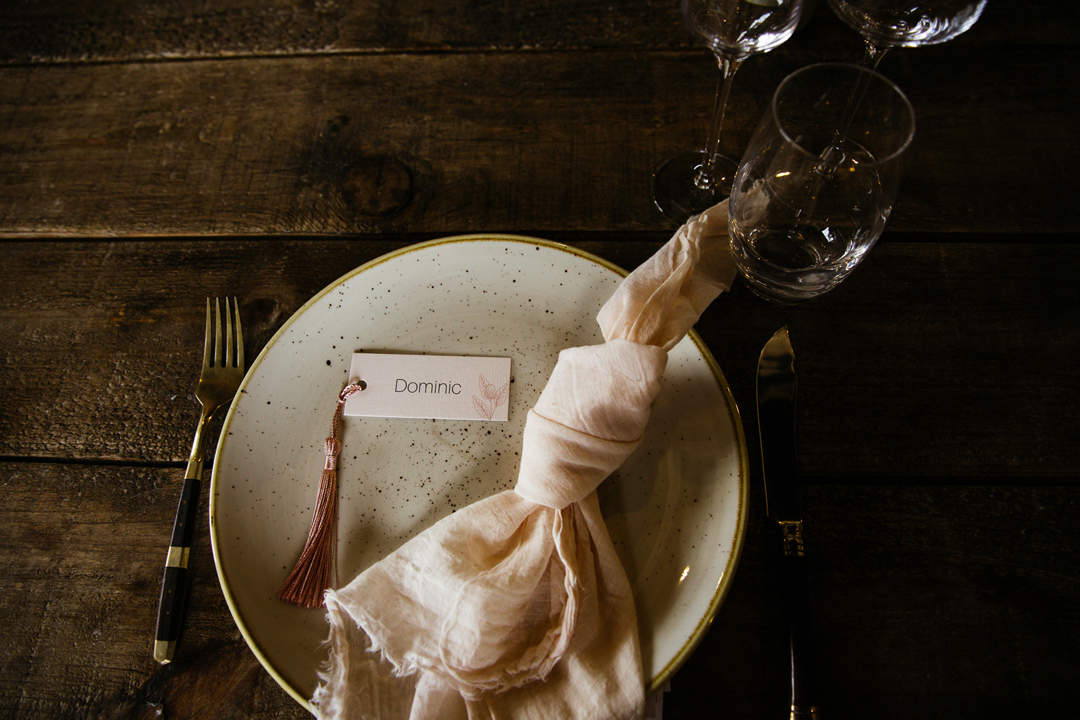 Dominic and Kemmi chose an alternative version to a guest book, which also doubled up as entertainment for the guests.
"I heard about The Big Red Box via my membership with the amazing Bungalow by Pink Palms. We had a solid plan for our guest book and all that was left was to purchase the items we needed but once we heard about the The Big Red Box audio guestbook we were amazed."
"Dominic works in communications and it just felt like such a brilliant way to link back to that as well as the red phonebox being a staple representation of life in London, which stood out brilliantly. I just loved the idea of a bright red phonebox juxtaposed with the natural and remote setting."
"The Big Red Box gave us the opportunity to hear heartfelt messages from our guests for years to come – just fantastic! It was so special to receive our audio a couple of weeks later and listen to all of our guests throughout the day, share their own words and send us their best wishes. "
"They ranged from the emotional, to the hilarious, to the deranged, more so as the night wore on and the party was in full swing."
More entertainment came in the form of a quiz booth.
"Dominic is known amongst friends as a massive quizzer, so we decided to create a retro quiz booth, challenging our guests to answer a selection of silly questions about us as individuals and as a couple."
"Dominic, with his many years of media training, set about creating his 'Quiz Show' complete with retro TV set with built-in DVD, novelty green screen backdrop and plenty of dad jokes. He created a makeshift TV set with the help of a close friend Tom and recorded the ultimate quiz. We also created a personalised scoreboard for guests to keep score throughout the night.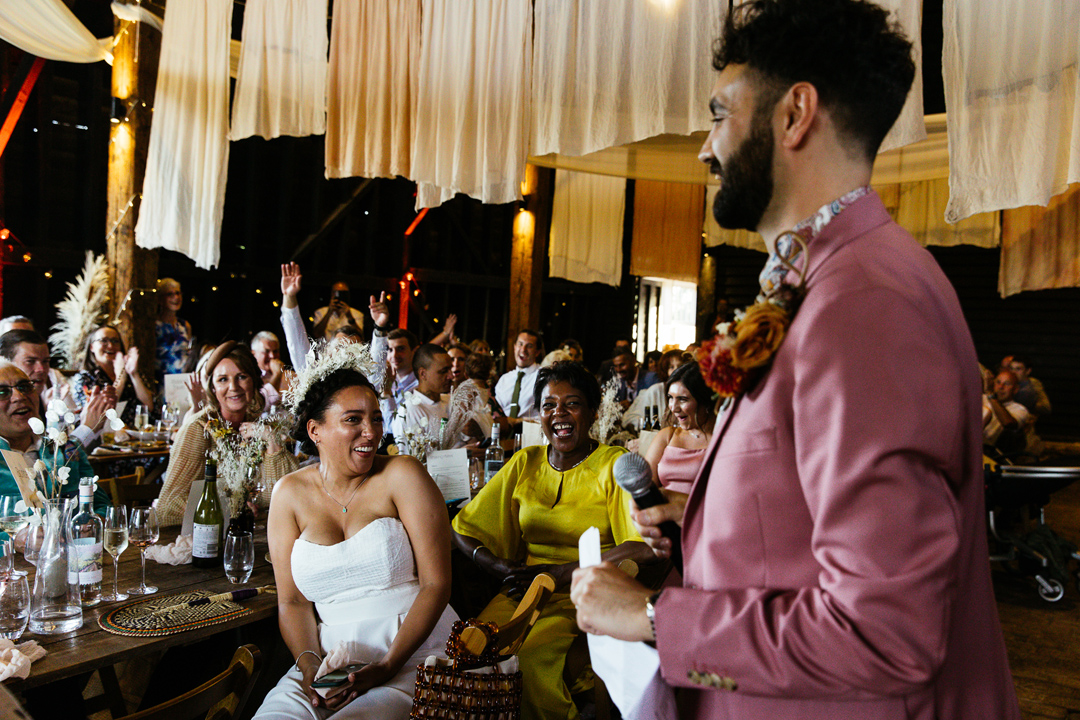 The bridesmaids selected their bright gown from ASOS, Never Fully Dressed, Boohoo and Ted Baker.
"My lovely bridesmaids were tasked with sourcing their own dresses using a very detailed mood board and brief I had provided, of course! I wanted each of them to be able to reflect their own personal style in their outfit choice, as they're all so different which I wanted to celebrate."
"Within the moodboard were a selection of colours and fabrics. When they eventually got together to try them on for the first time, it was so beautiful and harmonious."
"Each one of the dresses complemented the other and specific elements of the overall styling perfectly. It was so worth the hours and days of research."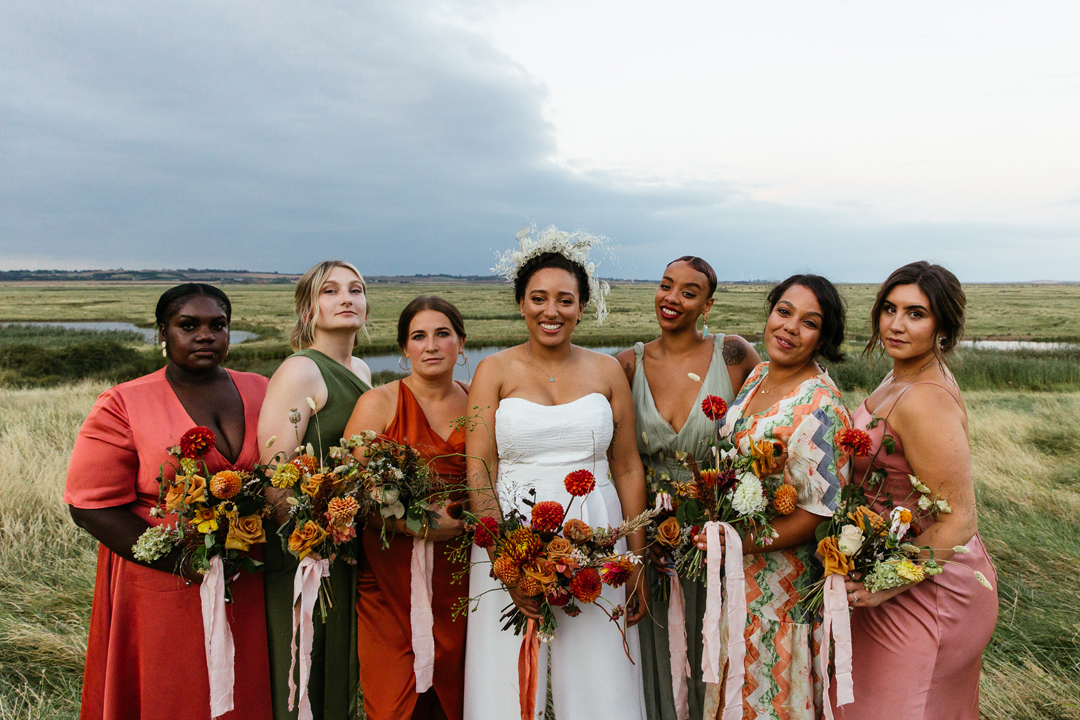 Kemmi's shoes were from Office and she wore a dramatic floral crown in her hair.
"I loved the idea of a veil, but with all the layers and elements of my outfit it wouldn't have worked. I wanted the added drama so I opted for a headpiece."
"I was very specific about this feeling organic, editorial and luxurious."
"My amazing florist Emily, from Design By Nature, created it using a mixture of dry flowers and grasses in natural and white tones."
"I was just in awe of how Emily captured and translated my vision."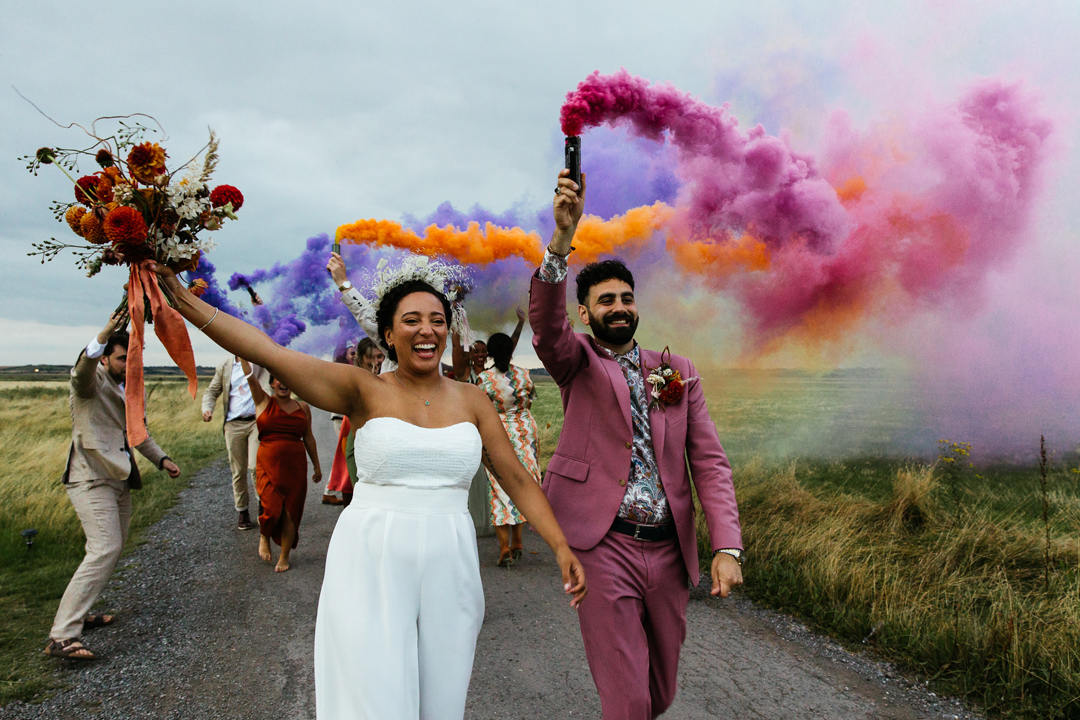 The couple have such happy memories of their day.
Dominic: "It's so hard to give one single moment. Obviously, there's when Kemmi stepped out of the door and walked towards me down the aisle."
"The serenity of the natural beauty, having all your most important people lining the way, and then your wife walking towards you – there's really no other feeling like it."
"But to come up with one slightly less obvious, I think it was the moment where I walked over to the ceremony area and suddenly everything was done and ready."
"Two years of work and this was it, nothing left to do but enjoy. It's probably the first moment I got to let go of all the organising anxiety and allow myself to enjoy the day."
Kemmi: "My favourite part of the day was the ceremony. We had each read our vows and were seated behind the Sofreh Aghd and I was finally able to relax."
"I remember looking at everyone, seeing the faces of people I loved the most, whilst sitting next to the man I loved most."
"My heart was so full in that moment and I was excited knowing it was just the start of what was to come that day."
The cake, three separate tiers, was created by the couple's close friend Alice Avery.
"She had done this for friends in the past and we loved how personal it made this, so it was a no-brainer – she is amazing!"
"We chose three cakes: Persian Love Cake as a nod to Dominic's Iranian heritage; lemon and poppy cake because it's just yummy; and a vegan chocolate cake because everyone loves chocolate and we wanted our vegan guests to feel very much a part of the indulgence."
"We went for a naked-style finish on the cakes and Emily provided some flower heads to dress each cake."
The evening party had DJ sets from close friends.
"We are lucky to have immensely talented family and friends and were super-keen to incorporate this into our day. DJ Maura Miller (my godmother) and Fawaz Al-Jabban (our friend) are our two favourite DJs so it was essential for them to give us the best party at the wedding. They both worked with each other as well as Dominic to curate an amazing set list. Fawaz's set included thirty minutes of our favourite Persian, Middle Eastern and Arabic funk music. This was accompanied by Dominic's dad playing a traditional Iranian drum called the tombak. Lots of fun was had with guests crowding around the action and everyone taking their turn with a mix of Middle Eastern and Western dance moves."
Words of Wedded Wisdom
Both the bride and groom have words of advice to share.
Dominic: "Don't underestimate the beauty of planning such an important event together. Admittedly, the vast majority of effort came from Kemmi but as we got closer and I became more involved, I genuinely enjoyed having a joint project to work on – that project being the celebration of our love. It gave us both such satisfaction to see it all come together and I'd tell any husband-to-be to throw themselves into the planning – not just because it's not fair to leave it to your partner but also because it can be so special to organise a wedding together."
"Your guest list has to be the people you want there. The guests make a wedding and when you have a group of people who really value you and value their own presence it makes everything more special. A wedding is not just a marriage between two people but shared between two sets of friends and families becoming one. You want the right people otherwise that can be difficult to achieve."
Kemmi: "I would suggest every couple start their journey thinking about how they can make their day unique. What can you do that sets you apart from other couples? There's no doubt that this will honestly reflect you as a couple but don't be afraid of this, even if a bit wacky or silly. Your guests love you for your individuality and will really appreciate this being reflected in your wedding day."
Kemmi and Dominic, congratulations and thank you. And Lyndsey Goddard Photography, thank you so much for your epic photography. For more brides in Jesus Piero, enjoy this selection on Love My Dress.
Ele xx