Sophie et Voila Short Puff Sleeve Wedding Dress & Jesus Peiro Bridal Separates at Findon Place in Sussex
This one is for the bridal fashion, decor and detail lovers, because this post is oozing the absolute best of it
Imagine your guests walking in to reception space and table settings like this, that's before they've set eyes on the super chic designs of Sophie et Voila (short puff sleeved dress) and Jesus Piero – impeccable gowns loaned from the absolutely brilliant Miss Bush Bridal boutique in Ripley Surrey.
Enjoy this beautifully curated editorial folks, shot on location at the sublime Sussex wedding venue, Findon Place, back in March this year.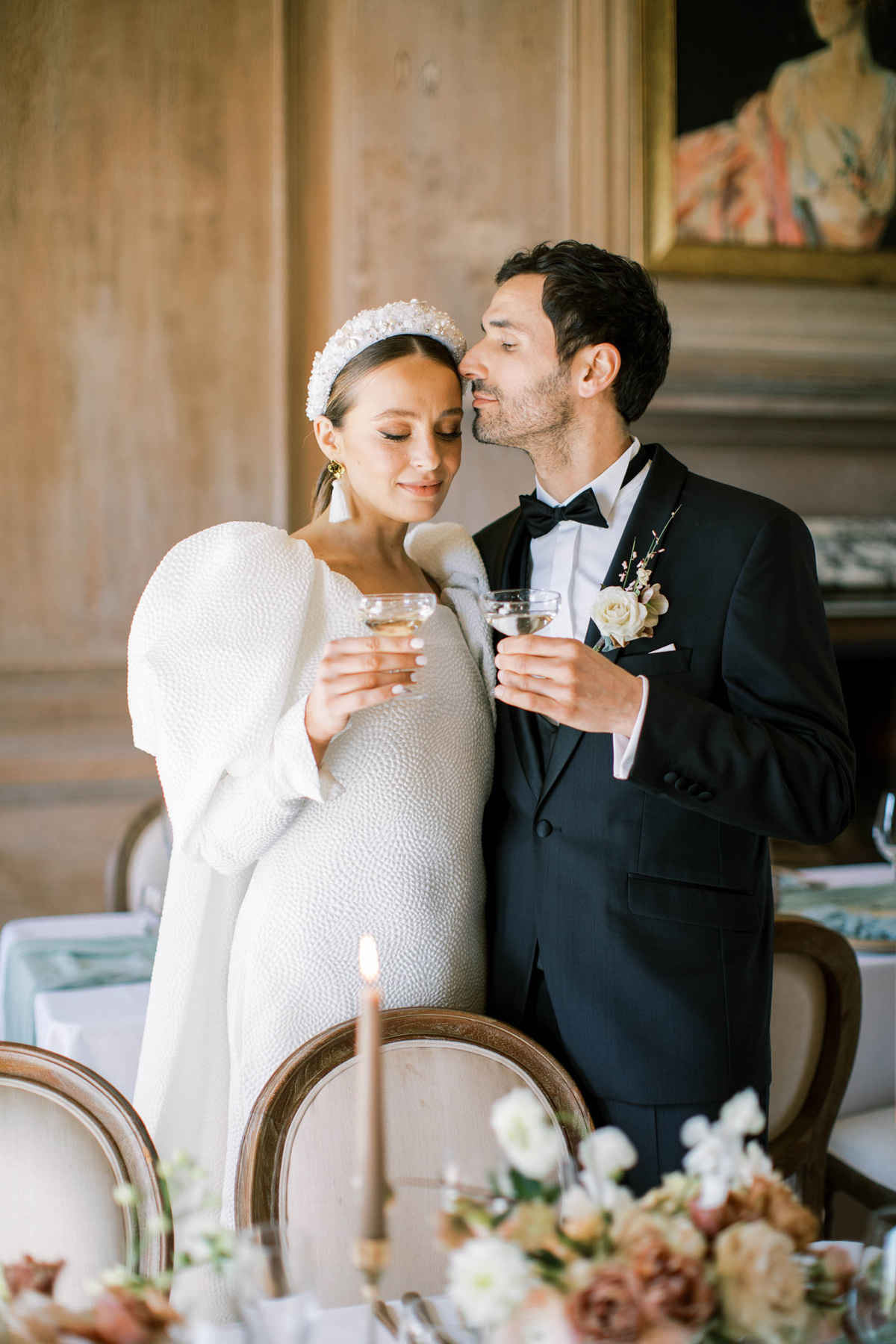 Shoot Concept
Findon Place is a Georgian property with roots trat date back to 980AD. It's incredibly historic, yet it has a warm, welcoming feel thanks to current owner, Caroline Hill who gave the house a make over when she took over in 2020.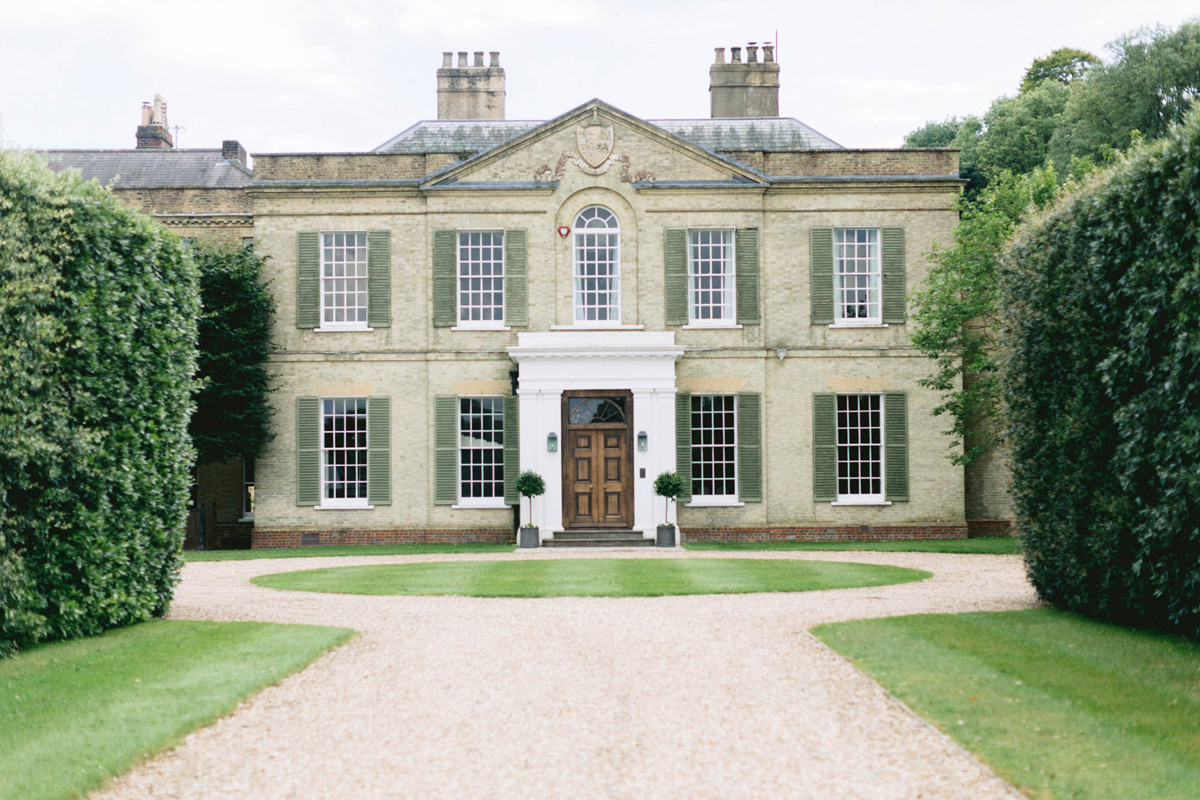 The interiors are in keeping with the style of the house, but the soft pastel paints and lighter wood floors and ballroom panels keep the spaces feeling fresh. This inspired the concept of the shoot – a modern twist on a traditional setting.
In the directory Blue Sky Flowers
Listed in
As a team, we wanted to show style conscious couples, with a love of chic tablescapes, unstructured florals and statement features that their concept can work beautifully in a classic space. A fusion of the old and the new.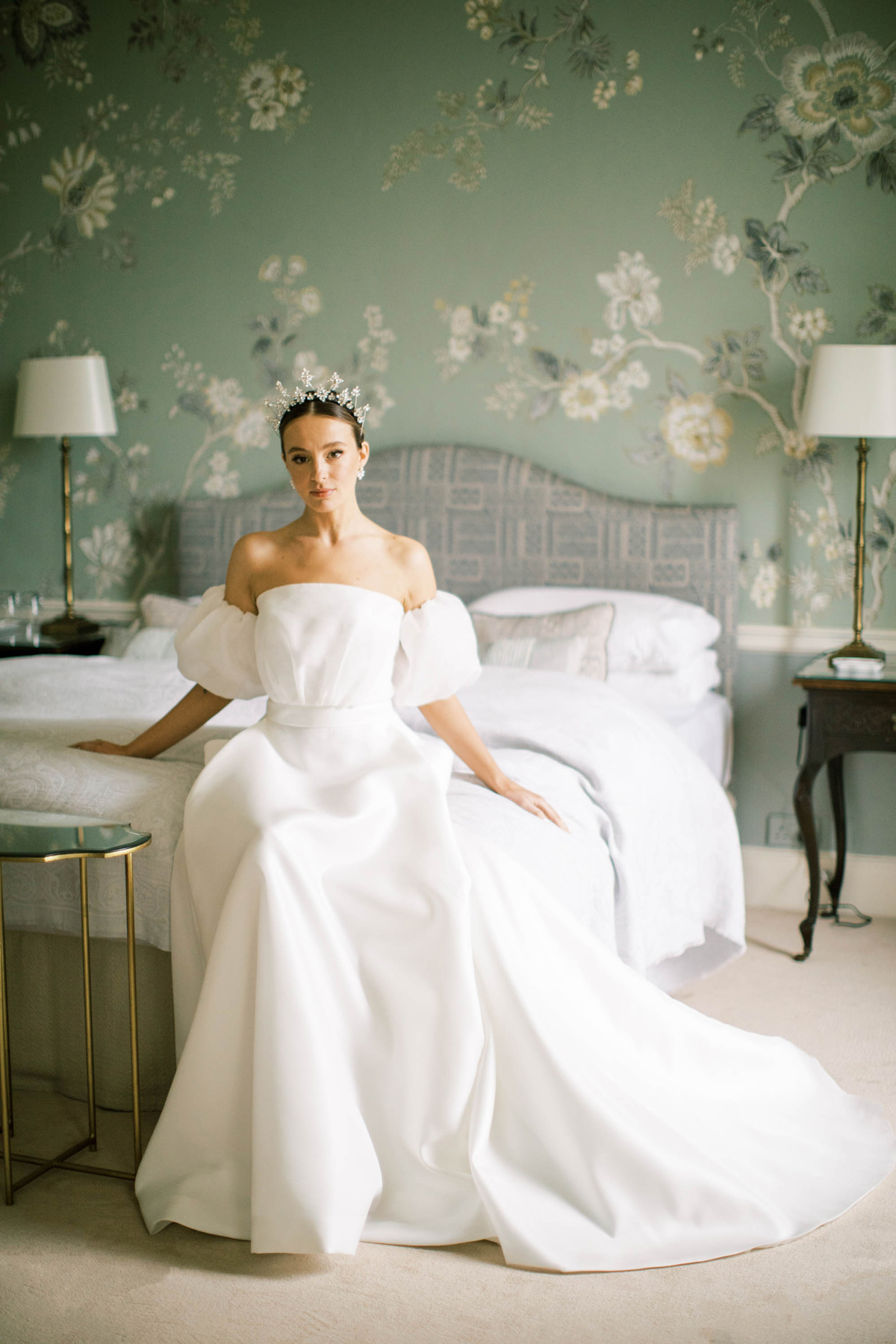 Bridal Fashion
Bold bridal fashion, quality details and style driven decisions ran consistently through each aspect of the shoot.
Fashion was in fact at the heart of the shoot.
We produced three bridal looks including a Sophie et Voila puff sleeved mini dress, and two looks involving separates from Jesus Piero – both sought after couture brands and all supplied by Emma Marshall and her team at Miss Bush Bridal.
We used statement shoes by the wonderful Bella Bellee and exquisite handmade accessories from Hermione Harbutt, again bringing the fashion forward bride out of the city, and into the elegant country manor house.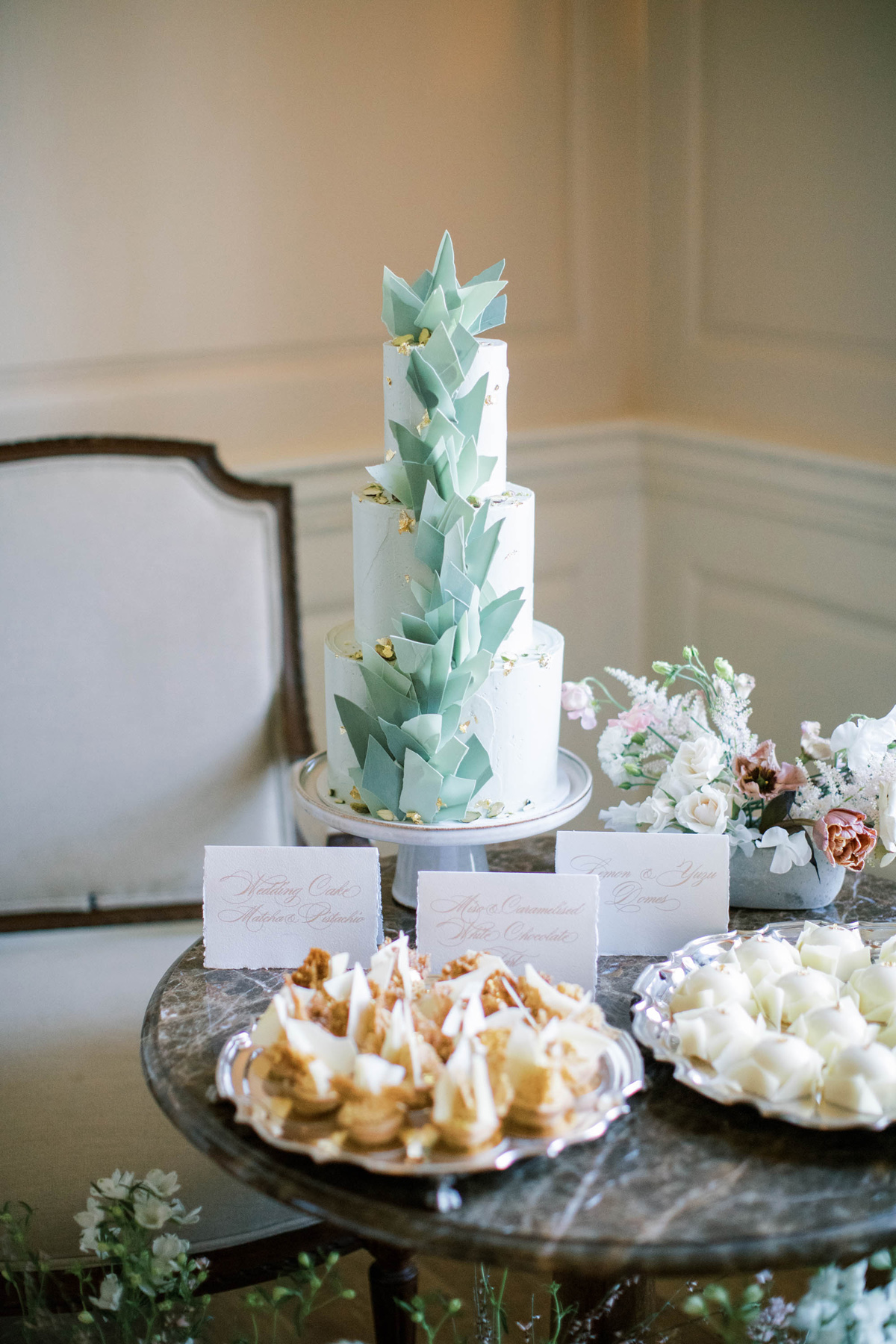 Guests have absolutely grown to expect a great food experience at weddings, it's no longer acceptable to have the average below par food of years gone by, so steering away from a traditional wedding cake and typical dessert table we had a chocolate sculpted cake combined with small selection of individual patisserie items, finished with details such as gold leaf.
In the directory Bella Belle Shoes
Listed in
In the directory Hermione Harbutt
Listed in
Another time the old complimented new was in the stationery design; we used more traditional features such as the water colour venue sketch, in conjunction with modern pieces such as the resin placecards and table numbers.
A Note From The Editor
It's such a treat to see an editorial featuring the beautiful designs and expertise of no less than four Love My Dress recommended suppliers.
We've been working with the Miss Bush Bridal boutique team since the very start of Love My Dress and absolutely love to share real weddings featuring Miss Bush brides – they are always so effortlessly glamorous, having, of course, taken style advice from the best of them, Miss Bush MD, the infamous Emma Marshall.
Be sure to also take a look at the work of Hermione Harbutt whose handcrafted original pieces are truly second to none. And the playfully elegant bridal shoe designs of Bella Belle.
Last but not least, the wonderful Blue Sky Flowers – I feel for all the florists and flower farmers right now having to care for their flowers in such crazy heat, and that's why I always suggest you work with a seasoned floral stylist like Liz who knows exactly what she is doing, whatever the weather.
Enormous thanks to photographer Helen Cawte for sharing her beautiful imagery.