Introducing Sophie et Voilà
Sophie Et Voilà is a Spanish bridal fashion label highly sought after by cool, modern brides. Their minimalist, modern and elegant designs were first brought over to the UK by Miss Bush Bridal boutique in Ripley Surrey. Miss Bush offers all Love My Dress readers a warm welcome to their beautiful converted chapel boutique, where you can try on these beautiful designs.
Sophie et Voilà
Sophie et Voilà is Spanish brand haute couture bridal fashion brand that embrace minimalism and modern elegance. These are designs for women who appreciate refined style and enjoy making a fashion statement on their wedding day.
Sophie et Voilà was established in 2016 by Sofía Arribas and Saioa Goitia. Formerly an architect, Sofia has a strong contemporary signature style that features voluminous puff shoulders, mini skirts paired with elegant sweeping trains and large, playful ruffled straps. Every single design is sewn together by hand at the brand's Madrid based couture house.
We are thrilled to support this talented bridal fashion house, in association with long-time Love My Dress partner, Miss Bush Bridal.
The Cristóbal Collection
The brand new collection from Sophie et Voilà is inspired by couture master, Cristóbal Balenciaga. One of the most famous ever couture fashion designers, Cristobel had the highest most uncompromising  of standards. He was regarded as "the only couturier in the truest sense of the word", by Coco Chanel,
This is a beautiful, contemporary collection which strikes out and creates its own unique, confident and feminine aesthetic, delivering the most beautifully crafted gowns through the same couture high standards set by Balenciaga himself.
Spanish design houses are renowned for their incredibly high standards of production. Sophie et Voilà represent a team of incredibly skilled pattern cutters, seamstresses and stylists. The entire team is made up of women who are employed at the company's production house in Bilbao, Madrid, where every single design is lovingly and carefully produced, right through from initial sketch to the most delicately hand-applied finishing detail and rigorous quality checks.
A Sustainable Bridal Fashion Brand For All Women
All gowns are producing using sustainably sourced or recycled fabrics and materials. Gowns are delivered using recycled packaging and as items are made to order only, the company operates without keeping stock, manufacturing only what it needs to. This ensures waste and excess pieces are avoided.
As each individual gown order is created on a bespoke basis, women of all sizes can wear one of these beautiful gowns with confidence.
The talented team of stylists at Miss Bush Bridal will be able to advise you further on size and fit – please never worry about theses aspects when finding your wedding dress. This is an experience to be enjoyed!
Real Bride, Nush, in Sophie et Voila
Sophie Et Voilà is a Spanish designer whose designs are dramatic and modern, yet there was a really timeless element to this dress. I loved the contemporary, simple, wearable nature of it. The sleeves were a real statement! Real bride, Nush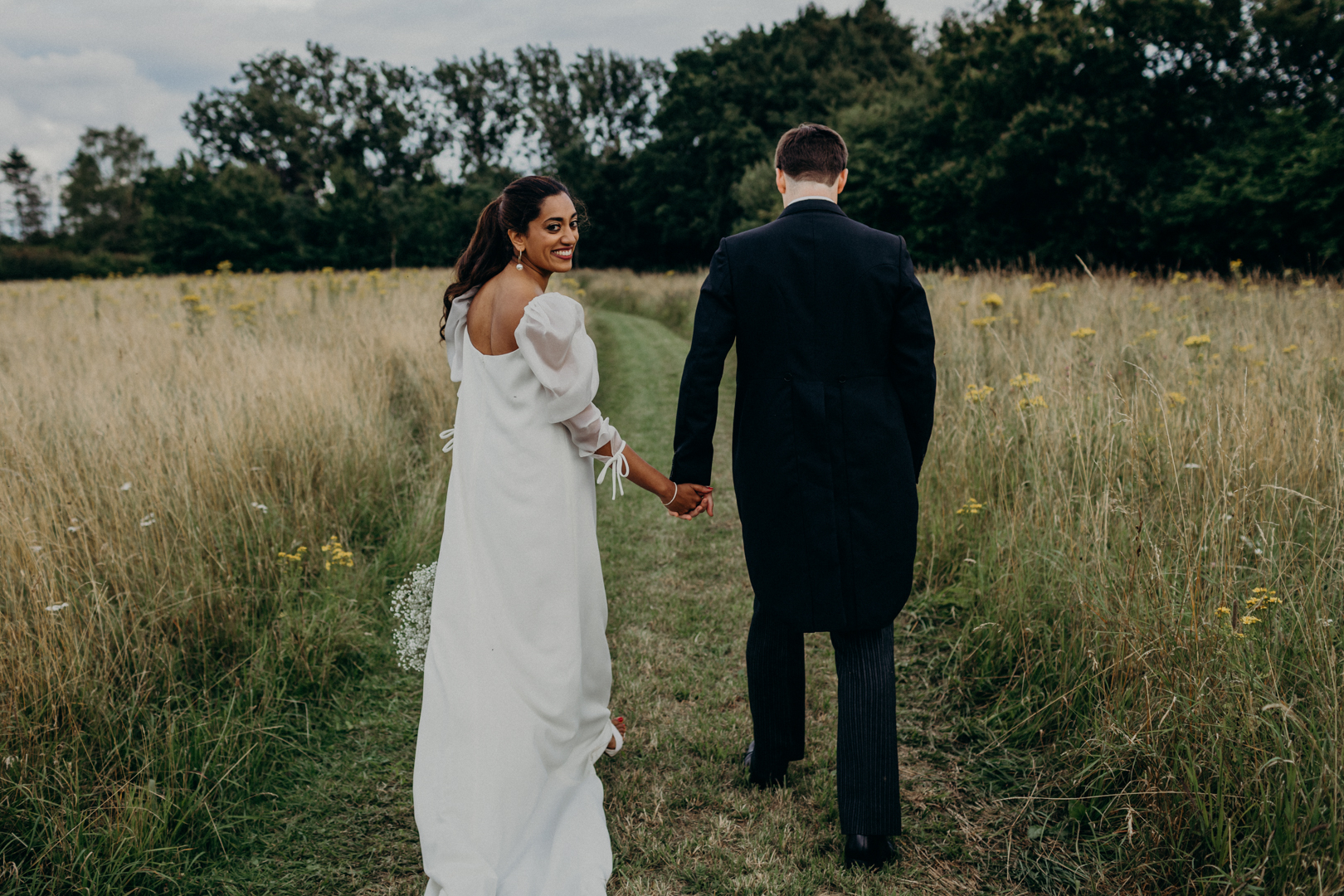 Book an Appointment
You are warmly invited to book an appointment to try on any of these beautiful Sophie et Voila gowns, at the Miss Bush Bridal boutique. This former converted chapel is a treasure trove of beautiful gowns with a wonderful and talented team of un-intimidating stylists to advise you.
Located in the village of Ripley, Surrey, just 20 minutes from London, you can enjoy a coffee or delicious lunch after your visit as there are some really lovely cafes, pubs and  eateries and a charming gift shop close by.
All Sophie et Voilà articles...