KATYA KATYA London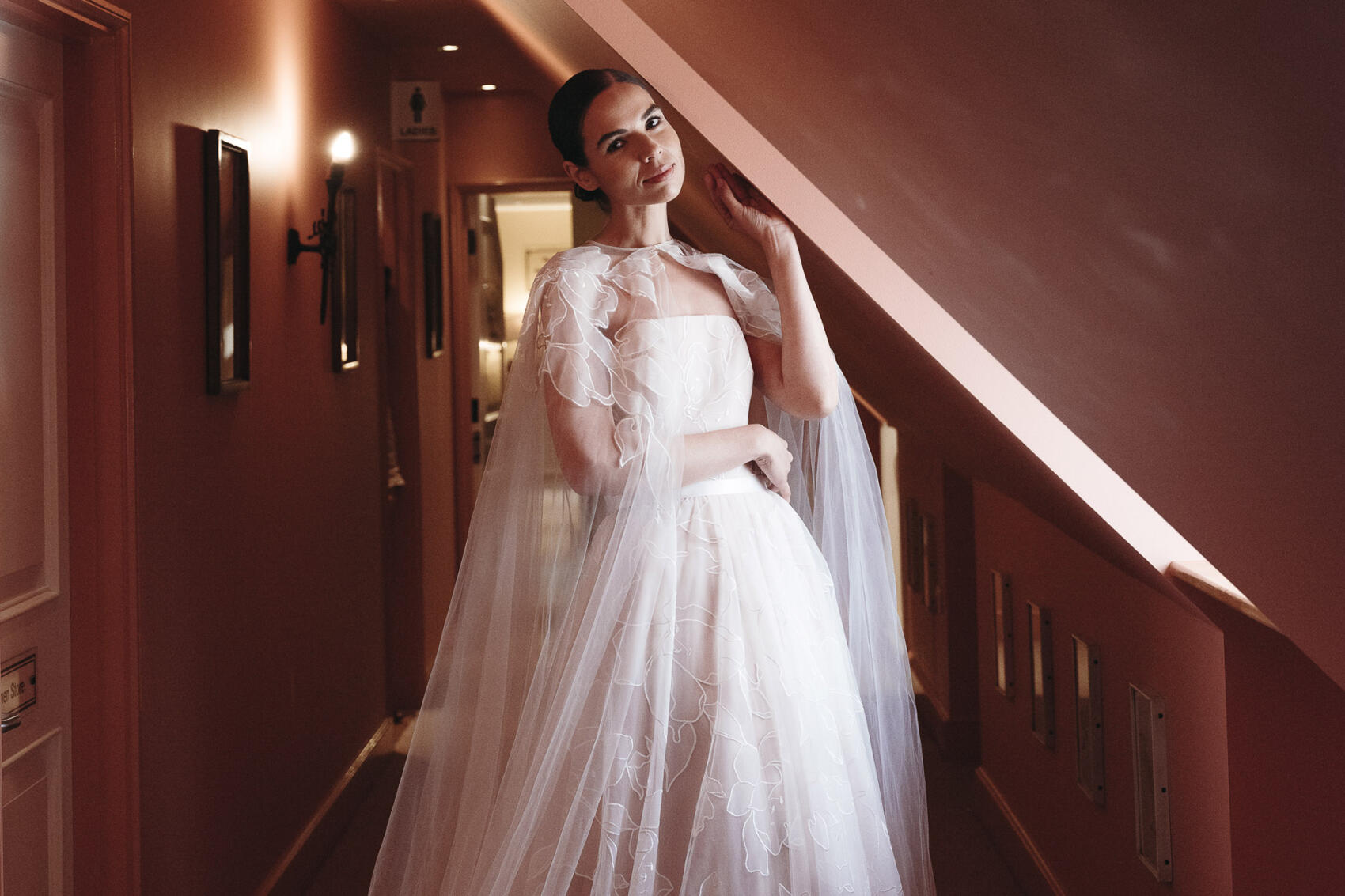 Katya Katya London create modern, bohemian, feminine and ethical bridal fashion. London flagship store and stocked throughout the UK and world.
Founded by life long friends, Katya and Marina, Katya Katya London is described as divinely modern and feminine. It is a brand with a sophisticated bohemian vibe.
Katya Katya London gowns are made to order to your size and take about seven months to create from start to finish.  An express service is available where gowns can be created within six to eight weeks. All gowns are produced in-house at the London atelier.
Katya Katya designs can be mixed and adjusted to create the ideal gown for you. Love the top but love the skirt from that other dress? Want Long sleeves instead of short? Or you want that V-neck closed? No Problem! We love mixing and matching and encourage our brides to be creative and make their gown truly theirs. All we say is that with every design change you want to make your gown your own, we charge an additional 10%. Another perfect way to customise your look is our interchangeable slips. We offer a range of colours to make your gown more unique or to change your look up from day to evening.
Sustainable & Ethical Wedding Dresses
Katya Katya London take being eco-friendly very seriously and understand that it can be wasteful to wear your wedding gown only once. The brand offers a service to restyle your wedding dress after the wedding, whereby your dress can be shortened to a midi-length and worn with a colourful slip to change up the look.
Enjoy browsing through images of all real Katya Katya London brides here.
Image credits: Krista Bumbiere
18 Park Walk, Chelsea, London SW10 0AQ, UK
By appointment only, please contact us for details
I loved the whole experience at Katya Katya! Dorz made it all so stress free and enjoyable. I was also lucky to fall in love with one of their dresses (Coral dress) from the first sight and it was perfectly tailored and even changed a bit as I had a slightly different vision. Everything from fitting to online communication was smooth and transparent. Would recommend Katya Katya to any bride who wants to wear something so carefully, beautifully made by nice people, and feel n0 stress throughout the whole process.
Dovile
Dorz was very patient and flexible through the whole process. She was great at keeping in touch and answered questions quickly. I felt like she really cared about making sure I was super happy with my dress. The environment at the shop is nice and relaxing and it's good that there's a space upstairs to try dresses on as my mum is disabled and wouldn't have been able to go downstairs. So happy with the dress I chose, I think the designs at Katya Katya are really interesting and great for someone looking for something a little bit different. It was comfortable and light which wasn't the case with others I tried, which helped me feel relaxed during the day and enjoy it fully.
Rosie
I couldn't have asked for a lovelier experience getting my dress here. I knew as soon as walked into the shop it was the place. Dorz was delightful and so helpful with all my queries and their in-house tailor was excellent. The dress also dry-cleaned excellently, it got a total bashing from running around barefoot and also a very wet trip to the beach with the photographer. It still looks brand new. It really made the day even more special wearing one of their dresses.
Helen
What an experience, what a dress. I couldn't have asked for anything more from the first appointment to the last. Dorz was particularly amazing and did all she could to accommodate. Thank you to everyone at Katya Katya, you made my wedding dress dreams come true.
Janey
I found your boutique on Instagram by chance. I am from Vancouver, Canada and when I knew I was able to come for a visit to London my first stop had to be your store! I bought my dress on my first and only visit, and was extremely comfortable and confident in my decision to purchase my gown through Katya Katya. Normally I am a very indecisive person, and the second I tried on my dress I knew I had found the one! I was helped by Dorz Francz. She was incredible for start to finish I cant say enough good things about her, and her team. I was married on June 30, 2018 at Villa la Vedetta in Florence Italy. The wedding day was straight out of a fairy tale, there was definitely magic in the air. Everything was perfect! I wore the saga gown with the blue underlay, it was everything I ever wanted but never knew how to put into words. Everyone including my husband, who saw my dress couldn't believe how perfect it was for me. The dress embodied my personalty, and everything that I love. I am so happy I found you all. Thank you from the bottom of my heart for making our day that much more special.
Karen
I wore the Maya dress from Katya Katya London. It was everything I wanted: boho, delicate, vintage-style – perfect for my fairy-tale day. I discovered the designer and the brand's amazing team at Brides the Show and tried the dress on there. As soon as I saw my sister's face when I came out of the changing room, I knew this was it. Its delicate French lace and pink, blue and opal stones on its belt made this my dream hippy-cum-fairy-tale gown.
Danielle