I finally tied the knot after 8 and a half years, on the first day of Spring,  March 2009.  It was one of the most amazing days ever, treasured friends and family joined us to celebrate in what must have been one of the sunniest, most mild Spring days of the Century.
Our amazing Wedding Photographer, Karen McGowran captured this image of me as the girls were getting ready – I think I shall forever be in awe!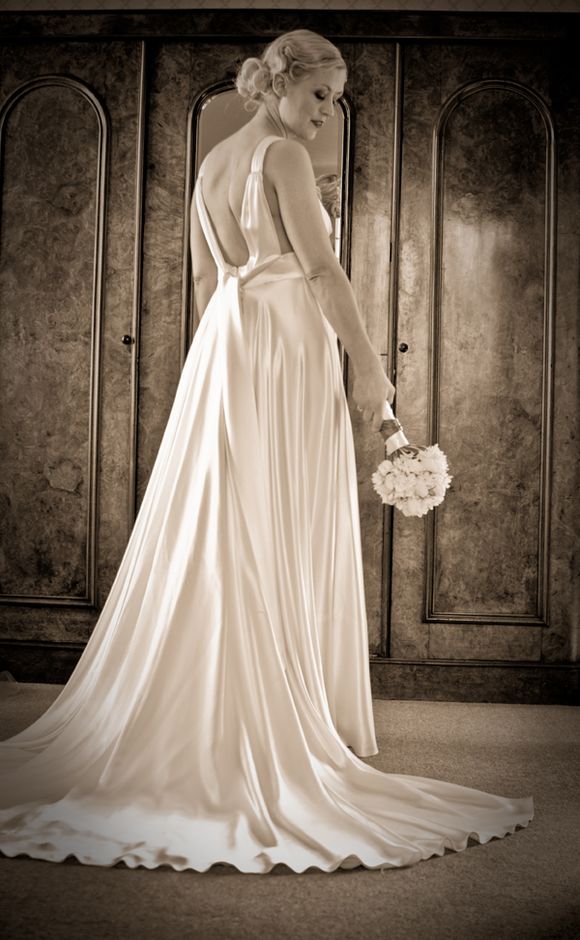 We chose the beautiful Dunsley Hall Country House Hotel in Whitby as the venue for a day that turned out to be filled with sunshine, love, laughter and much merriment.  Whitby is a place very dear to us both, for a number of reasons and so we didn't think twice in choosing it to play the back-drop on our special day.
This page includes some of the photography from the day in the hope that it may inspire others in planning their own wedding – or just offer some viewing pleasure to those who fancy a peak. I'm very proud of our wedding photographs, which were shot by the very talented Karen McGowran and whilst I couldn't possibly fit all of them in on this here Blog, I've included some of our favourites, and those which provide detail I hope inspires others.
Getting Ready…
Just a few shots of the Brides and her Bridesmaids, getting ready on the morning of our wedding.
My dress was Selene, by Jenny Packham. I purchased it from Poppy Bridal in Darlington – who I can very highly recommend – there are more photographs of my dress further down the page. I also got my Richards Designs full cathedral length, 2 tier veil from there too.  My shoes were 'Crystal Pearl', by Emmy – in 4 and a half inch heels! (with the help of a couple of gel cushions, I got through a full 12 hours in them!).  My perfume was the original Vera Wang…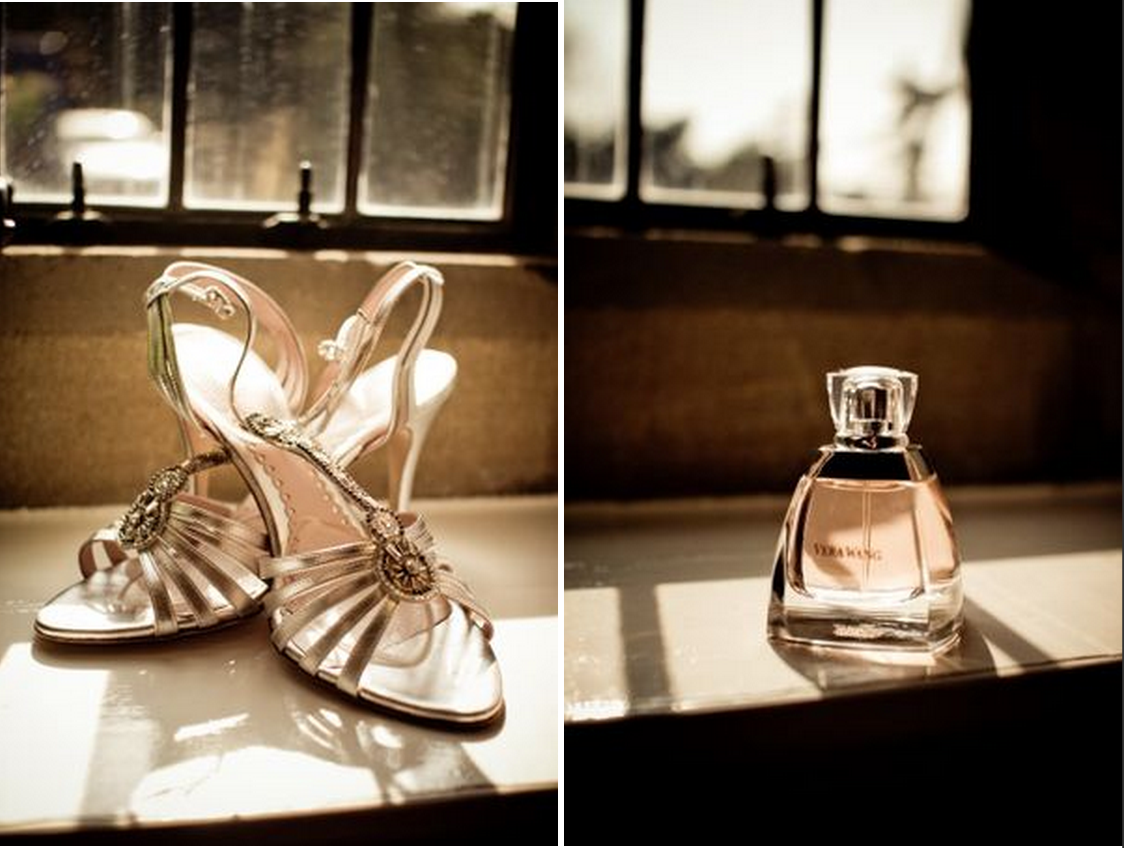 The two elder Bridesmaids dresses were 'Style 446, by WToo', part of the 'Watters and Watters' label.  Their dress was a halte-rneck in the colour stone.  I had the option to choose the band that went around the empire line in a different colour fabric, but I wanted the dress to be all the same colour. I ordered from the House of Brides website and saved a fortune and was very impressed with the service I received.  The Bridesmaids wore cute T-Bar black patent shoes that cost me only £25 from Marks and Spencers.  M&S also supplied the 100% silk throws that the girls wore over their shoulders to keep off the chill.
The two younger girls Bridesmaids dresses were from Monsoon. Infact, they were two of the very first wedding related items I purchased. I just fell in love with the vintage minky colour – and so, everything else had to pretty much work around them in terms of colour.  Their little mink-coloured shrugs were from Next and their Shoes and little purse bags were from Monsoon.  I filled baskets with confetti – our florist decorated the handles with Spring flowers to match our bouquets and fabric from my wedding dress that I saved when the dress went for alterations.  Any basket items you see featuring in our photographs by the way, were sourced from Jack Straws Country Store.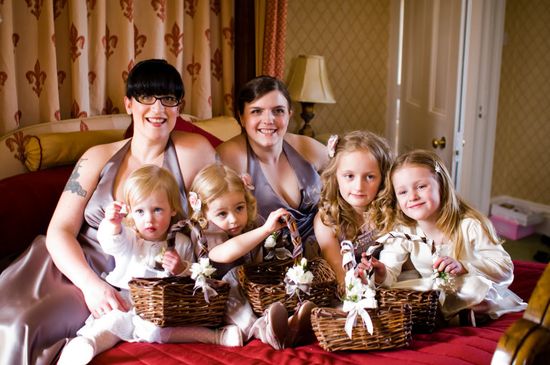 I wore the Shearer Comb and the Shearer Cuff by Flo and Percy, part of their vintage inspired 'Looking Glass' collection.  I also went for a 1930's Hollywood glamour look with my hairstyle, smokey eyes and very red lipstick.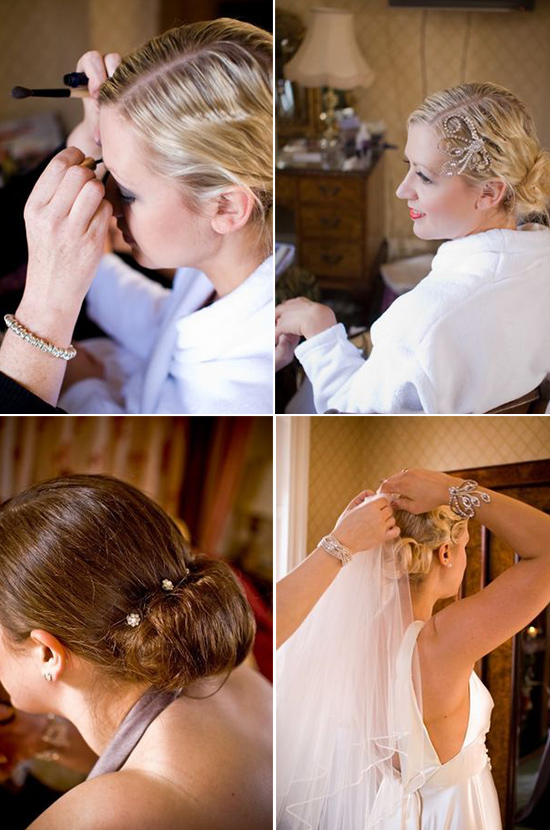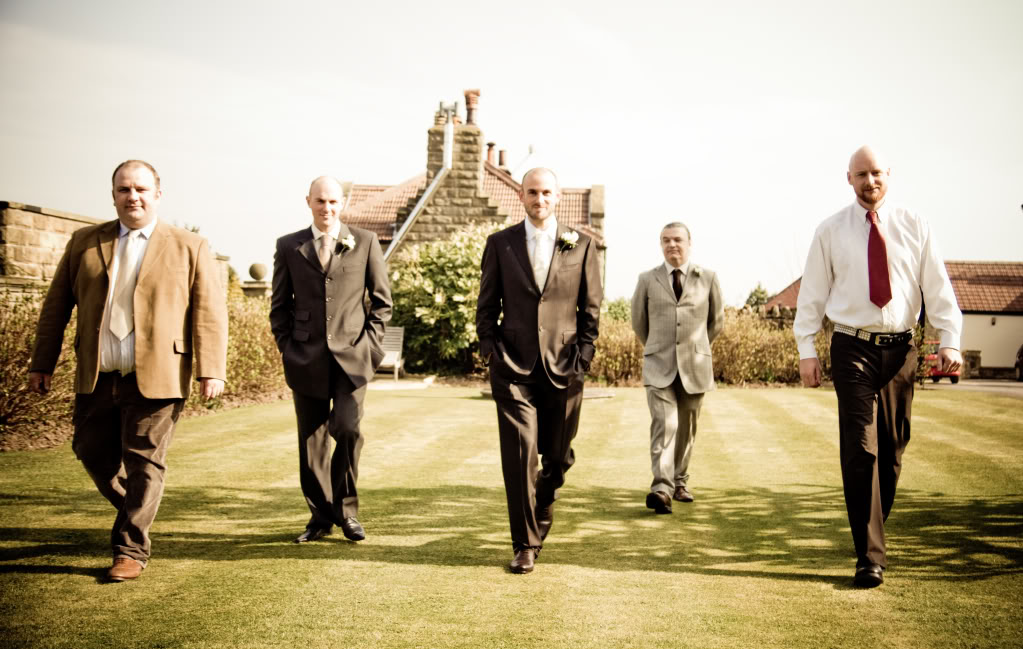 You'll note the men did not have matching suits – this was our choice and just something that didn't float our boat.  We chose instead to ask the Groomsmen to wear smart, but whatever they felt comfortable in.
The wedding ceremony was due to commence at 13:00hrs.  Taking this into account, the hair & makeup artists started their thing at 08:00hrs, the photographer arrived at 11:00hrs and we were all ready with no time to spare in the end. You really do need as much time as possible in the morning to get ready – over-estimate when scheduling! 
The Ceremony…
Some pre-ceremony photographs…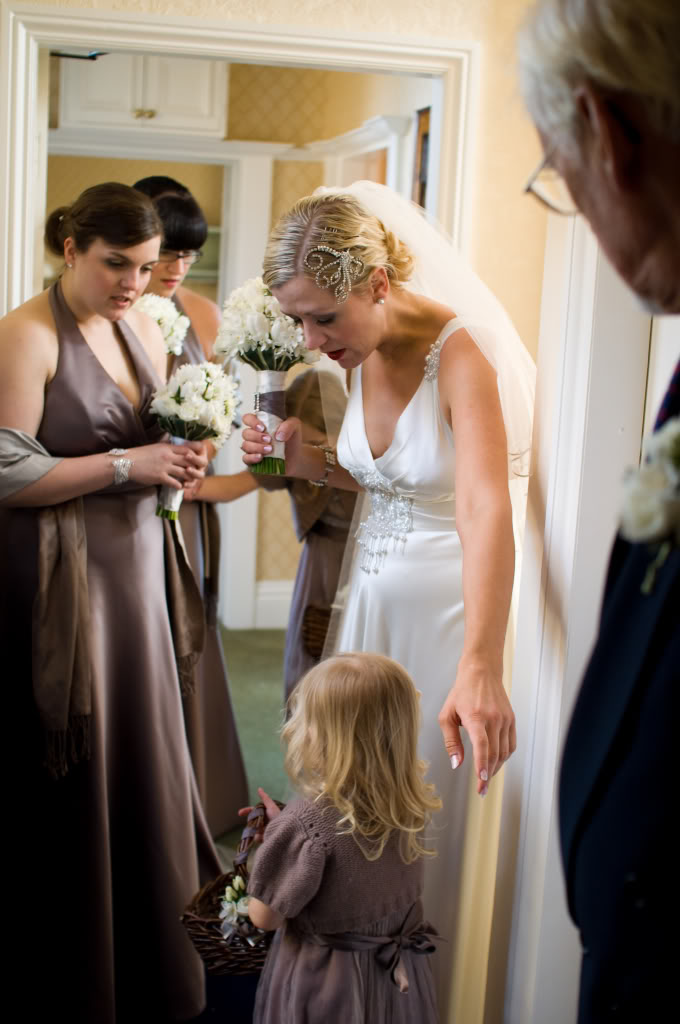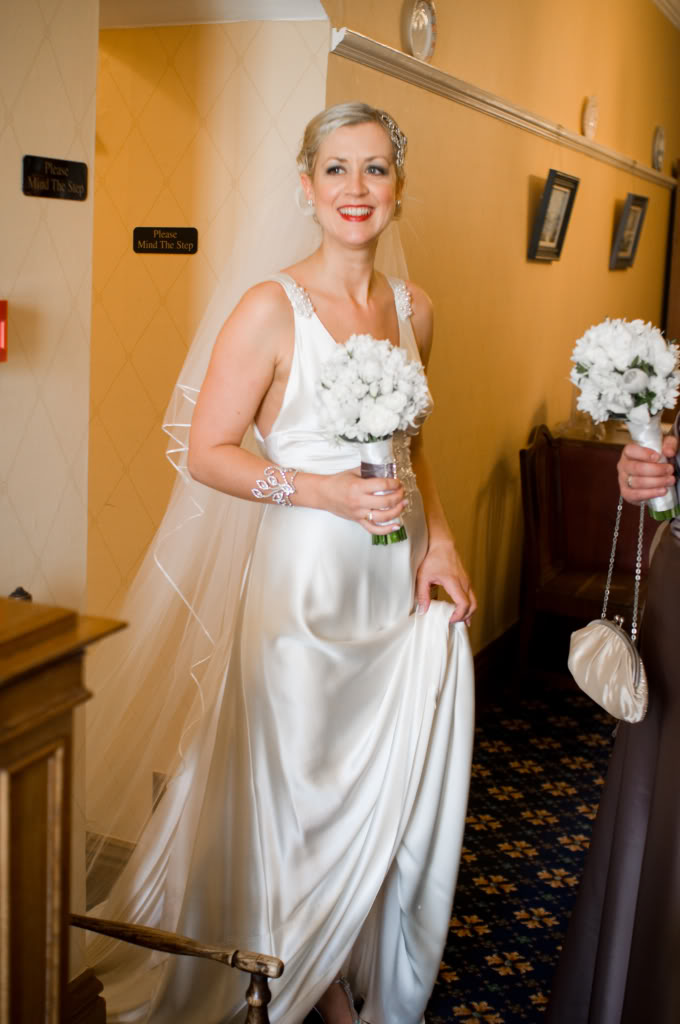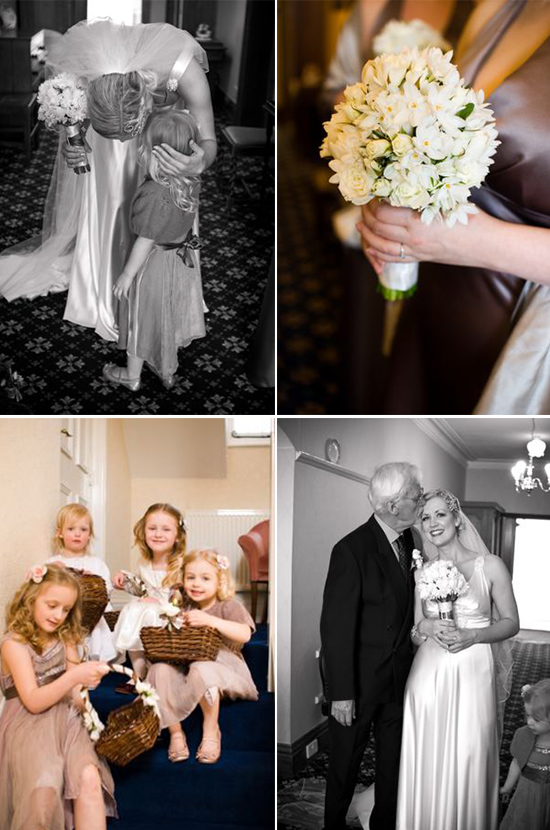 We had three readings, two of which were personalised for us and read by family and close friends. The other reading was  Marriage Joins Two People in its Circle of Love, by Edmund O'Neill.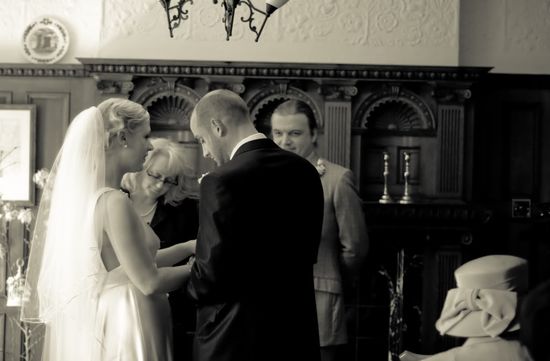 We continued to celebrate beyond the ceremony in to a beautiful afternoon reception and evening celebration.  Below are some of my favourite shots taken whilst the guests were partying inside and enjoying themselves…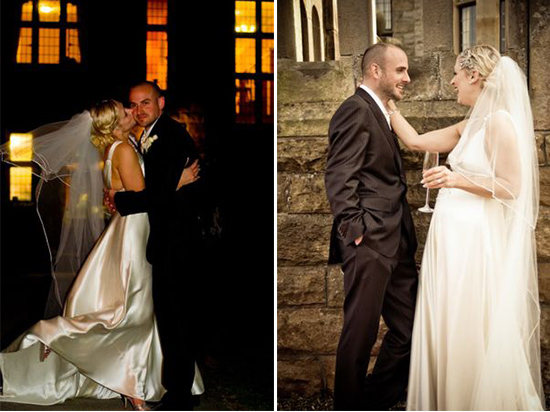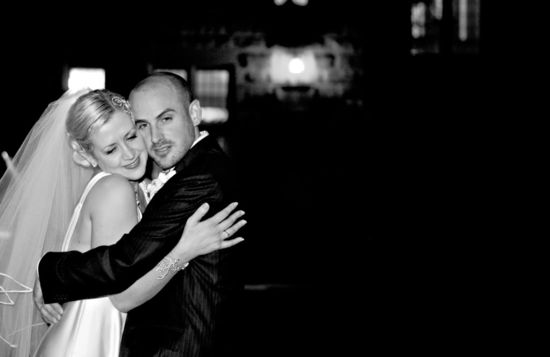 The Details…
My Husband never wanted a ring, so I got for him instead a few personal gifts, one of which was this beautiful pair of vintage cufflinks from Magpie Vintage, complete with fly-tie inside (him being a total fly-tieing fishing fanatic).  I broke with tradition and didn't have a wedding band, but a dress ring; an original antique art-deco 18kt white gold band with a rectangular shaped aquamarine stone in the centre (the birth stone for March, the month we married) that was flanked by tiny little diamonds – a purchase from Hawks Antiques (their website isn't incredibly impressive, but their excellent customer service makes up for this)…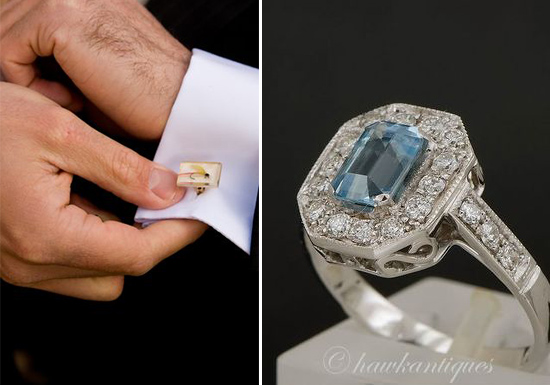 Ladies favours were miniature vintage style perfume bottles that I sourced from Monsoon and also Lovely Favours (who also provided exceptionally good customer service by the way). I loved the idea something glamorous and vintage inspired to give as gifts.  I also left a gift for each of my hens on their chair – a framed photograph from the Hen Weekend and CD full of professional Hen Weekend photographs, along with a written thank you note.
Our cake was baked by Phil's Mother and decorated professionally in iced flowers, cherry blossom to represent the March month we wed and pink to satisfy our daughter! We had cupcakes made to match. My bouquets were produced using only seasonal flowers and foliage and included, to my great pleasure, spring narcissi. I was very committed to having seasonal flowers and not just roses.  The bouquets were further decorated with fabric off-cuts from the Brides and Bridesmaids dresses…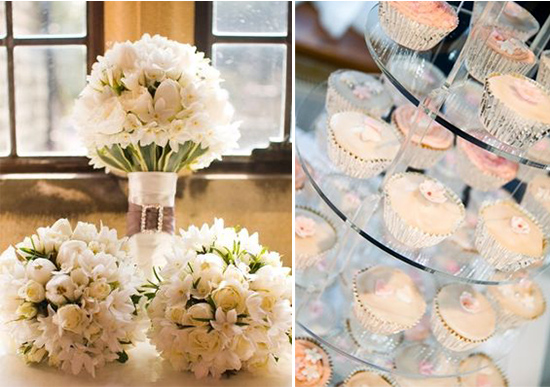 I spent a grand total of £7.99 on our Guestbook! It was a Paperchase Scrap Book, spiral bound and with a black ribbon.  I decorated the hard-back cover with the same image we used on the Order of the Day Booklets, and added some adhesive crystals and glitter for a little extra sparkle.
When it came to speeches, I delivered my own short one.  Neither of us are into wedding speeches and we felt under no pressure to deliver.  I didn't even write down or prepare my words – I just said what I felt in the moment, and, have to admit, shed a few tears at the same time 🙂
I purchased some beautiful vintage inspired tea-light holders from The Lavender Room – they helped make the tables so pretty in the evening when the lights were dimmed and I provided masquerade masks for all of my guests to have fun with in the evening…my favourite suppliers was Samantha Peach and Masquerade Magic.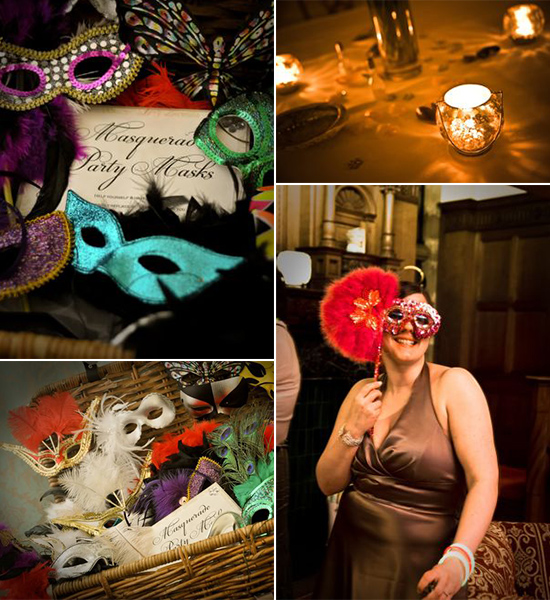 Oh, and I had a very handy clutch bag from Butler and Wilson – in a beautiful Art Deco inspired design – perfect for carrying my lippy and emergency tissues for the tears!…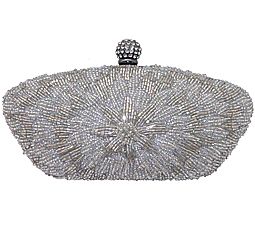 My Dress…
I have added some further photographs of me in my dress here, at readers requests… I hope you like…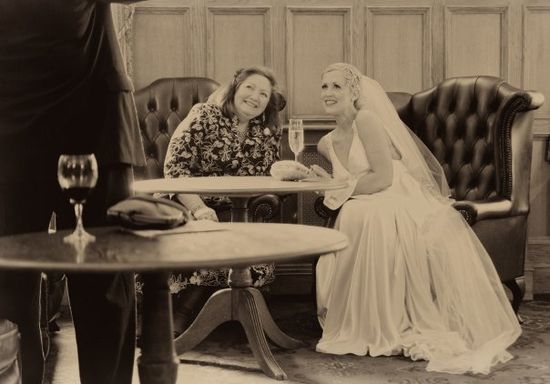 D.I.Y. Projects…
I made all the stationery for our wedding.  I was inspired by Rebekah Daley designs but because I've always had a bit of a creative streak, I was so determined to make our own invites and Table Plan etc.
I used Envelopments® card, paper, envelopes and envelope liners (as used by Rebekah Daley and all the top end stationery designers) and ordered from Roses Around the Door (who unfortunately appear to now have gone out of business, however, you can search for UK providers of Envelopments products via the Envelopments Website.  I used the Pyrite (Metallic) and Diamond Repousse Designs.
I commissioned a good friend to produce imagery for use with the Save the Date cards and Invitation – and he produced an image of a Bride and Groom ~ the Brides dress based on the style of my Jenny Packham wedding dress – which I shared details of with my friend.  The little corner detail on the invitation and Order of the Day, was inspired by my Flo and Percy Shearer Hair Comb… by the way, despite the image, Phil didn't wear a Top Hat on our wedding day, but it just worked in terms of an invitation design.  The same talented friend also sketched an image of our venue, for our Order of the Day booklets – which again, I made myself using 7″x7″ envelopments card with paper folded and adhered inside to create a 'pages' effect.  I enhanced all the stationery with glitter glue and adhesive crystals, purchased from a local hobby/arts store.
The Table Plan was produced using a large sheet of card from Hobbycraft.  I then layered 3 different types of Envelopments card and paper and cut the pieces to size to create each list of names (rounding the corners off with a guillotine corner cutter).  We named our tables after the most pretty and picturesque villages that surround the Whitby area – our top table, round like all the rest, was named Whitby.  I used ostrich feathers from Hobbycraft to add a sense of style and opulence to the table plan and Philip applied some of his fly-tieing feathers to the main 'Table Plan' wording in the centre.  I also placed some adhesive crystals and a Silver Scatter Flower from Cox and Cox to each corner of the plan, as you can just see below. The fonts I used in all of the stationery were PF Champion Script (which has some exquisite flourishes) and Copperplate Gothic Bold.
My incredibly talented Husband knows all there is to know about flowers – our garden is like something out of The Good Life, full of organic fruit, herbs and veg, as well as the most beautiful pretty plants and foliage.  He was always going to be in charge of the plants on the day, and he did the most beautiful job. Given our wedding took place on the first day of Spring, we wanted simple seasonal elegant Spring flowers with no fuss and Phil grew the narcissi used to decorate each table in our own back garden ~ picking them the day before the wedding and preparing them in vases on the very morning of our wedding (with a little help from my Mum!).  The vases were from Ikea and Marks and Spencers.
The Hellebore below were also grown in our garden and were used to decorate the Registrar's desk, during the wedding ceremony.  The Magnolia tree with the vintage style birdcage tealight holder (from Laura Ashley) hanging from it started to blossom the day before our wedding – it had been nurtured by Phil in our back garden for weeks prior to this.  The glass dish the flowers sit in is from Idea – it's in the candles section and was designed originally I think, to contain floating tealights.
Given our seaside setting, we wanted to use shells to decorate the tables.  I sourced some really pretty heart-shaped shells form The Lavender Room, and used Silver Scatter Flowers from Cox and Cox as a pretty alternative to table crystals.  Philip then carefully shelled a stack of muscles in order to use their shells to add further decoration to the tables – the beautiful silvers and blue hues really stood out against the crisp white table cloths…
Wedding Day Inspiration…
Here lies a selection of imagery that plastered my mood boards when I was planning my wedding…
Much love,
Annabel xXx
You can view my first anniversary feature here.