Oooooh, I love love love it when you find a set of wedding photographs that truly reflect the Bride and Grooms genuine personalities and everything that they love the most.
Stacie and James tied the knot 1960's style on 6th September 2008, at Sunderland Minister Church, followed by a reception at the Roker Hotel in the day, and the Exchange Building in the evening.
"My husband and I are into the '60s mod scene and therefore our wedding was a natural choice.  Its how we live our life so was always going to be extended to our wedding.  We wanted to give our guests a glimpse of how we live our lives."
UK readers may recognise this beehive beauty, for she was a 2009 Masterchef Finalist, and now runs her own successful Beehave Bakery business (and I speak from first hand experience when I say – her cakes are deeeeeeeeeeeeelicious!!!)…
Love My Dress Wedding Blog – All Photography Copyright (c) 2008-2010, Square Photography
"Im a PA so organising is my job.  I started planning the wedding the day we got engaged which was 10 months before the big day.  I remember writing lists upon lists of things to do and get and arrange.  I started with the big things, like venue and Church then i went down to smaller items such as catering choices, invites, flowers, cars, my dress and James suit. I stuck to my lists, did 1 or 2 big tasks a month and it was an absolute doddle."
"The car was from summer wine classic car hire and was a silver 1960's mark 2 Jaguar with  blue leather interior."
James' suit was Tailor made by The Threadneedle Man of London.  His shirt was handmade from Italy (part of the DNA Groove collection).  He had a knitted tie, silk scarf and gold cufflinks and tie pin ~ all original vintage. James' shoes were handmade oxblood leather loafers from Trickers.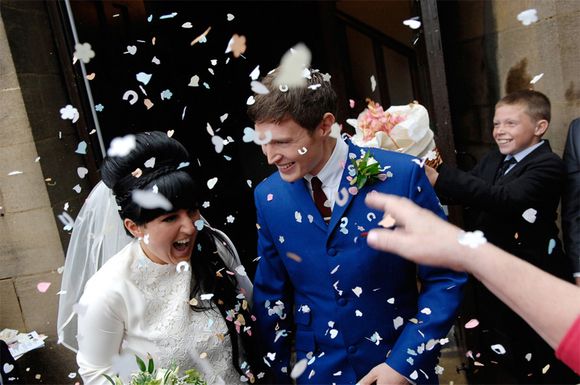 Stacie designed her dress herself.  The design was made up by Tracey at Sew Unique, and fabric purchased from Berwick Street in London.
"I knew i wanted something '60s with lace and had seen Dusty Springfield in a similar dress in a photo."
Stacie's Bridesmaid dress (2nd left from Stacie below) was a 1960s design, handmade by Angela at the Carnaby Streak.  The Bridesmaid's shoes were black patent Mary Jane's, from Topshop.
"On the day everything went perfectly.  It was thundering and Lightening but i didn't mind.  The rain stopped for 20 minutes when we come out of the church so we got our photos, that's all I was worried about."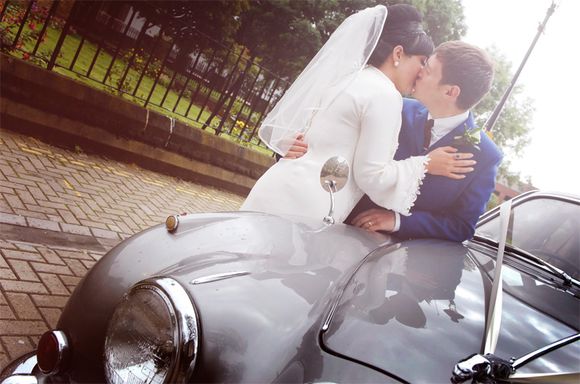 Stacie's hair was by Tori Haig of Toni and Guy, Sunderland.  She applied her own makeup using Chanel base foundation, Mac liquidlast eyeliner in black, Mac lipstick in 'snob', YSL falsh lash effect mascara, Benefit Georgia blush, Elizabeth Arden 8 hour cream over the cheekbones and Shu Umera feather eyelashes.
And if I do say so, I think she did a rather splendiferous job!
Stacie's veil was an amazing EBay buy – 99 pence!  … and her shoes were lace-ups from Portabello Market in vintage off-white.
Stacie's flowers were by The Flower Rooms, Sea Road, Sunderland.   Her bouquet included white tea roses, lilac lizianthums, and trailing ivy, which actually trailed right down to Stacie's feet. 
"I loved the colour combination, very simple and summery. Tea Roses are my favourite flowers"
"The cake was a simple 3-tier lemon sponge with white sugarpaste icing.  The cakes were all the same size seperated by pillars of rings of white tea roses.  I picked the cake as it was very simple and elegant.  Sadly i cant remember who made the cake."
"The evening reception was brilliant for this as we had a northern soul dance similar to what would have been held at Wigan Casino."
Sleepy…
"If i can give any advice to brides to be, it would be to try and do as much of your wedding as you can, I did all the decorations for the venue and saved a fortune.  It literally cost me about £50 for the table decorations which were white pillar candles, tea light candles in crystal holders (which i got off ebay for super cheap) and lilac rose petals (again off ebay). I know everyone says it but it really is the best day of your life, chill out and enjoy it, if something goes wrong, so what its not the end of the world.  Oh and please yourself not your guests :)"
Thank you Stacie and David at Square Photography for so generously sharing these images.
♥