I feel so privileged being able to bring you details of this next wedding – it's just so pretty!  So many elegant and stylish references to a vintage era, including a beautifully silky glamorous bridal gown, some extremely sassy flapper-style Bridesmaids dresses and a really very beautiful bouquet 
I first spotted this wedding on Photographer Emily Quinton's Blog and fell for it immediately. 
Now, some folk would say that the more traditional bridal party colour schemes have had their day;  they feel that 'stay safe' pinks and ivory tones don't offer much these days, when there is a growing consensus that people can dress exactly how the like for their weddings.  And indeed, we are seeing more and more people break away from tradition.  But we are also seeing a growing number of Brides embrace the whole 'vintage style' ~ and 'back in those days', people knew how to pull off a truly glamorous affair (think of the style icons of the 30's, 40's and 50's ~ Bette Davis, Rita Hayworth, Grace Kelly, and you get the picture).  And I defy anyone to look at these photographs and tell me they don't ooze elegance, style, sophistication and all-round timeless 'pretty'…
Love My Dress Wedding Blog – Photography Copyright (c) 2010, Emily Quinton


I'd like to pay a special thank you to Photographer Emily Quinton.  It is always such a pleasure to make contact with a Photographer, but especially so when they demonstrate genuine warmth and enthusiasm.  Emily sent me a beautiful package last week, containing a copy of her very elegant brochure, a CD of images and a gorgeous little ' Hello!Lucky' thank you note – it's the small things that make a big difference, isn't it?  Having spent rather a long time browsing my way through Emily's gorgeous Photography portfolio , I can honestly say I am now a very big fan, and wouldn't hesitate for a second in recommending Emily for anyone seeking a UK based Wedding Photographer.  Even Hayley, the Bride featured here, says "Emily was the best Photographer I could have wished for".  But we'll let the photographs speak for themselves…
The Bride and Groom are Hayley and Timothy, and they tied the knot in June 2009, at Hayley's Cousin's house, in Oakham, Rutland.
Jenny's gorgeous dress was a Jenny Packham
"I really didn't want to be the big 'here I am bride – its all about me!!' My dress was elegant, simple, vintage  – with a dash of 50's film star!! Understated but beautiful…"

 Hayley's pretty hair accessory was a vintage hair slide that she picked up from a local antique shop.
Oh how I love these little clutch bags from Accessorize! I purchased two of these and presented them to my Bridesmaids as gifts on my own wedding day – great taste Hayley!  🙂
These fabulous flapper-esque Bridesmaids dresses were from Reiss, and their hair accessories were from Accessorize and Oasis.      
Transport was an original vintage 1910 Rolls Royce Silver Ghost – wow! Talk about arriving in style!
Timothy's mid-grey suit was hired from Scotneys In Leicester…
Pretty Floral Affairs…
Vintage style bouquet's really don't get much prettier than this…and I also recognise those pretty bracelets! My Bridesmaids also wore these on their wedding day! 
The flowers were by Miss Pickering…
"The flowers were country, classic and beautiful and I owe so many thank yous to Simone Pickerking – my florist. She is so talented and created seemingly effortless beauty.  Sweet peas, Roses, Peonies, Rosemary and herbs – the smell was lovely. She also created individual pots of flowers as favours on every place setting – a genius touch!!"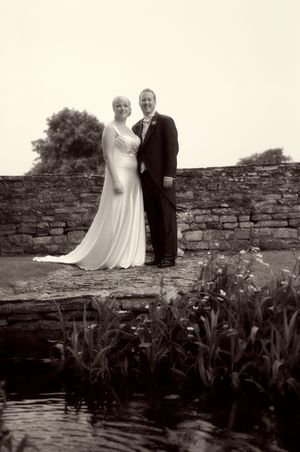 "I just loved vintage and the old fashioned country garden feel. When I found the vintage rose bridesmaid dresses in Reiss and my central pearl and beeded bouquet the theme just took off from there really. I'm like a magpie – I love anything that sparkles!"
How stylish are these ladies?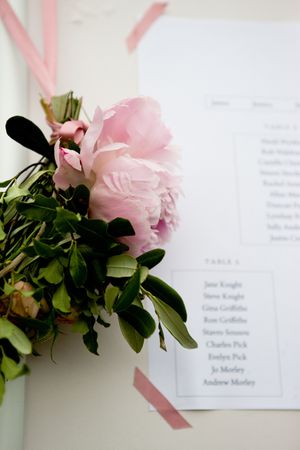 "Over the months leading up to the wedding I picked up loads of cute bits here in there with great vintage looking pieces – like my name place glass baubles from Cox and Cox…"
Hayley, you are a woman after my own heart. I practically live on the Cox and Cox website and also ordered many beautiful items from them for my own wedding.
What a fabulous photograph, it's so caught a moment in time so well!
What beautiful cup cakes and even prettier cup cake cases!  Cakes were supplied by Coco Cakes of Melton Mowbray.
Such a stunning shot of Hayley captured here by Emily Quinton, so beautiful….
Thank you so so much Hayley and Timothy for allowing me the pleasure of sharing your beautiful day with Love My Dress readers – and thank you once again to the lovely Emily Quinton.
Much love,
♥