I absolutely love, in a way that I often can't very eloquently describe, sharing inspirational images on my little Blog.  I think it's because, having been a Bride-to-be myself once, I know just how inspiring, uplifting and heart-warming photographs like this can be to anyone planning a wedding.  Preparing for your big day can get stressful, to say the least, but after months of hard work getting it all right, you get to celebrate with a totally magical day, full of love, love love. 
Just as these photographs so very beautifully demonstrate. 
And after all, that's what it should all be about, right?
This is Claire and her Husband Brad, and their own 1920's inspired magical day took place on 11 February 2010, at Mantells in Auckland, New Zealand.
"Our approach was to be as planned, but to be flexible enough to accommodate any changes thrown our way without stress, we vowed to go with the flow, keep it fun and to keep focusing the heart of the wedding back on us not just the material stuff. 
We wrote our vows separately but came back together to share them before the big day, that made them all the more special on the day.  The 1920s style dress set the theme, then anything vintage that caught the eye ended up on the mood board. Colour palette was ivory, white and hints of washed out baby blue and gold…"
Love My Dress UK Wedding Blog All Photography Copyright (c) 2010, Kate MacPherson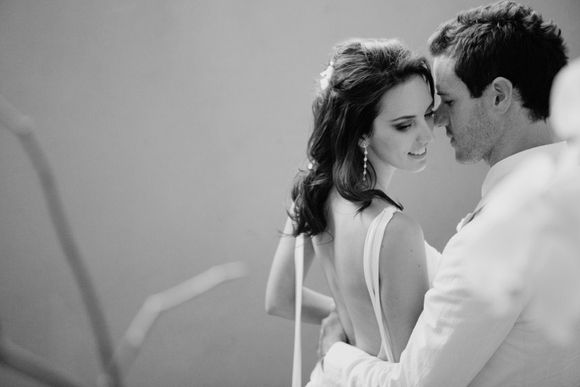 Claire is a duel British/New Zealand citizen, and so most of her wedding day suppliers were split between the two countries…
"While I layed down the roots for most of the planning/prep, towards the end the wedding became a real team effort between Brad and I (supported by family and friends). He made a big effort to contribute to the details with his own unique flavour to things. This made it very much our wedding and he was familiar and across every decision along the way…"

Phillipa Lepley Love…
"The dress was a wildcard, I had no intention of going for lace, in fact I was actively avoiding it! The dress was introduced to me during a friend's dress fitting at Phillipa Lepley by a savvy sales assistant who spotted my ring and suggested I try it on – as the only dress in the shop she would put me in. I was reluctant but went for it anyway. On the body the dress was amazing, it did things for my figure that other dresses weren't, being petite I was trying to create shape and avoid being swamped. Although I loved the dress, I left it in the shop for 6mths as I'd only just started looking. After trying on about 20 or 30 other dresses it was a toss up between the Lepley and 3 Packham designs. But nothing quite compared to this dress, it had the X-Factor -  a timeless elegance but with an edgy twist from the plunging back-line. In the end the dress set the theme for the wedding 'vintage chic' and became the inspiration for many of the details.  My shoes were Jimmy Choo…"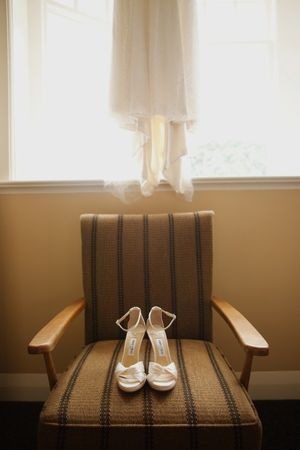 Statement earrings…
"My House of Waris Earrings were the statement piece – teardrop gold with mother of pearl stone (Liberty). I fell in love with these earrings and they literally blew the accessory budget out of the water. I first tried them on in Liberty but the single pair they had in stock sold, so I had to track them down at Barneys in New York. They were sent to our Master of Ceremonies in Washington who hand delivered them 11am the day of the wedding. I had a Garter from Agent Provocateur"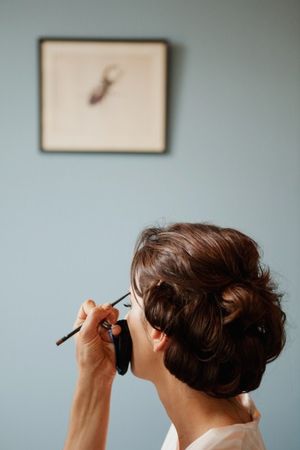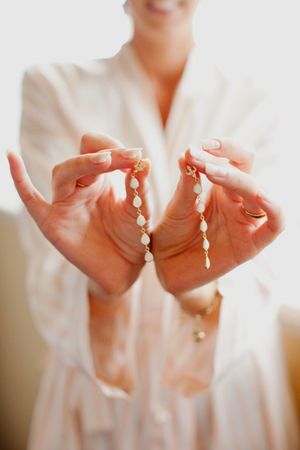 Pretty Maids All In a Row…
The Bridesmaids dresses were from Whistles, and their shoes (which you'll see further down in the feature) are from New Look…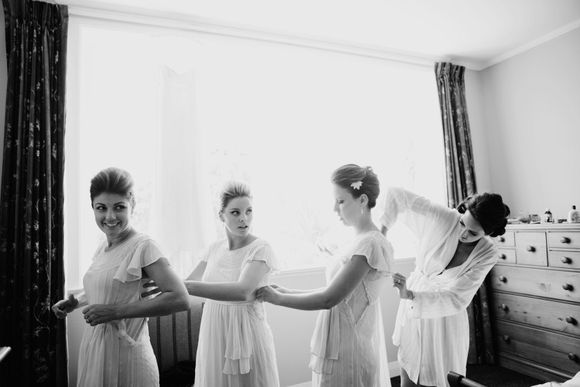 The Bridesmaids earrings were from an Art-Deco Wedding Fair, and their pretty hair accessories were by Alanah Hill…
Claire's utterly flawless look was helped along by a little Laurer Mercier and MAC…(but clearly not very much….. beauty au naturale!)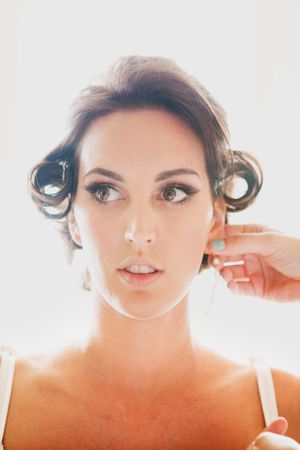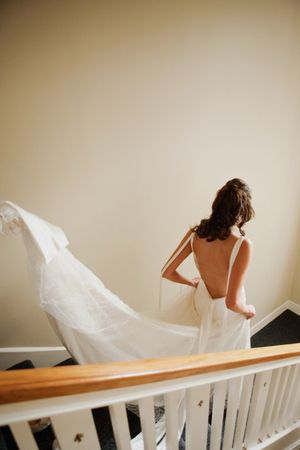 Brad's suit was a Paul Smith, and he wore Dries Van Noten shoes..
"Brad is into his fashion, so got into styling the Groom's party…"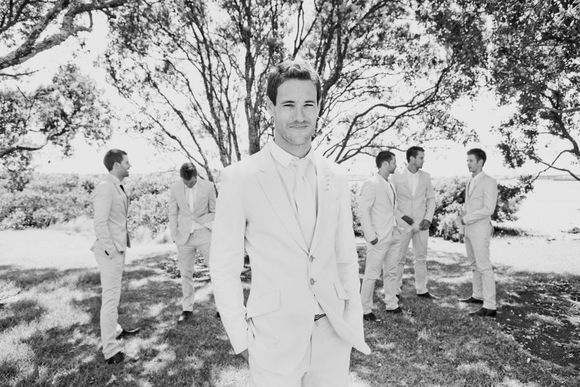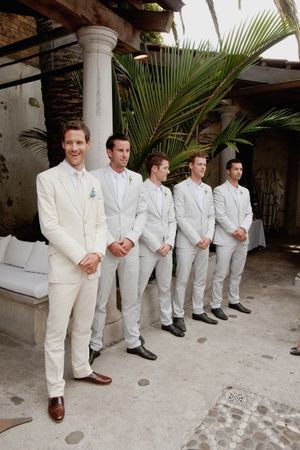 The look of love…
How much do I adore this shot?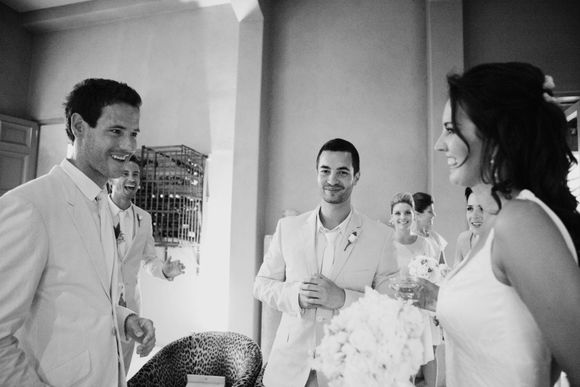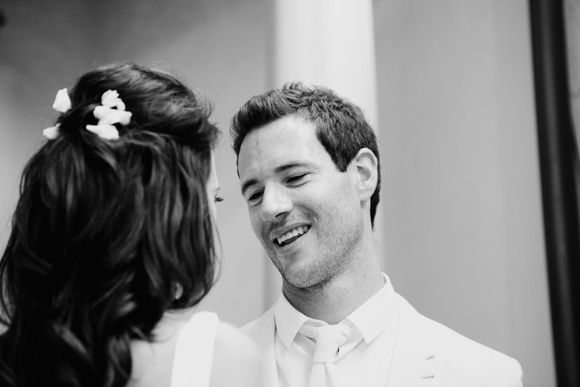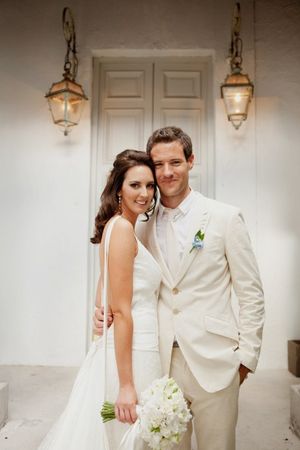 A dress to swoon over indeed, so incredibly elegant, such a perfect choice for Claire…
"I had a loosely styled bouquet of Sweet Peas, Roses, Hydrangeas, Gardenia and Lisanthius – in soft creams and whites tied with long loose ribbon from my dress fabric. The Bridesmaids had the same mix in a garden styled posy with accent of Blue Twedia."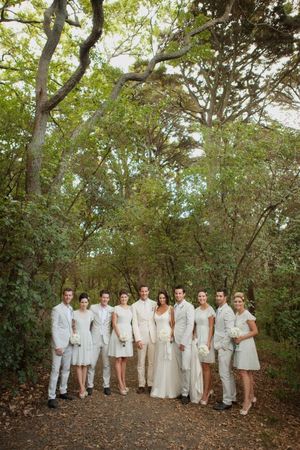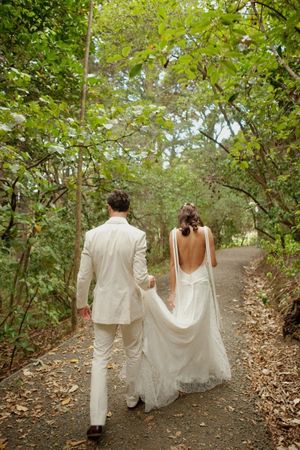 "Our venue was in an ex Telecommunications Building built in the 1920s, so we were lucky enough to have a pretty beautiful canvas to start with.  To pull it all together, we brought in a dessert table with eclectic mix of cake stands, home-made cupcakes, sweet jars and vintage trios. The tables were centred with crystal cut vases of varying sizes. Settings consisted of a napkin with vintage fabric belly band concealing a Rocco chocolate wrapped in a similar pattern.  Our favourite feature was the 1920s bowl shaped champagne glasses hired from The China Cabinet. Brad's Dad (a Minister) took the ceremony which added a personal touch to the day…"
"Tables were dressed with single flower types in crystal cut vases interspersed with vintage tea light votives including small bunches of Gypsophila. The vision was romantic, fragrant, loose and a bit retro…"
Claire and Brad chose a very simple classic/elegant ivory cake with chiffon style ivory ribbon from top…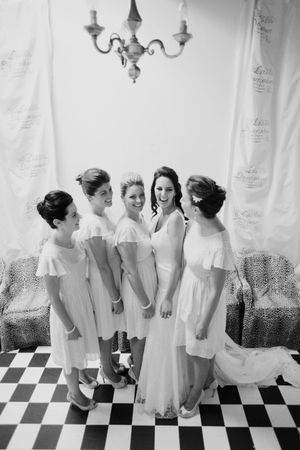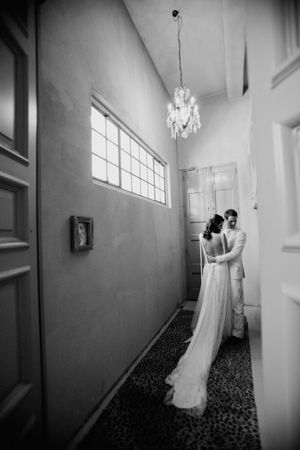 Can a couple be any more naturally beautiful I ask?? …and can a wedding day capture any more elegance?
Thank you so very much to lovely Claire (we got there eventually with those photographs!) and her fabulous Photographer Kate – any New Zealand Bride planning a New Zealand Wedding – be sure to visit Kate's website and Bride Claire's Blog.
Friday love and romance to everyone reading this 🙂
♥