Hi Folks! We hope you had a super lovely happy Easter Weekend.  We thought we'd ease you back into the working week with a little magic – of the masquerade mask variety. 
My better half and I tried really hard during our wedding planning to ensure all our Guests would experience a relaxed and fun atmosphere on the day, that would leave us both with memories of our guests laughing and enjoying themselves all day long, but particularly in the evening, when fun and frivolity would be the order of the proceedings!  And so to add to the high-jinx nature of the night-time celebrations, and all the little games and treats we already had in place, I decided to invest in some masquerade masks for all my guests to don as they danced the night away.  I never realised what a hit the masks would be be! Regrettably our Photographer had left by this time, but we have such an array of fabulous photographs shot by friends and family of Guests having a complete ball in their masks – many of which Guests hung on to as keep-sakes of our wedding day 🙂
I purchased a wicker storage basket from Ikea (it was about £25 – see photo a little further down below) and filled it with an array of colourful masks for our Guests to have fun with from a variety of suppliers, my favourite of whom was Samantha Peach.  I chatted with Samantha recently about her fabulous business designing masquerade masks for wedding guests and celebrities…
"We've provided masks for brides getting
married in Venice which really is taking coals to Newcastle, and were
lucky to supply the masks worn at the Rooney Wedding a couple of
years ago. We're supplying a  client at the moment via a third party who
we truly don't know the identity of but can't wait to see the photos of
in OK Magazine!"  
Below, Art Deco Masquerade Masks in Black and White
All Photographs Copyright (c) 2010, Samantha Peach (click to enlarge images)

"When I tell people what I do the first questions is so often "who wears them?" and the answer really is anybody and everybody – we sell to American teenagers going to Prom, 18th, 21st, 30th, 40th etc Birthday parties, large Charity Balls, Corporate Dos, Christmas Office Parties, New Years Eve Balls, Graduate and Student Society Balls, Forces Balls and as you know, Weddings!" 

Oooh look, there's Mrs Rooney in her Samantha Peach wedding mask, and, wowsa! …that mask Colleen is wearing is holding is exactly the same mask I purchased from Samantha Peach for my own wedding! Always knew I was a trend setter hehehe ;)  That's Samantha herself in the image on the right…
And here is my lovely Ikea Wicker basket filled with the masks I purchased from a variety of suppliers, my favourite of which was Samantha Peach….
Photograph below Copyright (c) 2009-2010, Karen McGowran
Did you know that The idea of a Masked Ball or party goes back to late
medieval court life, originally designed to celebrate a marriage or mark
a point in a royal dynasty.  The guests would wear both a costume and
their masquerade mask, and, as you can imagine, the anonymity this
provided to a class that were governed by the strictest etiquette and
constricting rules of behaviour was irresistible.  Fascinating isn't i1!
You can read more about Masquerade
Ball History on the Samantha Peach website here.
So how did Samantha Peach get to selling such beautiful and stylish masquerade masks to celebrities in the first place?
"My story starts with selling Vintage clothes online,
travelling to the flea markets of Paris and Amsterdam to source little
gems and then making my own chokers and corsages to sell alongside them.
After a year or so my then boyfriend threw in his job as a draughtsman
to come on board and make sense out of the business side of running a
business that I avoided shamelessly!  The masks were a happy accident, I
bumped into a moody Parisian selling them and had to see what would
happen with them. Initially we bought them in from Venice and a great
designer in New York, and they slowly took centre stage and became the
main business."
The pale white/cream masks below are all from Samantha's Wedding collection, and range in price from £10.99 – £49.99.
"At the same time as growing the business we also got
married, bought a house and had a baby and throughout that I got more
and more keen to start trying out my own mask designs as soon as the
initial Baby Tsunami had calmed down."
"So last January, I started making up my own designs to sell and have
been nothing but blooming delighted to see them fairly rapidly take
over, they now make up 95% of what we sell and their success has forced a
lot of happy changes onto us too."
All the masks below are from Samantha's Female Masqueraqde Masks collection, which ranges in price from £14.99 to £49.99 – sale currently on!  There is also a selection of masks designed for men…
"We quickly outgrew the top floor of our Home and moved into a fantastic
large light studio space in an old Lace Factory here in Nottingham in
September last year, also taking on 2 new assistant mask-makers, talented
Textiles graduate Beth and Fine Art graduate Emily. So here we are
today, a disgustingly joyful team getting to do what we all love every
day, creating something from scratch with our own hands that other
people like enough to buy time and time again."
"We're fortunate that there really isn't anyone else in the UK doing what
we're doing on this scale, and we get customers finding us from all
corners of the Globe that just really get what we're doing. Our aim is
to create delicate, elegant masks that have a restrained simplicity
about them. I think the curse of a lot of masks is that they wear you
rather than the other way around, and our first rule is ALWAYS – does
this look lovely on? Does it enhance me and make me look amazing? If the
answer is yes, then we put it in the shop and see if our customers
agree."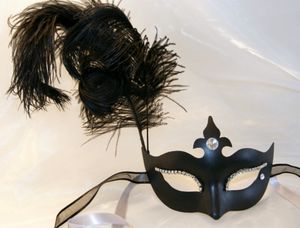 "What really excites me now is when we provide our masks for
companies like the Gatecrasher clubs and to Fashion Shows and shoots –
masks seem to be having a real Moment where they're being used in
unusual settings and looking AMAZING..We also love having placement
students in here at the studio, we're lucky to have a fantastic Uni here
for creative courses and we've had some really enthusiastic students
working with us already."
Samantha Peach also supply long satin evening gloves and ribbon choker
necklaces, both of which come in a range of sumptuous colours.
"This year so far has been about improving our bestsellers, working on
new masquerade masks and mastering a new range of Bridal Venetian masks (one to keep an eye out for readers!).
They've been a real labour of love, working with lace from the last
remaining lace Embroidery factory in the UK, driving ourselves insane
trying to perfect the finish of them – and we think we've cracked it as
the first few have gone into the shop just this week…"
What a fabulous story! Thanks so much for chatting to us Samantha :) 
Visit the Samantha Peach website for further information.
♥