Hiya Everyone! 🙂
I've really been looking forward to this latest little wedding blog feature, and for several reasons.  Not only was it shot by my very own Wedding Photographer, the lovely Karen McGowran and my Husband Phil and I guests at this wedding ourselves – Bride Lisa commissioned my Husband to design and create the Bridesmaids dresses… 🙂
Lisa and Justin got married on 23 April this year (after 13 years!), at the beautiful Beamish Hall in Durham – once home to Bobby Shafto, of the infamous 'Bobby Shafto Went To Sea' song! 🙂 Anyone looking for a North East Wedding Venue should take a look at Beamish Hall, it really is an incredible place.  Lisa looked absolutely stunning in column style Jenny Packham number called 'Joy', that twinkled and sparkled all over…
"I initially found a dress that I thought was 'the one' and then one evening I looked at the Jenny Packham website. Each dress I looked at I began to become more and more excited until there she was 'Joy'.  The instant I saw her, I couldn't feel my legs and knew I had to have it!  I opted for a headpiece, also by Jenny Packham called Acacia II.
How gorgeous does Lisa look in that image below left? Reminds me of Jean Harlow and conjures up images of tall, slender, beautiful screen sirens decked up in their 1930's red-carpet glamour gowns…
Love My Dress Wedding Blog – Photography Copyright (c) 2010, Karen McGowran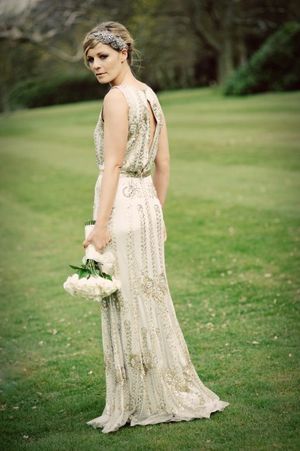 It's fair to say, Justin was fairly nervous as he awaited the arrival of his Bride! Lisa and Justin's beautiful little boy Oscar stole the show and entertained everyone in these gorgeous little yellow Kicker boots! The suit for the groom, father of the bride and best man were by Gibson and supplied along with the shirts, tie and footwear from Leaf Clothing, Newcastle…
Talking of feeling nervous!…
"The Bridesmaids wore some small diamante hair clips to compliment the embellishment of Joy and and a pair of Art-Deco style earrings from Past Times – a gift from Justin and myself.  The bridesmaids all wore different shoes, I was happy for them to wear whichever they felt most comfortable in. My shoes were a simple sling back with a pointed toe.  I had them dyed platinum to match the colour of Joy and I wore some small diamond stud earrings…" 
And I wasn't the only lady expecting at this wedding! Infact there were THREE pregnant ladies on my table, one of whom was the lovely Bridesmaid Lois in the middle there… 🙂
The bouquet's were supplied by Low Fell Florists…"I chose one of my favourite flowers, a Rose and wanted a simple hand tied bouquet.  The bridesmaids had the same bouquet only slightly smaller…"
"I walked down the aisle to the 'Your so Cool' by Hans Zimmer.  this is the theme to the movie True Romance.  For the signing of the registrar we choose nina Simone, Here comes the sun & Sade, By your side"
"Both rings were from the same place as my engagement ring, Mulroys Antique jewellers…"
As transport, we choose 2 very traditional cars, a 1930's Beauford & 1920's Regent from Brooklands Wedding Cars…
Amanda Jane Cakes of Newcastle Upon Tyne supplied this beautiful wedding cake…"I wanted a cake that was simple & stylish, with minimal detail.  All of the stationary, the invitations, place cards, Table plan and Table Names were designed and made by Julia at handmadeinvites.co.uk.

"I decided not to dress the tables with flowers and instead choose a 5 arm crystal candelabra.  We decided to name each  table after a crystal.  Justin has a collection of various crystals and they all have different meanings/properties and promote different energies.  The name of our own table was Rose Quartz – this represents love and we therefore placed 5 polished Rose Quartz Stones on each table along with silver scatter flowers from the Cox & Cox Website."
"We also used the small silver bauble place card holders, again from Cox & Cox."

"We decided against favours for the guests and instead had a Traditional Sweet Stall for guests to help themselves."
The sweetie bags included little quotes, such as "You do not marry the person you can live with, you marry the person you cannot live without.." and "Love doesn't make the world go round, love is what makes the ride worthwhile…"
Words of Wisdom…
"We didn't want a themed wedding from a particular era, just something that represented who we are.   Try and add as much of both personalities into your wedding as you can – and just enjoy it…"
Simple, elegant and very chic.  Just beautiful.
A big thanks to Lisa for sharing all her details and thanks as always to the lovely Newcastle Upon Tyne Wedding Photographer, Karen McGowran, for sharing her Photography with Love My Dress 🙂
♥