Any regular reader of Love My Dress will know that I have rather LARGE soft-spot for Jenny Packham, and therefore, finding myself blogging about a Jenny Packham wedding dress on a Saturday afternoon kind of leaves me feeling rather content – not least the fact this particular wedding was set in a stunning 5* venue, and that the Bride was super-stylish, with excellent taste in decor and wedding stationery! Yes, sat here pulling together my latest real wedding feature, when it is as fabulous as this, really is my idea of heaven 🙂
This beautiful wedding was shot by the extremely talented (and I can tell you, absolutely delightful) Nikole Ramsay ~ Bride and Groom Cassie and Gavin tied the knot at The Landmark London in June 2009.  Cassie and Gavin hired Nikole upon a recommendation that was made by their wedding venue…
"Having seen Nikole's portfolio, it was easy to see why she was recommended.  Nikole instantly put us at ease and listened to our likes and dislikes
and by the end of the meeting we felt like we had known her forever. 
Our pictures are just stunning, I can't thank and praise Nikole enough!
When I look at the pictures it brings the whole day back to life again,
its amazing! Our guests loved Nikole and commented on how lovely and fun
she was. Nikole made the whole process from start to finish so much
fun. She put us at ease in front of the camera and captured us and our
day perfectly.  We had a truly amazing day and were both so very happy
that Nikole was a part of our special day."    
Love My Dress Wedding Blog – All Photography Copyright (c) 2010, Nikole Ramsay
Jenny Packham Perfection…

"I didn't want a traditional wedding dress and wanted a dress that flowed and had movement to it. Being a city wedding I knew I could be a bit more daring. I didn't have a particular  style in mind, but wanted that red carpet look. When looking through magazines all the dresses I loved be them bridal or red carpet dresses, Jenny Packham was the designer.

I made two appointments one with Pronovias and one with Jenny Packham. As soon as I walked into the Jenny Packham boutique, I instantly knew that I would find my perfect dress here. The Ladies at the boutique were amazing and after telling them about our wedding venue, they choose a selection of dresses for me to try on and there were quite a few! When I first tried on the Juliet my sister was 'hmm that's nice, lets see another one'." 
"Ten dresses later I had
narrowed it down to the final two; the 'Juliet' and the 'Tissy'. When I came
out in the Juliet for the second time and looked at my sister she had
tears in her eyes..'I hope they're happy tears!', I said, she replied; 'my
little sister is all grown up, you look beautiful'.  The dress for me
was out of this world and nothing I could have ever imagined wearing.

It
was very elegant and very flattering. The beading on the dress was
Swarovski crystals and were just beautiful, the attention to detail was
amazing! I put my trust and faith in the ladies at Jenny Packham and
they made me feel and look so glamorous."  
Jimmy Choo….
"I decided not to wear a veil, as my dress had such
beautiful detailing on it, including on the back of the dress that I
didn't want to cover it up.  My shoes were by
Jimmy
Choo and are called Clue. I first saw them on a
trip to Boston and loved them instantly and knew they would be perfect
with my dress." 


Cassie's makeup artist was the highly renowned Kit Hall.
"I
found Kit through Nikole's contact page. Kit was just lovely and
especially as I had no real idea of how I wanted my makeup on the day. 
At my makeup trial 8 weeks before the wedding I showed Kit the picture
of my dress and she took it from there. The colours Kit used were
silvery/greys and it was all kept very soft. I was given a lovely touch
up kit to see me through the day.  It was so much fun getting ready, my suite was a hype of activity
from 10am. Kit was amazing and worked her magic and everyone left
feeling glamorous."
Kit used a combination of Chanel and Bourjois Paris makeup.
"My hair
accessories were from Johnny Loves Rosie and I brought them through HQ Hair.  All my jewellery that I wore on the day, my diamond
earrings, necklace and sapphire ring all came from Nuance Design
Jewellers, who is based in Burlingame, California. Unfortunately, there is no website".
"My platinum engagement ring and wedding band were made by Nuance
Design Jewellers. I wanted something that was elegant and timeless.
Richard did a fantastic job and was such a pleasure to work with. We
brought Gavin's wedding band during a trip to Boston from Ultra
Diamonds ultradiamonds.com, his band is made from tungsten and is a
gorgeous deep silver grey. Gavin does not wear any other jewellery and
so wanted his  wedding ring to be very simply with clean lines."   
"Gavin's 2 piece suit was made to measure by Gresham Blake.  We met with one of the design team and hand
picked the fabric of his suit, which was a rich deep blue, wool and
mohair mix, and the lining of the jacket a rich blue with a green fleck.
With the fabrics in hand the designer worked with Gavin choosing the
style, length and cut of his suit, down to the finer details including
buttons, pockets, vents, contrast stitching you name it was thought of.  Gavin's
shirt was also from Gresham Blake and was made to  measure in ivory,
with lime green stitch detailing around the collar and cuffs. A lime
green lining was placed underneath the collar, with flashes of lime
green on the cuffs.  Gavin choose to wear a cream tie and
handkerchief for the ceremony and wedding breakfast and then changed them
for a lime green tie and handkerchief for the evening reception. These
all came from Gresham Blake. The final product was stunning and he
looked so handsome!"
Cassie and Gavin hired Lily & Myrtle to provided
the stunning florals…
"I
wanted to use flowers that were in season and have always loved
hydrangea's. As a child we had two huge hydrangea bushes in our garden,
they are just so simple yet so elegant and I didn't want the flowers to
be too busy and was looking for a clean, crisp modern feel.  My
bouquet was a  single head of white hydrangea tied simply with excess
material from my dress and edged with silver/grey foliages.  My
nieces carried 3 ivory roses simply tied with silver ribbon.  Gavin's
buttonhole was a single white calla lily with silver grey foliage and
the Best man's/groomsmen/Brother/Brother-in-law/ Father-in-law wore a
single ivory rose button hole with silver grey foliages.  My
sister and my mother in law wore lapel corsages of white and green spray
roses with silver foliages and finished with a magnet back."
"I wasn't nervous until I walked into the Tower Suite and was
listening for my cue to walk in. My parents died a few years ago so it
was only natural to ask both my brother and sister to give me away. I
felt so proud walking down the aisle with both of them at my side, we
were all fighting back tears of excitement and also tears for Mum and
Dad."
Cassie walked down the aisle to O Mio Babbino Caro, sang by Lisa Carlisle at Celebrations Songs….
"I met Lisa at the Designer Wedding Show. her voice is just amazing and
blew me away. We arranged to meet at the Landmark and discussed what she
could do for our wedding.  The hotel arranged for us to have access
to the Tower Suite so Lisa could see the room and get a feel for the
acoustics. She sang O Mio Babbino Caro and my sister and I were almost
in tears!  Lisa gave us so many options and helped put together a
selection and itinerary of music. I didn't want our guests to be waiting
in silence before the ceremony began so as the guests arrived Lisa
performed the following light background songs:

~ Candy man
~ Dream a
little Dream
~ Perfect Year
~ We have all the time in the world
~ The
way you look tonight

For the signing of the register we had an
unaccompanied version of Songbird and Fields of Gold.  At the end of
the ceremony we walked out to a lovely, upbeat, jazzy version of It had
to be You."
"When I reached Gavin the first thing he whispered was 'WOW!' I was
beaming! I whispered back 'I'm so nervous!' he took my hands in his and
said 'we've made it, we're here together you and I and its going to be
perfect!' and he was right it was just perfect!"
City Wedding in Style…
"We knew that we wanted a city wedding and with friends flying in from
afar it was a choice between Rome, Italy where Gavin proposed or London,
the city were we had our first date. We began the search for venues in
Rome and arranged a trip for a weekend of viewings, but it wasn't meant
to be.  So we turned our search to London. Well not search really, I
only had one venue in mind; The Landmark London.

We had stayed at the
hotel once before for a weekend and I instantly fell in love with the
place. The architecture is just stunning and when I saw the Winter
Garden with its glass atrium for the first time it took my breath away.
The hotel oozes opulence and luxury, but makes you feel so welcome and
the staff are just amazing and cater to your every whim. I called the
hotel and arranged for a viewing and that's where we met Camilla Simpson
our soon to be wedding co-ordinator. Camilla was fantastic and so
lovely to work with, she made the whole planning process so easy and
stress free."
"We wanted a small initmate wedding of immediate family and friends.
We
were shown into the Tower Suite which seats x36 guests only and I
instantly knew that this was the place. The view into the Winter Garden
was to die for and the raised glass ceiling of the Tower Suite was a
hidden treasure I had not expected. Our wedding ceremony was to take
place in the Tower Suite, followed by cocktails in the Gazebo, in the
Winter Garden with a pianist providing lively yet light music.

During
our cocktail reception the Tower Suite was prepared for the sit down
Wedding breakfast, followed by an evening reception in The Drawing room
of drinks and dancing until 1am, with our guests that we invited for the
evening. We were so excited to be able to use different areas of
the Hotel rather than being in one space only. Our guests loved it
too."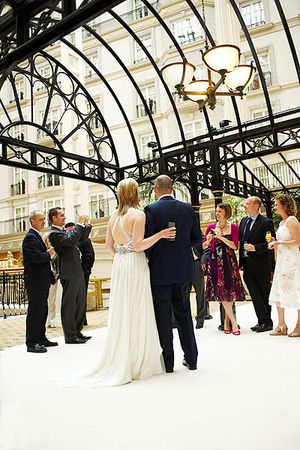 "In the
Drawing room for the evening reception we added silver willow trees
around the room and storm lanterns were added to the fireplace floral
displays along with additional tea lights. We used amber uplighters and
pinstops to create an ambient feel and the scatter tables were  draped
in green fabric that I found at a local sari shop and asked my fabulous
dry cleaner to hem them for me.  Instead of have a table plan I went
with escort cards which were ordered through Emily & Jo. Our florists Lily & Myrtle hired a square mirrored box from Detta
Phillips and we filled it with green split peas and stood the escourt
cards in them, in between the rows of cards were white rose petals." 
"Our whole day was definitely inspired by my dress, our venue, and our wedding stationery from Emily & Jo ~ these were the core elements. I
instantly fell in love with the bespoke Jo in grey and lime green
wedding stationery and used these colours throughout the styling our
wedding."
Cassie and Gavin's cake was provided by the Little Venice Cake Company…
"Our
cake was a parisian pearl x3 tier round cake made up of x2 tiers of
luscious lemon cake, layered with a lemon curd buttercream and a layer
of vanilla cake, layered with a madagascan vanilla buttercream. The cake
was covered in marzipan and brilliant white sugar paste, with each tier
fully decorated with hand piped white royal iced pearls. The base of
each tier was edged in an ivory gro-grain vertical ribbon and the first
and third tiers were edged with a green double satin ribbon with bows
offset. The top tier was then finished with a white sugar paste flower." 
"Gavin and I do not have a
'couples song' so we were a bit stumped as to what we were going to have
for our first dance. Gavin was on itunes one evening and was listening
to the Stereophonics album Handbags and Gladrags – an album that I love.
He played me First Time Ever I saw Your Face and said this is it, its
perfect for our first dance. I loved it and on the day it was just
perfect!"
Words of Wisdom?
"Don't stress about the details and enjoy the moments as they happen
from the planning process and throughout your special day. Remember to
stop every once in a while and simply take it all in and store away in
your memory to recall whenever you like. Remember that this day is about
you and your future husband and all the excitement that the future
holds is yours to enjoy. Your family and friends are all there to
celebrate this joyous occasion with you both."
Wow, what absolutely beautiful images – they truly capture the lurrrve between Cassie and Gavin, and it's photographs like these that always give me such a thrill in writing this little blog 🙂
Thank you so much Cassie for sharing all your wonderful style details, and a huge great big thank you once again to the lovely Nikole Ramsey for helping to satisfy my Jenny Packham/gorgeous wedding photography obsession. 
♥