I remember my Mum saying to me 'Papillon – it's French for Butterfly'. I probably should have known that already, but didn't!  Papillion was the name of my Wedding Dress.  Well, the first wedding dress I purchased that is, before I changed my mind and went with another equally stunning ensemble from Jenny Packham.
Papillon is one of Jenny Packham's most successful bridal designs; Brides-to-be (I know, I was one of them once!) scour the internet for 2nd hand versions, superior quality versions of which can command up to £1500 (the fee for an original piece is around £2300).
Papillon was the very first wedding dresses I tried on.  And I was in love.  Total love.  As was my Mum.  The purchase was made shortly after this first trying on session and Papillion hung proudly in a corner of my home (away from prying eyes) for a number of weeks, until I realised that I was looking for something truly more suggestive of 1930's glamour. So, I sold my beloved Papillon to a wonderful American Bride through EBay, purchased my beautiful Jenny Packham Selene, and the rest as they say, is history.  I've held a bit of an obsession with Papillon ever since however.  It is such a dreamy dress; so beautifully embellished, so flattering to the shape – pretty as a butterfly indeed with all it's sparkly shimmery gorgeousness.  And safe to say, any Bride wearing a Jenny Packham Papillon is bound to look absolutely knock-out, a bit like Kate here…
Love My Dress Wedding Blog ~ All Photography Copyright (c) 2010, Polly Alexandre – click to enlarge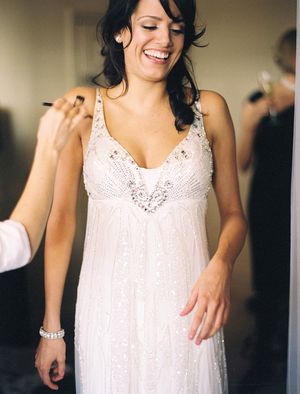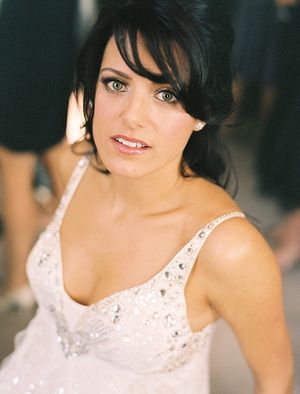 Kate married her Beau James on 12 December 2009, with ceremony at St Mary Magdalene Church, in the London Borough of Richmond-upon-Thames, followed by a Reception at The Bingham Hotel in Richmond.
"When I started looking for my dress, I knew that it would be a 'Jenny Packham' dress from seeing her collection on her website.   The style of the dresses were just what I was looking for – not your 'traditional' wedding dress but elegant, evening style gowns with a contemporary twist and lots of sparkles.  Perfect for a 'London style' wedding on a crisp, Winters day.  The dress I chose was actually one of the first dresses I saw on the internet when I was looking with my mum and I knew that it was 'the one' – I just had to try it on to make sure it suited me!   When I walked into the Jenny Packham Bride boutique in South Kensington I knew I would find my dress there.  I was met with row upon row of gorgeous creams, whites and sparkly dresses and the lady who assisted me was really brilliant and helpful.  I chose Papillon as I loved the shape of the dress and the sequin and diamante detailing was just beautiful.   My mum and three of my friends came along and their reaction to the dress confirmed my thoughts too!"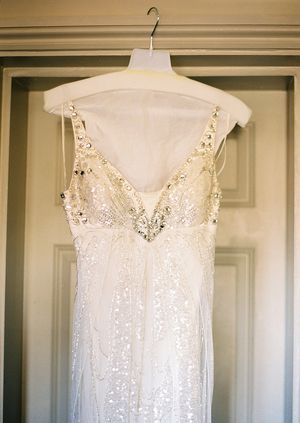 Sparkly Shoes for a Sparkly Dress…
Kate's shoes were 'Campari', by Gina,
"I wanted some elegant, sparkly shoes to complement the dress. I didn't have any accessories in my hair but parts of it were pinned up at the back.  My hair was styled at Nicky Clarke."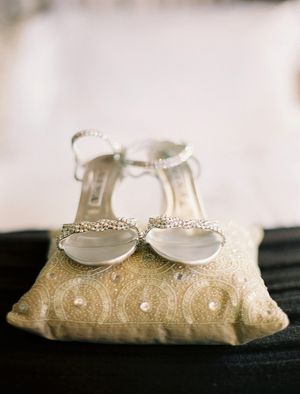 "Despite all of the planning and rushing around in the year leading up to my wedding day, it didn't feel 'real' until the actual day when I was having my make up done, I had put on my dress and had my family, Best Girls and Bridesmaids all around me drinking fizzy!"
"I didn't wear a necklace as the dress was so detailed.  My grandma, aunty and uncle bought me my earrings -  they came from the Brilliant Inc jewellers on the King's Road, London.  My bracelet was a present from my God daughter Charlotte.  Lina Cameron did my make up on the day. Lina selected the makeup I wore on the day which included some fantastic eye lash extensions!"
Little Black Cocktail Dresses…

"I had four bridesmaids.  They all chose their own shoes – silver in colour.  I remember that Kelly, one of the bridesmaids, got her shoes from Miu Miu and Lolly, another of the bridesmaids wore her wedding shoes which were silver and were from Jimmy Choo. I wanted the bridesmaids to choose their own dresses, in any style that they felt happy and comfortable in and I wanted them to have a dress that they would wear again.  The only 'rule' was for it to be a black cocktail style dress which we thought would be in keeping with the contemporary style for the day.   Bridesmaid's hair was left to them to decide what they wanted to do – two of the bridesmaid's decided to wear their hair up and two decided to wear their hair down. All the bridesmaids chose and wore their own jewellery."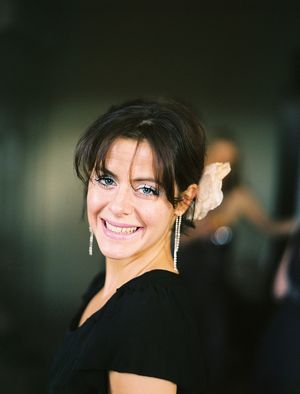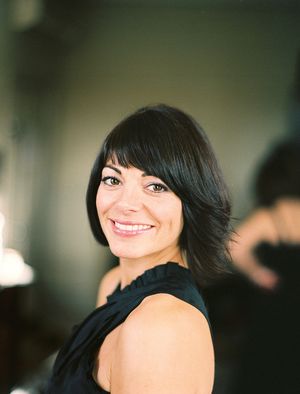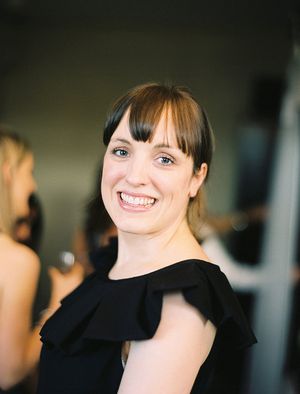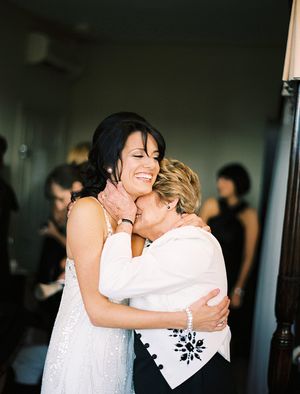 Papillon Petals…
"For my bouquet, as my dress was so detailed, I wanted something simple.  I chose small, cream cala lilies with cascading green fern.  Each of the lilies had a tiny sparkle in the centre of the flower to match the sparkles on my dress.  The Bridesmaid's had a tight bunch of long stemmed cream roses. I had three Best Girls too who each carried a single long stemmed cream rose."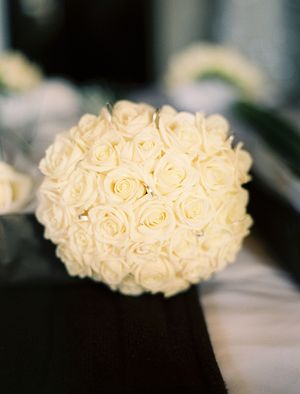 "James wore a kilt – he chose his grandfather's 'McCulloch' tartan which was shades of dark and light green.  The  jacket ('a Bonny Prince Charlie' jacket) and kilt were ordered and made by 'Mackenzies of Piccadilly' in London. James learnt to tie his own bow tie and we bought that along with the shirt from Gieves and Hawkes on Savile Row.  James chose a sgian dubh as an accessory which he ordered on the internet from Scotland – it was tucked into his sock and we used the sgian dubh to cut the cake!"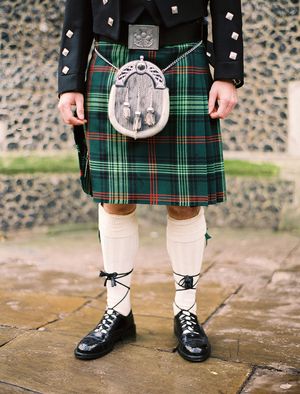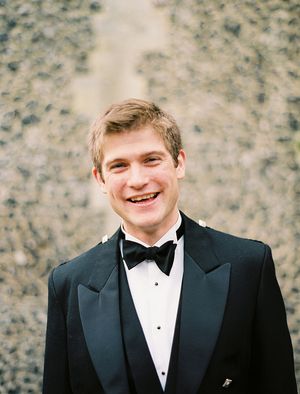 Travelling in Style…
"Although the distance from the church to The Bingham was relatively short, we chose a 1950s Nuffield London taxi (cream and black) to transport me, dad, mum, bridesmaids, best girls to the church and then me and James from the church back to The Bingham.  The car was hired from London Taxi Wedding Services."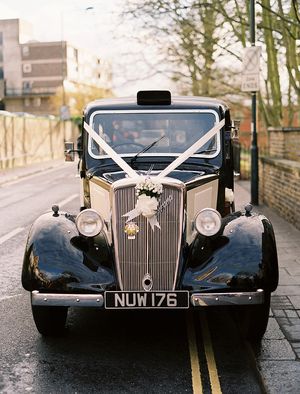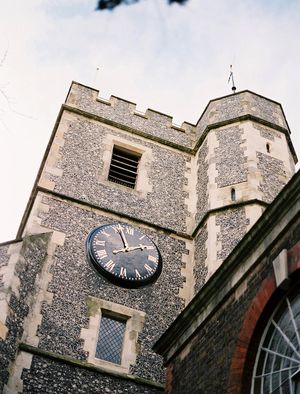 "I remember feeling nervous as dad and I were travelling to the church in the Wedding Taxi but when I arrived at the church and saw James, all of my family and my best friends  sitting in the aisles waiting  for the ceremony to begin, all nerves completely disappeared and it was the most amazing day ever. I walked down the aisle with dad to Handel's 'Arrival of the Queen of Sheba'."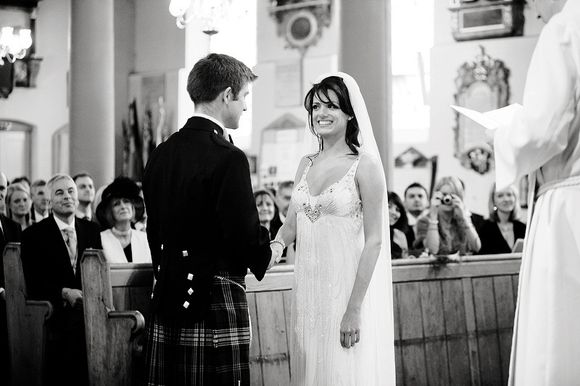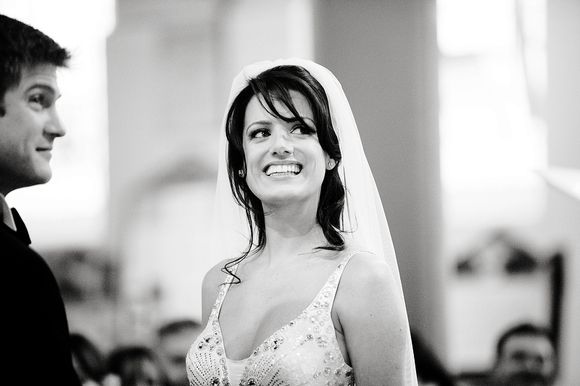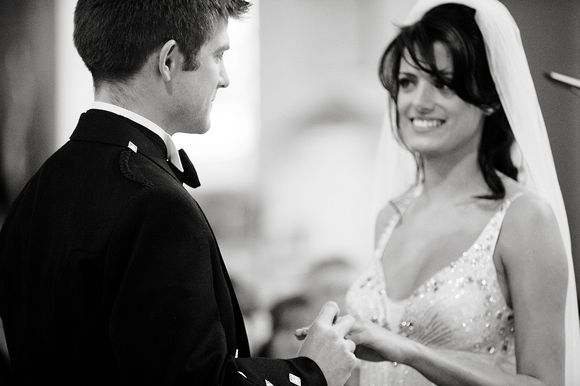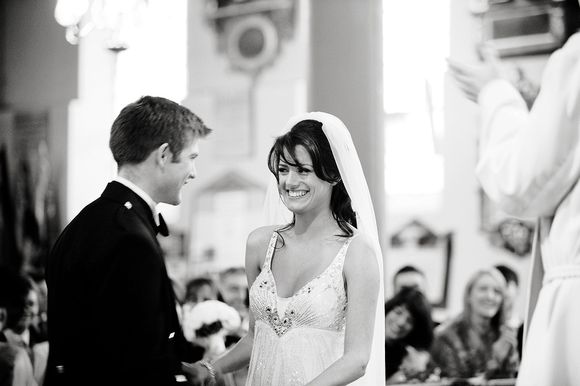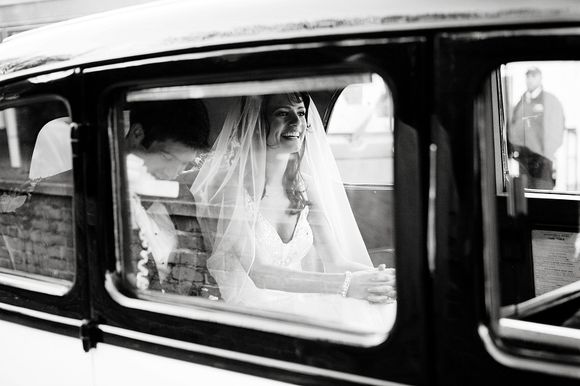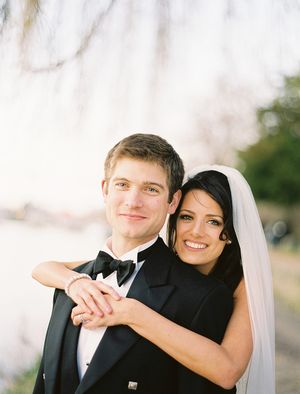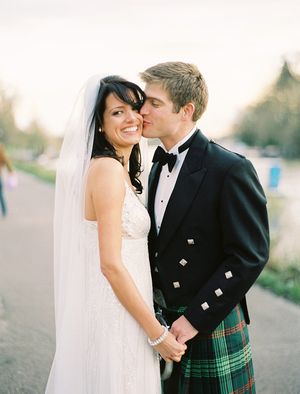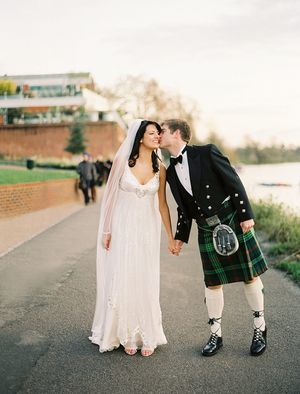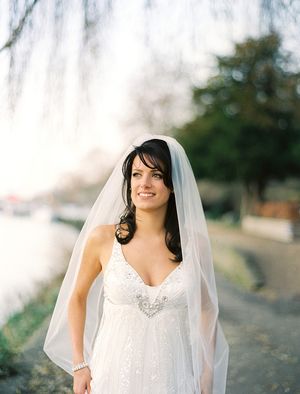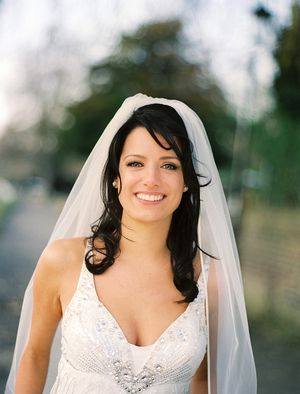 "We had the reception afterwards at The Bingham Hotel in Richmond.  The drinks reception and Wedding Breakfast took place in the Garden rooms at The Bingham which has a terrace and gardens leading down to the Thames.  We chose RIchmond as we love the area and we have lived in St Margarets (close to Richmond) for the last few years. Most of our friends are based in London, my family are all close to London and James's family live all over the world so we thought Richmond was a good place for people to get to if flying into London or coming from other areas in the UK.  We chose The Bingham because it is a small beautiful, boutique hotel with stylish furnishings, chandeliers and mirrors which offered the perfect backdrop for our day.  The hotel completely matched the style and feel we wanted for the wedding – sparkly, cosy, contemporary and elegant."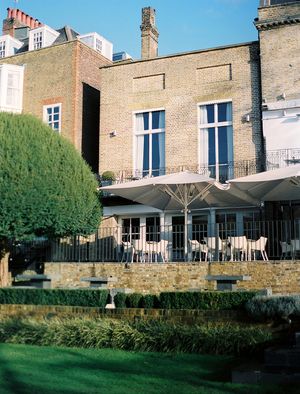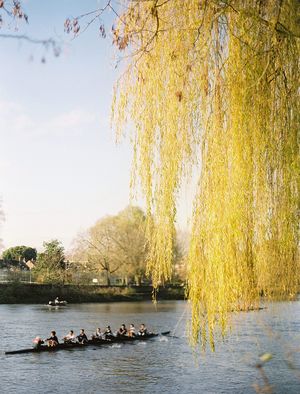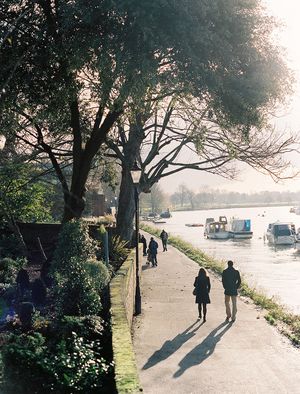 "We wanted to have a wedding which was sparkly, cosy, contemporary and elegant.  We chose a Winter wedding as we hoped for (and were very lucky in getting) a crisp frosty day with blue skies which quickly turned into night, forming the perfect backdrop for all of the glowing candles.  We wanted a simple colour scheme of creams (my dress and the flowers), silvers (the sparkly elements, shoes and decorations), greens (James's kilt was a green tartan) and black (the bridesmaid dresses, the wedding car and the Best Man and Groomsmen's tails).  The Bingham provided the perfect backdrop for our day with the lush green gardens leading down to the river and the sparkly contemporary décor inside the venue."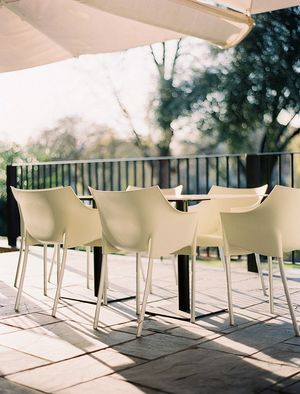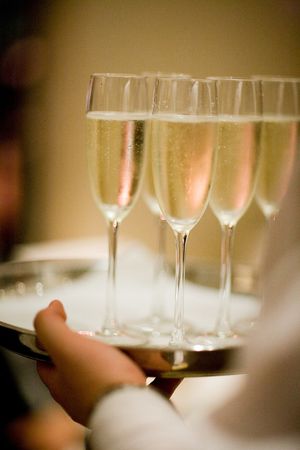 A Cake fit for Kate…
 
"We chose a simple white chocolate wedding cake from Marks and Spencers.  It was a three tier cake with white chocolate icing, with white chocolate roses cascading down the front. We chose it because it looked simple and contemporary and fitted in with the 'cream, green and silver' colour scheme.  It also looked yummy"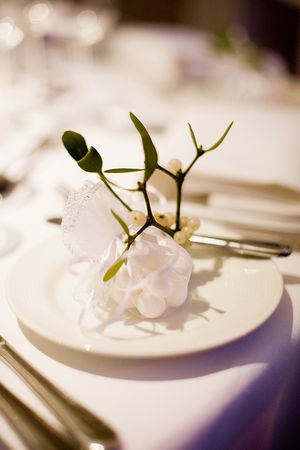 "We chose not to have a 'first dance.'  After the Wedding Breakfast ended we wanted everyone to get up dance to the DJ's music – which we all did! For the last hour, we put on an iPod with a playlist we had put together of our favourite songs.  We had a jazz pianist playing during the drinks and canape reception who was a friend of James's Best Girl, Charlie.  After the Wedding Breakfast we had a DJ from Sliding Vinyl Music, based in London."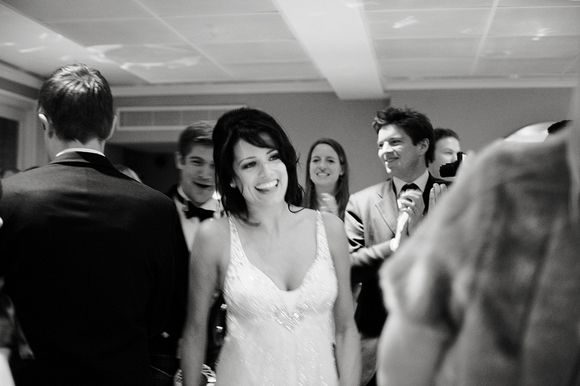 A Mistletoe Moment! …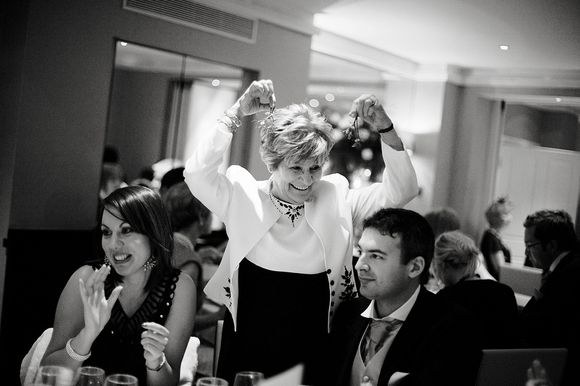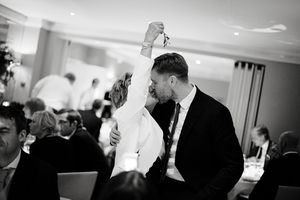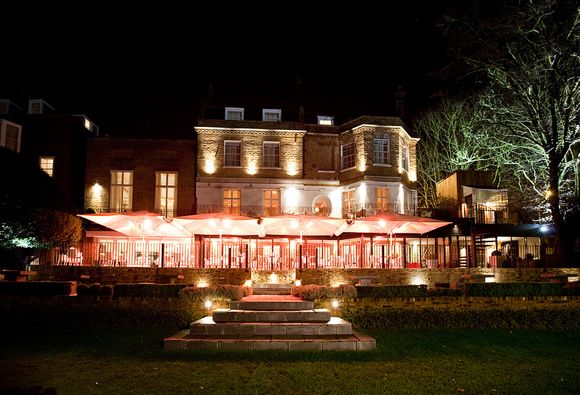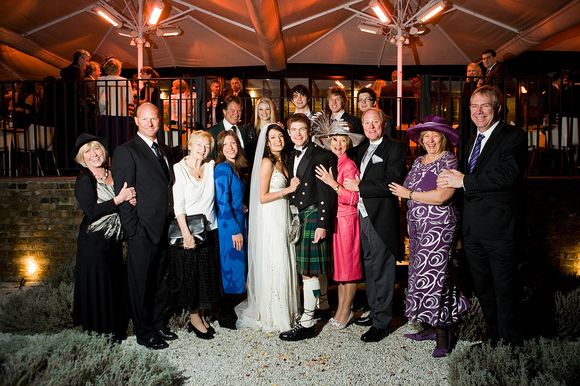 Words of Wisdom?…
"I would recommend planning things little and often so that everything doesn't get on top of you and you have chance to enjoy the run up to the day without too much stress!  I would also recommend trying to take a moment on the day to take everything in as it goes by in a rush and flurry of excitement!"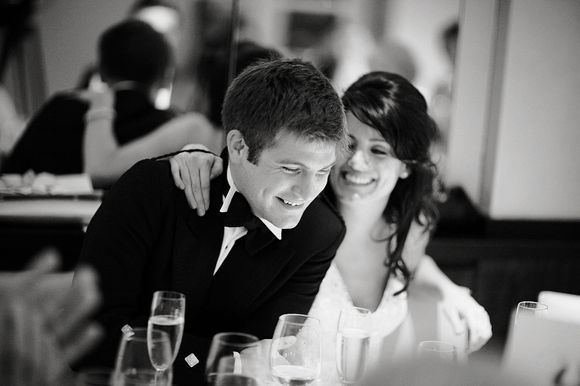 Told you she looked knock-out didn't I?
Huge thanks to the very lovely Polly Alexandre for so kindly providing these beautiful photographs, and thank you also to Kate for sharing her simply beautiful wedding-day details.
Are you a Jenny Packham Papillon Bride?
Have a good day everyone 🙂
♥