Oooh I have been SO excited about this next real wedding! Some of you UK Brides may recognise the images from last month's issue of You & Your Wedding Magazine – and therein lies a story! Bride Laura actually emailed me way back in December last year to enquire about a real wedding feature, but in the hullabaloo of Love My Dress taking off, I never got round to replying (after my initial acknowledgement) to Laura's email.  By the time I realised, You & Your Wedding had already snapped up the wedding for a feature in their May/June issue (by the way, the magazine are more than happy for me to be featuring here!).  Let that be a lesson to you wedding bloggers! Don't let emails that may lead to fabulous real wedding features slip through the net!
This is the wedding of Laura and Rem, which took place on 12 June 2009 at Syon Park, London – a venue chosen by the couple because they fell in love with the Great Conservatory, and thought it would make for a really beautiful and unusual setting for a wedding.
"I'm a professional gardener and garden designer, so I wanted a garden wedding with lots of flowers. The Great Conservatory was the perfect venue, as it had a 'greenhouse' feel, it was outdoorsy but was undercover in case of rain. Then I found my flowery dress and the garden and flower theme just flowed naturally from there."
Thanks so much to the very talented Hamish of Eternal Imaging for sharing these fabulous photographs!
Love My Dress Wedding Blog ~ Photography Copyright (c) 2010, Eternal Imaging

Laura's absolutely drop dead gorgeous dress really steals the show for me in this feature.  It was by the wondrous American based designer, Claire Pettibone – and purchased from Blackburn Bridal in Blackheath…

"I loved the beautiful embroidery – the dress is covered with roses and trailing foliage in shades of pink and green. I'm a professional gardener and I love flowers, so it felt very 'me'. I also wore my late mother's vintage 1960's bouffant quadruple-layered cathedral length veil…
The Bridesmaids had their own choice of footwear and their dresses were from Coast.   The Bridesmaids wore white rosebuds in their hair and carried bags from 'Not On The High Street'
"I chose English country garden flowers in vintage shades of old rose, ivory and sage green to match the embroidery on my dress. Lots of roses, peonies, tuberose, and trailing ivy. I wanted it to look natural and flowing. My florist also put in some green blackberries; she couldn't have known but some of my happiest childhood memories are of blackberrying with my mother. It was a wonderful touch – I lost my Mum six years ago."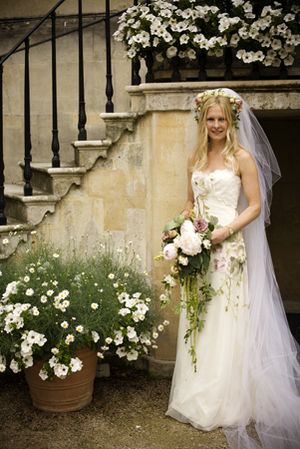 Rem's suit was by Gresham Blake in Brighton…
Horse & Carriage…
"Oh how much did I love my horse and carriage!  Supplied by London Carriages, though, I think they've stopped doing weddings now and the website doesn't work anymore."
Laura walked down the aisle to the Trumpet voluntary, played by a harpist…
"My wedding ring was my grandmother's wedding ring…"
The wedding cake was by Lisa Knox…
"Lisa is an old friend who has always made amazing cakes. I always said that when I got married, she would make the cake. It was quite the most fabulous and delicious thing – a chocolate cake filled with Belgian chocolate ganache, topped with Italian meringue buttercream, wrapped in white chocolate panels and served with crystallised lime peels and fresh raspberry coulis to offset the sweetness. Absolutely divine. Lisa enjoyed making it so much that she has now packed in her job and set up as a professional cake maker. She's doing really well and I'm so happy for her…" 
Words of Wisdom?…
"Your wedding should be a reflection of your personality; don't try to be something you're not. For example I'm not a 'polished' person so I would have looked odd and felt uncomfortable with a fancy hair do or sparkly crystals."

Such a beautiful, elegant and pretty floral wedding celebration. I hope you enjoyed and feel inspired as much as I! 🙂
Thank you so much Laura for contacting me for a feature on my Blog and being so supportive in the early days of Love My Dress too ~ I got there eventually! Thank you once again too, to Eternal Imaging for kindly supplying the photographs.
Annabel xXx
♥