I've been wanting to write about this fabulous designer for a very long while now, but sometimes, my folder of 'things to blog about' becomes totally overflowing and some of the real gem's that sit inside that folder waiting for an outing become a little neglected!
As I recall, I learnt about Sheena Holland and her 'uniquely beautiful, hand-crafted and designed headbands' way back when I first started Love My Dress. 
Sheena started making one off Vintage feather and leather headbands
in 2003 and was the first designer to create the feather on headbands in
a pad format. She now creates headdresses and jewellery made from
vintage materials using re-worked leather, antique, vintage jewellery
and feathers combining fashion, shapes and colours from floristry.
"I work mainly with feathers, vintage if possible ~ 99% of my work is with Antique or Vintage pieces of jewellery, so I remain stuck in that era, which is lovely. So I use Jet, Celluloid, Lucite, Arora Borealis, Diamante, White Iron Pyrite and pearls…"
Love My Dress Wedding Blog ~
Photography Copyright (c) 2010, Sheena Holland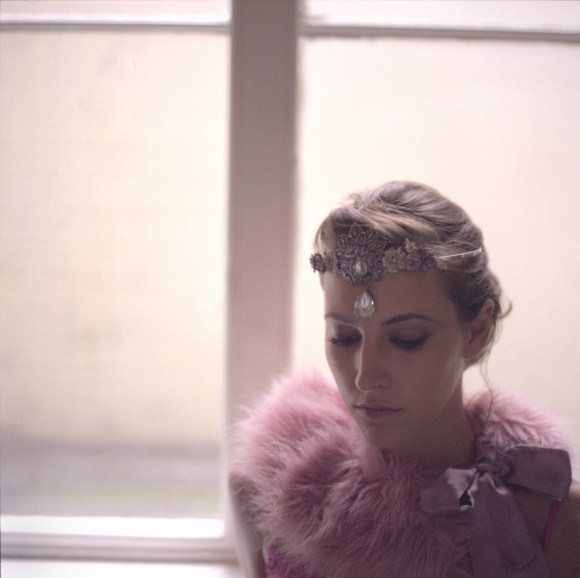 Sheena has been making wedding headdresses now for 16 years. As a former
florist in London, she began making her first bridal headbands using
fresh flowers and wire, but thought it a shame that they died after a
day or two, especially
when they took hours to make. This inspired her to make something
longer-lasting.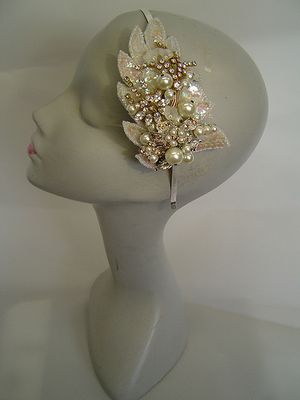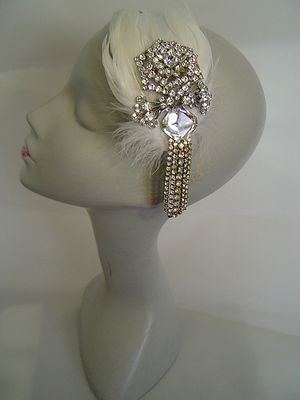 Today, Sheila's wedding range is not seasonal, it is
timeless. Each piece is 1950's or older in makeup. The jewellery is
handpicked and sourced at local markets nearby, so is either British or
sometimes German. Sheena uses a lot of Aurora Borealis crystals because
she feels the jewellery has a bridal feel and fantasy element. The
Aurora is from 1953 and was made originally and designed by Dior and
Swarovski after they had stopped making binocular crystal lenses for the
war in 1949. The name stands for 'The Northern Lights'.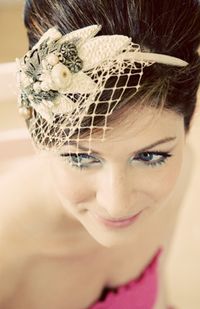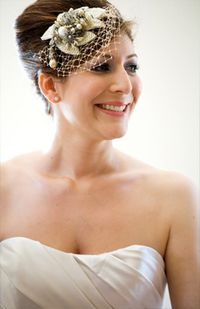 And all of the headbands are also one-of-a-kind. No two are ever the
same, so Brides can be assured of having a uniquely gorgeous accessory
for their wedding, special occasion or party… and they look equally
good worn with everyday clothes.
All of Sheena's headbands use vintage fabrics and jewellery to create a look that is stunningly contemporary yet timeless. Lace, leather, silk, silver, diamanté, pearls, amethyst and enamels – just a few of the period fabrics, vintage jewellery and objects d'art that can go into each of these lovingly hand-made creations. Sheena hand picks every piece of jewellery and every scrap of fabric that is used to make them, giving new and vibrant life to beautiful old materials.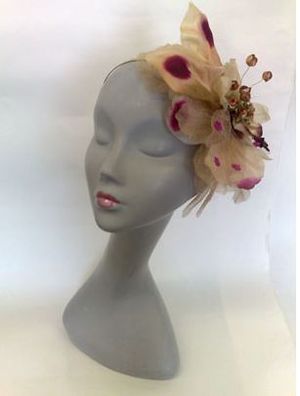 Sheena was born in Camden, London and studied fashion under
the fashion designer Katharine Hamnett in the late 1980's at her design
studios in north London, as design room assistant working on fabrics for
the catwalks when her fashions were a statement both politically and
creatively. She then went on to design large floral, wire and concrete
sculptures in London, and work for the likes of Elton John's 54th
birthday and Michael Jacksons 'World' tour.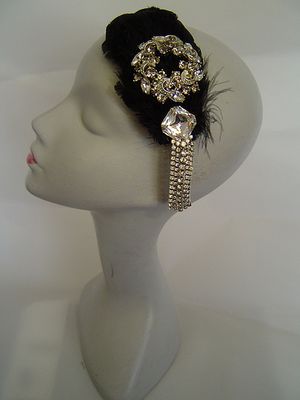 Prices for a Sheena Holland design start at £75.00 and whilst you can contact Sheena via her website to place an order, she has chosen to only stock at one outlet…
"I only stock one shop 'Shock and Soul' a French Vintage shop in Angel London ~ I want to remain exclusive but have a strong brand that is known distinctively as handmade, vintage and design orientated to accomodate people who aren't happy buying from large stores with little individuality. I want to be sure there is enough vintage and antique finds when I grow old and look back 30 years…"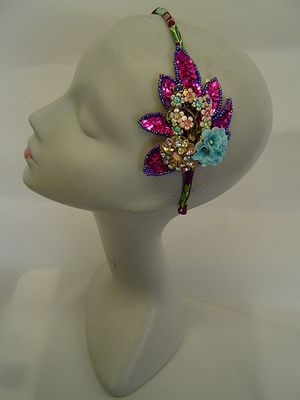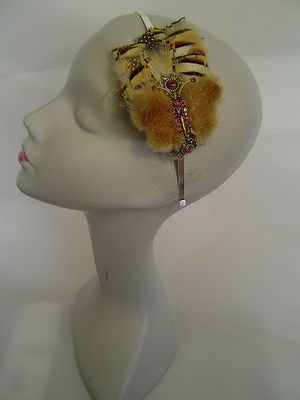 For further information, please visit the Sheena Holland Website or email [email protected].
♥