Well, the weather guys have been saying all week that today (Friday!) is going to be a super lovely hot day, but I see nothing but clouds and a sun trying too hard to peek through them, and failing!  So, I thought it was fitting to feature this particular wedding today, which took place on what was the hottest day of the year at the time – 22 May 2010.
This is the wedding of Kate and Damian, who got married at St. Francis Church in Bournville; "we're committed Christians and wanted to get married in a church. The church is a beautiful franciscan style building in Katie's parents parish, where she grew up."  The reception took place at The Forest of Arden Marriott Hotel; "we loved the marquee, the stunning grounds and lake and they had a wedding co-ordinator, Jenny, who was very lovely and organised!"
 
These photographers were taken by o&c Photography; "…the incredible duo that captured our day in a truly unique and stunning way! We had so much fun meeting with them before hand that by the time our day came around it was our mates who were taking the photos."  A fabulous endorsement if ever there was one that these Welsh Wedding Photographers are more than worth looking into 😉
Love My Dress Wedding Blog ~ Photography Copyright (c) o&c Photography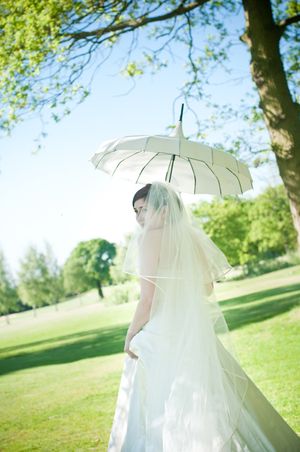 Who doesn't love a pretty sparkly pair of heels, especially when they're a pair of L K Bennett's?
Kate's dress was by Brides Dress designer was a Suzanne Neville and was purchased from Dragonfly in Cheltenham…
"Rita at Dragonfly was probably one of the most elegant women I've ever met in my life – they do all the adjustments themselves and went above and beyond to make my dress truly perfect for me.  Finding my dress was 'love at first sight', it was everything I had hoped for – classic design, elegant, not too meringue like and very Audrey Hepburn :)"…
 
Pure Spring Whites…
Flowers were provided an acquaintance who lives close by…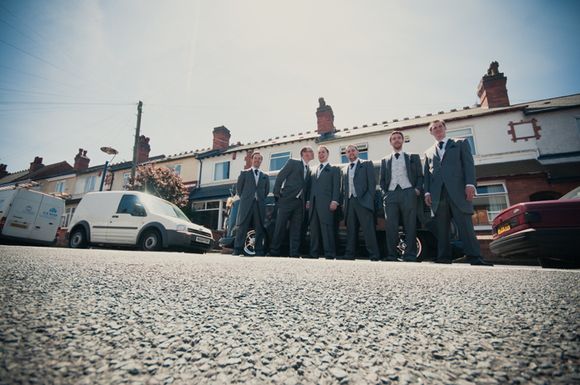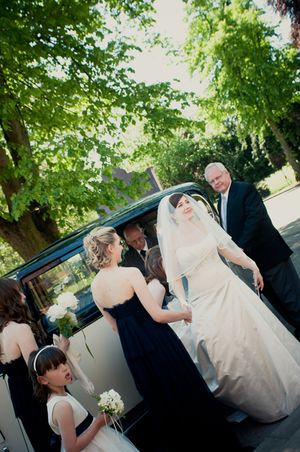 Katie walked down the aisle to 'The Luckiest', by Ben Folds – arranged for piano and strings…
A Re-banded Antique Engagement Rings…
Kate and Damian's rings were from the Element in Birmingham's Jewellery Quarter.  Damian wandered around the Jewellery Quarter in Birmingham looking for someone who would reband Katies gran's engagement ring in platinum…"Element were really helpful and their shop front is aesthetically beautiful. When it came to where to get the wedding rings from it was a no-brainer…"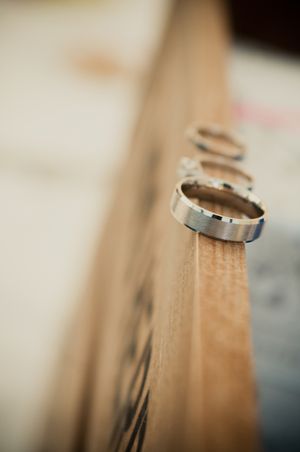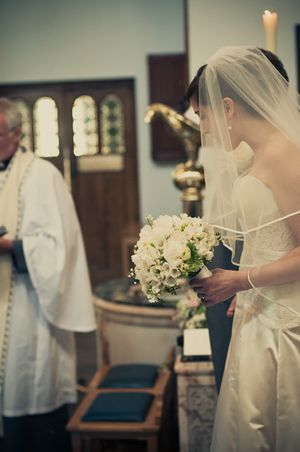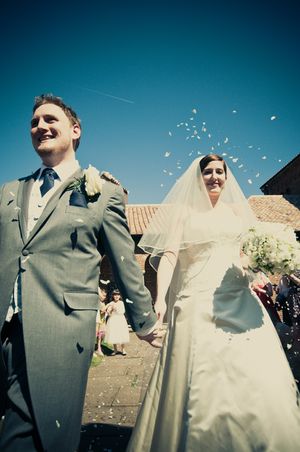 Vera Wang Maids…
Katie's Bridesmaids all were in 'Vera Wang Maids' in a gorgeous Midnight blue colour.  These floor length dresses included layers of pretty tulle, from under which peeped even more fabulous heels from L K Bennett! Lucky ladies!!! 🙂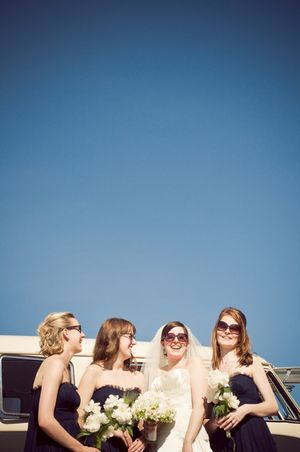 A 'LoveDub' Kinda Wedding…
"We hired a 1963 Split-Screen camper van in grey and white from LoveDub Weddings – ah yeah! And they planted a tree for us!"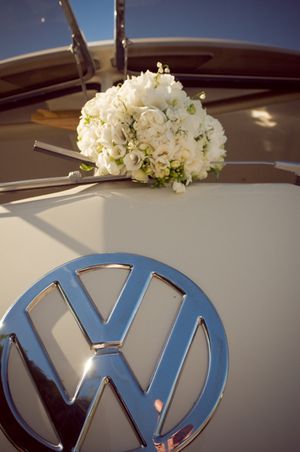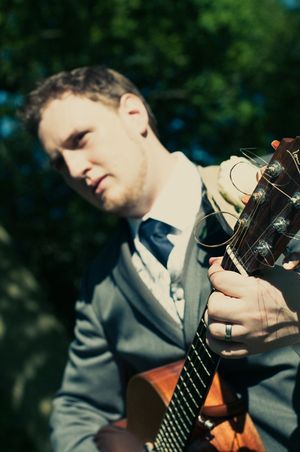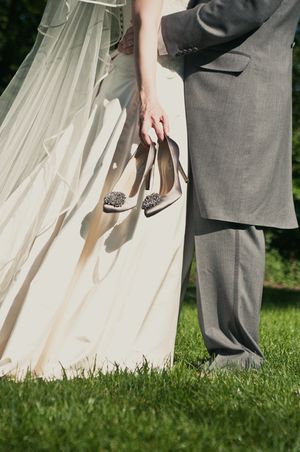 DIY Decor…
"We collected lots of driftwood from beaches in Pembrokeshire, Wales, where we got engaged.  We dried it out at home and we made mini easels, to hold our table names and to hold our menus, and a large frame for our seating plan. We also collected small white pebbles and used these to stand our place names upright. We spray painted household jars blue and stuck ribbon and fabric orchids to the neck of each jar. We used fairy lights to cover our centre pieces for the evening reception…"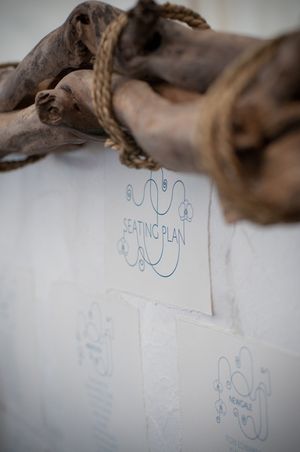 White peonies and orchids against midnight blue – stunning…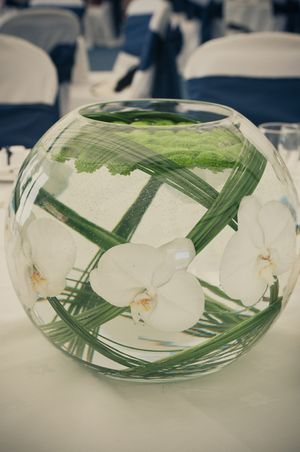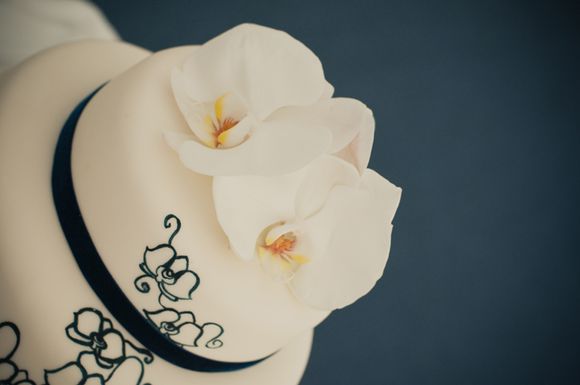 Polaroid Fun!
"We put out Polaroid 600 cameras and a book with photo corners instead of a traditional guest book. We now have a beautiful book full of brilliant pictures and loving words. (It looks like a 70s wedding in those photos!)"
Accidentally in Love…
The first dance was to 'Accidentally in Love' by the Counting Crows….
"We really wanted an up beat song that summed up how we felt about each other without making everyone in the venue feel sick. I think we just about nailed it."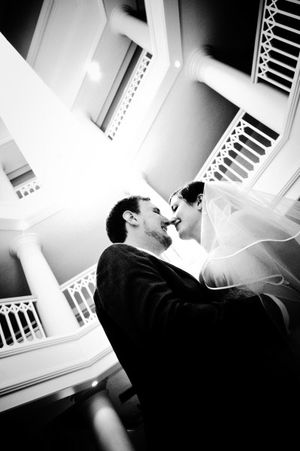 Words of Wisdom?
"You can never have too much attention to detail! All the hard work and time spent on even the littlest details make your day all the more amazing… oh and enjoy it, don't take it all too seriously; there is the rest of your life together to look forward to too."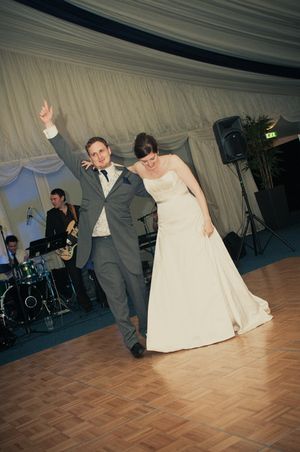 Thank you to Kate and Damian for allowing this wedding to be featured on Love My Dress, and to two of who I think of the loveliest Photographers out there, Charis and Owen, of o&c Photography, for kindly forwarding on these images for reproduction.
Happy Friday all!  Come on Sun! …Show us what you got!!  🙂
Annabel xXx
♥
The Small Print:  o&c Photography are Sponsors of Love My Dress, however, this is not a sponsored feature.