Well well, two weddings in one day! What a fine treat for you indeed :)  But you more than deserve it.  It's been a busy few weeks as I've settled down into being a new Mummy again, and I've not had the time to post my usual twice daily blog offerings up to now, so a little bit of extra loveliness is more than deserved I think! 🙂
This latest set of images illustrate beautifully why I do what I do – a fine vintage frock, a dapper looking chap and a beautifully detailed wedding day.  The perfect mixture for a Love My Dress Wedding Blog feature!
Andy and Sarah tied the knot on 31 July 2010 at the Duncton Mill Fishery, near Petworth, Sussex with a beautiful outdoor lakeside wedding.  The venue offers a stunning Lakeside setting in an area of outstanding natural beauty – perfect for this vintage loving couple and their special day.
Sarah's wore an absolutely delightful vintage lace 1950's prom dress from the ever-fabulous Fur coat no knickers.  See more from the fabulous team that are Fur Coat No Knickers on Love My Dress here!
"I had in my mind three things I quite liked, vintage, lace and possibly short dresses. I tried on long lace, vintage, and short satin and then I arrived at Fur Coat No Knickers……the most beautiful shop ever, Emma and Laura were just so brilliant and patient. It was the second dress I tried on in the shop and I knew I had to have it when I really didn't want to take it off!"
Love My Dress Wedding Blog – Photography Copyright (c) 2010, David McNeil and Annamarie Stepney
Sarah's  Makeup Artist was Katy Messer and her Hair Stylist was Rebecca McMahon…
Sarah's pretty birdcage veil was also a fabulous find from Fur Coat No Knickers and her shoes were a pair of killer Louboutin heels… Other accessories included a pair of simple pearl earrings a vintage engagement ring and a bracelet from Andy.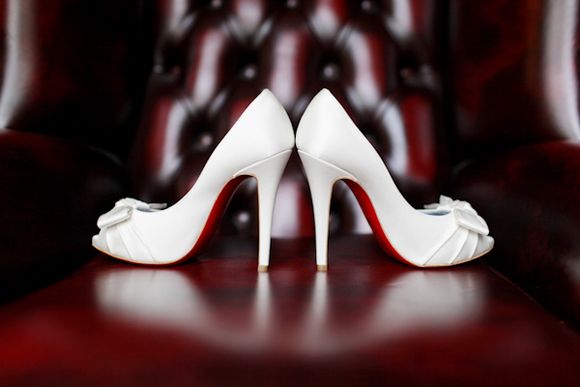 Bride & Flower Arranger!
"I arranged the flowers myself, using a selection of white and pink peonies, and roses bought from Covent Garden Flower market.  We chose natural looking flowers that complemented the relaxed, outdoor setting and chose colours that complimented the cream and pink of my dress without overwhelming or looking too themed!"
Bridesmaids in Blue…
Talk about pretty maids all in a row! Sarah's Bridesmaids wore dresses from Dessy in two different styles and three different shades of blue – teamed up with silver peep toe bow shoes from Dune…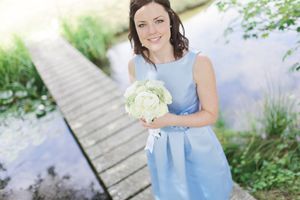 I love Andy's dapper look and striped boating jacket – from H&M.  His trousers were from Zara and the look was teamed up with a cravat from Tom Sawyer and a pair of Braces.  Andy's Groomsmen wore mismatched jackets from H&M and braces and cravats matching Andy's.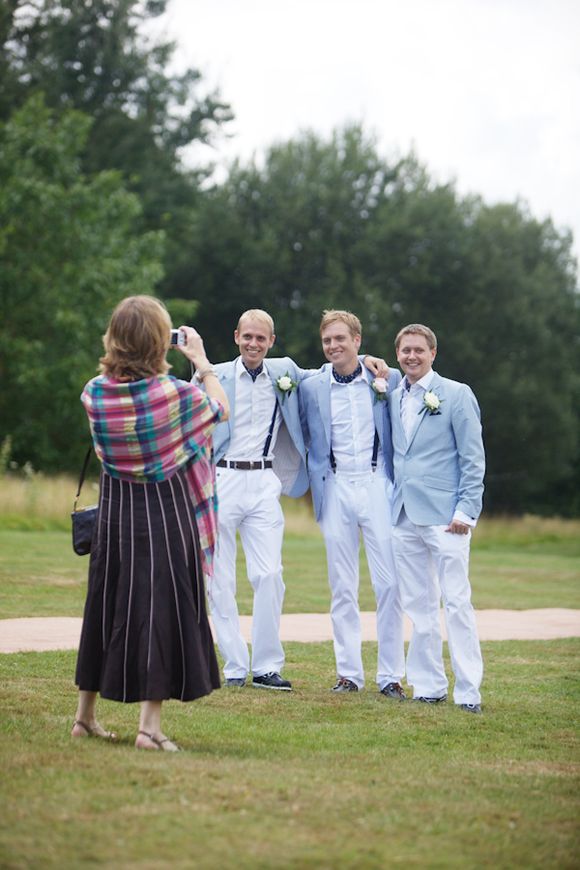 Rosie Rowing Boat…

Sarah was transported by Rosie the rowing boat to her awaiting Groom…
"The most nervous I felt was as I got onto the boat to go across the lake to the ceremony, I had spend weeks worrying about going swimming on my wedding day(!) but  the venue owners were amazing and we rehearsed the day before and it was absolutely fine. It was so amazing rowing across the lake and having time to take in the scene…"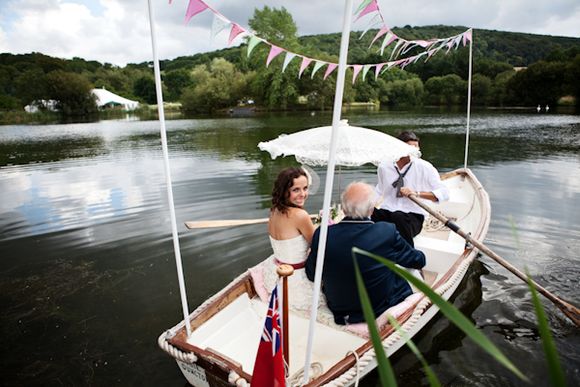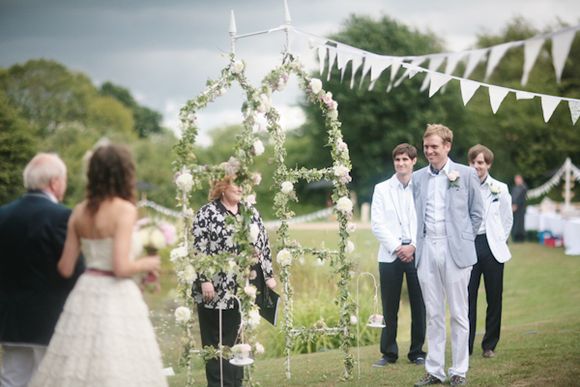 Vintage style entertainment was provided by DJ 78, a Gramophone DJ who played during the ceremony and afternoon…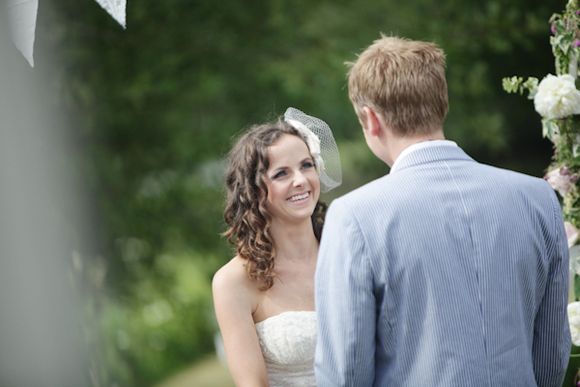 The couple exchanged a pair of plain platinum bands, chosen because they wanted simple rings, particularly to work with Sarah's engagement ring…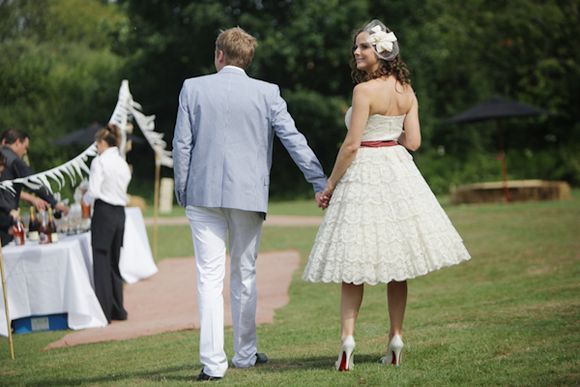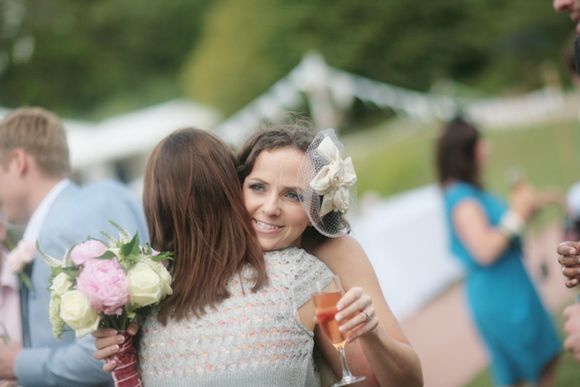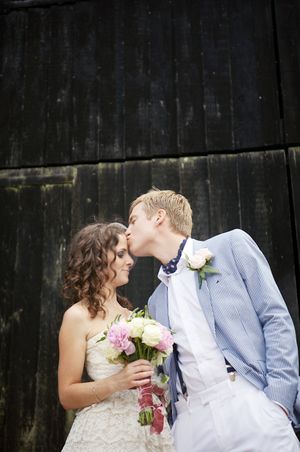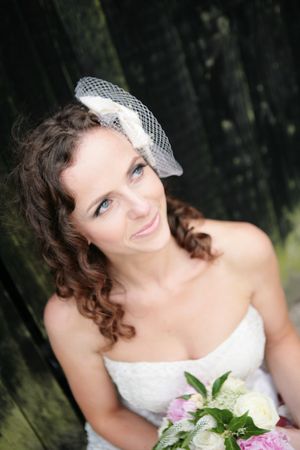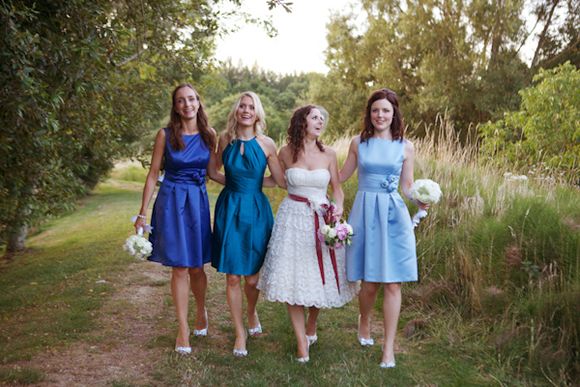 DIY Decor and Details…
Decor played a huge role on Sarah and Andy's wedding day…
"Making our day personal to us was very important to us, so a lot of time was spent on the details. We were influenced by the venue itself and wanted a laid back relaxed, vintage theme. We were also careful to keep that style by keeping the colour theme very mixed so it looked natural and not too planned out.
I collected vintage tea cups in the build up to the wedding from car boot sales. We used these on the tables, and attached tags to the cups to act as the place settings. I'm actually planning on hiring these and the other decorations out now the wedding has finished as I don't want to part with them yet! We also used the tea cups in the ceremony area with flowers in them suspended from shepherds hooks…"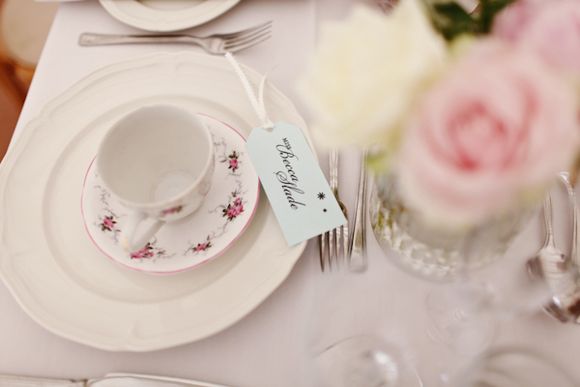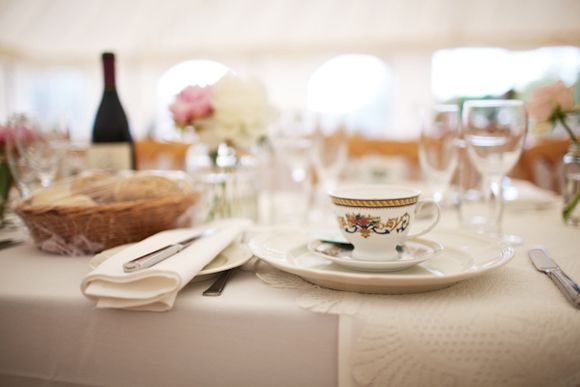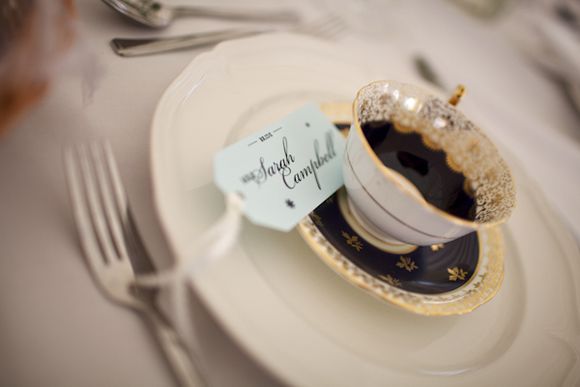 Cakes and Desserts… 
"Our Wedding Cake was made by the Father of the Groom who has a reputation for making the most amazing Christmas cake!  We wanted a traditional three tier cake to fit in with the vintage style of the day and we left the rest to the creative directors of the cake – the parents of the groom.  Who did a fabulous job!!!
As our dessert we asked our guests to bring a homemade dessert for a dessert buffet. We collected cake stands and guests labelled what they brought with tiny flags we supplied. They were beautifully laid out on the cake stands and vintage plates with doilies for the extra vintage touch. It was really important to us that our guests felt part of the day. It was amazing!!"
"I made reams and reams of bunting to decorate the marquees and outside areas of the venue. It took forever, but was definitely worth it!   We also gave our guests a piece of bunting material which we asked them to decorate and return with their rsvps.  We hung this in the entrance to the marquee so everyone could see peoples' efforts.   
We also made signs to continue the village fete theme – they were made from a wooden palette and we painted the signs ourselves.  We also bought parasols and had hay bales and garden games with score boards underneath – they seemed to go down very well!"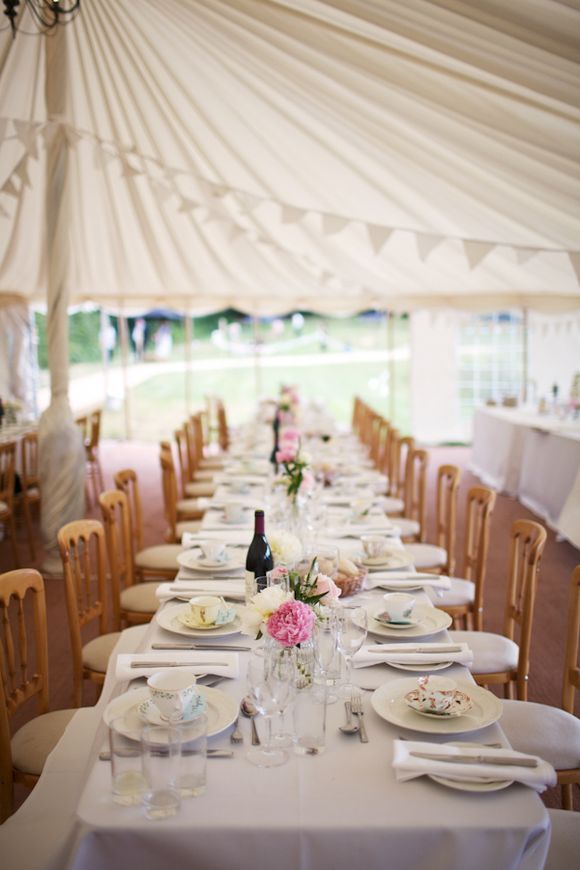 "I ordered vintage style hankies and stamped on our save the date design and we handmade all the invitations, again to took forever but it was so worth it!"
Words of Wedded Wisdom… 
"Focus on what it important to you and your partner, and what you want to do to make your day special. Make it personal to you, it will be what it makes it stand out for other people.
Make sure you spend 15 minutes away from everyone with your new husband absorbing it all together. We spend 20 minutes sat on the island opposite the marquee just watching everyone dancing – it was amazing!"
It's weddings like these that make Love My Dress such a pleasure for me!
Congratulations Sarah and Andy your marriage and for pulling off such a lovely wedding – you should be very proud of these photographs, they are beautiful 🙂
I'd also like to thank photographers David McNeil and Annamarie Stepney for allowing me to reproduce these super photographs on the Love My Dress Wedding Blog.  You can view more of David McNeil's Photography on Love My Dress here and more of Annamarie Stepney's work on Love My Dress here 🙂
What do you love most about this wedding – has it inspired your big day planning at all?
Much love,
Annabel xXx

♥