I've been really looking forward to featuring this latest real wedding, because the Bride and Groom discovered their Wedding Photographer, Eliza Claire, through Love My Dress. And that's something that makes me one extremely delighted Blogger indeed! 🙂
Jools and Nigel tied the knot on 11 September 2010 at Wootton Village in Northampton and Jools wore a lovely vintage style Jenny Packham dress…
"I've always loved Coco Chanel and anything old and French and really loved the art-deco era, so it started there really. I love the fashions of the 1920 and 30s, and tried to find a real vintage dress but unfortunately do not have a 22inch waist as most of them do,so jenny packham was the nearest design to what I was looking for – silk bias cut and simple (im not a meringue kind of girl)"
Eliza Claire has done a fabulous job of capturing this art-deco, 1920's inspired wedding on camera.  Jools tole me "….Eliza she wass wonderful throughout and even helped iron something and dress the little bridesmaids!"
Love My Dress Wedding Blog – Photography Copyright (c) 2010, Eliza Claire Photography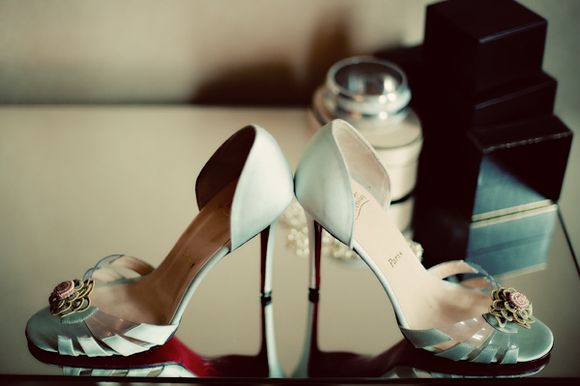 I adore the headpiece that Jools wore, another Jenny Packham design…
"I loved my Jenny Packham Alicia II headress.  I looked at lots prior to purchasing it, but returned to this design as nothing else sparkled quite as much.  My necklace and earrings were from monsoon and my art-deco style cuff was from www.stephanie brown.com"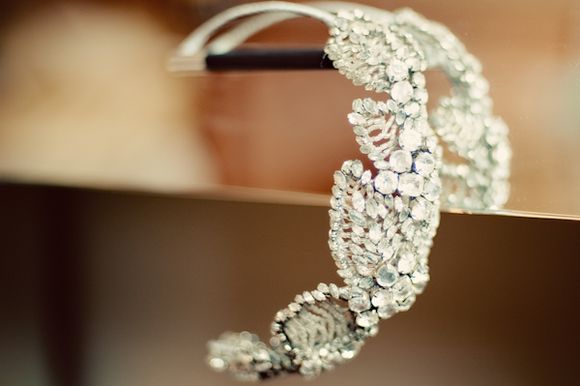 Those beautiful blue Louboutin heels again…
"Shoes are very important to me and I love the colour baby blue, so after looking for hours on many websites at Jimmy Choo etc, I found these Christian Louboutin heels and thought they looked rather vintage. As I kneeled at the alter in the church, I heard someone gasp when the saw my shoes which made me smile!  I also kept them on unti 3.30am the day following our wedding!"
"I searched high and low for vintage looking flowers and they either didn't understand the look, or everything I liked was out of season.  So two weeks before, in desperation, I went into Cobbys in Giles Street, Northampton and the staff there were wonderful. All the hydrangeas came from my friend Libby's garden…"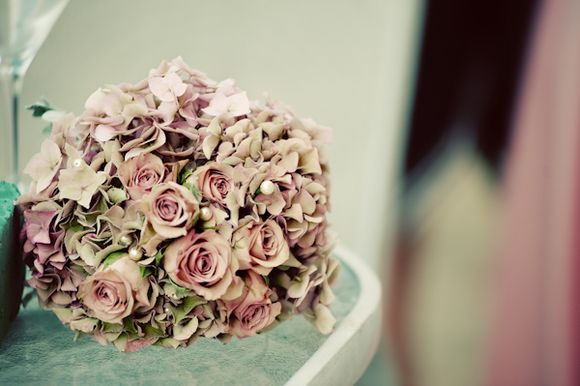 "I also made vintage looking corsages for a few of my close girlfriends who had helped me greatly in planning my wedding…"
To accessorise her Bridesmaids, Jools brought the younger girls some lace gloves from verbaudet -  and they were also given pearl bracelets with teapot charms on then.  The teenagers had pearl necklaces from Topshop and the adult bridesmaids had teapot charms to add to their trollbead bracelets, and a vintage evening clutch bag each.
"The little ones all brought theirs from Monsoon, and wore capes too..."
"My ring was found on an antique website by Nigel and my daughter Gabriella (she may be 8 but I've trained her well!) and luckily it fit! Nigel's ring was from a small jewelers in Northampton."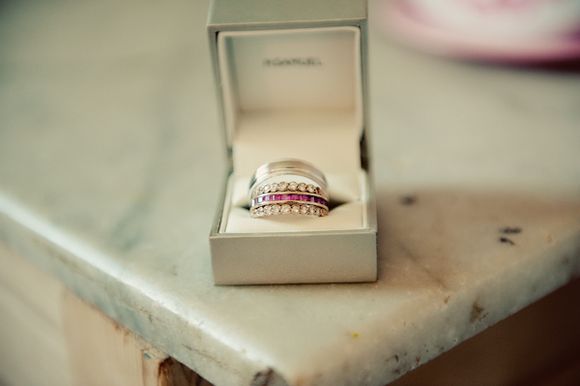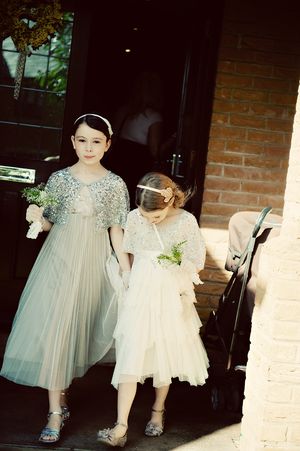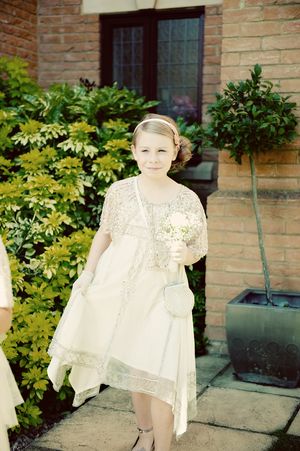 Jools and Nigel decided to stay close to home on their wedding day…
"Wooton Village in Northampton is where we live and we wanted an informal, vintage style wedding with a black-tie evening event.  I was soo nervous the week before but had a strange calm come over me the day before which really helped..."
Instead of a veil, Jools opted for the Tiffany Ostrich Feather cape from Monsoon…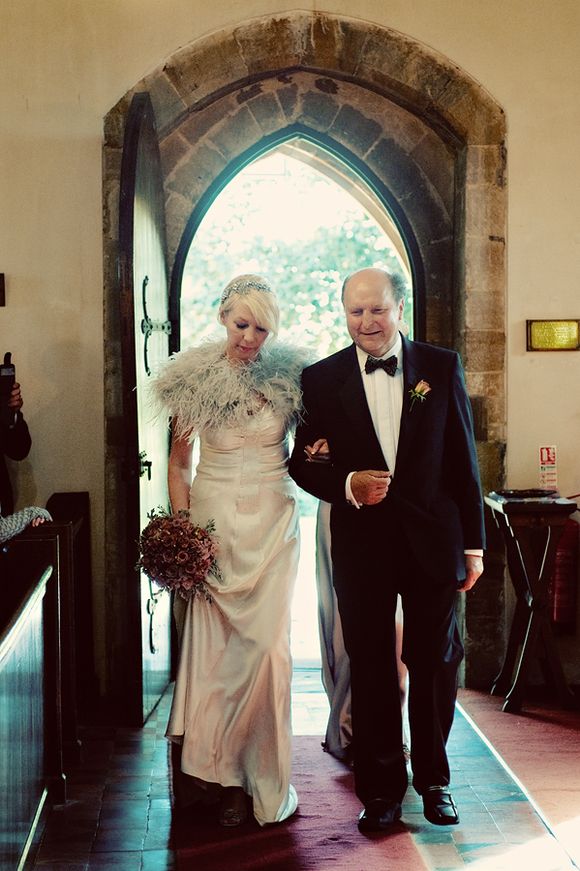 "I walked down the aisle to The Prince of Denmark March.  My friends 12yr old daughter Jess also sang hallelujah which made everyone cry! and we left the church to The Style Council 'Shout to the Top' which the Vicar very kindly let us play – and it really lifted everyones spirits!"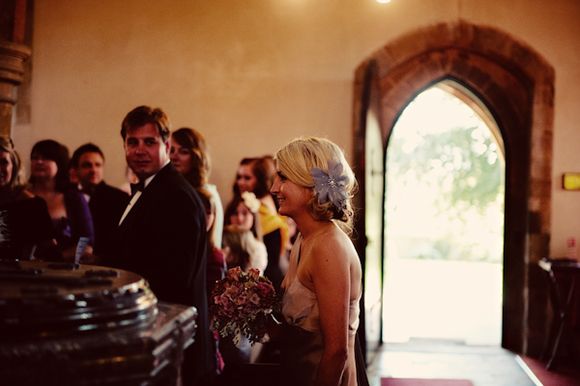 Nigel wore a Hugo Boss Tuxedo, Jeffery West shoes and Hugo Boss cufflinks.  All of Nigel's Groomsmen also wore Tuxedos….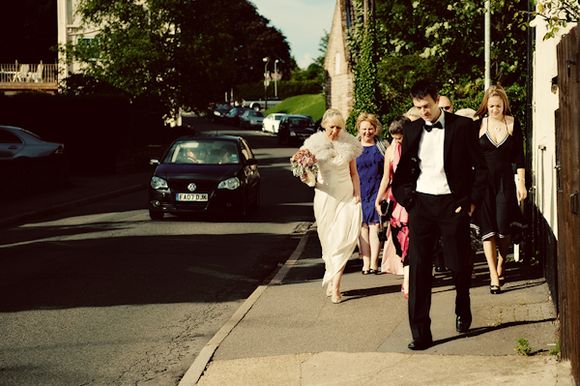 "Our 18 yr old son Luke's girlfriends from sixth-form kindly helped hand out canapes and drinks and dressed up in vintage tearoom maid outfits which looked so cute!…" 
"All the Page Boys were happy to wear skinny black trousers converse and jersey blasers from Next, with Raybans, and all were too cool for school! my 4yr old teddy was the youngest pageboy and he fell asleep through the whole ceremony and woke as we came out and Eliza caught him just waking on my husbands shoulder and the photo is one of my favourites."
"My friend dee helped me by spending hours on the web researching 1920s table names we could use, eg, 'Lalique', 'Chanel', 'Orient Express' etc, and instead of favours we had a raffle with the ticket on your wine glass which everyone loved."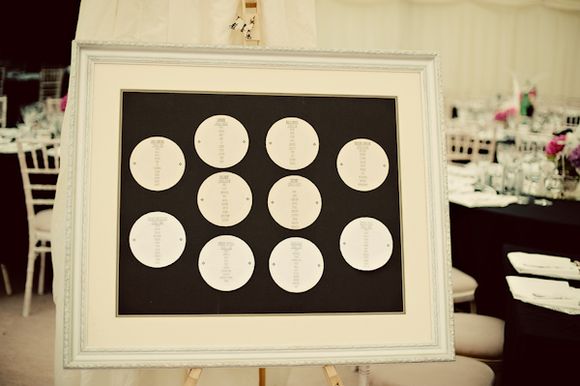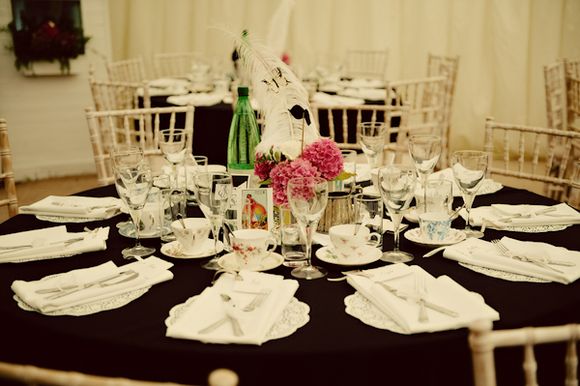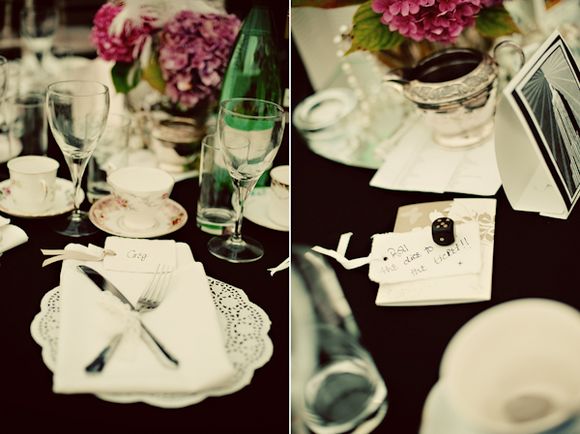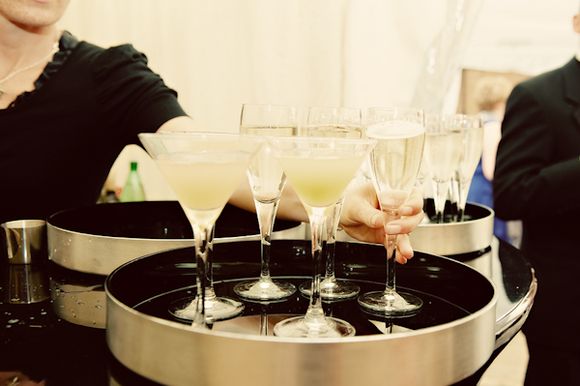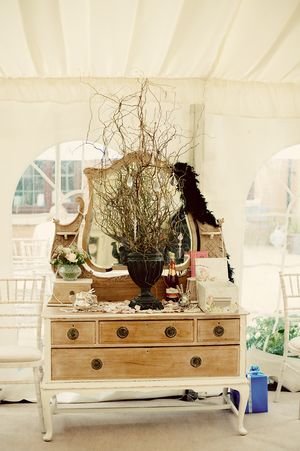 "We had an old fashioned sewing machine which was my great Aunts, which my Daughter Frankie made into a sweetie bar for the children, but several adult were spotted with sneaky sweet bags! …"
"We also used an old screen to hang photos of ourselves and our children on, and also asked guests to send us their wedding photos which we hung up – everyone was playing 'Guess Who?' all night!"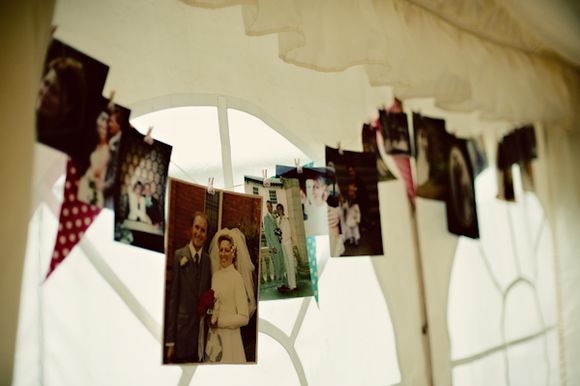 "We collected silver teapots from charity shops and carboot sales, with yet more hydrangears from Libby's garden with feathers and pearls draped over (from Primark), black tablecloths and doilies for place settings, with lace around the cutlery.  We also had name tags with ribbons on to put on our wishing tree, lottery tickets and dice on each table."
"The only cake we like is chocolate cake and Nicki, my made of honours Mother-in-law, makes the best! So she made 3 large ones which were eaten as desert with cream and everyone loved it!"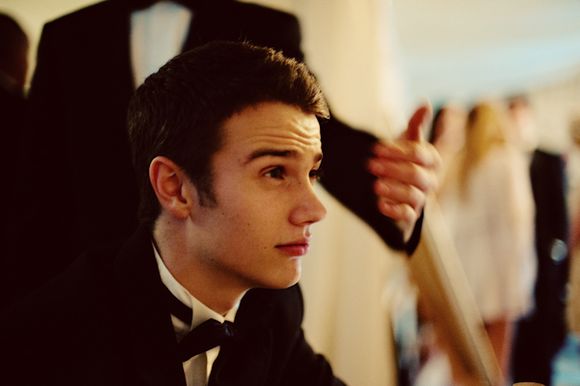 Words of Wedded Wisdom…
"I would recommend you overplan and then just go with it on the day, but what is there really to be nervous about? We only invited people that are dear to us and wish the best for us;  take time to enjoy it, look around and take in everybody having a good time as that is my lasting memory."
We couldn't get over how excited everyone was at the wedding, but I think that's because everyone got involved either bringing a dish, helping decorate, collecting rose petals and drying them to use for confetti or prepare the marquee or hair and flowers.
In the end, it was a party for everyone which was lovely.  We coulnt have done it without everyone's help and it saved us thousands!
The children had all gone or put to bed by 9pm so the rest of us got to the dance floor the band played on until 1.30am, and the last guest left at 4.30am!! We danced to 'You're the Best Thing' by the Style Council, as both Nigel and myself love Paul Weller and we have been together for 12 years, so think the words say it all.
We didn't want it to end and would love to do it all over again…" 
Thank you so much Jools for sharing this information with Love My Dress, and as always, huge thanks to Bucks and London Wedding Photographer Eliza Claire for allowing me the pleasure of showcasing her beautiful photography.
You can see more from Eliza Claire on the Love My Dress Wedding Blog here.
Check back at 12 noon folks, as I've a rather special post coming up for all you ladies looking for that perfect wedding dress 🙂
Much love,
Annabel xXx
♥