Morning! It's the count down to Christmas!!! 6 days to go. SIX DAYS!! I am so pleased I have all the shopping done – just one or two items left still to arrive by post and all the wrapping to do but other than that, I'm fairly organised!! I have that Chrsitmassy feeling all over and cannot wait to down blogging tools for a little while to spend precious time with family 🙂 For now, I am taking pleasure from blogging the most fabulous features for Love My Dress.
Today, I would like to introduce you to Dana Bolton – a small independent business run by designer Dana Bolton, who specialises in creating bespoke, one-off wedding dresses.
I was first drawn to the Once Upon a Time label when I stumbled up some of Dana's work via Facebook.  It was a pretty much instant love affair for me; gorgeous full-circle skirt dresses, beautiful, hand applied intricate detail and beautiful bridal accessories. I had to find out more and indeed, it has been a great pleasure to get to know more about the designer behind this fabulous collection of bespoke bridal wear…
"I have been designing and making one-off wedding dresses for many years – my background is in Fashion and Costume design.  Working with Brides to be is the best! I try to understand what each new customer wants, then I design each dress pretty much as new design.  I work with the most gorgeous fabrics, laces and vintage jewellery,  it really is a designers dream.
I love my job!  Vintage has been the only word in wedding dresses for a few years now;  in some dresses I have tried to recreate an authentic 30's or 50's dress look, but mostly the style is a fun version with the huge petticoat bringing out the inner 'little girl spinning around the room' in us all.
Love My Dress Wedding Blog – Photography Copyright (c) 2010, Image Provided by Once Upon a Time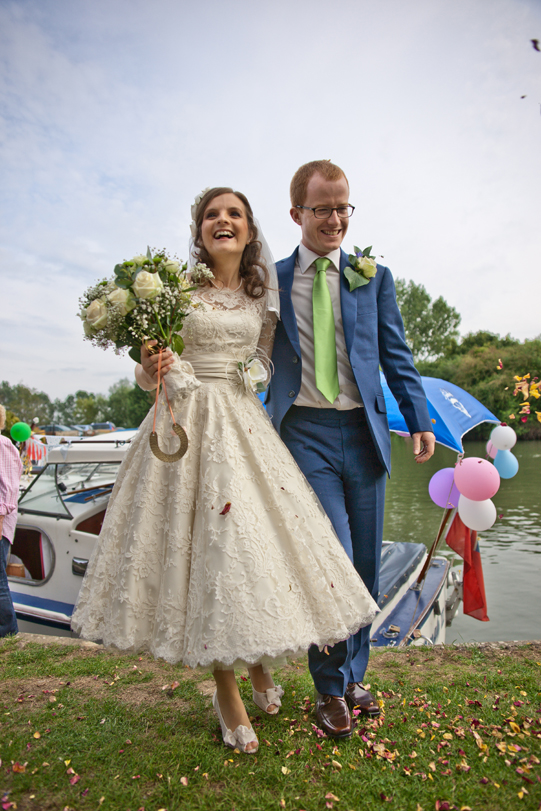 I will say it now – I would probably kill and die for the dress pictured above and below.  True fact!
Dana works from her studio in North London, close to Crouch End but has clients commissioning her to design dresses from across Europe…
"Many of my Brides will travel from other cities for fittings, though I always keep the number of fittings down to the very minimum for clients who live outside of London…"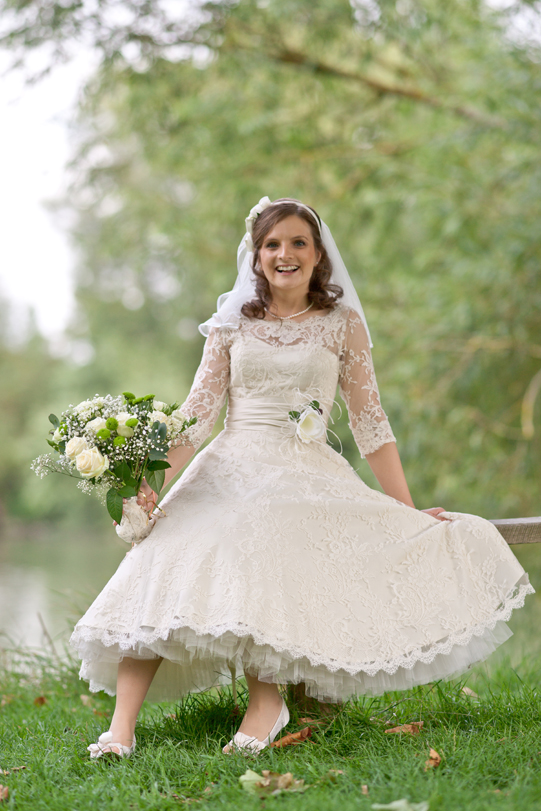 "I work closely with each Bride providing a  personal one to one service.                 
My dresses reflect my own tastes, but I listen very closely to what people want. I seem to have developed a skill as a bit of a mind reader when people describe the dress that they would like. When it comes to dresses I think in textures and degrees of swoosh and swish, wafty or bouffant, a very tactile approach. This  helps with describing the design along with the sketching that I will do at a consultation…"
Such a beautiful bespoke wedding dress below, look at the chain of daisies there, so cute!
Dana's designs have featured in several of the major UK Wedding Magazines, including a recent spread in Cosmopolitan Bride, with this fabulous wedding that was photographed by the talented Chloe over at Caught The Light Photography…
Love My Dress Wedding Blog – Photograph below, Copyright (c) 2010, Caught The Light
"I  have been making variations on the fifties theme for a few years now ,increasingly more, as people are finding how wonderful, fun and easy to wear they are as a wedding dress and no less special or beautiful for being shorter. I am often inspired by something simple like the way a fabric falls.I am more often than not inspired by the detail, the elements that add a touch of artistry to a dress and make it a one off. I absolutely love what I do and I think this enthusiasm is one of the things that my customers love about working with me, at least that is what some of them have said.
I like to have as long a lead time as possible, this allows me to be flexible when working on the dress.  I usually have between six months-one year lead time, but have been know to turn around a dress in seven weeks…"
I simply love these gorgeous examples of Dana's work, what a talented dress maker she is! I received these images in very high resolution format originally and could really see the detail close up, and the careful attention that Dana had invested in creating each individual dress.
And the corsage on the dress below is so pretty!

Love this cute bolero jacket with this 1950's style polka dot number…
Another beautiful corsage above there.  In fact, Dana makes all her own dress accessories…
"I have been making birdcage/hairpieces re-worked vintage jewelery, combs and headpieces and bouquets etc of late.  These generally offer my customers the chance to match what I have in my box of treasures with their dress once it is nearly finished…"
Some of Dana's beautiful head piece designs…

Perhaps most excitingly, Dana is currently working on a debut collection for Once Upon A Time – a beautiful example of which is below. This is fabulous because up to now, Dana has only worked on bespoke commissions.
"I think that there are currently so many gorgeous wedding dresses to choose from, however, for many new brides looking for something  a little unique, the search is harder.  My advise would be to consider using an independent designer/maker where you will have input into the whole look of your dress, attention to detail and a couture fit."
So, so beautiful. 
I say watch out wedding industry, there is a hugely talented wedding dress designer in your midst and who knows where she'll end up once all those Brides to be find out about her and her simply divine dresses.
For further information, visit the Once Upon a Time website, telephone 020 – 83479880 or mobile 07786 – 078624, or email Dana directly.  A wonderful gallery of Dana's designs can also be found here.
I hope that this satisfies your blogging fix if you happen to be a Bride to be on the hunt for THAT dress 🙂 Do leave a comment below – it would be great to hear your thoughts on which dress you like the best here, and why 🙂
With much love,
Annabel xXx
♥