Morning everyone :)  How are all my UK readers this morning? We're not quite as snowed in as we were on Monday up here in the North East of England, but the conditions are still very treacherous outside!
This latest real wedding feature I have to share should inject more than a little glamour into your Thursday mornings. Beautiful Bride Rina and Husband Ben tied the knot on 24 July this year at Wilton Music Hall in East London – a stunning beautiful old grand music hall that claims in fact to be the oldest in the world.
Rina certainly looked the epitome of old fashioned Hollywood glamour in her red-carpet worth wedding dress by Jenny Packham, called 'Joy' – its slimline design suits Rina's slender figure perfectly…
"I love the 1920's and 1930's style and I think this dress has both.  The heavy gold beading its very 20's but the waist line its more 30's…"
I'd like to thank designer Jo Barnes for bringing this beautiful wedding to my attention – Rina, is wearing a beautiful vintage style headpiece design by Jo Barnes, and you can win your own by following this link…
Love My Dress Wedding Blog – Photography Copyright (c) 2010, Raw Silk Photography


The 'Joy' design by Jenny Packham is heavily embellished in beads and sequins and suits the slimmer figure.  The dress has real wow factor – you can see other Bride's wearing Joy by Jenny Packham on the Love My Dress Wedding Blog here…
"I love vintage clothes in general so I was always going to get married either in vintage or vintage inspired.  I love the 20's and 30's old hollywood glamour and so the dress was a perfect choice, with the venue in mind.  Ben continued the theatrical theme with his classical tuxedo…"
Rina's beautiful headband was the Bess Design, by Jo Barnes Vintage…
I love Rina's dramatic look with her dark lipstick – she looks like a Hollywood starlet!  Rina hired Charlotte Murray to style her hair, and Susan Bradfield for her Makeup…
"I really wanted purple lips, nails, slight purple eye shadow with my beautiful purple flowers to offset the gold dress, shoes and jewellery…….."
"My friend Harriet Wilde designed my lovely gold shoes, 'Margot Gold Glitter'." 
Rina also wore a pair of vintage earrings, bracelet and rings – wedding presents from her Parents and Sisters…
The couple's venue was the amazing Wilton Music Hall in East London – the interior of this grand old music hall is quite something else and ooozes character…
"Our venue made our wedding.  Ben is a Writer, so when we saw this beautiful old theatre we though it was perfect for us.  It was build/opened in the 1858 so we loved the old architecture, decor and the history behind it…"
Groom Ben wore a bespoke Tuxedo from Saville Row, Mr Hare shoes, and Turnbull and Asser bow tie…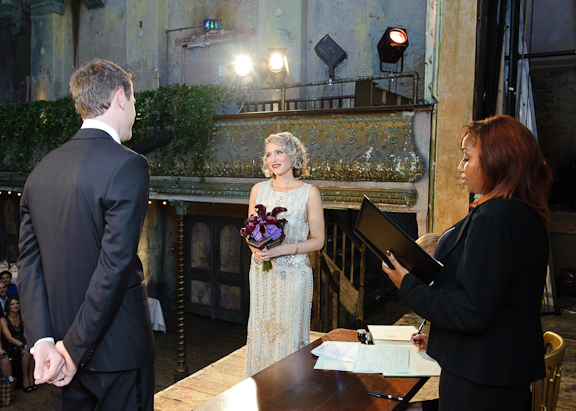 Flowers were by Matt Richardson; "We decided to have all type of flowers with different colours in different vases to give it a quirky feel."
The couple also took a step away from tradition when it came to their rings… 
"We don't like wedding bands so we had to have something individual, fashionable and that we'd want to wear all our lives.  Ben designed his own ring – which was actually three white gold rings worn together, and I had a Chanel Yellow Gold 'Fil de Camelia' ring…."
A gorgeous shot of the back of the beautiful dress that is Joy, by Jenny Packham…
The Secret Restaurant were hired to provide catering…
"A good friend recommended them and they did a brilliant job…."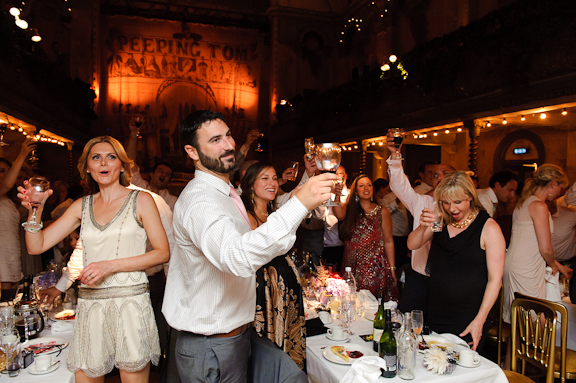 Rina and Ben danced to one of my favourite old-time dance tracks in the WORLD! …'To Be In Love', by Masters at Work…
"This house tune describes our love for each other better then anything.  When Ben and I first started going out this tune was everywhere in the the clubbing scene/house music world and every time I hear it I go back in time…"
The Boogie Rascals entertained the couple and their guests in the evening…
"I am originally from Kosovo so we also had Kosovan music (similar to greek music) and everyone got up and danced…."
Words of Wedded Wisdom…
"Enjoy the process, have fun with it and don't stress out to much.
I had my hair and make up done first but I had it done at the hairdresses which meant I had some time on my own to think and reflect on the day ahead.  And to remember the best advice ever given to me.  Someone said to me, on the wedding day at some point during the day try to mentally take yourself out of the rollercoaster in front of you and take some time to let it all in, to absorb it all because the day goes too fast.  That was great advice.
Everything we did from venue to food, flowers etc,  were recommended by either friends or family and that's why the process was stress free – so ask close friends and family for help.  Also speak to other married couples as they can give you advice and recommendation.
I was very calm on the run up and on the day of the wedding; on the day I thought to myself,  I have done everything I could have possibly done.  If something doesn't go according to plan or its not 100% perfect then its out of my hands.  I will not stress but enjoy it.  That was my own best advice and made me relax."
Wow! If ever there was a glamorous Bride, it is Rina! Thanks so much Rina for sharing your wedding day style with Love My Dress – congratulations to you and Ben, you looked amazing on your wedding day 🙂
Thanks also to London Wedding Photographers, Raw Silk Photography for allowing these photographs to be reproduced.
You can see more wedding day style from Jenny Packham on the Love My Dress Wedding Blog here.
Much love,
Annabel xXx
♥