Morning everyone 🙂 I received these wonderful photographs at the weekend from Lindsay Fleming Couture, the Scottish Bridal Wear designers, famous for their celtic and 1920's inspired Bridal Wear designs.
Lindsay Fleming have been busy working on these new designs that I provided a 'sneak peek' of back in October last year.  These dressess are the latest additions to 'Manhattan' – a beautiful 1950's inspired collection of bridal wears that takes inspiration from the full circle skirt frocks made famous by Audrey Hepburn and Grace Kelly…
"In 1957 the French edition of Vogue wrote 'He has gone, and ten years of taste, of daring, of invention, have gone with him. It is to Dior that haute couture owes the recovery of its empire when it was most threatened. He is irreplaceable.  Christian Dior's 'New Look' was launched in 1947, and to many, his first collection single handily dragged the once all-conquering Paris fashion industry out from the ruble of the war years, into the most exciting and creative decade fashion has ever known.
Across the Atlantic, on the streets and in the nightclubs of New York, the creations of Dior, Givenchy, Balenciaga and Amies were adored by the fashion conscious housewives of Manhattan, who would happily spend their afternoons and their husband's money in the high class stores of Seventh Avenue…"
Love My Dress Wedding Blog – Photography Copyright (c) 2011, Arhcibald Photography

"Meanwhile on the opposite coast, the first ladies of Hollywood were seen to sparkle on and off screen in the latest European designs. Clothes worn on screen by Grace Kelly, Audrey Hepburn, and towards the end of the decade, Marilyn Monroe, were replicated and sold in department stores around the world. Dressing had become an elegant art and the lady of the day could now afford to look and dress like their screen heroines.
This fascinating decade is the inspiration behind Lindsay Fleming Couture's new 2011 collection of wedding gowns, due for release in February. Using exquisite silks and lace, adorned with flowers and bows, embroidery and crystals, the fashions of the Fifties are now the must have wedding dress designs of 2011…"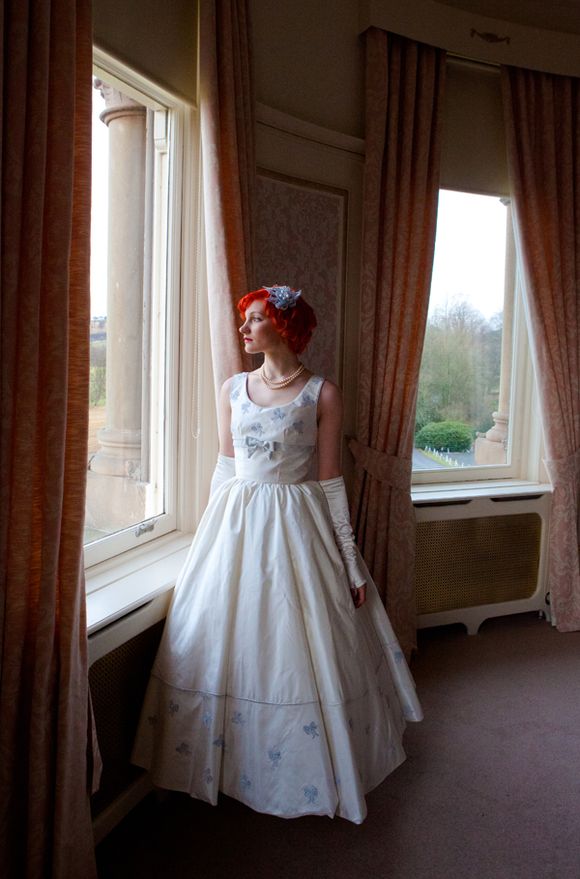 If you would like to try on one of these wonderful gowns, but can't get to Scotland, then why not book yourself in for a consultation with Lindsay Flemingn during their next London trip?  Lindsay Fleming Couture will be in London on the following dates and at the following venues – phone now (contact details at end of this feature) to book a consultation – strictly by appointment only:-
Date: Friday, to Sunday, February 4th , 5th and 6th, 2011.
Venue: Dolphin Square, Pimlico, London
Date: Friday, and Saturday, April 15th, and 16th, 2011.
Venue: Dolphin Square, Pimlico, London
Date: Friday, and Saturday, June 17th, and 18th, 2011.
Venue: Dolphin Square, Pimlico, London
Alternatively, Lindsay Fleming Couture will be exhibiting at the Designer Vintage Bridal Show in Birmingham this month, where I'll be myself along with my fellow Blogger Kat Williams from Rock 'n' Roll Bride! Click here for further details…
More dresses from the Manhattan collection, including the one below, can be viewed on Love My Dress by clicking here:-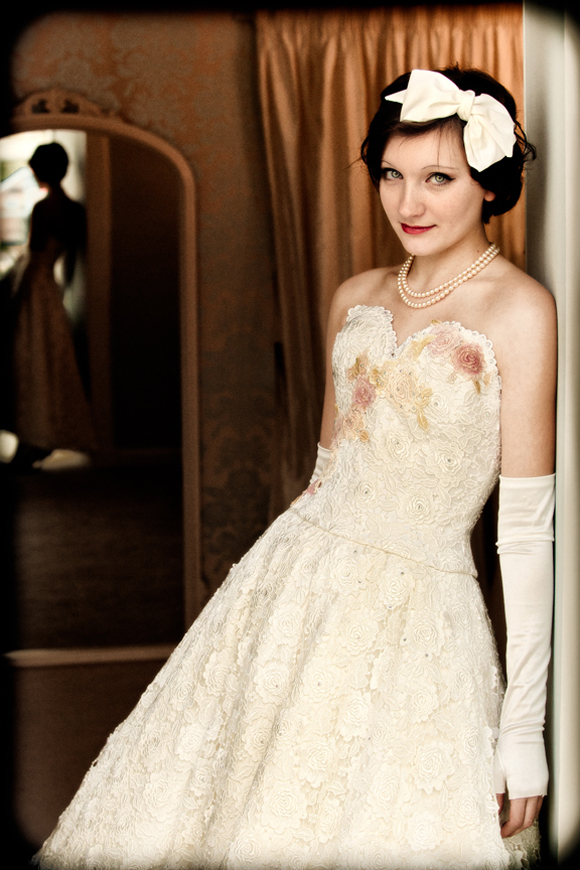 Delightful aren't they?
For further information, email David at Lindsay Fleming, telephone 01864 502522 or visit the Lindsay Fleming Bridal Wear Website.
Click here to view all related Lindsay Fleming Couture posts on the Love My Dress wedding blog.
Much love,
Annabel xXx
♥