Good afternoon people 🙂 Today is a GOOD day! I'm definitely feeling a little fresher, having caught up on a little sleep (well, kind of) these past few days. I'm just chomping on the bit to share all the gorgeous weddings I have to share with you now! Let's start with this one shall we? A relaxed, Anglo-Italian February wedding in East Sussex, where Bride Lottie and Groom Ando tied the knot surrounded by family and friends during a  ceremony at Framfield Church, and reception at Buxted Park Hotel.
I so love these photographs – talk about a Bride looking blooming and beautiful and FULL of joy on her wedding day 🙂 These lovely images were captured on camera by Love My Dress sponsor and Sussex based Wedding Photographer, Annamarie Stepney, and possibly one of my fave images is the first one below of Lottie twirling in her full-circle skirt 1950's style wedding dress, a purchase from Naomi Neoh…
"I chose the dress because of the beautiful blush pink colour. Naomi Neoh made the dress for me so I was able to have exactly what I wanted and the colour was perfect for me. I knew that I wanted the dress to be just below my knee and for it to be a seriously big tulle skirt. Naomi created a fabulous blush pink bow for the back of the dress which I loved.
The lace bodice fitted me perfectly and was really comfortable and I had cap sleeves made out of the same French lace. I also had some flower corsages on the front of the dress which looked lovely. It all sounds a bit much when I describe it like this but I cannot tell you how much I love the dress!  I would change absolutely nothing and intend on wearing it everyday from now on!"
Love My Dress Wedding Blog – Photography Copyright (c) 2011, Annamarie Stepney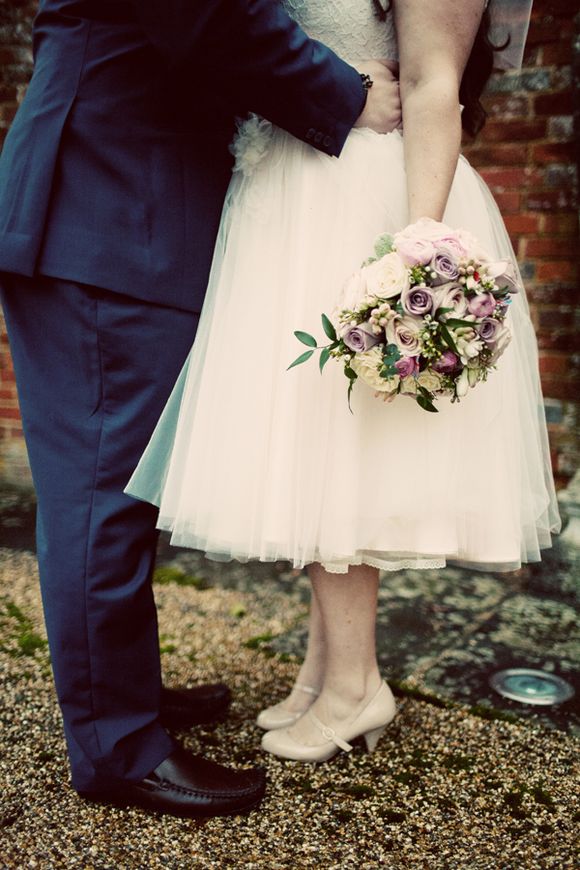 "When I met with Naomi, she did a lovely design incorporating my ideas and I have to say I was so nervous when I went to try it on for the first time. I did not need to be though as soon as I put it on I was swishing around and around in it. Having the dress made in this way was a wonderful experience and I loved seeing the dress come to life at each fitting. Goodness – how lucky am I?"
Pretty petticoat ruffles…
"I found the most glorious vintage rabbit fur cape on ebay and wore that in between the church and the hotel. It came wrapped in a beautiful table cloth with a note from the seller's elderly aunt who had owned it since the 40's I think and I have sent her a photo of me wearing it on the day."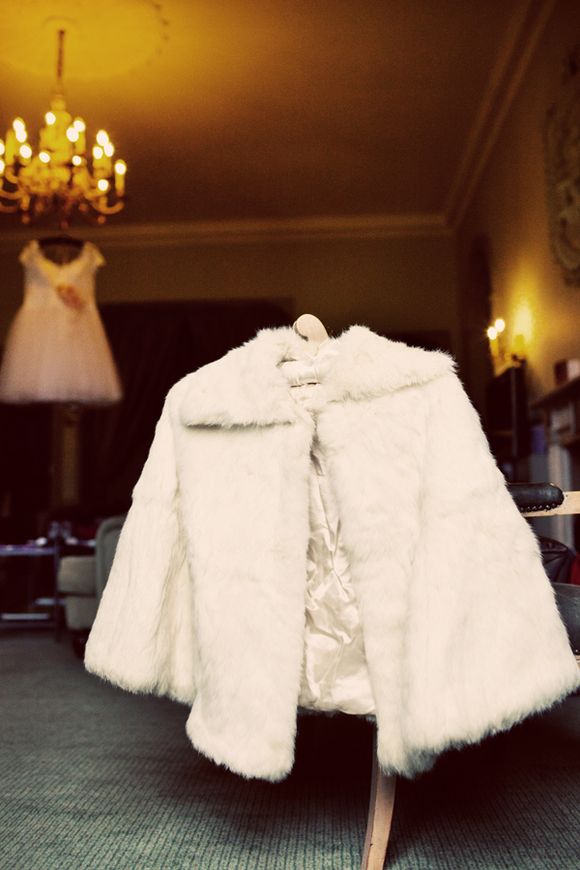 "My shoes were Kurt Geiger beauties that even I managed to stay in til half ten in the evening!"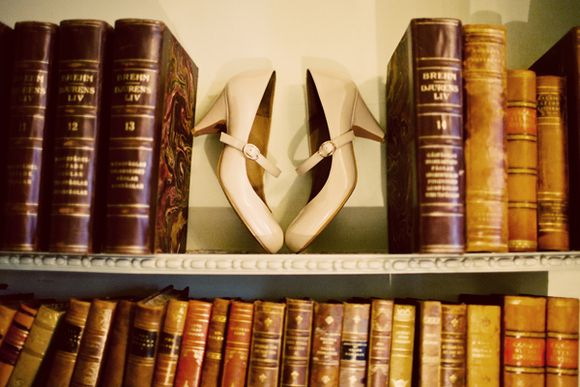 "Only a week before the wedding, I decided to have a veil.  Margaret Byrne from Dream Veils was so great and made me my beautiful little short veil in record time!"

"My accessories included a pair of silver earrings as a wedding present from my new mamma-in-law and a rose-quartz bracelet that Ando bought for me on our first holiday together. Beautiful precious stone bracelet that Ando gave my Mummy to give to me on the morning of the wedding – aah!  My late Grandma Nona's pearls with sapphire clasp that my Auntie Bertie gave to me on the morning of the wedding. My vintage engagement ring and my very precious aquamarine ring that my Auntie Lisa gave me a few days before Ando and I got engaged!"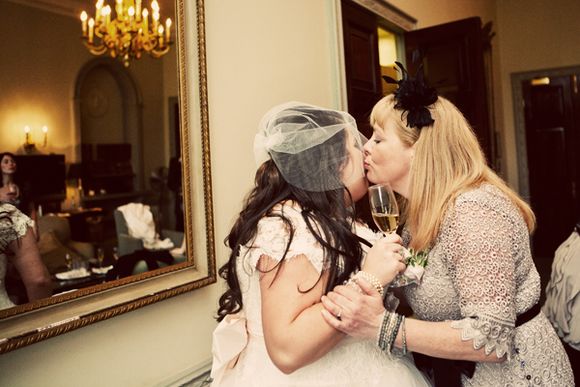 "Moira Hatton, my Daddy's girlfriend and my Daddy did an absolutely superb job with the decoration of the hotel and the glorious flowers.
The flowers were important to me and Moira exceeded all of our expectations as all of the flowers in the church and at the hotel were breathtaking. We chose to have lots of flowers – pink ranunculus, pale pink and cream old fashioned roses, amazing frilly carnations and tulips and pussy willow brances. Moira managed to find an amazing  chocolatey coloured rose that went perfectly with the bridesmaid dresses and specially got me some lamb's ear leaves that I love because they are so soft and furry looking.
My bouquet was so beautiful and Moira wrapped the stems up in the same ribbon that was on the back of my dress. It was really lovely too as our guests were able to take the flowers home with them the next day. She has since dried my bouquet, confetti and church flowers so I have them at home with me." 
Lottie's Bridesmaids wore dresses by Coast…
"My brother's seriously cool split screen VW Beetle called Bluebell who behaved very well by not breaking down all day but was a bit naughty as her sliding door kept falling off! She is so beautiful though so nobody minded!"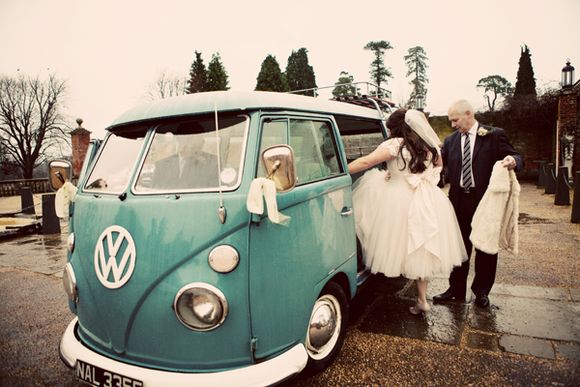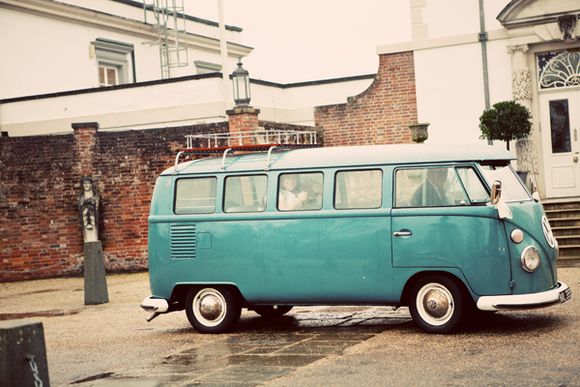 "A Suit That Fits made a suit that made Ando look as  dashing as ever!"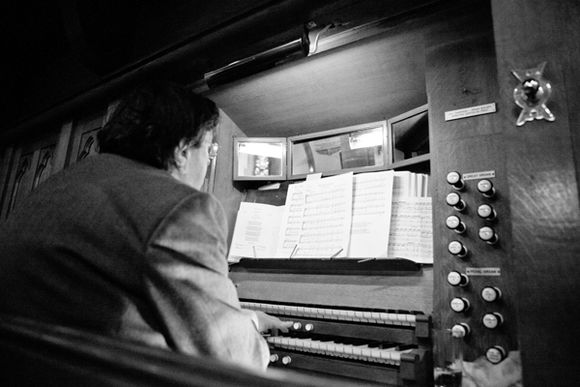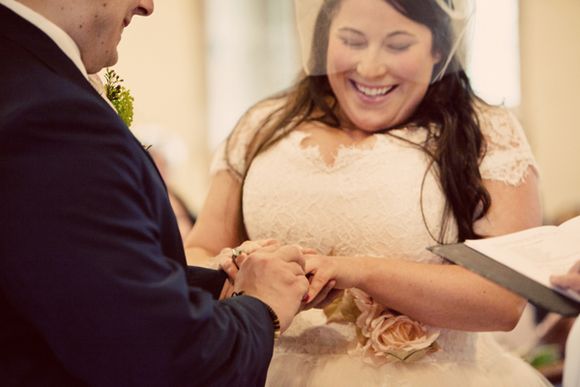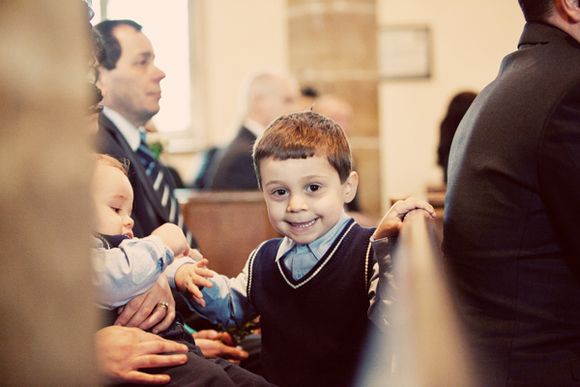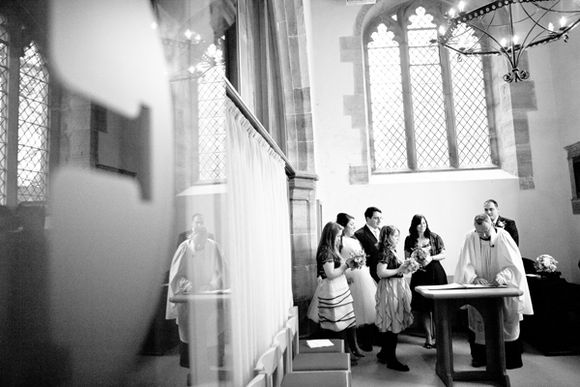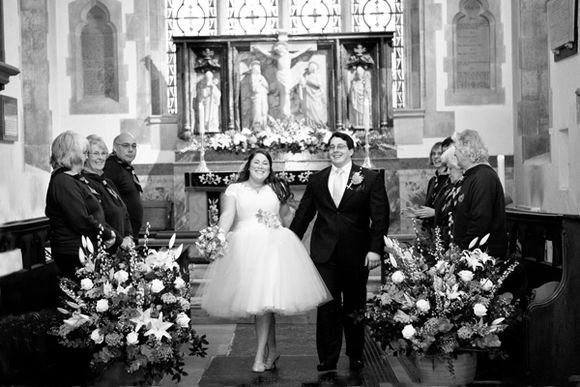 I bloody LOVE this photograph!!! Check US OUT! We got MARRIED!!!! hehehe 🙂
"We grooved out of the church to signed, sealed, delivered by Stevie Wonder and it was the most amazing moment. I love the photos where I am singing the words at Ando, poor thing he is used to it by now, as I can remember exactly how I felt at the time – the happiest and luckiest girl in the world to be Ando's wife and ready for the greatest party with all of our favourite people around us…."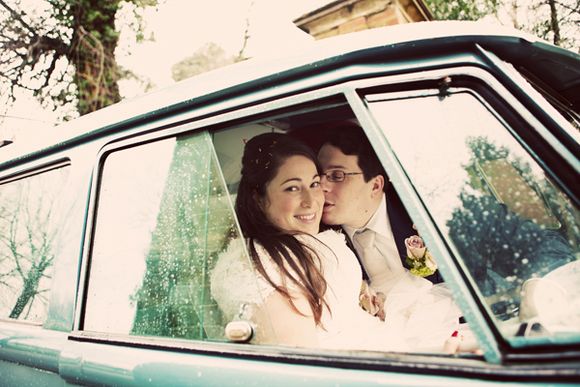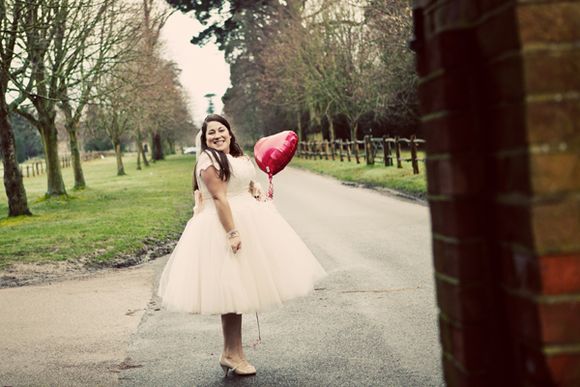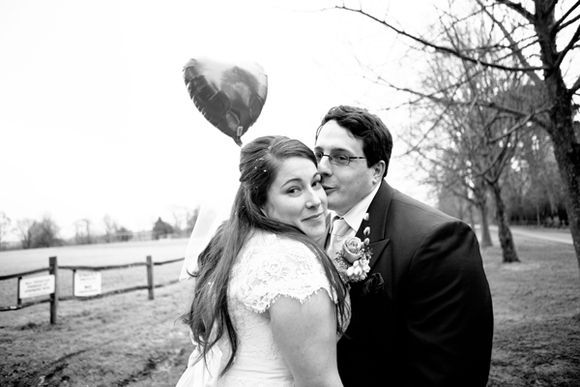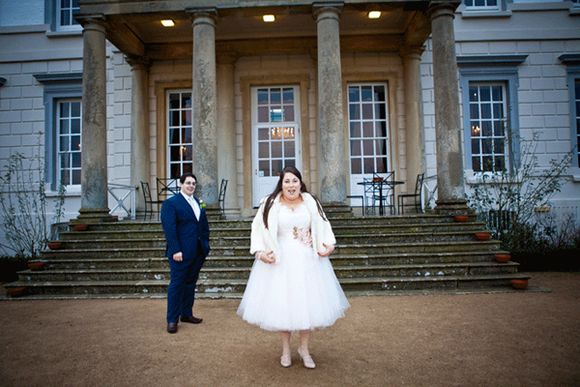 "We had lots and lots of mismatched glasseware to make the rooms very twinkly, the ballroom was full of candles and it all looked super romantic. When I think back to the day I remember feeling so warm and cosy being surrounded by our lovely family and friends in the most beautiful place.
My Mummy brought over  mini union jack and italian flags to decorate the cakes which were then worn by the guests – lots ended up in my bouquet and they looked really fun! I ordered loads of heart shaped balloons to decorate the hall which went down really well and looked great. There is still one on the ceiling of the church 3 weeks later!
We had children's party bags, films on in the cinema and a fantastic sweetie table to keep them all entertained. Our main decor was flowers, flowers and more flowers, the whole place looked and smelt glorious…"
"Ando and I were both so excited to be getting married, we were really focused on creating a relaxed and fun and love-filled family environment for the wedding, no stuffy traditions wanted here! FOr the whole day we were swept away in love and it was the best feeling.  I really love flowers so they were hugely influential in planning the look of everything. We just chose beautiful things that we loved and it all worked out perfectly on the day. 
We kept the best of both traditions as I am English and Ando and his family are Italian, we wanted to really mix the two together, we had one of the church readings in English and Italian. We had English and Italian cakes with the matching flag, tarantella italian folk music and the traditions of clinking the glasses during the meal so that the bride and groom have to stand up and kiss every time – I loved that one! and being so tightly wrapped to each other during the first dance so that we can never be apart. this added to the English parts of the day created a lovely mix – just like Ando and I together!"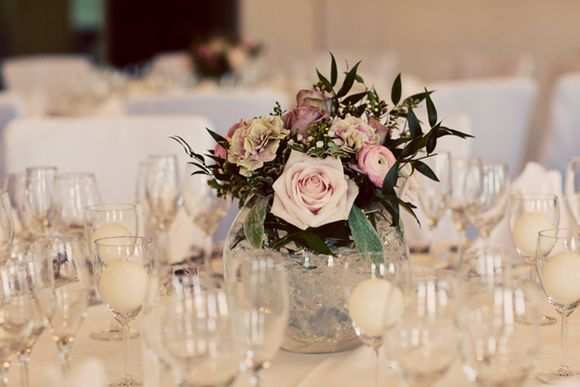 "My friend Rebecca Smith made us a beautiful wedding cake, the top two tiers were carrot cake and the bottom tier was chocolate fudge cake and it was all topped with seriously yummy cream cheese icing. I made some mini cake bunting to decorate the base. Thanks Becks!x"
"We danced to Tarantella (Italian folk dancing music) music to start, then my rockstar Daddy sang some classics and played the guitar and finally a disco from Neil at Odyssey Sound and Light…."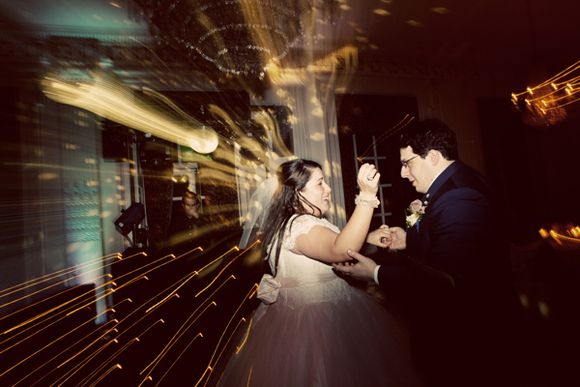 Words of Wedded Wisdom…
"I know everybody says this but enjoy it all! All of the planning and decisions etc are all worth it in the end, your day will be glorious! I had been really worrying about being over emotional on the day as I am most definitely a cryer, but I was literally beaming all my way down the aisle and apparently I said 'I am so excited as soon as I walked into the church and saw Ando there.
Ando says 'don't sweat the small stuff', things take a lot longer than expected on the day and stuff does crop up but it will be be alright! The whole day from start to finish was a dream which meant the weekends and weekends of planning had paid off and we had the most amazing day. We made our day as personal as we could be involving our friends and family and it made for a really special atmosphere for everyone on the day."
♥   ♥   ♥
Brides Dress – Naomi Neoh
Brides Shoes – Kurt Geiger
Brides Accessories – Vintage fur cape, 
Brides Veil – Dream Veils
Groom – + Posh Totty Deisgns Cufflinks + Hugo Boss tie + Russell & Bromley shoes.
Bridesmaids – Coast.
Venue – Buxted Park Hotel
Photographer – Annamarie Stepney
Flowers – Family
Cake – Family
Transport – Brides Brother's VW Camper Van
Entertainment – Odyssey Sound and Light
♥   ♥   ♥
Oh Lottie, thank you so very much for sharing all this beautiful detail with Love My Dress today! Huge congrats to you and Ando for tieing the knot in such fabulous style 🙂
Thanks too to Sussex Wedding Photographer, Annamarie Stepney…
"I first saw Annamarie Stepney's photography from some of her amazing pictures on the Love My Dress fabulous Wedding Blog!  Right through from her beautiful website, the brilliant engagement shoots and to being a complete star on the actual day Annamarie was just the best and Ando and I both adore the pictures! She captured all the fun and happiness of our day and the photos transport you right back.
I would also like to thank my Mummy was was amazing right from the minute we got engaged all the way through to the actual day, she did so so so so much for us and gave us the best day that we could have ever wished for'.
How sweet is that!!?? Bless you Lottie! 😉
View more inspirational weddings on Love My Dress here, see more 1950s style and of course, more from Photographer Annamarie Stepney here.
Lots and LOTS of love today 🙂
Annabel xXx
♥