I love to receive submissions from outside of the UK – it's always great to see how other Photographers and creative artists are doing things, be it wedding photography, wedding dress designers, bridal fashion shoots or other. 
As I'm sure you can well imagine, on receiving this particular set of images from Swedish Florist and Bridal Hair Stylist Madelin Downey (whose vintage inspired wedding bouquets and flowers I have previously featured on Love My Dress) I was rather excited! From the gorgeous 1940s lace original vintage wedding dress to the beautiful hair and makeup and flowers and stunning venue and backdrop. THESE are the kind of images I am inspired by and that make my heart sing!
Madelin told me more about this photoshoot that took place in deep-set Winter and an attempt to portray a stylish, vintage inspired winter wedding…
"Through this photoshoot, we wanted to connect the vintage look of the newlyweds and the timeless old castle garden. A modern wedding in an old-styled way.
Our venue for this photoshoot provided dramatic scenery for a winter wedding; from the cold surroundings towards the warm love on show, the lightness in the thin lace dress, the crispy flowers, the old castle and the dark heavy branches climbing the walls!
The winter is such a beautiful time of the year with the white snow, the crispy frost and the nature sleeping in the dark shadows.
I love how the snow flakes that were falling, reminded us of the lace in the vintage wedding dress that was worn….all the elements of this photoshoot worked together so well, and, well, we just wanted show another way to stage a Winter Wedding. Our way…"
Love My Dress Wedding Blog – Photography Copyright (c) 2011, Alicia Swedenborg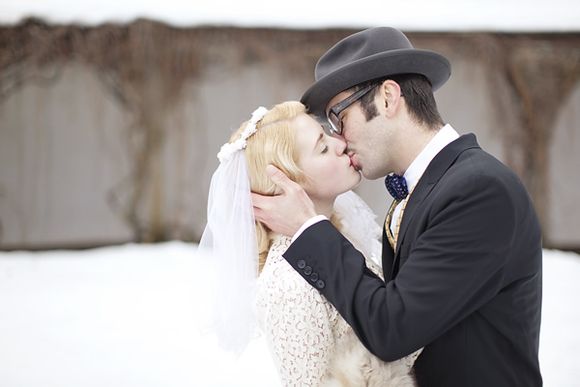 ♥   ♥   ♥
Photographer: Alicia Swedenborg
Florist: Madelin Downey, Downey's Blomster & Jazz
Hair & styling: Madelin Downey, Downey's Blomster & Jazz
Wedding styling: Belleville Dekor & Styling
Graphic design: Maria Bäckström Form
Models: Miriam Parkman and Tobias Prag
Location: Häringe Slott, Sweden
Dress: 1940's lace wedding dress, a vintage piece from Old Touch, Stockholm
Silver Fox Fur from Herr Judit/Brandstationen, Stockholm
The grooms hat, west, bow tie from Old Touch, Stockholm
The Grooms suit is privately owned
The Bride's veil is also privately owned
♥   ♥   ♥
Lord above, how much do I adore this photoshoot!
Thank you so much to Madelin Downey for submitting these gorgeous photographs.  You can see more from Madeline on Love My Dress, including some beautiful vintage inspired wedding bouquets and flowers here.
For further information, visit www.downey.se or email Madelin on [email protected]
You can view more Bridal Fashion Shoots on the Love My Dress Wedding Blog here.
Much love all,
Annabel xXx
♥