Hi everyone 🙂
Please accept my apologies for this later than usual blog instalment. I've had a bit of a tough morning but as it happens, a few things have occurred that have turned my day into a good one.  One of them is this wedding.  Every now and then, a set of images lands in my inbox that just really take my breath away.  I know you probably think I'm some soppy old wedding obsessed weirdo, but these photographs have moved me so much today.  The couple embracing in the beautiful outdoor sun-flooded shots, the kiss in the church, the joy on the dancefloor in the evening.  When people ask me what I love most about my job – THIS is part of it; getting to share the precious moments of one of the most important days of a couple's lives with others.
I should say now that these wonderful images were sent over by Penny McKinley Rodgers. She is the sweetest thing. Such a lovely person to work with – always courteous and kind and so sweet natured. I can more than see why she and husband Cam get so many lovely couple's to work with on their wedding days
The Bride and Groom in these photographs are Jordan and Nathan, who tied the knot on 16 April 2011 at Ettington Park Hotel, Statford-upon-Avon.
Jordan wore the beautiful Jenny Packham "Carmen" dress, a gorgeous slinky number with a dramatic plunging neckline.  I can't think of another dress that would suit her any more perfectly…
"It was one of the first dresses I tried on at the NEC wedding show and it just felt like me and seem to fit me perfectly. I love all the beading detail on it and felt very glamorous in it, I also loved the oyster coloured fabric and how it looks different shades and flows as I moved.
I then tried on around another 50 dress on just to make sure that it was the one. Although I loved the dress it is not the most traditional wedding dress, the final decision was between 2 Jenny Packham dresses so I had to call to my dad in to the shop to help me make the final decision…"
Love My Dress Wedding Blog – Photography Copyright (c) 2011, McKinley Rodgers

"We chose Ettington Park Hotel because the building is stunning and every time we went to look round the staff we lovely. It is close to both Nathan and my parents house. Our first visit to Ettington was around April the year before and all the trees were full of blossom and looked so beautiful I think that sold it to us…"
"I made the headpiece myself. It was made from a vintage looking necklase I found in Forever 21. I removed the main section then wired it onto a plain hair band."
"My shoes were from Debenhams. I had been searching for shoes for a while and was hoping that the colour wouldn't clash with the dress. I did take 3 other pairs to the dress fitting just to be sure I had picked the perfect shoes. Nathan also like these shoes the best as they had the smallest heel and he didn't want me to be taller than him on the day!"
"My feather cape  was one of the first things I bought from Asos after I was engaged. I have always wanted one and though if there was ever an occasion to wear a feather cape this would be it…."
"The veil was borrowed from a friend. My dress was slightly over the budget i had set so I had to shop around for all my accessories. I was intent on having a long veil and making it myself. I had just borrowed my fiends veil to see how it was made and took it along to my first fitting.
I then tried on all the long veils in the shop and her veil just looked the best. The bottom of the veil highlighted the seam at the back of the dress and the contrast between the oyster and white was really complimentary…"
"I found load of picture on line of the type of flowers I wanted and took my mood board to the floarist with me. They did a great job sourcing the vintage roses and all the colours I wanted…"
"The bridesmaids dresses were from Oasis. I wanted a vintage feel to the dresses  and loved the peachy colour.  They accessorised with large flowers from Oasis and the smaller hair accessories were home made with vintage looking brooches glued to hair grips…"
"Both Nathan and I spent time making decorations for the venue, I wanted the venue to feel personal. I read an article when I first got engaged that said to save jam jars, then a couple of month before the wedding we had a cupboard of jam jars and had to decide what to do with them. Nathan made them all in to tea light holder using a home made jig to bend the wire into heart shapes.
I also made the "Welcome", "Mr & Mrs" and "Love" with card and parcel tape. My mum love scrap booking and made us the most amazing table plan. My mum and I spent loads of time making stuff together which was fun as we haven't done that since I left home to go to Uni…"
"We choose to have cupcakes as Nathan doesn't like fuit cake and I love cupcakes. The top tier was carrot cake, the cakes with butter cream were vanilla and the iced cakes were chocolate. As soon as I saw Tracys cake on line I loved the look of them and when I showed her my mood board and invite she surgested making small birds on some of the cakes and took colours and insiration from the mood board…"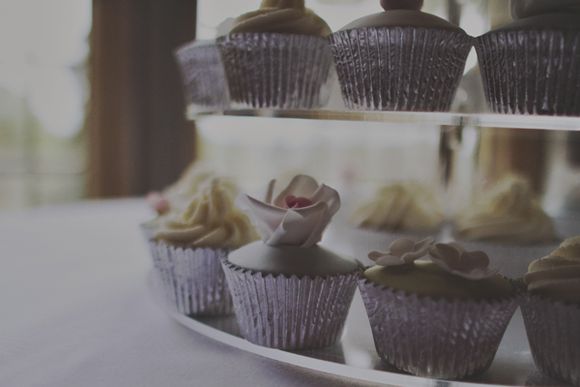 The Cover Ups provided the entertainment….
"Nathan loves live music, so we decided we wanted to have a band. We had never seen The Cover Ups, but did a bit of on line research before booking them. They really made the evening reception, the dance floor was pack all night and they played a great mix of new and classic tune to keep the party going…"
Words of Wedded Wisdom…
"Put togther a mood board of ideas and inspiration. It really helped showing supliers the look and feel you want rather then tryng to discribe it.
The high street is also full of some great fines, a lot of the bridal boutiques are full of beautiful things but it all adds up. Choose arefully where you want to spend you budget.
Learn to delegate, if people offer you help take it, it might not be exactly what you imaged, some times it could be better than you thought.
As soon as the venue is booked start organising. Time flys by and the sooner things are booked and decided on the more time can be spent enjoying preparing for the wedding.
I had the best day but it flew by, try and remember to take a couple of minutes each hour to take everything in. My cheeks ached at the end of the day from smiling so much, it really was the happiest day of my life…"
♥  ♥  ♥
Brides dress – Jenny Packham
Brides veil – Borrowed
Headband – Made by the Bride
Shoes – Debenhams
Feather Cape – Asos
Earrings & Necklace – Oliver Bonas
Cuff – Oasis
Bridesmaids – Oasis
Grooms Suit – Next
Flowers – Statham Flowers
Hair & Makeup – Michelle Edwards
Photographer – McKinley Rodgers
Venue – Ettington Park Hotel
♥  ♥  ♥
 
Words can't often describe such lovliness. I hope you enjoyed these photos as much as I have.
You can see more Jenny Packham wedding dresses and more from McKinley Rodgers Photography on Love My Dress here…
"Pen and Cam were lovely. From the first meeting we had with them they made us feel comfortable and relaxed."
Much love everyone,
Annabel
♥