Who remembers the absolutely gorgeous 1940's style engagement shoot by Eliza Claire, that was styled be Rebecca Gregory of Temple Gregory?
The beautiful couple married at the end of April and today I'd like to share their wedding photographs with you.
The couple chose the Amadeus Centre in Little Venice, London as the backdrop for their special day, chosen, because it was a total blank canvas that they could decorate as they wished.  The day was a celebration of all things vintage and vaudeville…
"We had wanted an evening wedding and one that evoked the Victorian style of the area in which we marry.  A fun carnival of a wedding.
I wore a gorgeous David Fielden wedding dress.  David customised the dress and added antique lace – its simple design and beautiful golden colour stood out from the rest…"
Claire and Terry had a wedding planner, Rebecca Gregory of Temple Gregory Wedding Planners assist them in styling their wedding and I spoke to Rebecca about the experience… 
"I absolutely loved working on this wedding from start to finish! From my very first meeting with Claire I realised it was going to be something special! Claire is very creative and knew that she wanted her wedding to be something a little different from the norm! She even spoke of a big purple Alexander McQueen dress, although she knew her mother would never forgive her so went for a slightly more traditional (but just as fabulous) David Fielden number in the end!" 
Love My Dress Wedding Blog – Photography Copyright (c) 2011, Eliza Claire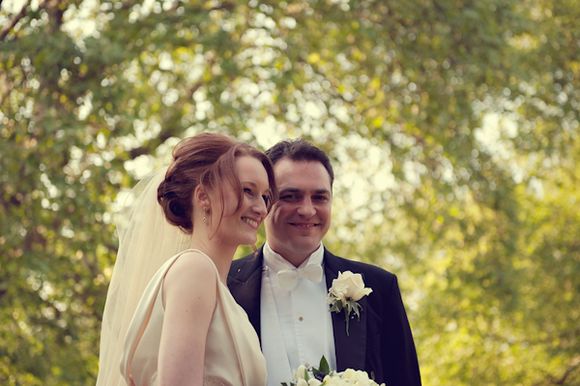 "Claire and Terry have a love of the vintage Vaudevillian style and this definitely influenced their day with the rich colours, vintage style usherette girls serving port & cigars, burlesque dancer and even a Vaudevillian comedian!
As a wedding planner I love that each one of my weddings is totally different from the last and a real reflection of the couple – which this one truly was.
The venue, The Amadeus Centre played a big part in the style of this wedding by providing a fabulous blank canvas for us to work with. This design would not work in all venues and this is an important consideration for brides to bear in mind. For many brides, the venue comes first and the design is often an organic process which grows from the point of booking your venue and knowing exactly what you have to work with. If, like Claire, you have a certain look in mind before booking your venue, you just need to remember this when looking around and think about what will work and what won't…"
Each Bridesmaid picked what they wanted to wear – I only suggested Purple.  Rather than the traditional fussy posies, we chose on flowers for the girls hair…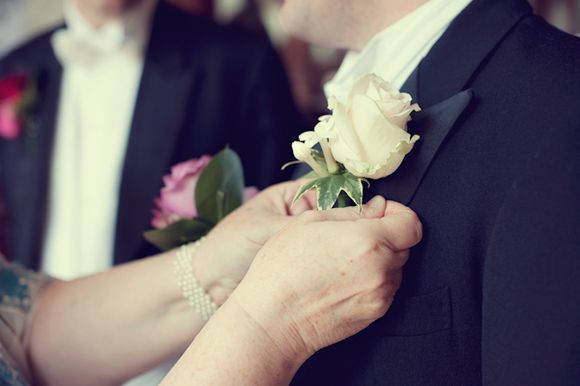 Rebecca Gregory of Temple Gregory Wedding Planners does on…
"The flowers and production probably created the biggest impact on the day. Alex Collier flowers did an amazing job, with gorgeous colours and the big grand candelabras worked well with a mix of lower arrangements. The lighting made an incredible difference with spotlights pointing at each table centre as well as on the cake table and any other important feature.
When I took Claire for a peak of the main room she actually jumped up and down, in her sparkly Jimmy Choos, which is the best reaction I could ask for!! We used the lighting to create a transition throughout the evening, with the colours on the uplighters changing and the wedding breakfast room being totally transformed to create a party atmosphere..."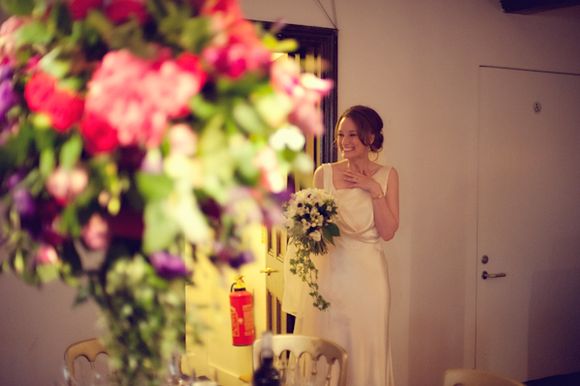 "On the tables we are having a mix of big candelabras and low arrangements, in beautiful dark jewel like colours – reds and purples etc. I wanted something grand looking which would create a wow factor – I think the candelabras will definitely do that. My bouquet is th only real contrast as it will be mainly ivory colours…"
"When it came to us discussing what Claire would have for her wedding cake – there was no question that it would be Lola's cupcakes. Claire made me laugh when she told me how she often takes detours around London, so she can pop in to Selfridges to pick up a Lolas "on her way" through! The tower looked beautiful and every single cake went. Rather than "cutting the cake" we put ribbon around the cake area and they "cut the ribbon" instead, using Claires Nan's vintage dressmaking scissors – which was a lovely personal touch. Pretty Wild even made a little label for the scissors – "Something Borrowed – Nanny Phyllis' Dressmaking Scissors".
Big thanks to Claire and Terry for wanting me to be part of their special day, Eliza for taking these gorgeous photos and to Annabel for featuring this on Love My Dress :)"
Flowers were the decoration on the day but the couple also hired production company Red Cat Lighting do the lighting – which changed throughout the evening to help create a real atmospheric transition…
We bought a vintage 'Underwood' typewriter (Terrys surname is Underwood!) and had it reconditioned so that its in full working order for guests to leave messages…
Stationery also played a major part in our overall look. Pretty Wild supplied all of our stationery from save the dates to the table plan. They created a bespoke range for us, using red, purple and gold and in keeping with the vintage Vaudevillian style. We were really pleased with it all.
"Vaudevillian comedian Des O Connor and burlesque dancer Vicky Butterfly performed. Vicky Butterfly bought her Victorian Theatre backdrop stage to perform on, which looked fantastic…"
The couple took dance lessons to waltz to the track 'Moon River'…

Words of Wedded Widsdom…
"Check if there are any Royals that may decide to marry the day before you!  Make the most of friends and family who offer help and get support. It helps to relax…."
What a stunning day. I absolutely adore all the detail and wonderful vaudeville style!
You can view Claire and Terry's beautiful 1940's style engagement shoot here and see more from Eliza Claire Photography here on Love My Dress.

Much love,
Annabel
♥
Brides Dress – David Fielden
Shoes – Jimmy Choos
Accessories – Earrings a gift from the Groom
Bridesmaids – Own choice dress
Groom – Buckleigh of London
Flower – Alexander Collier Flowers.  Email [email protected] 07957 327374
Stationery – Pretty Wild
Venue – Amadeus Centre in Little Venice
Photographer – Eliza Claire
Wedding Planner – Temple Gregory
Lights – Red Cat Lighting