Oh how I do love receiving submissions of beautiful, glamorous weddings. I love the timeless appeal of weddings where beautiful, elegant, classic photography lifts the subjects out of the images. 
Tom and Kate tied the knot on 6 June at Cripps Barn, Bibury in The Cotswolds, chosen because the couple were looking for something with original rustic charm….
Kate wore the stunning 'Carmen' by Jenny Packham wedding dress, a purchase from Morgan Davies in London…
"I didn't have a clear idea of what I wanted at first but knew i didn't want a particularly traditional wedding dress.  I'd looked at Jenny Packham's wedding dresses but more the evening gowns. 
In all the shops I went to I kept ending up in the Jenny Packham dresses as she seemed to have the best selection of dresses in this style.  I got it down to three and wasn't sure which way I'd go but when tried them on again I knew that this was the dress I wanted. I think it was a combination of the colour and the style that I really fell in love with…"
Love My Dress Wedding Blog – Photography Copyright (c) 2011, David Jenkins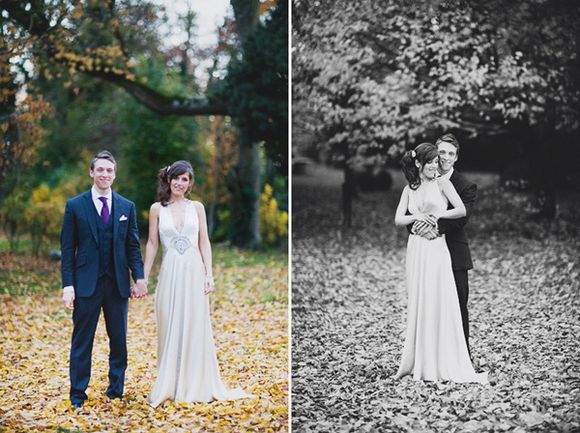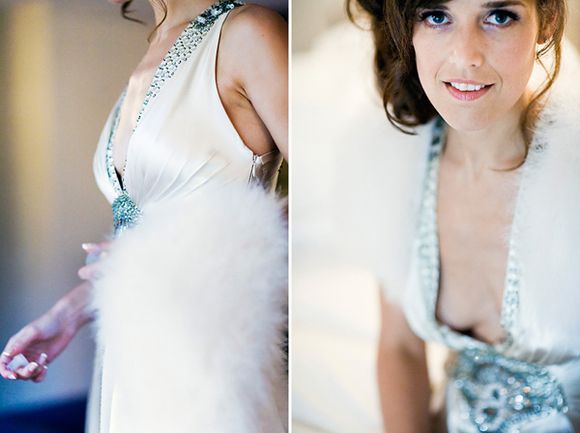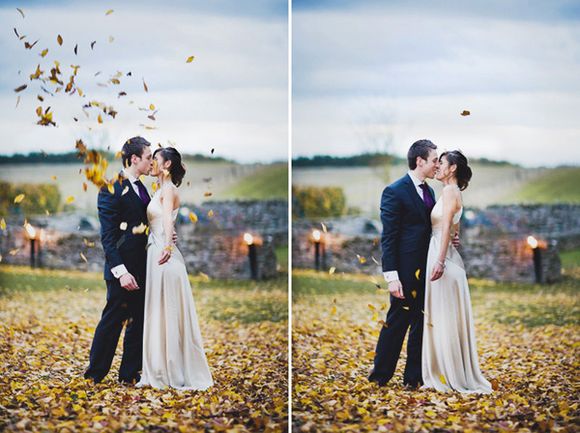 Kate wore THE most fabulous Champagne Glitter shoes by Jimmy Choo.  Now I'm fussy about my shoes, but I love love love these – perfect height, round open toe and a lot of sparkle too – that's my kind of shoe 🙂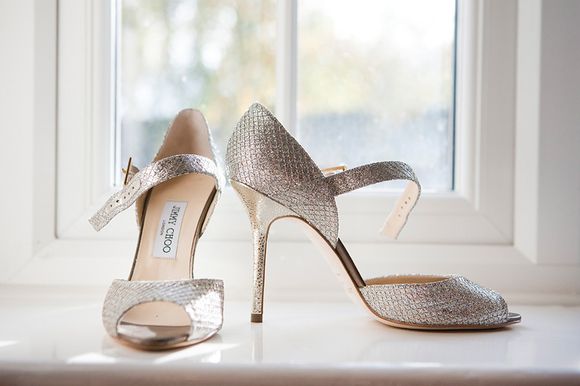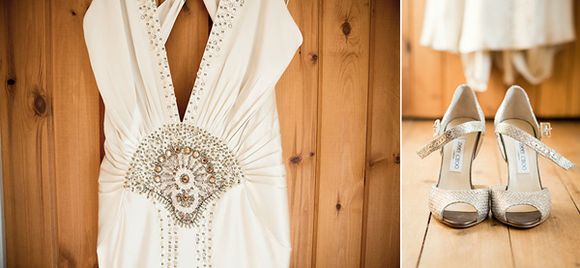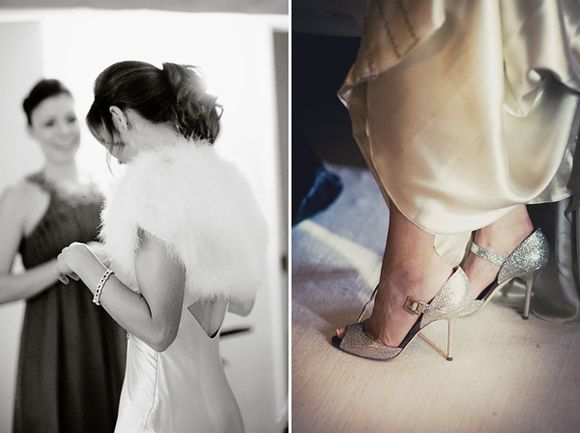 Kate adapted an original Art Deco brooch into a hair clip…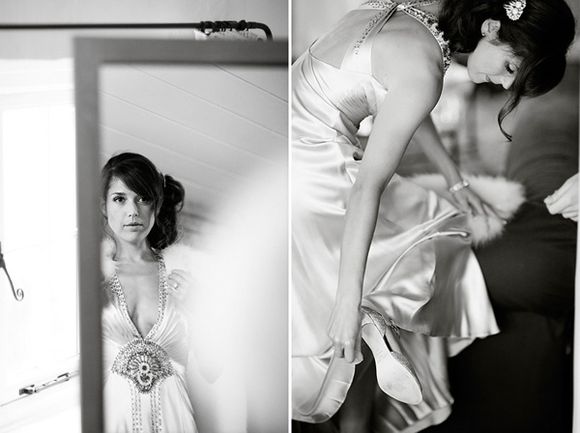 "I had 5 bridesmaids and two different dresses.  Three wore a grey dress from Monsoon and two wore a purple dress from Debenhams.  They were both quite floaty and delicate with some beading detail to tie in with my dress.  They had a flower in their hair – purple in the girls wearing grey and grey for those wearing purple and they all wore their own jewellery…"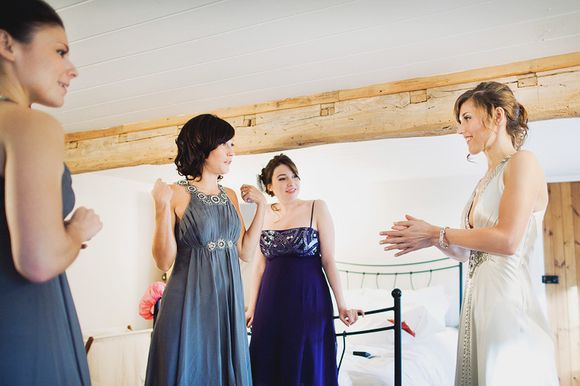 "When we went to see the venue one day Charlotte was there setting up for another wedding and the flowers looked great so we booked here there and then. 
I know nothing about flowers and so we gave her thoughts on colours and she guided us on the flowers.  The only thing I did have a clear idea on was my bouquet.  I thought Calla lillies would tie in well with the style of the dress.  Charlotte suggested the very dark 'black' calla lillies.  I loved them and thought they added a real sense of glamour to the outfit…"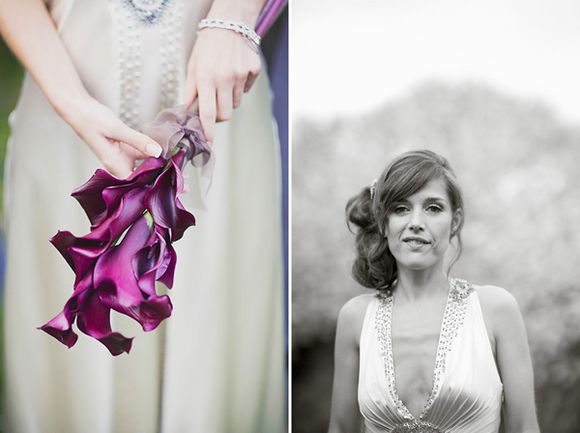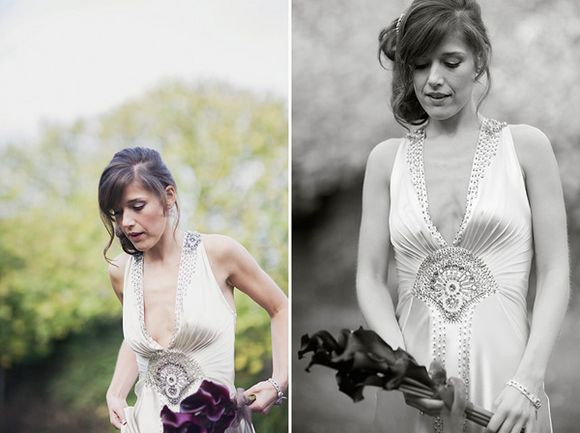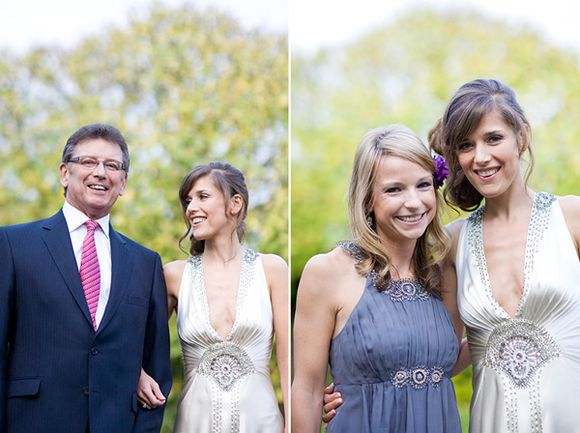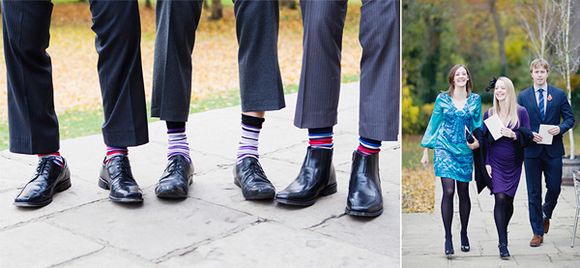 "We loved Cripps Barn because they had retained its natural beauty when restoring it, with flagstone floors, open fire place, exposed brick, candles in the walls etc.  The venue is so naturally beautiful that we kept things to a minimum.  The ceremony was mainly by candlelight and light from the open log fire.  The candles were above the fireplace and then in little inlets in the brick walls. We then had hanging baskets of flowers from the ceiling…"
"I walked down the isle to the Eva Cassidy version of Somewhere Over the Rainbow.  It was sung live by Bianca Antoinette of the Acoustic Duo.  I absolutely love the song and Bianca  has such a beautiful voice – it was one of my favourite moments of the day…"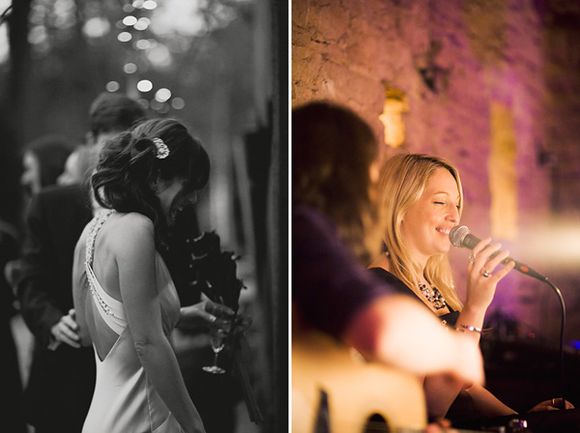 "I think we both wanted quite a relaxed wedding and were drawn to the idea of something  quite rustic, and where the venue would speak for itself.  I also felt there was something a bit magical about doing it in winter by low lighting.  I also personally loved the styling and glamour of the 30s and Tom's suit had a vintage feel as a 3 piece, square pocket, etc.  I think we might have been a bit lucky that the vintage and rustic aspects came together as well as they did!"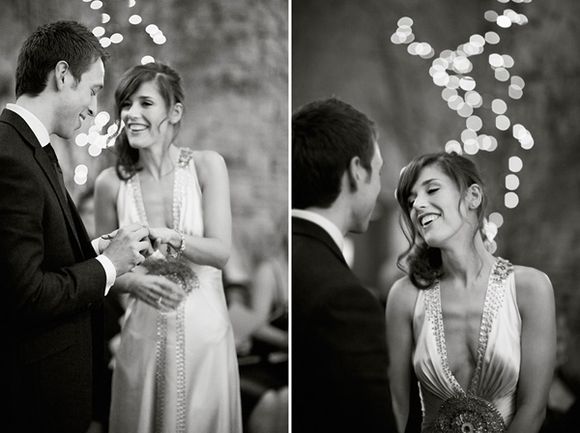 "The service ended up being one of my favourite parts of the day.  The venue looked amazing and it was so atmospheric with the lighting , the music, the fire. Having a civil ceremony meant we could personalise it quite a lot.  So we had three of our friends do readings, Love Song by the Cure, the Orange by Wendy Cope and Us Two by AA Milne.  At the end of our service we made all our guests sing Fly me to the Moon by Frank Sinatra 😉 …"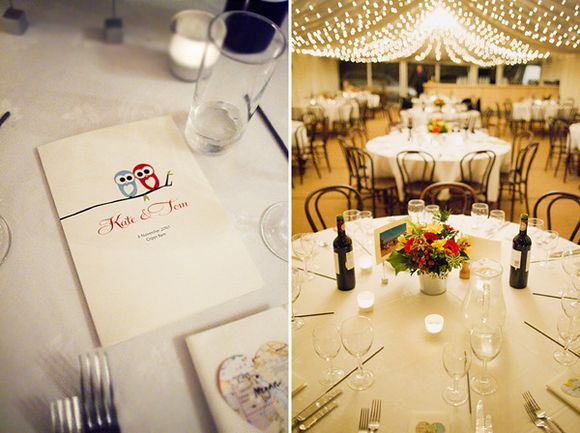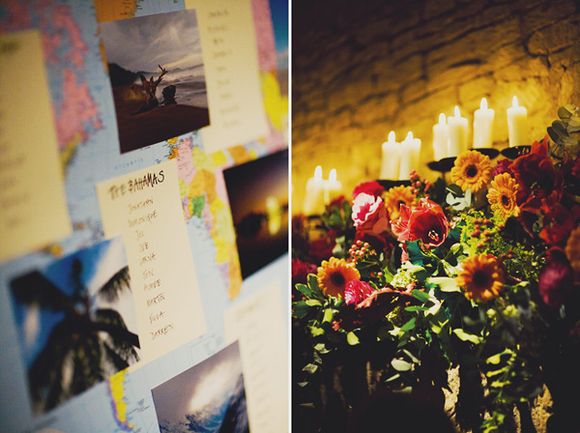 Kate's mum made delicious Chocolate Brownies, and Kate's artistic sister, Claire, decorated them…
"We had decided to go for Brownies as they were Tom's favourite and my mum kindly offered to make them for us. My sister made and decorated them as a surprise for us and I couldn't believe how great they looked on the day — better than any professional I 've seen (in my opinion!)"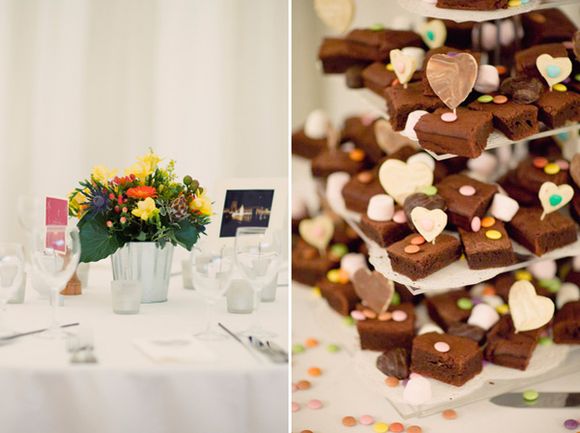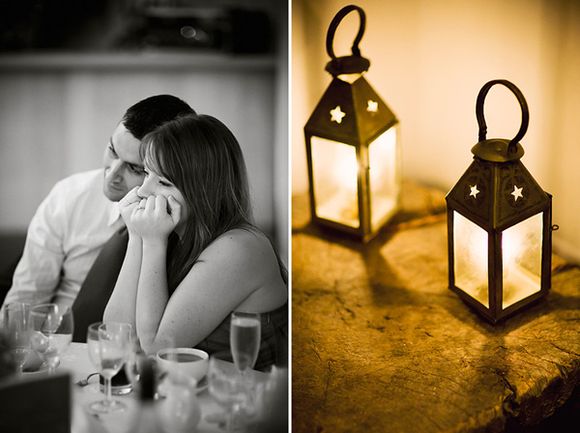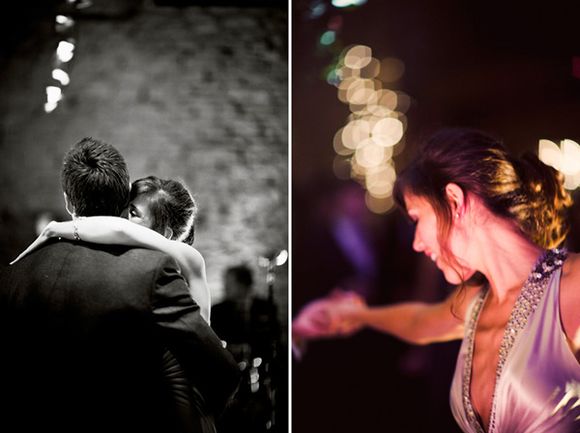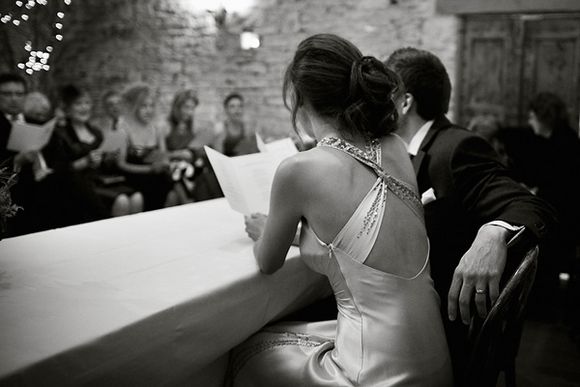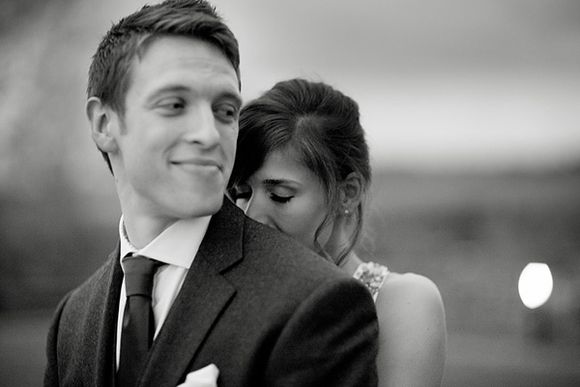 This table name is cute!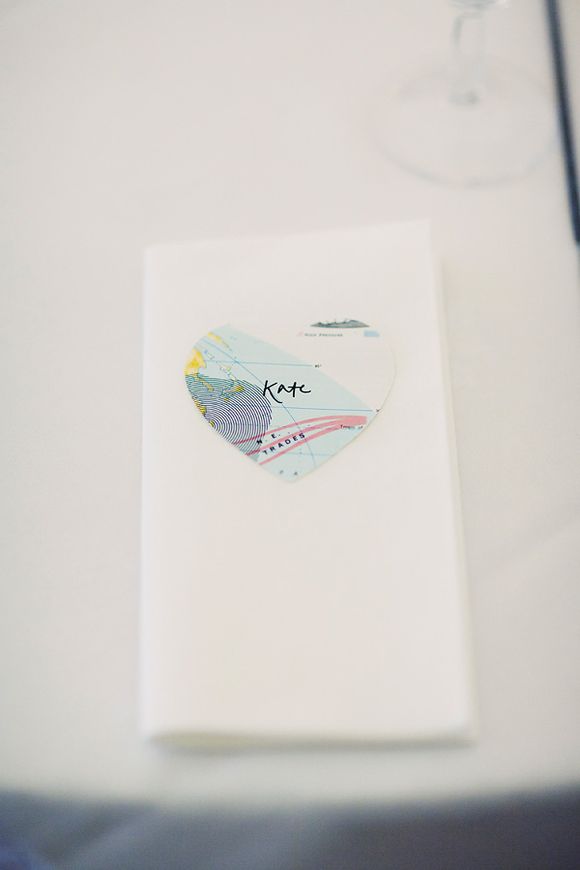 I love the lights that hang from the top of the marquee, such a glamorous touch…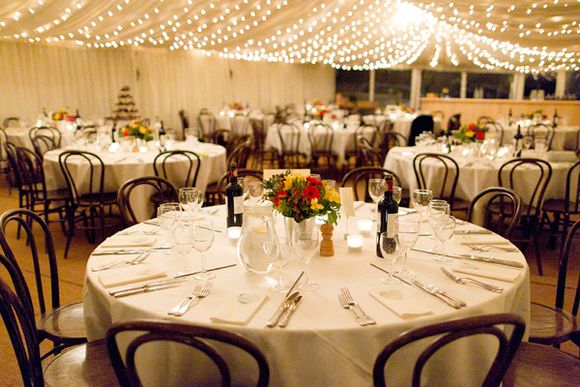 Keeping it simple with a few pretty coloured sweets really livens up the table decor.  You can purchase stripey paper sweet bags from Ebay...
We danced to 'You make it easy' by Air. 
"We ummed and ahhed for ages about whether to actually do a first dance as neither of us really were sure we wanted to.  But in the end we decided to do it and just keep it very simple.  We chose this song because the lyrics seemed to capture how it felt to be with each other."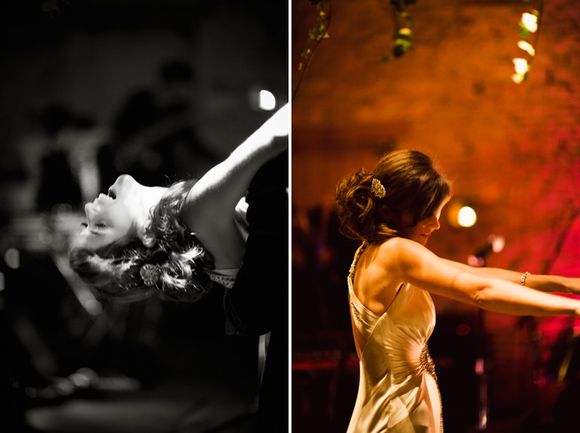 "The venue has a bonfire outside.  As we got married the day after bonfire night, we put sparklers on the table as favours and went out to the bonfire after dinner and everyone lit their sparklers.  It was great fun and made for some really cool photos!"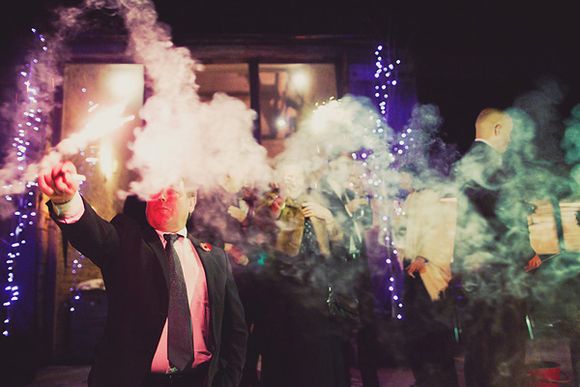 Words of Wedded Wisdom…
"It can all get a bit overwhelming as there are so many things to think about. So it helps to figure out which are the things that are really important to you and focus on getting those right…"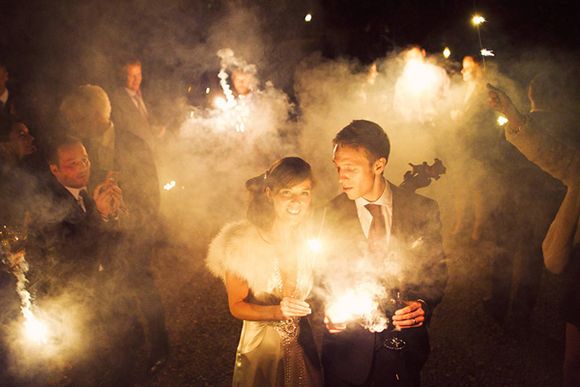 What fablous photographs! Congratulations Tom and Kat on a gorgeously glamorous wedding day 🙂 Huge thanks too to Photographer David Jenkins…
"David was wonderful, he was so relaxed and friendly, it was a pleasure to have him with us on the day.  And the photos turned out so beautifully, we couldn't have been happier."
You can see more glamorous Brides photographed by Gloucestershire Wedding Photographer, David Jenkins on Love My Dress here, and if Jenny packham is your wedding dress designer of choice, definitely check these real weddings out.
And look! Here are more fabulous Barn Weddings for you to be inspired by too 🙂
Much love everyone 🙂
Annabel xXx
♥
Love My Dress Style Guide
Photographer – David Jenkins
Brides dress – Jenny Packham from Morgan Davies in London
Brides shoes – Jimmy Choo
Brides accessories – Art Deco brooch adapted for hair clip, diamond studs + 1950's diamante bracelet {something borrowed}
Bridesmaids – Monsoon + Debenhams
Groom – 3 piece bespoke suit in dark grey wool from Alexander Ross Bespoke + KG Shoes by Kurt Geiger
Venue – Cripps Barn
Cake – Family
Flowers – Superflowers by Charlotte Gabb
Entertainment – The Accoustic Duo