Morning ladies – and gents! How does this morning find you? I hope you had a lovely weekend and are feeling fresh and raring to take on the week ahead.
Monday mornings are all about weddings to inspire my readers and this wedding is a perfect Love My Dress feature. I adore Bride Tugela's style, from her cute little polka dot BHLDN wedding veil to her replica vintage wedding dress and French Sole gold ballet flats. 
Tugela married Tom on 29th July 2011 with a service at All Saints Church, East Meon, followed by a reception at The Manor Barn, Buriton – both in Hampshire.
Tugela's beautiful short wedding dress was from The Vintage Wedding Dress Company… 
"I was determined not to have a classic strapless 'weddingy' wedding dress. I love vintage – it's romantic to think of clothes having a story. I always had a notion of wanting a 50s-ish dress (who doesn't want to be Grace Kelly in High Society?) so when I saw this I had to try it. It fitted perfectly, which I took to be a sign!
Love My Dress Wedding Blog – Photography Copyright (c) 2012, Simon Fazackarley
"Our Florist was The Blacksmith's Daughter in Petersfield, for the Barn and the bouquets/buttonholes. Friends and family did the church flowers beautifully. We went for simple, countryside flowers, nothing too fancy. We wanted small table flowers at the Barn so people could talk to each other and gesture wildly without fear of toppling a 2 ft vase.
"Our friend drove us in her gorgeous Morris Minor (aka Horace the Morris)…"
"It was a choice between this dress and another, more 'weddingy' dress, but (helped by friends) I went with my gut and ended up with the perfect dress for me. I love its simplicity, and the fact that it has little details you don't notice at first – like the hand-painted polka-dots, which, on second glance, are in the shape of bows; the buttons which, if you look again, have little sparkles in them.
Wearing it was wonderful – I felt like it blended perfectly with the sunny, gorgeous country setting. It was also fab for dancing in – necessary for a lively ceilidh!"
I just adore Tuegela's choice of light blue summer dresses for her Bridesmaids – a purchase from the wonderous BHDLN…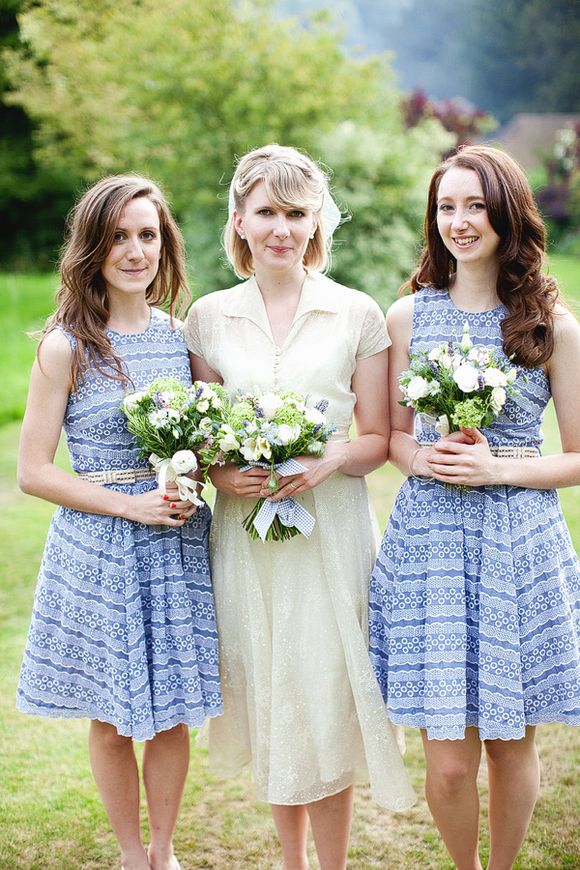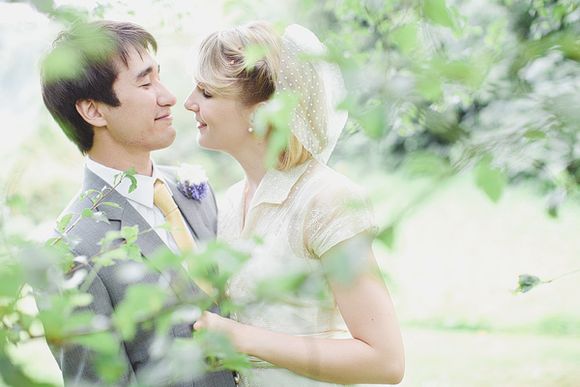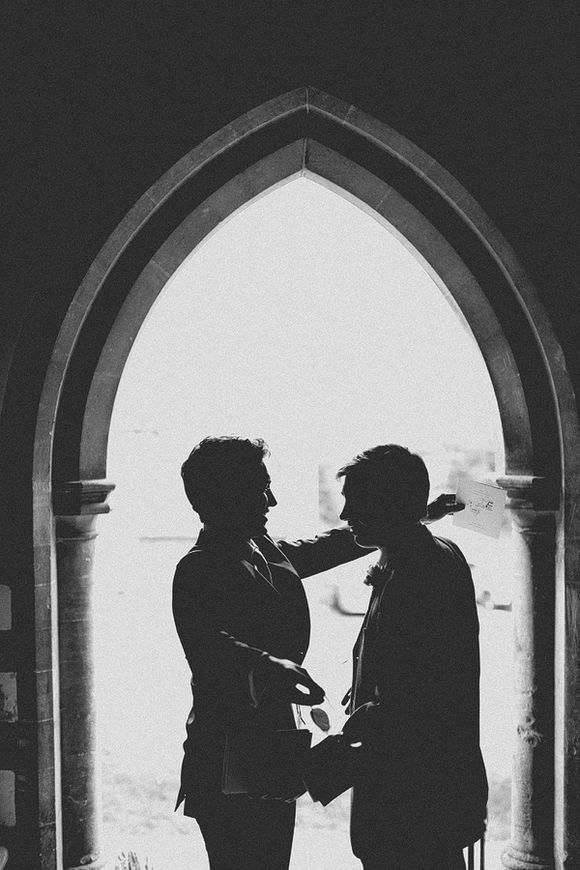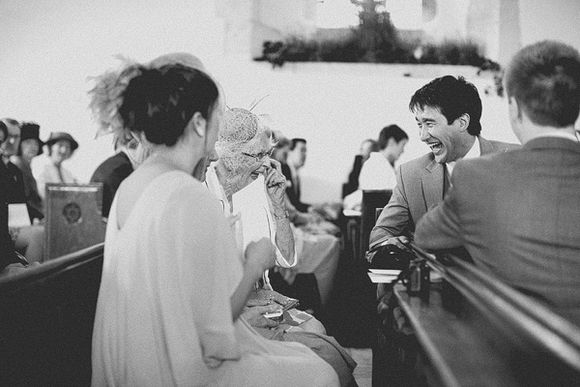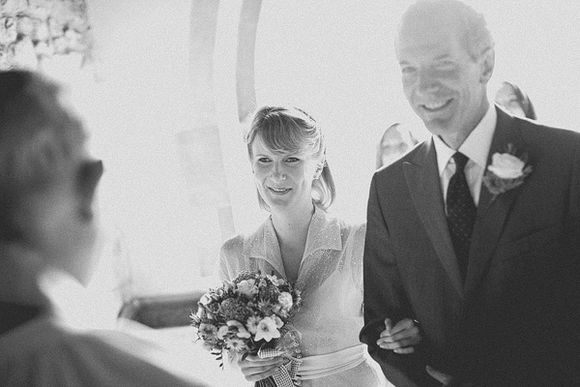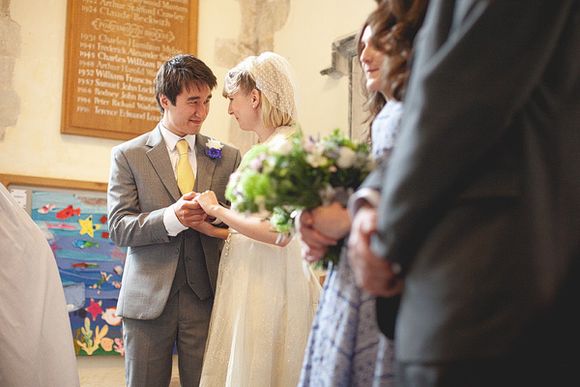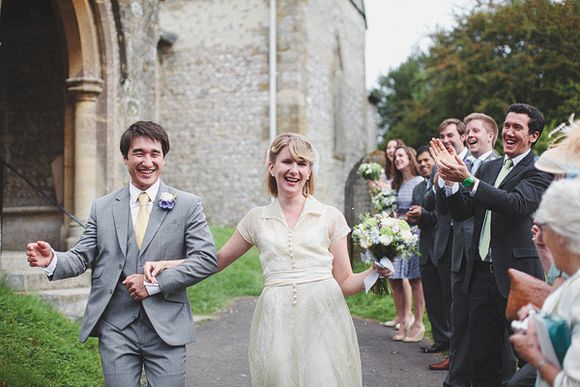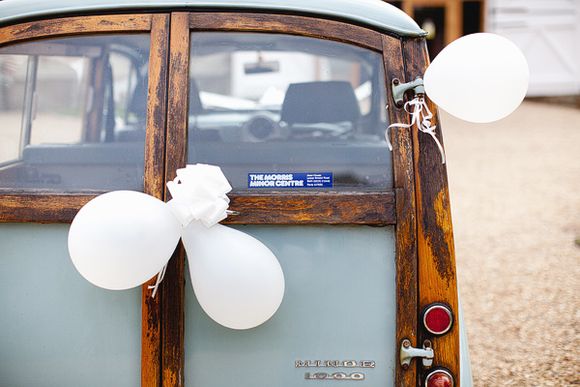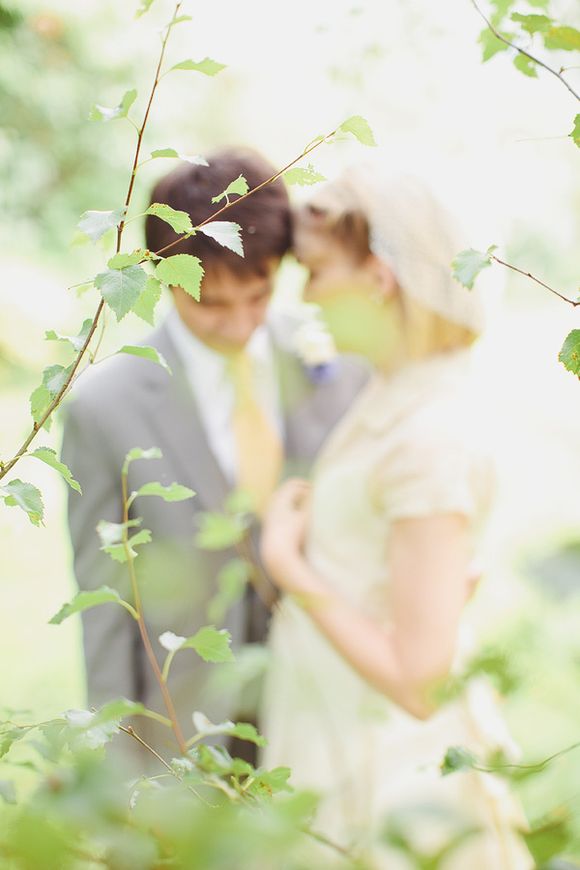 Tugela told me that their venue was chosen for family connections and the fact that it is a perfect pocket of English country loveliness!
"We love the area in Hampshire where we chose to get married – the community there means a lot to me and has also come to mean a lot to Tom and the landscape is stunning…"
"We wanted a wedding that reflected the simple beauty of the land and the warmth of its people. We were both determined to have a relaxed, friendly day that also has a sense of occasion, so it was really a sense of 'anything goes!' I also love a bit of vintage, which was reflected in the chintzy florals and details provided by my mum…"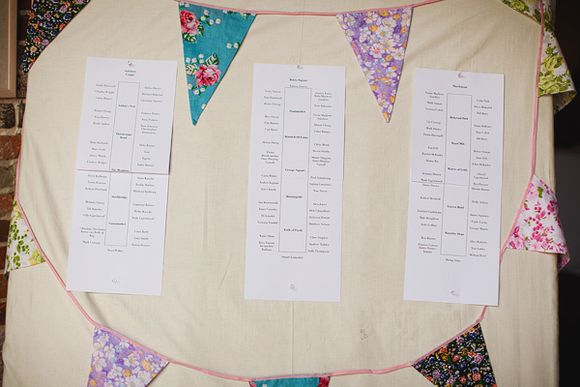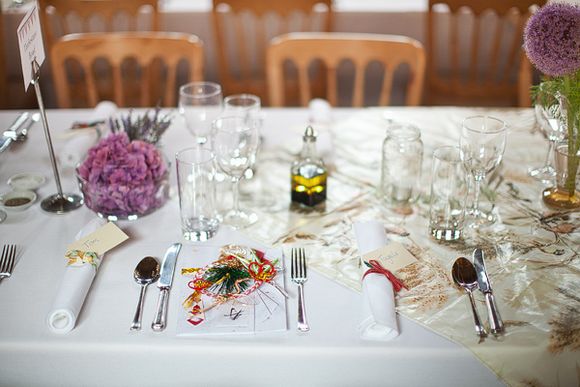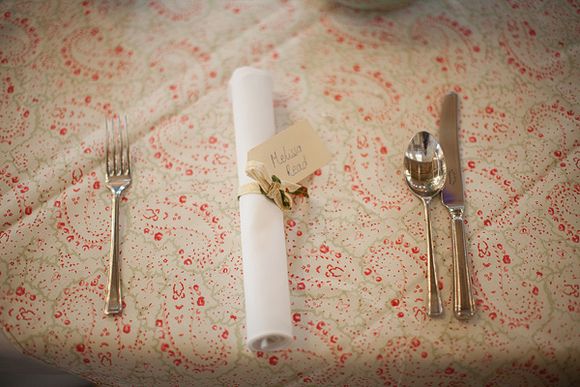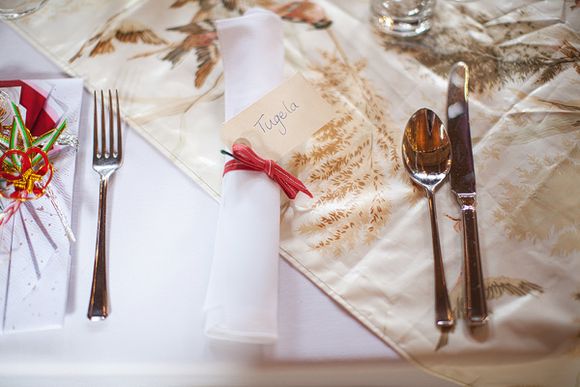 "Bunting was put up by my mum and friends. The napkin ties (all 150 of them) were hand made by my mum (amazing!) and the squares of chintz on the tables were too…"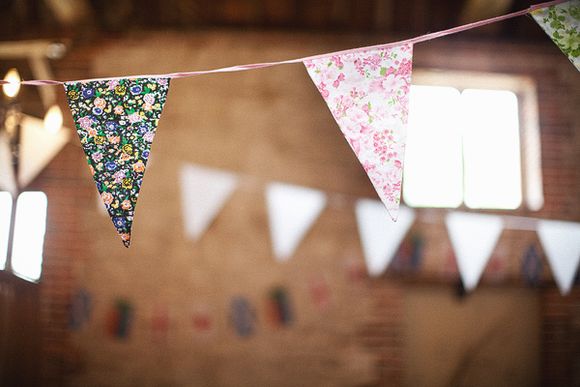 "The wedding cakes were made by friends and brought on the day – it was wonderful!"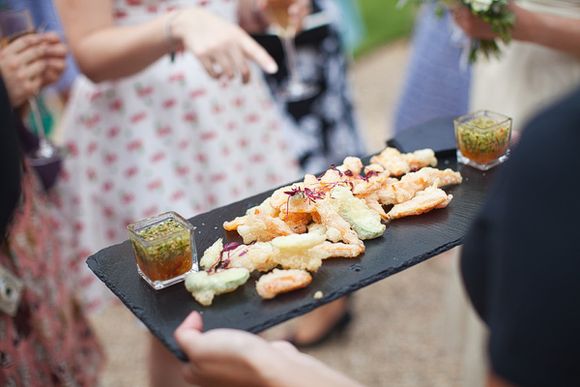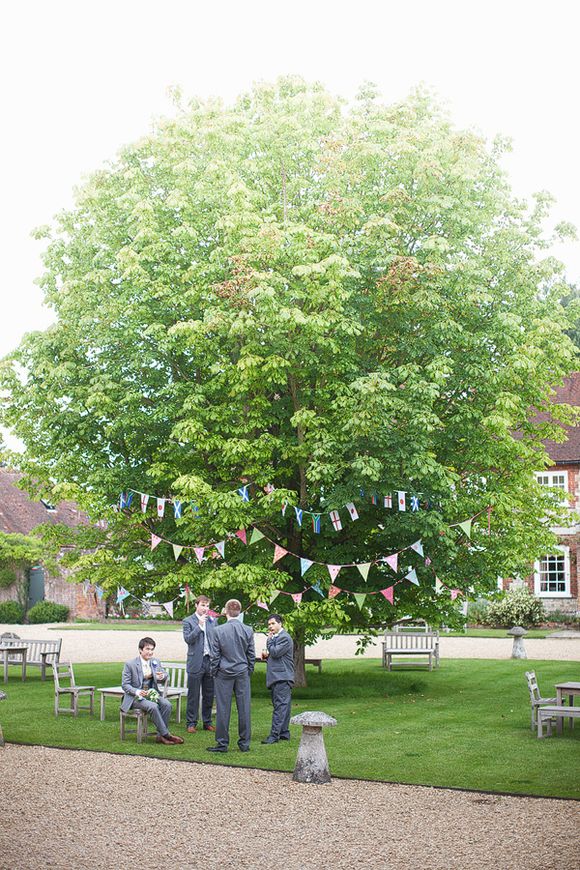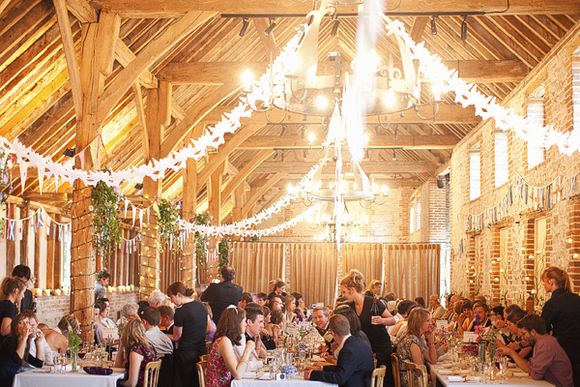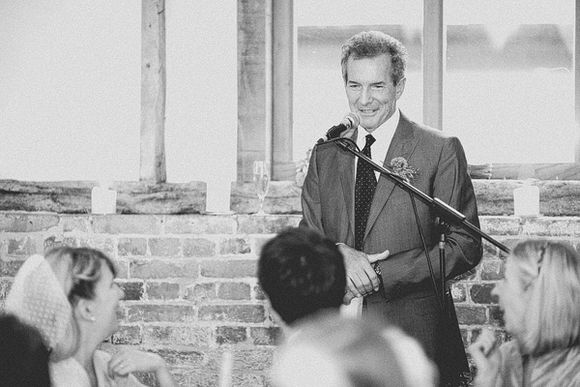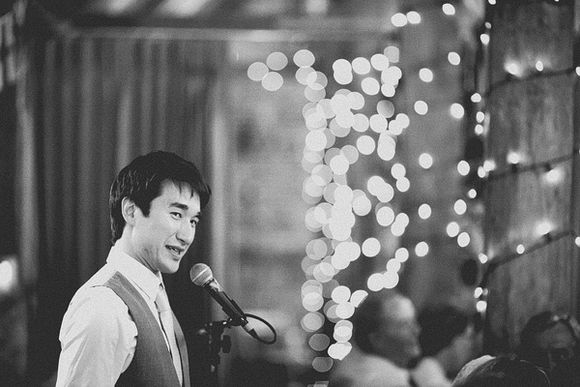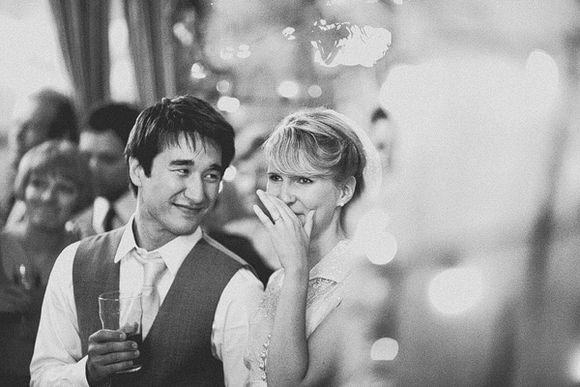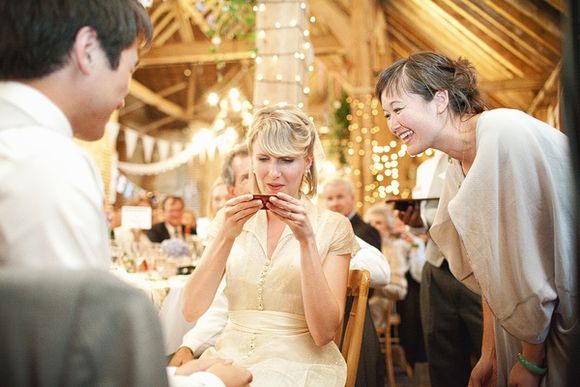 "We hired a Ceilidh Band and a non-slushy song written and performed especially for the day by friends (made me cry…)"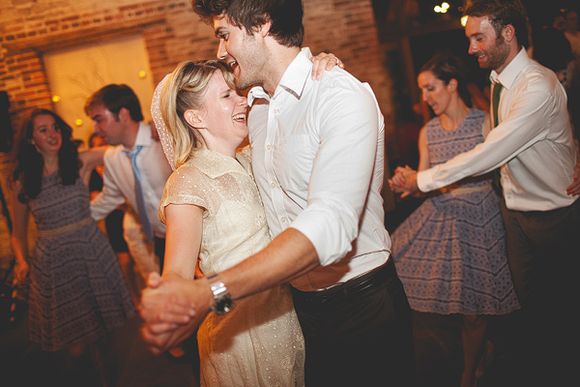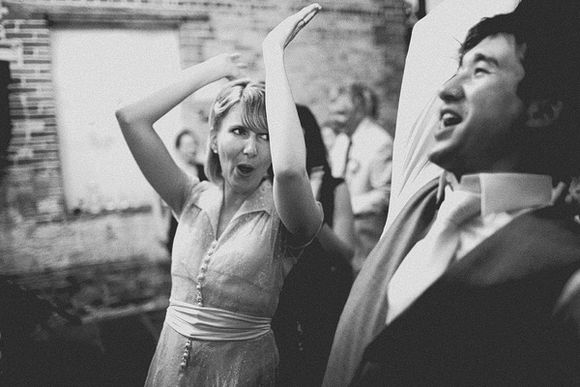 Words of Wedded Wisdom…
"Don't worry too much! It's amazing how friends and family will rally around and help before, during and after such a special occasion – we were overwhelmed by people's kindness and generosity. Get your friends involved – it makes it magical.
Don't be afraid to have the wedding you and your partner feel is right. Sometimes I think people feel that weddings have to be a certain way (strapless dress, big tall cake, video guy, first dance…) but they don't! Lots of things about our wedding weren't traditional (no morning suits, bridesmaids dresses were just normal dresses etc…) and it was just right.
And sort out the seating plan early! We spent actual days of our lives doing it one week before, that was the most stressful part…"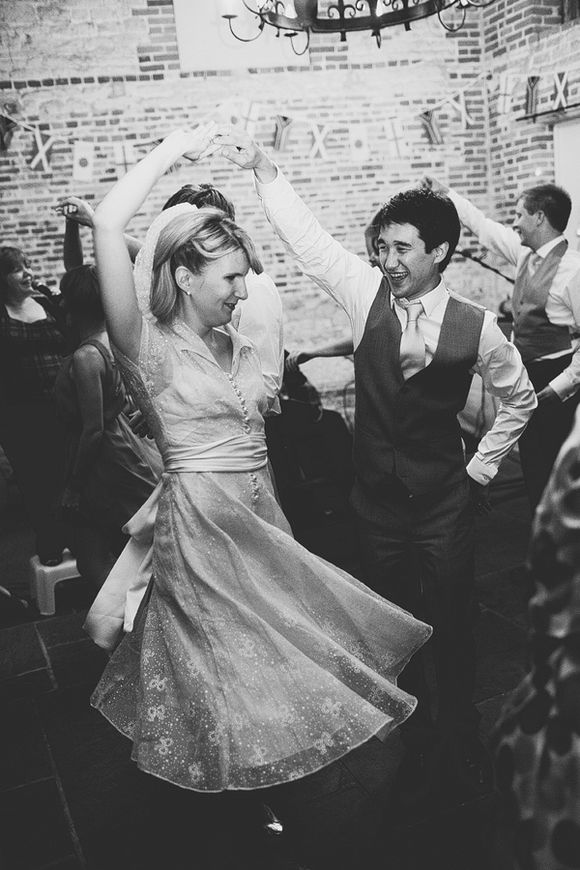 Big thanks to Photographer Simon Fazackarley for submitting these lovely lovely wedding photographs… "Simon is fantastic!  He's a great guy and was tuned in to exactly what we wanted – we love the photos as do everyone!"
I'm a huge fan of BHLDN – has anyone else purchased anything from this store for their wedding day?  What about opting for a polka dot wedding veil, or pretty pale blue summer dresses for your Bridesmaids?

Click here to see more polka dot pretty, pale blue and gorgeous dresses from The Vintage Wedding Dress Company.
Much love all,
Annabel
♥
Photographer – Simon Fazackarley
Venue – The Manor Barn Buriton, Hampshire
Brides dress – The Vintage Wedding Dress Company
Brides Veil – BHLDN – Anthropologies's bridal site
Brides Shoes – French Sole – gold ballet flats
Brides accessories – pearl stud earrings, a gift from the Groom's mother
Grooms Suit – A Suit That Fits + Church's Brogues
Bridesmaids Dresses – Anthropologie
Flowers – The Blacksmith's Daughter
Cake – Friends and family
Hair and make-up Artist – Helen Spenser
Catering Company – Jacaranda