** This DIY Guide is available to download in PDF format **
Morning all 😉 I love to vary the content on Love My Dress, from real weddings to inspire you, to bridal wear features, inspiration boards, discussion posts, personal posts, business owner ramblings, videos and DIY content.  It is with the latter in mind this morning that I bring you this latest post.
This DIY craft project comes to you from regular Love My Dress contributor, Michelle Kelly of Pocketful of Dreams. Michelle is an experienced designer, planner and stylist of creative weddings and events, based in the North West of England. Through her company Pocketful of Dreams, she creates events that are stylish, quirky and tasteful with a twist of personality and a whole heap of fun.
Today, Michelle is going to guide you through how to make your very own rustic style table plan.  Why not get one of your bridesmaids to give you a hand? The sum total of materials required to produce this pretty table plan is just £20, and the results for your efforts will be beautiful, I promise you.
Over to you Michelle…
Love My Dress Wedding Blog – Photography Copyright (c) 2012, Katy Lunsford
The table plan is one of those items at your wedding that you can really go to town with and be creative, with a whole host of ideas at your disposal from custom-made to homemade, the table plan will set the scene for your guests as to what they can expect from the festivities ahead.
I wanted to create a really simple and cost-effective, yet still eye-catching, table plan to inspire the readers of Love My Dress. So I chose to keep things quite rustic, combining natural materials like wood, burlap and feathers to encapsulate that rural, rolling farmlands feel.  And it just so happens that I live right next door to rural, rolling farmland fields.
So on a beautiful sunny day, I got to play out, along with fab North West Wedding Photographer Katy Lunsford, who is responsible for the very pretty photographs. The chickens were rather intrigued as to what we were up to, so they came and had a play too. Unfortunately you'll need to find your own chickens to recreate this look.
You will need…
1. A wooden picture frame ~ I used an old pine framed mirror from The Range which cost about £10.00 in total
2. Burlap / hessian fabric ~ You can find this for sale on Etsy or here Ebay, mine cost £1.95 for one metre
3. Mini Clipboards ~ Again these were from The Range and cost 0.99p each
4. Jute String/Twine
5. A4 Paper stock of your choice
6. Feathers ~ I found mine on Etsy
7. Corner punch
8. A pair of scissors
The sum total of the above should be around £20.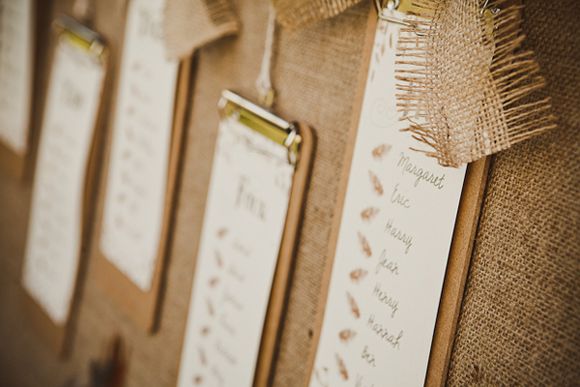 Step 1.   First of all, I designed a template for each table in photoshop. These templates are available as a free download. First of all you will need to print the table numbers onto A4 paper. Then using the second template, add in the Names of your guests and print onto the associated table numbers you have just printed, currently there are 10 rows in the template (for 10 people per table), just remove the number of rows that are not needed.
Step 2.  Once printed, cut the A4 sheets in half lengthways and trim the excess, this should give you one sheet of card per table, with a table number and names printed onto it. Now using a corner punch, trim off the corners of each sheet to give them a nice rounded edge. Then add the printed sheets to the clipboards.
Step 3. Measure out three lengths of jute string per clipboard (to the desired length to hang on the frame, with a little leftover to secure in place at the back). I platted three pieces of string per clipboard to give it a nice effect, securing to the hanging hole which is attached to the clipboard.
Step 4. I removed the mirror from the frame (if you are using a picture frame rather than a mirror just use the MDF backing) and laid the burlap fabric over the top of the mirror, trimming off the excess fabric so there is just a slight overhang to wrap around the back. Lie it down on the floor for this part as it will be easiest. Next place the clipboards where you want them and overhang the string round the back, secure in place with masking tape. Then lay the frame over the top and secure in place, either with the tags on the frame or masking tape around the edges to keep it in place.
Step 5. I adorned my frame with feathers, some I bunched together and wrapped with twine, others I left loose, you can either pin then in place or use double sided sticky dots. Finally I added three bows to the top frames, these were made using long strips of leftover burlap which I frayed a little at the edges. The pretty flowers next to my table plan were displayed in an old vintage milk jug and sat atop a wooden log, these are a mixture of Tom Piercle Bronze Bloom, Red Oak Leaves and Hypericum Berries.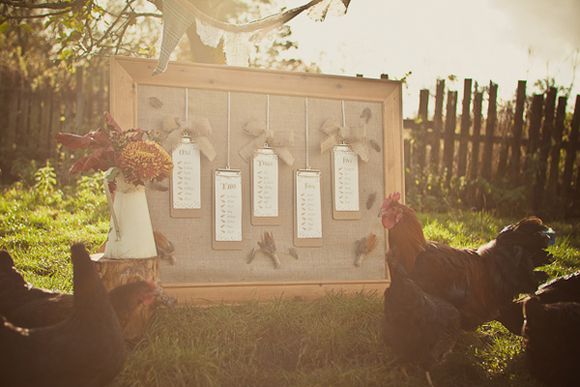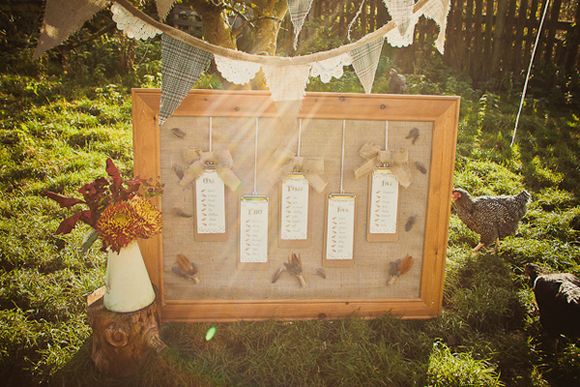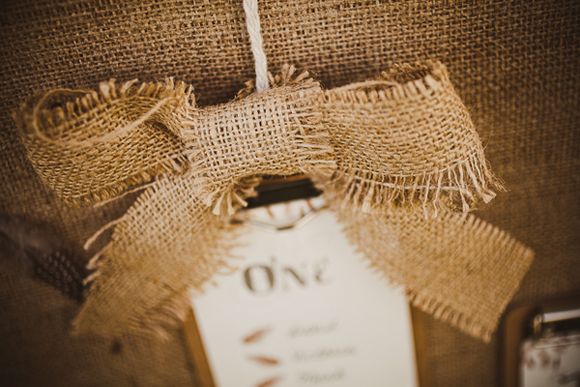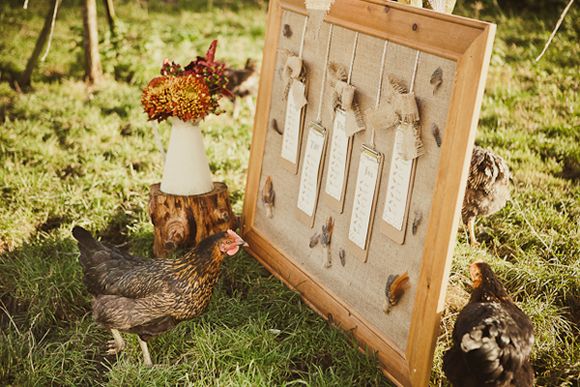 And there you have a simply beautiful rustic table plan, costing not much more than £20!
I hope you found this helpful and would love to hear from those of you who have a go at making this table plan. Leave your comments below.
Michelle x
♥  The PDF guide with the full how-to create a rustic table plan here.
♥  PDF template for table numbers 1 and 2, 3 and 4, 5 and 6, 7 and 8, and finally 9 and 10.
♥  A Microsoft Word template for you to customise and add in your own guest names.
You can find Michelle via Twitter, Facebook, Pinterest and the Pocketful of Dreams Wedding Blog