Hi everyone, I'm a bit later than usual for this second instalment of today's two-wedding features, which I kick started with this day full of coral and white pumpkins!  Tomorrow I'll be running a wonderful giveaway in collaboration with Twobirds Brides UK, where one lucky reader will be able to set themselves up for a chance of winning two Bridesmaids dresses of their choice, up to the value of £500.  But for now, let's focus our attentions on the divinely elegant wedding of Kamal and Elizabeth, who married on 3rd December 2011. 
Kamal and Elizabeth, who is a Feature Writer for the Observer and Author, were wed via a service held at the stunning Queens' College Chapel in Cambridge, where Elizabeth studied, and a candlelit reception in Magdalene College, Cambridge just across town.
Elizabeth wore the most elegant silk fishtail Vera Wang gown – that was quite a bargain find! 
"In many ways, this dress chose me! I found it in a sample sale – the Vera Wang concession at Selfridge's was closing down, as the designer was setting up her own shop at Browns Bride in London. They were offering incredible knock-down prices on the gowns – I think mine was worth £10,000 and I got it for £900…" 
Love My Dress Wedding Blog – Photography Copyright (c) 2012, Just-Married Photography by Laura McCluskey
"The sale was due to open on a Saturday morning in March, but I happened to call up on Thursday to ask if I could have a regular appointment as usual on the Friday afternoon. They agreed. I turned up with my mother and sister in tow and although they'd closed up in preparation for the next day's sale, they allowed me in to have a sneak peek.
I'd tried some dresses on in Berketex earlier, just to get an idea of what shapes I liked. When I tried this dress on, I wasn't immediately sure – it had two ribbon straps and I didn't think it was flattering. But then I tucked the straps into the dress, the assistant found me the lace bolero (reduced from £1,500 to £150) and it worked…"
"My sister immediately felt it was right on me. And the assistant gave me some brilliant advice – she said you should always buy a wedding dress because of the quality of the fabric and the cut; never the design. Looking back now, I think she was absolutely right – the dress is actually quite simple but the material meant it moved beautifully and looked amazing in photographs…"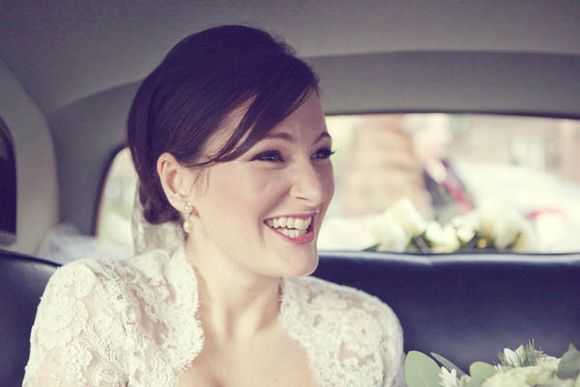 "Although I bought the dress off the peg, I was extremely lucky because it was my size and the body of it fit me perfectly. It didn't need any alteration, other than the neckline which I asked to be changed from straight into a sweetheart shape, some boning put into the waist to reduce the creasing, buttons put to hide the zip on the back and a tie-up loop to hitch the train up for dancing. I got this done at a local dress alterations place…"
"I didn't want to be a bride who became obsessed by her dress – the most important thing for me when I started looking was not to spend a ridiculous amount. I didn't actually have a clear idea of what I wanted and in many ways perhaps it helped to have an open mind. As it was, it's still the most expensive item of clothing I own but I think it was more than worth it…"
"Again, with our Florist, Leen, I felt I just clicked with her straight away – she knew exactly the kind of thing we wanted, which was beautiful flowers but with a hind of wildness and nature about them. I love anemones, so that was the only flower I asked definitely to be included in the bouquets. I liked the thought of Kamal and me having matching white flowers (my bouquet, his buttonhole), while the bridesmaids and ushers had matching reds…"
"I wanted deep, jewel-like red tones of mulberry, crimson and red because I felt it would bring a warmth to the winter wedding, as well as reflecting the candlelit, Christmas theme. I basically wanted everything to be the colours of mulled wine!"
"My veil is extremely special to me. My grandmother, to whom I was very close, died earlier this year and this beautiful piece of antique lace was found among her possessions. My sister thought it might work as a veil and I asked a local dress alterations place to sew a comb on one edge so that it could be secured into my hair.
Inititally I didn't want a veil – I thought it might be a bit spooky to cover my face! – but almost every friend of mine I spoke to who hadn't had a veil on their wedding day said they regretted it. On the day, I loved my veil: it was the perfect finishing touch but, most importantly, it meant my grandmother was with me too…"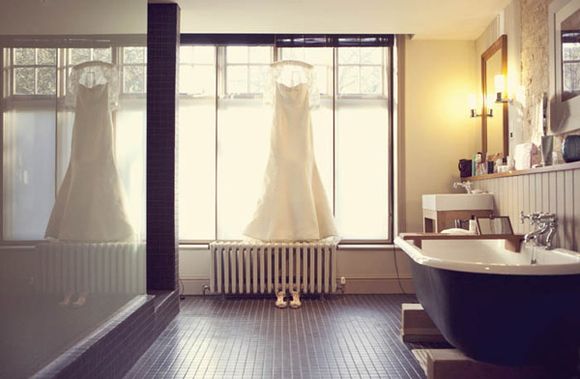 Elizabeth saved another few pennies in the heels department!
"My shoes were £24.99 from River Island – four years ago! I wore them because they're so comfortable and also – coincidentally – the perfect height for the dress…"
"Caroline was a lovely woman I was fortunate enough to meet through work – she does hair and make-up for several magazines, including Red magazine who I occasionally write for. Caroline doesn't normally do weddings but made a special exception and she was AMAZING. She also did my mother's make-up…"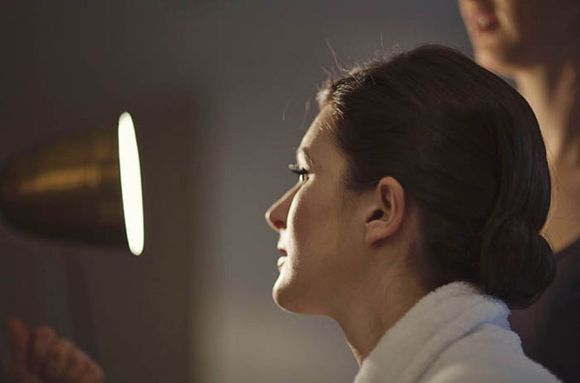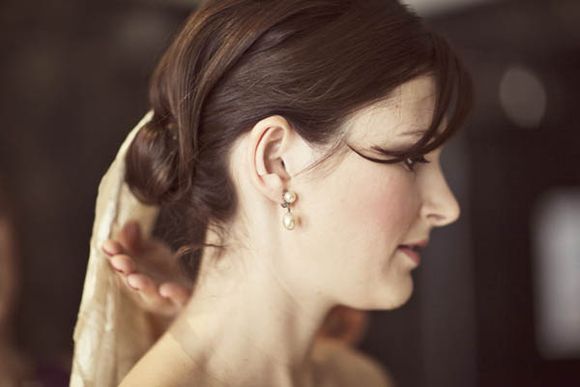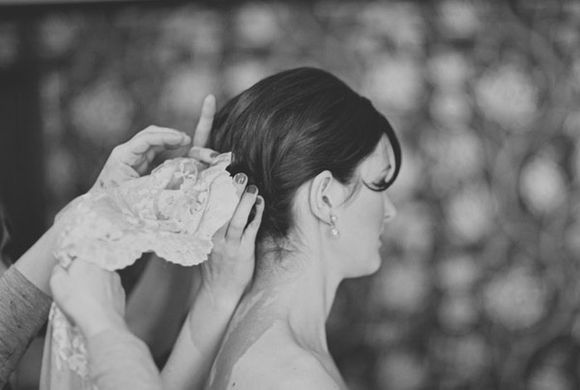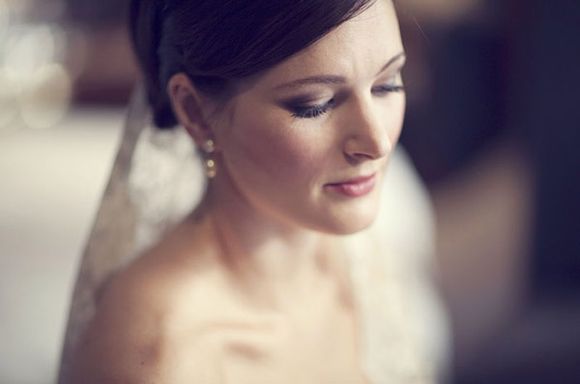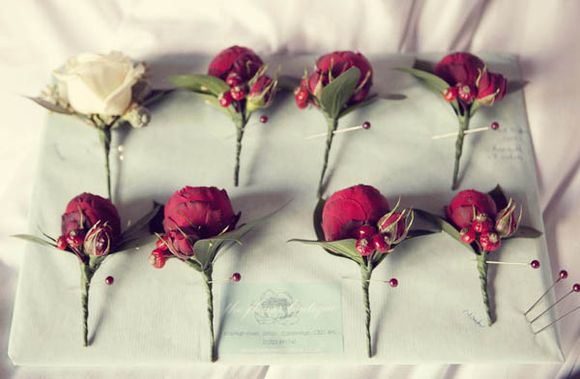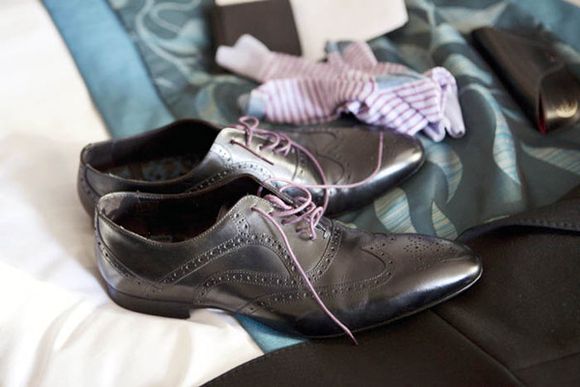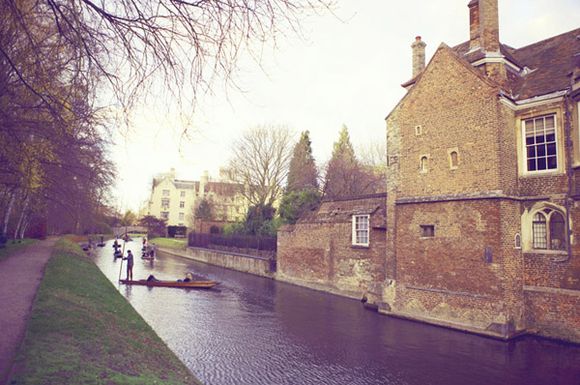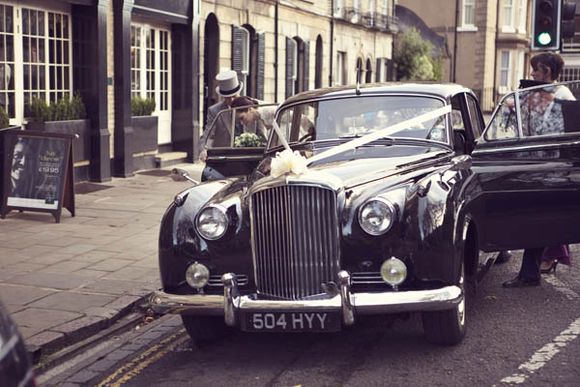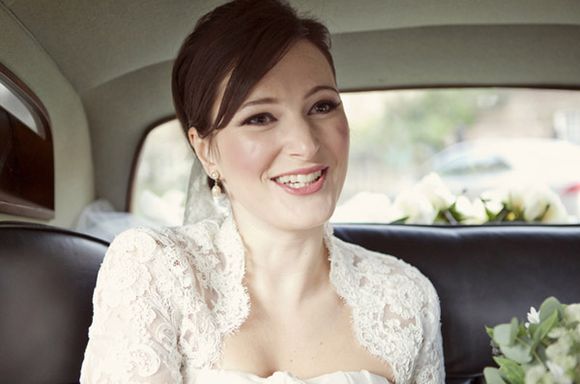 "We decided not to have flowers for the service or the drinks / dancing reception because the Chapel is so beautiful – instead we just asked for candles to accentuate the atmosphere that was already there..."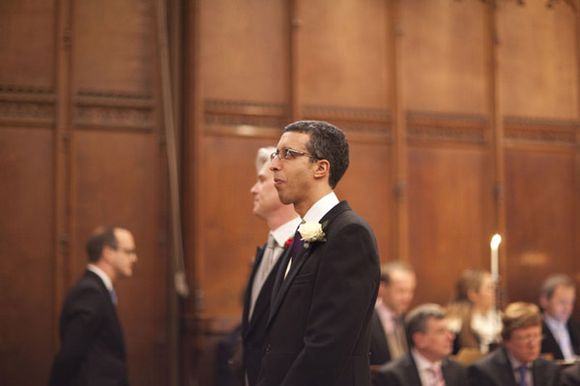 "My Father walked me down the aisle to Amazing Grace sung by the Soweto Gospel Choir which we played on an iPod and which an usher faded out at the appropriate moment…"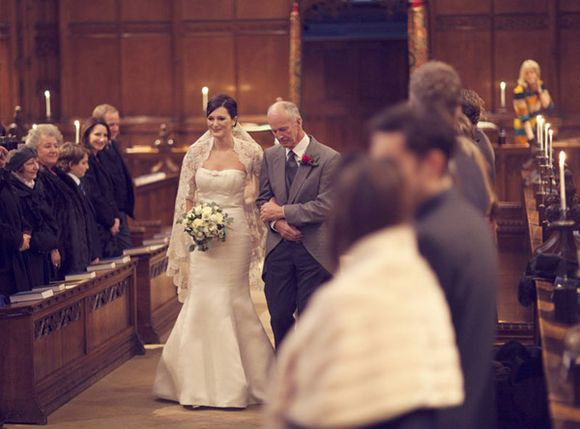 "Kamal bought my beautiful engagement ring from Berganza in Hatton Garden, as they specialise in vintage and antique rings – I didn't want a new ring as I love pieces with history behind them. We went back there for our wedding rings which they only make for returning clients…"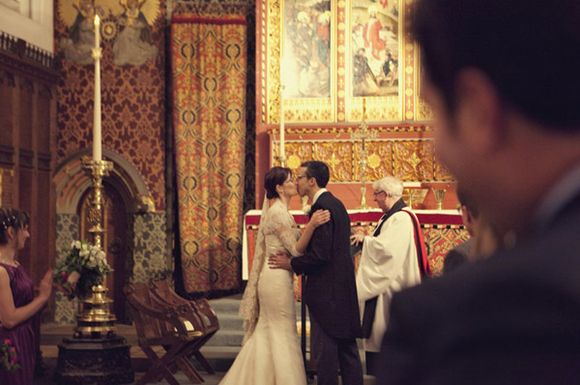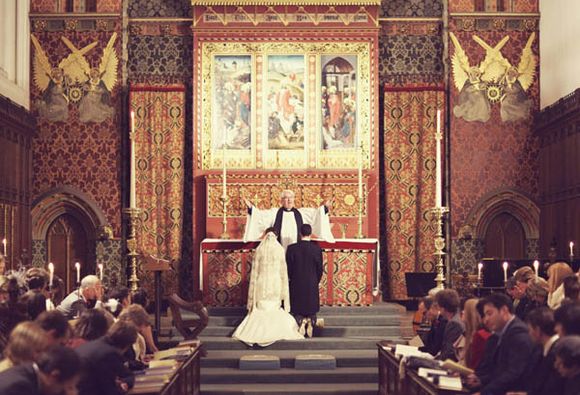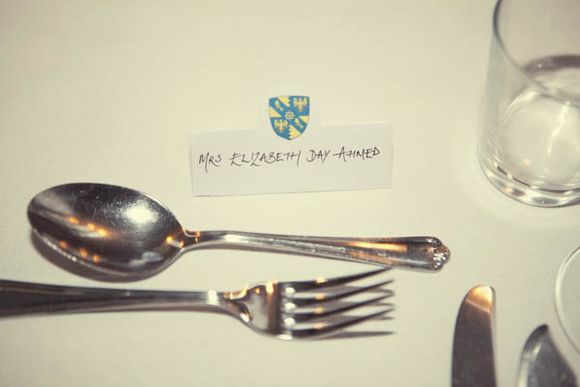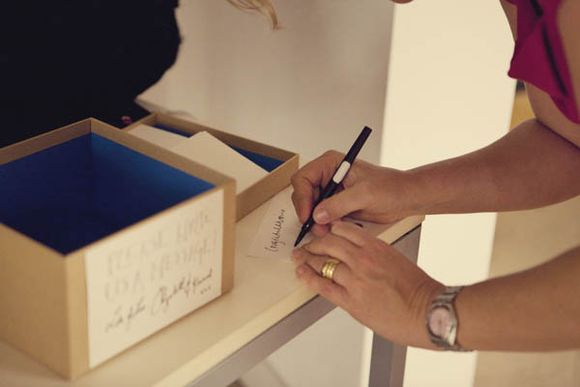 "The drinks area already had a big Christmas tree and I got some bunting made in the colours of the bridesmaids' dresses to string across the beams of that particular room to give the place a festive feel. I used EU Bunting who can match almost any colour you send them at a very affordable price…."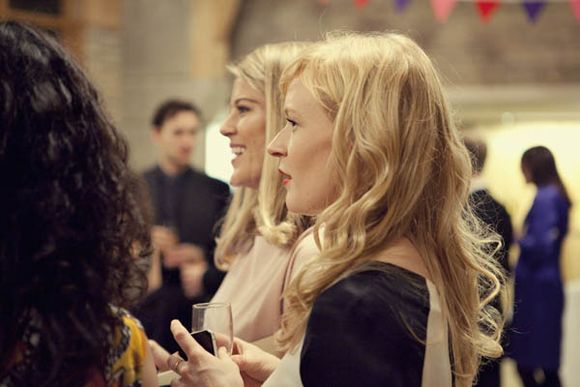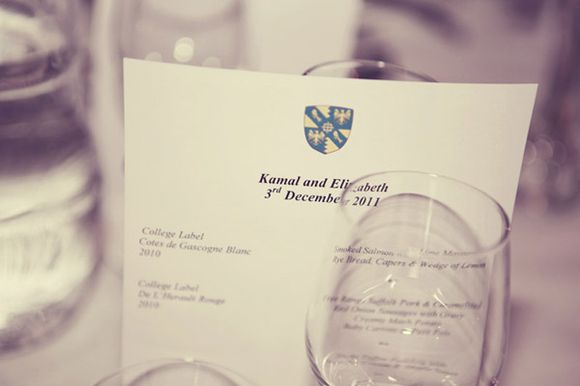 "For the evening reception, we were seated along long, narrow tables and Kamal and I knew we wanted to counter the formality with more informal flowers – I love the look of a bunch of freshly-picked flowers in an old jam jar – and it was Leen who suggested a selection of individual, seasonal stems in mismatched vases that she provided. Not only did this look beautiful, but it also meant that people could talk to each other across the table without having to crane over a vast arrangement.
We named each table after our favourite authors and I designed the cards with black and white photographs of each writer to show people where to sit…"
"The dining hall was candlelit – again this was one of the main reasons we chose the venue – and as well as the favours and the flowers, I printed off a series of double-sided postcards showing me and my husband Kamal at various stages of our life. It was a set of five – us as babies, toddlers, young children, students and then the final one of us together – that we placed along the length of each table. I found the memo card holders on eBay and used Hot Off the Press printers from Fulham to do the postcards (they did all our save the date cards, invivations and orders of service too and they are super efficient and very affordable)..."
"We chose Cambridge for the personal connection, but also because the Magdalene dining hall has no electric light and we thought the candlelight would provide a Christmassy and intimate atmosphere.
I think the setting informed a lot of what we did – Cambridge is just so beautiful already that we wanted to add to the natural surroundings, rather than doing anything overtly extravagant. Otherwise, I was keen that the atmosphere should be warm and intimate – that helped with the colour theme, as it meant I didn't want anything too 'icy', but rather opted for warm, jewel tones of red and purple and dark pink – and meant that we were keen to have candles wherever possible…"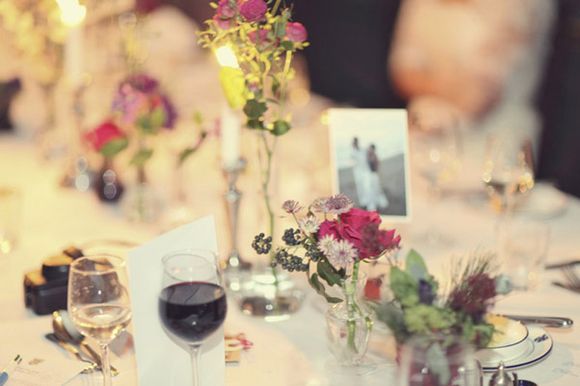 "We did provide wedding favours, although I'd originally promised myself I wasn't going to! But then I had the idea of giving everyone a packet of mulled wine spices, which I thought would fit in neatly with the Christmas theme. I spent quite a while finding exactly the right packets because I wanted them to look nice on the table. In the end, I found the brilliant Old Hamlet Wine & Spice Company, who not only make mulled wine sachets, but also spices for whisky hot toddies, mead and apple juice (for the children).
They did me a special deal because I was ordering in bulk and, most importantly, the packets looked beautiful – they had that brown, postal paper, vintage feel about them.  I then hand-wrote 100 small luggage tags with our initials and the date of our wedding and bought ribbons to tie them to each packet…"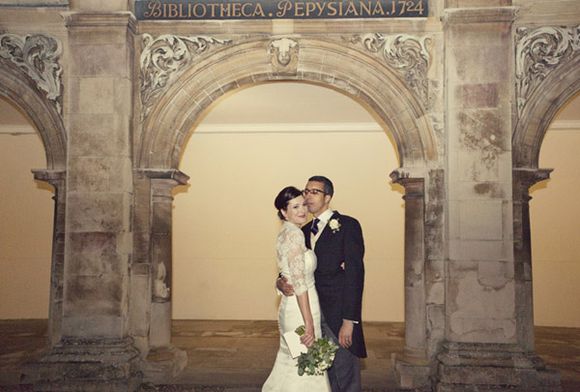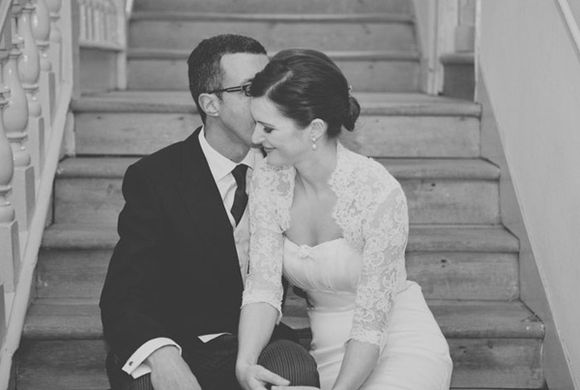 Words of Wedded Wisdom…
1. No matter how relaxed you are about it, there will be a time, about 2-3 weeks before your wedding, that you feel ridiculously stressed even though you thought you wouldn't. I spent the last week before my wedding feeling like I was on drugs. But the most important thing to remember is that everyone on the day itself is there for YOU as a couple, and that is the most incredible feeling and nothing else really matters at that stage. 
2. The honeymoon is bloody brilliant, even if you've had hardly any time to think / get excited about it. 
3. About a month before my wedding, I had a total meltdown about my dress and didn't think I liked it. Talking to friends, this seems to happen to a lot of brides and looking back, I think it was because I wasn't used to seeing myself in a floor-length, structured, white gown! It was very hard to imagine myself in context, on my wedding day, when I was standing in a changing room looking at myself without hair or make-up or any of the accessories. But on the day, in context, with all the beauty of the surroundings, it was amazing and I was so, so happy to be wearing the dress I was. 
4. Everyone will tell you to take the time to sit back, breathe in and remember to experience the day. I'd also add that there will be some things you enjoy far more than you'd expected (I absolutely loved our service and my first sip of champagne) and other elements that you thought would be the highlight but might not be, because everything else has been so great. For instance, I was so looking forward to the dancing, but actually, loads of other things were more fun.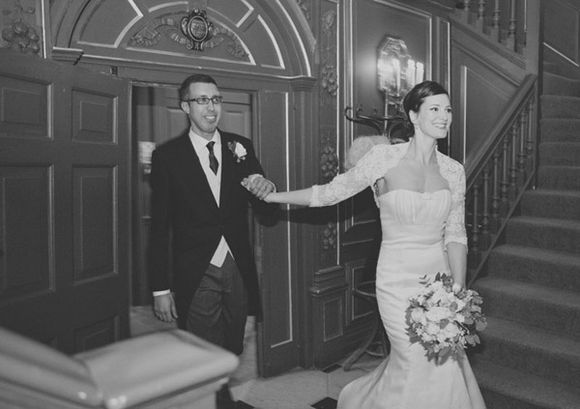 5. Don't feel bad the next day about not having spoken to everyone you wanted to. Everyone knows that's just part of being a bride. 
6. As far as possible, choose people you get on with to do all the necessary things. My florist, photographer and make-up artist were all people I genuinely liked and it made the whole day easier and more joyful to have them around.
7. Have an amazing best friend to confide in. My chief bridesmaid, Emma, was my rock….
One of the most elegantly stylish weddings I have seen on Love My Dress to date.  Huge congratulations Elizabeth and Kamal – and thanks so much to Laura McCluskey of Just-Married Photography…
"I can't fully express just how lucky both Kamal and I felt to have come across Laura. I am a journalist and met Laura through work. We immediately hit it off and when I saw her work, I liked the way she mixed informal reportage with more set-up shots and also that she managed to capture people's personalities and the feel and atmosphere of the day. Laura not only produced the best wedding photos Kamal or I have ever seen but she was such a pleasure to be around on the day – a calming, lovely presence who chatted easily with everyone and even helped button up my dress – that I now count her as a good friend.
She really went the extra mile for us – her husband Rob came on the day and assisted her throughout, which meant we got some lovely shots of Kamal and the ushers getting ready. The photos she produced are just breathtaking. Every time I look at them, I experience all the emotions that I felt on the day itself – from nervousness, to poignancy, to intense happiness, to relief – and I couldn't have asked for a better memento. We can't recommend her highly enough."
What wonderful words – a fine testament if any to Laura McCluskey's talent!
Do we have any more Brides chanelling their inner Vera Wang? What about a Cambridge wedding, any of my lovely readers planning one?
Much love all,
Annabel
♥
Photographer – Just-Married Photography by Laura McCluskey
Venue – Queens' College Chapel in Cambridge + Magdalene College, Cambridge
Brides dress + Veil – Vera Wang + Family Heirloom
Brides Shoes – River Island
Brides Hair Accessories – Accessorize
Bridesmaids – 57 Grand + Alexanda Lexa + Monsoon
Grooms Suit – Hired from Austin Reed
Florist - Leen at The Flower Boutique, Linton
Hair and make-up Artist – Caroline Piasecki
Rings – Berganza in Hatton Garden
Transport – Runhams Wedding Cars + Voyager Executive + Coach Direct
Entertainment – AJ's Dischoteques
Hair and make-up Artist – Caroline Piasecki
Rings – Berganza in Hatton Garden