Having said I don't feature too many 'love shoots' on Love My Dress, I've featured two this week 😉 This lovely styled love shoot was sent in by Shelly Mantovani of Toast of Leeds.
Shelly worked with couple Jenny and Dan who are due to marry soon, and who took the concept of a pre-wedding shoot as an opportunity to dress up and have a little fun.  Good on them! 😉 I love how these images capture a couple completely at ease with one another, and in front of the camera too. Those tender embraces, kisses and the way they look at each other says it all…
"I always encourage my clients to do something a little bit different on their pre-wedding shoot. Some clients opt for something a little more middle of the road and some clients really 'get it'.
Take Jenny and Dan for instance. Not for them a mere walk in the park but a full on vintage dressing-up box courtesy of Gibson Mill at Hebden Bridge…"
Love My Dress Wedding Blog – Photography Copyright (c) 2012, Toast of Leeds
"Gibson Mill is owned by the National Trust (they also own East Riddlesden Hall where I'm one of their small band of preferred suppliers), and although originally a cotton mill when it was first opened in 1800, it became a entertainment emporium with a cafe, skating rink and dance hall until its closure in 1945.
The National Trust has recently invested a significant amount of money into Gibson Mill and it is now a visitor and education centre and… you can get married there! Hurrah!"
"Of course actually getting there is another matter altogether. It's a bit of a walk from the car park through Hardcastle Crags down into the valley where Gibson Mill is located. But you are rewarded by a lovely little coffee shop, splendid views and the chance to dress up!
Upstairs in the mill is a whole floor full of dressing up clothes, gramophone records and old fashioned penny arcade games – Jenny, Dan and I were in our element. We even pretended to take tea – let's just say that Jenny got some admiring glances from her husband to be when she dressed up in the maids uniform!
I had a blast with these two. They were both accommodating, charming and of course, beautiful. I think their wedding later this year will be absolutely gorgeous and I cannot wait to shoot it…"
Groom to be Dan said…
"Jen and I both grew up in the beautiful town of Hebden Bridge, with Jen three years my junior. Her older sister Jill was my friend at school, though me and Jen never really socialised together. Now that we're engaged I don't mind admitting that there were many wishful glances before i picked up the courage to ask her out on a date. After only one year together we made the big move down to London. That was eight years ago, and now the draw to move back to our lovely hillside hometown grows ever stronger.
We decided to choose Gibson Mill for our pre-wedding shoot, as it provides a stunning backdrop within a scenic wooded valley and has a real feel of the local history and Hebden's roots as a working mill town. The mill's past life as a dance hall and social meeting place long forgotten made it an inspiring location to bring back to life some of the fashions and feelings of times gone by.
Shelly has created some really amazing images that we will always treasure and we had such a fun afternoon together. We can't wait for the actual wedding when we get to do it all again!"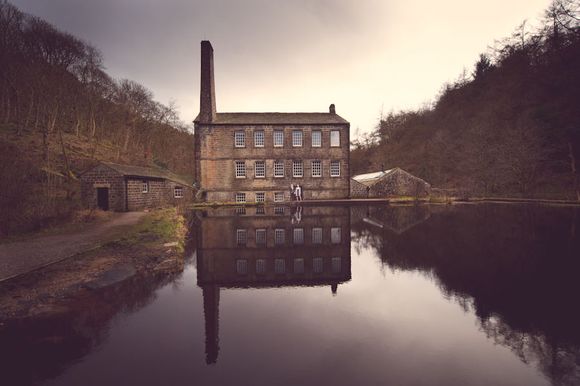 Thanks to Jenny, Dan and of course Shelly for sharing these lovely images today.
You can find out more about Shelly by visiting the Toast of Leeds website and you can browse through more beautiful love shoots here.
Have a top Friday morning all, I'm just about to go and pick up my lovely shiny new iPad. Hoorah! 😉
Much love,
Annabel
♥