Picture the scene. We're at the end of the 1930s. War has yet to begin and the English upper classes are partying before the lights go out. Languid, elegant, sophisticated and, of course, impossibly glamorous, all is decadence and unforgettable style.  This was what you'd have stumbled into if you'd happened to be passing through the wonderful Warren House; sumptuous mansion house, popular wedding venue, former dining spot of King Edward VII and home to deco American heiress, Lady Paget in Kingston-upon-Thames earlier this year.
Amelia Barnes of Vintage Floral Teas & Miss Vintage Wedding Affair collaborated with Annamarie Stepney on this photoshoot and she shared these words with me…
"I'd organised the shoot as a way of creating a celebration of all the talent that was on show at the first Miss Vintage Wedding Affair, from earlier in the year. I was very eager to work again with some of the spectacular people I'd met whilst putting the fair together…"
Love My Dress Wedding Blog – Photography Copyright © 2012, Annamarie Stepney
"From the start, Annamarie was full of enchanting ideas and suggestions and, along with a team of gifted wedding suppliers, we cooked up a day of 100% glamour. With me on tea-cups, props and flowers, Melanie from Daisy Chain Cake Company baking pink and green layer cakes and Michelle from Muscari Whites ready with the most sparkly heirloom bouquets you've ever seen, we were good to go!
All we needed was an incredible styling team which, happily, came in the form of Lucy Hayward from Hair That Turns Heads and the amazing Laura Moss the make-up artist. The 1930s wedding dresses were provided by I Do Vintage, jewellery by Jewels by Design London and handmade shoes by Emmy…"
"Our stars were two gorgeous models – the celebrated vintage pin-up Fleur de Guerre and the spectacular aerial circus performer Katie Hardwick, both of them channelling the spirit of naughty Wallis Simpson and the lovely Romola Garai in the film Glorious 39. They drank tea, ate cake and swapped high society gossip – all photographed by the awesomely talented Annamarie Stepney…"
"We had a superb time collaborating and styling all the vintage loveliness. I felt I was really fortunate to work with such talented and creative folk. I hope that you enjoy the results – and that there's something here to inspire you to add a splash of 30s decadence to your own special day!"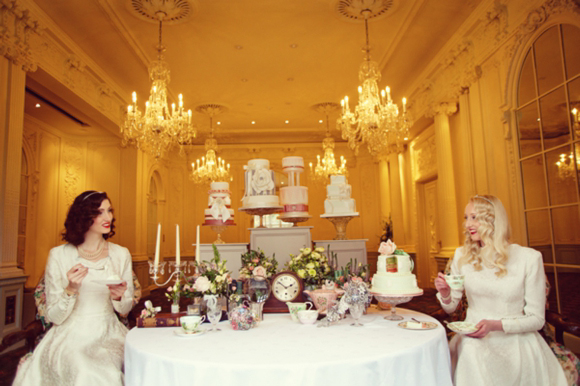 Huge thanks to the whole creative team who particpated in this inspirational photoshoot, I absolutely adore it and I know Love My Dress readers will too.
Take a moment to visit the supplier websites below – you can also browse through much more 1930s inspired content here.  You can also see much more from the fabulous Annamarie Stepney on Love My Dress here.

More tea anyone?
Much love all,
Annabel
♥ 
Credits
Venue – Warren House in Kingston, Surrey
Photography – Annamarie Stepney
Styling, China, Props & Flowers by Amelia Barnes at Vintage Floral Teas
Couture Cakes by Melanie Chivers at Daisy Chain Cake Company
Hair by Lucy Hayward at Hair That Turns Heads
Make up artist – Laura Moss
Flowers & Stunning Brooch Bouquets by Michelle at Muscari Whites
Vintage Wedding Dresses – I Do Vintage
Jewellery loaned by Jewels by Design London
Shoes – Emmy
Models Katie Hardwick & Fleur De Guerre