Hey folks! So far we've had three posts today, a gorgeous real wedding, a new sponsor welcome and a cute little DIY feature.  I'd like to end blog business with this bonny real wedding feature today and proof that wedding day joy really need not cost a fortune.
Regular Love My Dress reader Jen who submitted her own wedding for a feature, after having been inspired by so many others she found on this pages, married her beau Lee on 28 August 2011, with a ceremony at Bristol Registry Office, followed by a reception at Beeses Tea Gardens.
Jen and Lee's wedding was organised on a relatively small budget and Jen's wedding dress was a discovery via the online second hand wedding dress market, Preloved – a design by the lovely Charlotte Balbier…
"I knew I wanted a shorter style dress and found this dress while looking online. Unfortunately it was out of my price range so on the off-chance I did a search for second-hand ones. In an amazing stroke of luck, an advert popped up on Preloved  a lady selling her Charlotte Balbier Marilyn gown in exactly my size…"
Love My Dress Wedding Blog – Photography Copyright (c) 2012, Russell How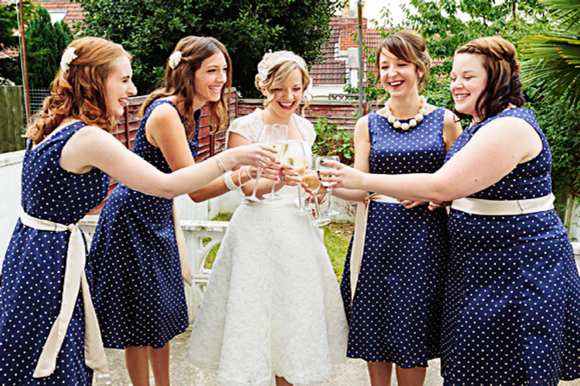 I was due to go and visit friends in London that weekend and when I found out she lived near to them I thought it must be fate and arranged to go and try it on at her house. I fell in love with it immediately. Budget-wise, it was a bonus to get my dream dress for a quarter of the original price – especially considering the previous owner had only worn it for a couple of hours!"
"Being on a tight budget, I have to admit that I winced at the price of flowers! Despite having no experience whatsoever of flower arranging I decided that I could do it myself and ordered all our flowers wholesale from Nursery Fresh Again I found this company through a wedding blog and was just amazed at the fantastic service. Sally was really helpful and through several emails and photos of what I liked she was able to suggest various flowers that would suit both the wedding and budget.
She also gave some really useful arranging tips. My Dad collected the flowers on his way to Bristol the day before the wedding and I did have a moment of panic when I saw just how many flowers there were! Fortunately we were going for an unstructured, 'country garden' look using jam jars which I'm sure make arranging them much easier…"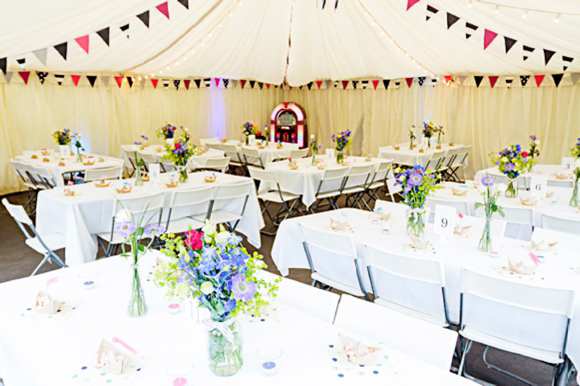 "Our cupcakes were a kind gift from my very generous sister and maid-of-honour who purchased from the Exquisite Cake Company. We spent an amazing evening tasting cupcakes and finally chose three flavours; Vanilla, Red Velvet and Guinness. The tower of cupcakes made such a beautiful feature on the day but more importantly tasted absolutely lush…"
"The hunt for bridesmaids dresses proved to be much harder than my own dress in the end. We all wanted navy with polka dots but wanted them to be in a traditional bridesmaid style rather than 50's sundress. I stumbled across these dresses in Kaliko, not a shop I'd ever been in before but these were exactly what we were looking for…"
"We made loads of origami paper boats which served as both wedding favours and place names. We filled them with candy letters. The photographers captured some of the more romantic sentiments spelled out by people with the filthier words saved for everyone's Facebook pictures later!
Our reception venue has beautiful gardens and is situated in such a picturesque location by the river that we only needed to think about decorating the marquee.   My mum was on bunting-making duty and ran up metres and metres for the marquee with lots of nautical patterns with some hot pink thrown in as well. The bunting continued on to the handmade seating plan, with each flag listing the guests on each table. We used some Ikea photo frames to hold postcards with table numbers on one side and a 'Cupcake Menu' on the other side. Our card holder was a lantern (another Ikea buy ) decorated with more bunting…"
"We had every intention of doing all the music ourselves as our marquee had a system to connect an iPod too.However, the pressure of planning all the music and trying to play something for everybody was just too much and when I discovered SM Jukeboxes I knew we had to have one. The only problem we had was having to reboot it after we discovered one friend had requested enough eighties power ballads to last the entire evening!"
Nursery Fresh also made up my bouquet and the bridesmaids so all I needed to do was put ribbon on them. My bouquet was decorated with a piece of lace from my dress. I decorated the bridesmaids bouquets with navy ribbon and a typewriter key pendant with their initial on. I gave each of them a necklace as a thank you gift so that they could keep the key and wear it on the chain after the wedding…"
"The whole 'getting ready' process was such an enjoyable part of the day for me and having Isabel While there was a really important part of that. She was really good fun to have with us and we were all very happy with our hair and make-up. I had been to her house before the wedding for a trial and quickly felt she understood exactly what I wanted; a vintage-inspired look that still looked like me…"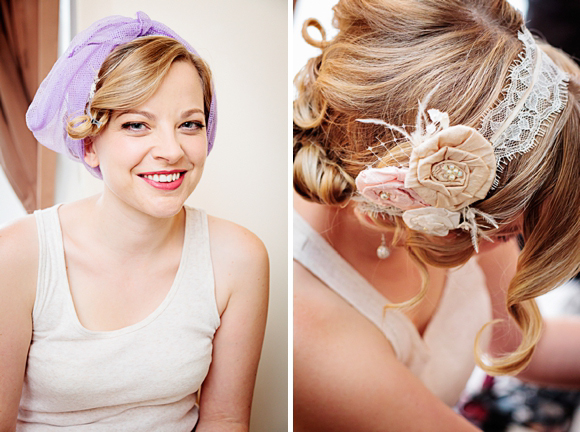 "I saw a headband made by Velvet Owl on a wedding blog and immediately checked out her Etsy shop. It was such a hard to decision to make as I loved so many of the hair accessories! In the end I sent Tina, the shop owner, a message asking her what she thought might go with my dress and she suggested Carmindy – definitely the right choice!"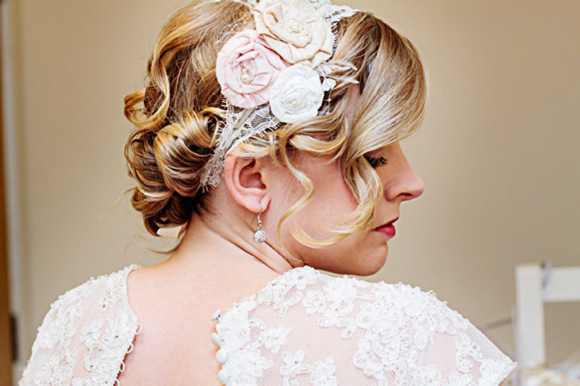 "Lee knew he wanted to wear a grey suit and felt like tails were too formal for the type of day we were having so he chose a three-piece suit from Next. His polka dot tie matched the bridesmaids dresses…"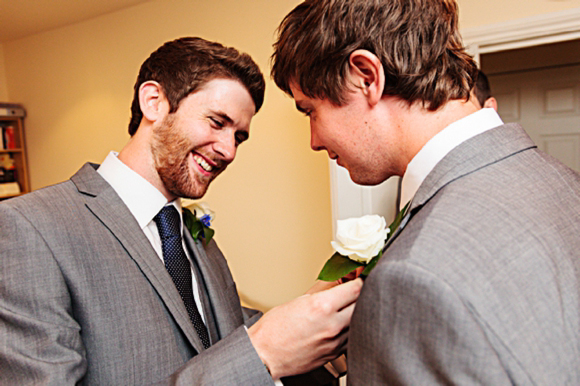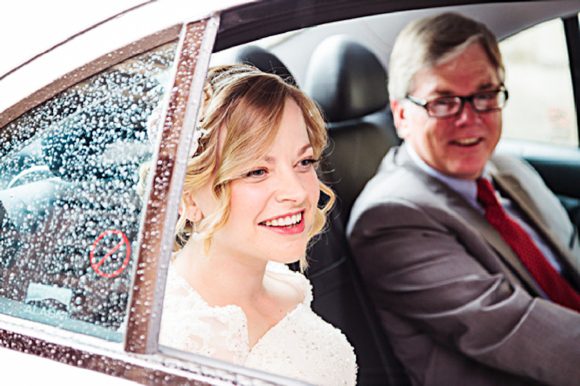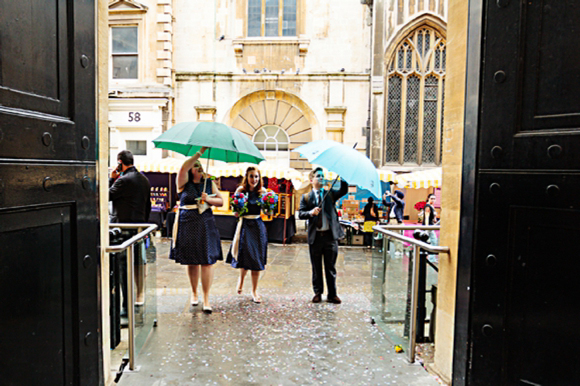 "Lee and I both wanted a civil ceremony and chose to just invite very close family and friends as we wanted this part of the day to be very intimate…"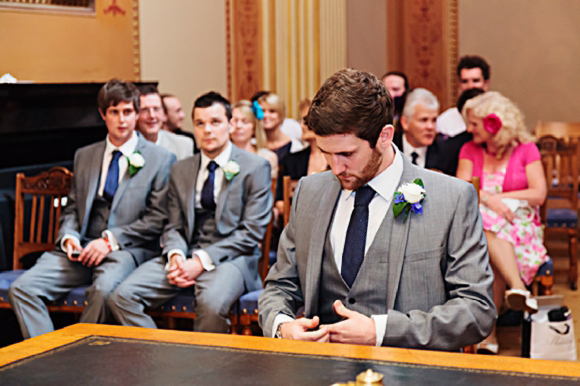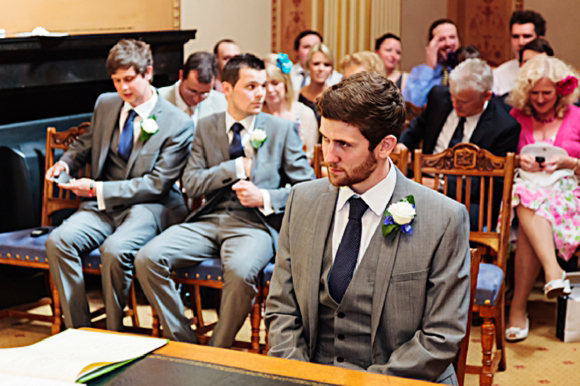 "We chose a song called 'Falling Slowly' by Glen Hansard and Markéta Irglová for me to walk down the aisle to. It's from a film called Once that we both love…"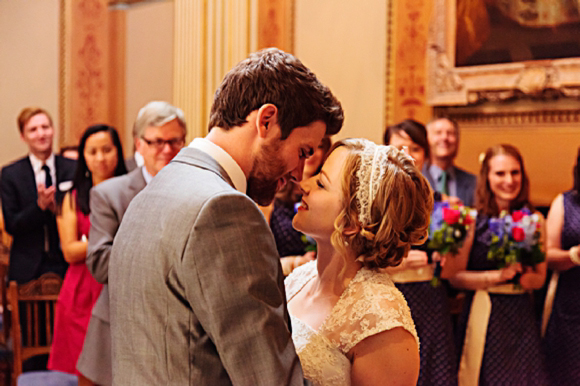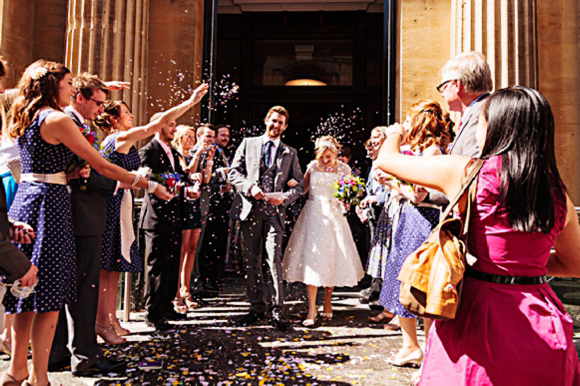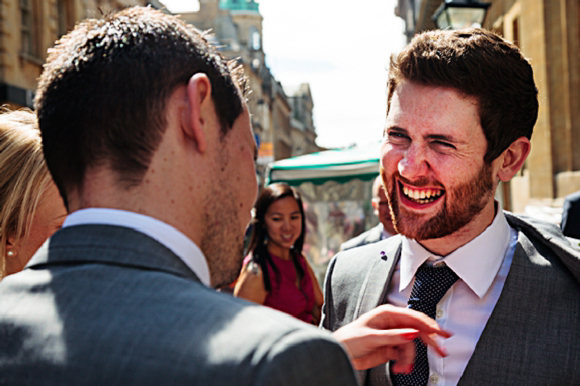 Our reception venue was an amazing venue called Beeses Tea Gardens. It's a real hidden gem on the outskirts of Bristol. It was lovely to have our reception somewhere in our home town that most of our guests had never been too before.
One of the best ways to get there is to get a boat down the river from Bristol town centre. This meant that although we only invited a few people to our ceremony, we could invite all of our guests to meet us outside the registry office and get the boat to Beeses. We hired the Tower Belle to transport us and our guests and served drinks for the hour-long journey…"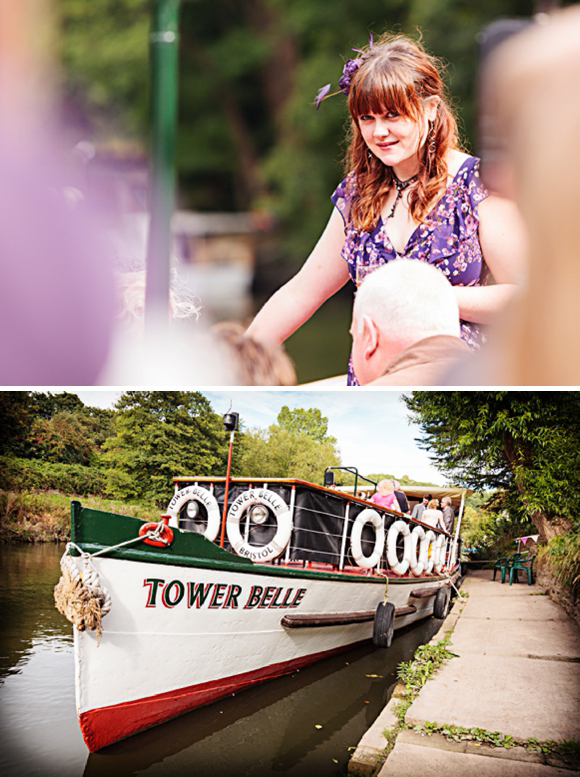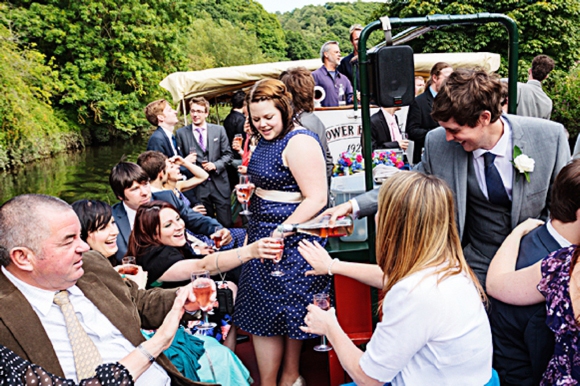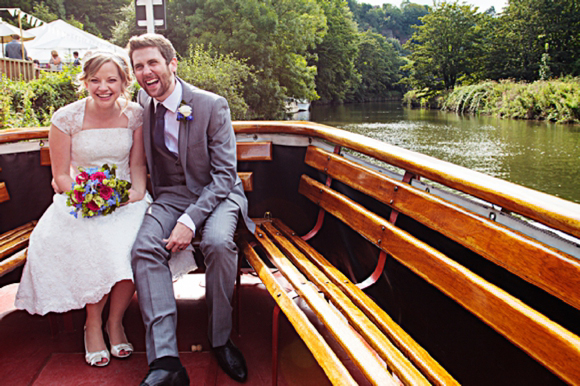 "Once at Beeses Tea Gardens we opted to have a BBQ for our guests although they do a really good cream tea as well. After dinner we had speeches and then music and dancing in the evening.
The owners of Beeses were so helpful but also very laid back which was exactly what we were looking for…"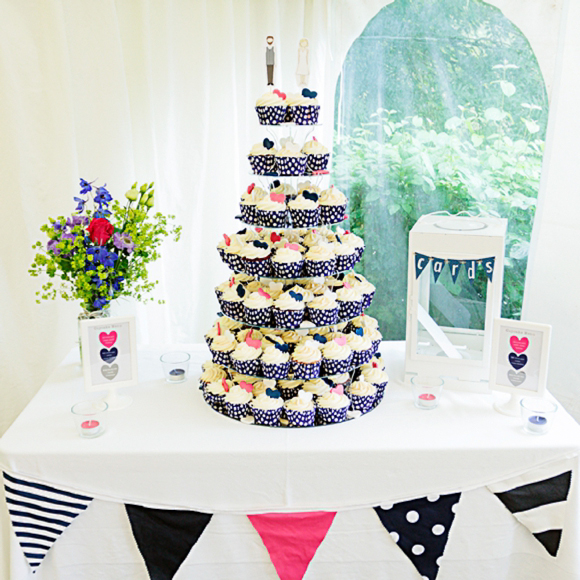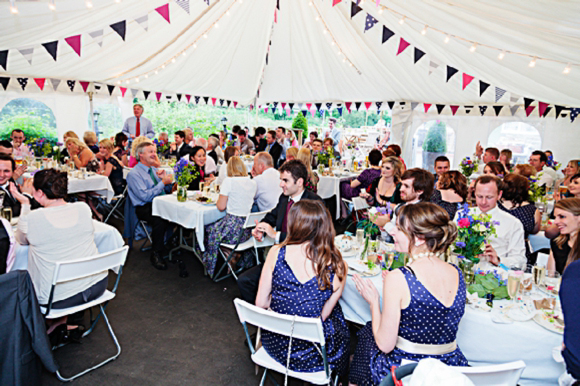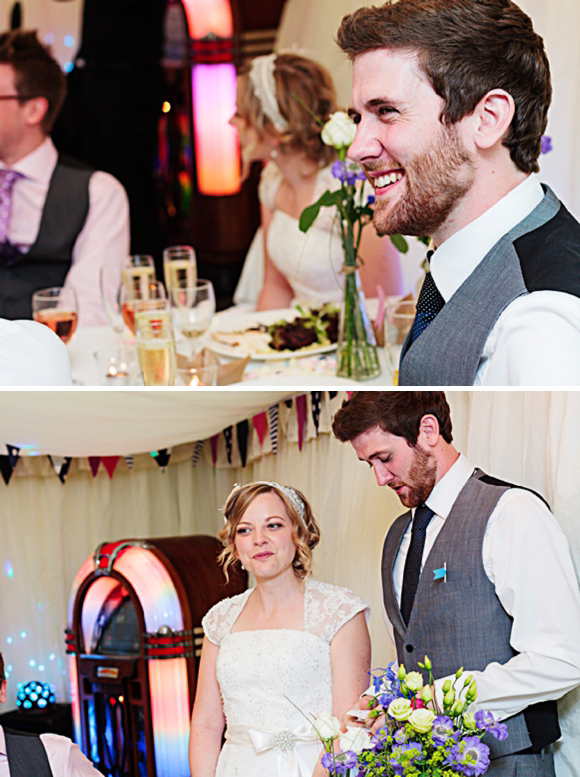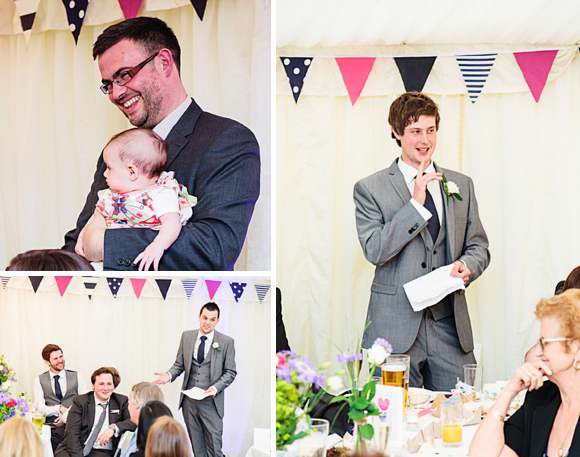 Words of Wedded Wisdom…
"It's so easy to worry about the details of your wedding day – will everything look alright, will things happen on time and as it should – but my advice to a bride to be would be to think about what you need to make the day as relaxed and enjoyable as possible.
On the day I felt on such a high that I really didn't care about all those little details I'd been worrying about in the build-up and all I wanted was to be with my new husband and have fun with all my friends…."
Awww, I love this, and congratulations Jen and Lee! Thank you for sharing your very lovely day with us all, and to photographer Russell How too…
"Our photographer Russell How and his partner Laura were the perfect photographers for us. We knew we didn't want too many formal pictures as we wanted to spend time with our guests and I think they managed to get the balance just right. They were also just lovely people to have around on the day and we had lots of comments from our guests about how great they were…"
Are there any budget brides reading this who have felt inspired.  Not all brides have a huge, or even average budget to plan their wedding with and it would be great to hear from those of you who have had to work on limited funds and not let this stop you from having one of the best days of your lives.  I can't wait to hear from you in fact! 🙂
Much love all,
Annabel
♥
Photographer – Russell How
Venue – Beeses Tea Gardens
Brides dress – 'Marilyn', by Charlotte Balbier {second hand, via Preloved}
Brides hair accessory – 'Carmindy' by Velvet Owl on Etsy
Grooms Suit – Next
Bridesmaids – Kaliko
Cake – Exquisite Cake Company
Flowers – Flowers – Nursery Fresh
Transport – river boat
Entertainment – SM Jukeboxes
Favours – DIY origami paper boats filled with sweets
Hair and make-up Artist – Isabel While