"We were so, so lucky to win our photography with Candysnaps through Love My Dress. We already had our eye on Caroline's website: her style is exactly what we like – natural, reportage style that steers away from very traditional, posed wedding photography.
This sounds really pretentious, but when I looked at the photos they were such a great reflection of the day – lots of natural pictures of people smiling and laughing, which is exactly the way we remember it. She also managed to capture lots of little moments that we wouldn't have otherwise seen, and made everyone look like the very best versions of themselves. 
She did a simply amazing job…"
Not sure there have actually ever been a more stylish couple of Love My Dress competition winners. And you know what? It makes me SO happy to see these photographs, and know that Love My Dress played a role in this couples happiness. I just can't stop smiling about it this morning!
Lovely Rhona and Darren here got married on Sunday 1st April 2012 (yes…April Fools' Day!) at the Hotel du Vin at One Devonshire Gardens, Glasgow, following which they had an evening drinks party at the Evening party: 29 Private Members' Club.
I LOVE this wedding, mostly, because I adore Rhona's attitude towards wedding planning, and weddings in general. As I was reading through her completed questionnaire, I found myself smiling thinking – yes! I wish more people would think like that!  The day was all about vintage – a words I'm not afraid to use, and it would appear Rhona isn't either…
"I suppose I was inspired loosely by something that seems to have become a dirty word in wedding planning recently – 'vintage'. The eras I was most inspired by were the 1920's and 1940's, but I didn't want it to be too literal and also added in a few more contemporary touches too…"
Love My Dress Wedding Blog – Photography Copyright (c) 2012, Candysnaps
There were a few nods towards literature too, in our stationery, table centres and wedding readings, but again I hate the idea of a very literal theme so the literary touches were just here and there.  We didn't have a colour as such, but stuck to golds, bronzes and antique finishes to match the black tie and cocktail dress idea…."
"Our invites were loosely based around a library theme – Lorna from eyilove produced exactly the kind of quirky invitations we were looking for, so we decided to continue this in some of the décor (partially as I'm an English teacher and book geek) and I began collecting vintage books from various places to use in the table centres, including second hand bookshops, eBay and Etsy.  I ended up with a collection of vintage orange covered Penguin classics, leather-bound books with quirky names and some very eccentrically titled 1970s romance novels.
On the morning of the wedding, my bridesmaids helped me assemble all the décor. We piled a group of books in the middle of each table, and added lustre vases from Cox & Cox and lots of mis-matched gold, silver and mercury tea light holders of differing shapes and sizes that I had been collecting from lots of different shops over a year or so…"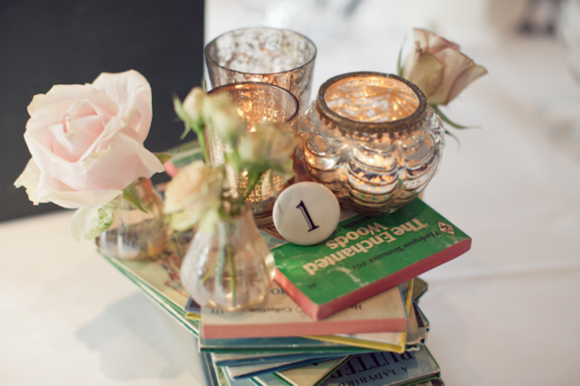 "I think my favourite part of the wedding planning was the lovely meetings I had with Sophie from I Heart Flowers in a local café. We spent hours discussing and looking at endless varieties of flowers, finally deciding on a variety of vintage rose varieties, anemones, tulips and my favourite flower, ranunculus, in a variety of cream, pale pink and blush tones for my bouquet, complemented by tiny black berry-like sprays. The bridesmaids had single-flower bouquets – tulips for Jill, ranunculus for Stella – with Isabella my Flowergirl carrying a miniature posy of tulips and ranunculus.
The buttonholes were also mainly ranunculus again with the tiny black berry sprays. The bouquets were all tied with black grosgrain ribbon to fit with the black-tie theme. The flowers were absolutely beautiful, and a true reflection of how talented and creative Sophie is…"
"My mini-bridesmaid, our niece, wore a beautiful ivory flapper-style dress with gold sequins from Monsoon, with a little ivory feather shrug and – of course – sequin shoes…"
LOVE the little flower girl shoes – my little girl Eska has a pair of these little gold 'Summer Sequin Cha Cha Cha' shoes from Monsoon…
"Darren is very interested in (and particular about) his style. We decided on black tie because Darren is a Geordie, so we wanted something a little different to the usual Scottish kilted wedding. It also gave everyone a chance to get dressed up and get their glad rags on, and made the day feel even more special.  Darren's tuxedo was from Ted Baker, and was the second suit he bought after rejecting the first one on the grounds that the trousers weren't skinny enough! It was beautifully tailored, with gorgeous silk paisley lining.
Darren loves adding stylish little bits and pieces to his outfits, so he also wore suitably pointy shoes from Ted Baker, a black and white spotted silk scarf from Slaters, a bowtie from Topman and a beautiful pin tuck shirt from Gieves & Hawkes.  He accessorised his dapper look with a surprise gift from me – a vintage wind-up pocket watch from Mr Ben, a vintage clothing shop in the city centre, and his trademark black-framed glasses…"
"I started looking for a dress shortly after we got engaged, mainly because I am incredibly, incredibly fussy and thought it would take me forever to find a dress that I liked. Initially I thought I would go for a short dress – being 5ft 1" and (I thought) being in possession of an allergy to traditional wedding dresses, this seemed to be the best option.
Little did I know that the style of dress I thought would suit me the most made me look ridiculous. I then started to pursue what I thought was my second dream dress style: straps, fishtail, lace…definitely not strapless…and dragged my mum and bridesmaids to a little boutique in the borders called Maida Veil…"
"The shop is one of the few stockists of Cymbeline dresses in Scotland, and they also stock an amazing range of vintage bridal wear. The owner's mum took care of us for my appointment, and she was absolutely wonderful. I'd been to two other 'big' bridal shops in Glasgow to test my allergy and had been thoroughly put off by the attitude of the salespeople – but at Maida Veil, I tried and re-tried loads and loads of dresses, thought I had fallen for the one, until I saw a simple, strapless, silk-satin Sarah Arnett dress hanging on the sale rail. I tried it on, just to see, and that was it – goosebumps, the lot: sold.
Even better, as the designer had recently stopped designing wedding dresses, all of her samples were being sold off at less than half price. So problem solved.  We took the dress away with us that day and I was feeling more than a little smug with my beautiful 1940's inspired dress. I would highly, highly recommend that any bride looking for something a little bit different tries Maida Veil…" 
"The smugness of finding my perfect dress lasted until I fell in love with the most beautiful Tadashi Shoji dress on a wedding blog; it was very different to the dress I already had, and I couldn't stop looking at it because it was so different – blush coloured, with lots of beautiful beading and draping.  Cue lots of stalking over several weeks, and lots of rationalising that because we were changing venues at night time then I could justify changing dresses (ha ha!)… before finally ordering it online from Nordstrom.
I have absolutely no reason whatsoever for wearing two dresses, other than being utterly greedy, and it allowed me to allude to two vintage periods, buy two pairs of shoes, two sets of accessories…basically act like a totally spoilt princess!"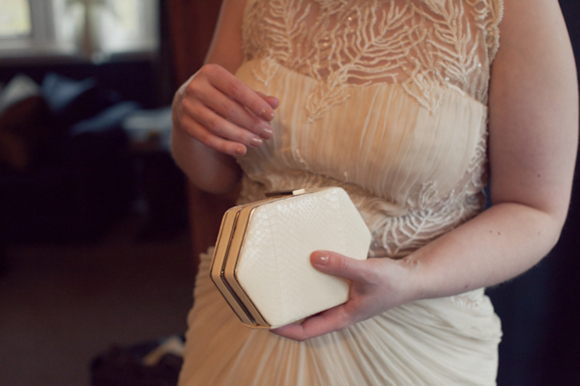 "I knew that a traditional veil was not for me (I tried on a few, but ended up dissolving in giggles as I looked like a child bride) but I fall in love with delicate birdcage veils. I spent ages looking at all of the options on Myra Kim's shop, Twigs & Honey, on Etsy, and finally decided on a beautiful double-layer tulle veil that sat at an angle across my face with just the right amount of 'puff'.
I wore a crystal bib necklace by Kenneth Jay Lane which was a gunmetal colour with black and silver crystals – it went perfectly with my shoes. I also wore a pair of vintage 1950's crystal earrings that Darren had bought me for Christmas a few years ago from a lovely little vintage clothes shop near where we live in Glasgow called The Dresser's Room…"
"During the drinks reception and meal, I pulled the veil back, then when I changed dresses I took the veil off and replaced it with a blush coloured chiffon hairclip with bronze crystals to match the colour of my second dress from BHLDN, Anthropologie's wedding line. The clip gave the second dress a more 1920's feel, and allowed me to indulge my love of accessories even more…"
"My shoes were the very first thing I bought, even before my dress. I am such an accessories girl, and regularly fantasy shop online at my wardrobe.com. That's when I first saw them; Sam Edelman 'Lorissa' in black suede. They are very high (well I am only 5ft 1"), black suede peep-toes with the heels encrusted with spikes and crystals. They were, without a doubt, my favourite aspect of my wedding day outfit. 
I loved the idea of wearing very 'non-wedding' shoes under my dress, and if I was going to buy some spectacular shoes I wasn't going to be spending money on typical white bridal shoes. I also bought a pair of gold snakeskin platforms in the Ted Baker sale to go with my second dress, which were deceptively comfortable despite the way they look!"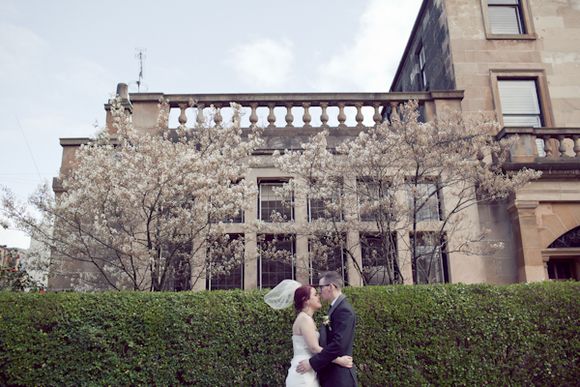 "I'm not very good at any kind of wedding DIY, but I did attempt two things. The first was a bunch of little gold and cream flags for everyone to wave as we walked back up the aisle with things written on them like 'whoopee' 'amazeballs' and 'mint' (a nod to the Geordies!) that my sister-in-law and I made one night fuelled by gin and Prosecco. We nearly didn't use them (they did look like they'd been made with the assistance of alcohol!) but they ended up looking quite good, and a few people grew so attached to them they ended up in top pockets of tuxedos for the rest of the night!"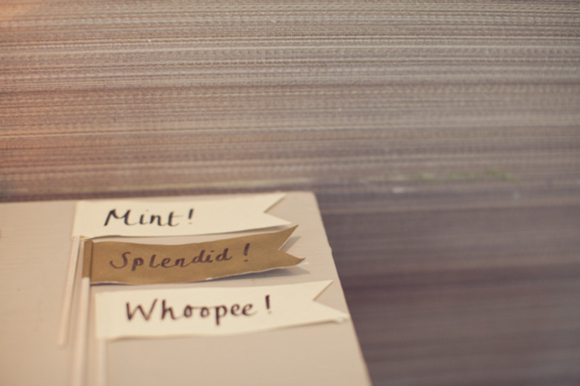 "My creative sister-in-law, Stella, made the cake toppers for us. I had initially thought about ordering similar ones from Etsy, but the ones she made turned out so brilliantly, and she didn't think it was sad having little effigies of our cats on top of the cake with us!"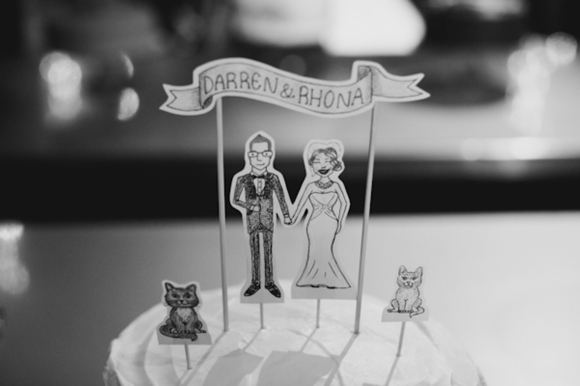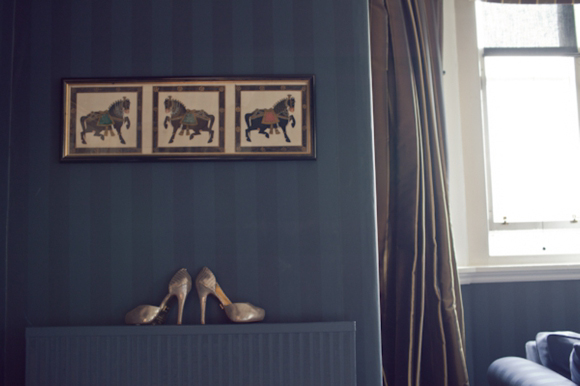 "My hairdresser, Debbie from Gary Thomson Hairdressing, gave up her Sunday morning and trekked across the city to do our hair. She did the most amazing job – she is a genius at doing really interesting, non-bridal looking hair that we all loved, including a gorgeous undone messy side chignon that matched the rest of my look perfectly.
My make-up artist was the wonderful Jen Reilly, who is the lady responsible for keeping my manic eyebrows in check every six weeks. She really embraced the look we all wanted, with dramatic smoky eyes for the bridesmaids, 1960s style eyes for the best woman and sweeping cat's-eye eyeliner and red lips for me…"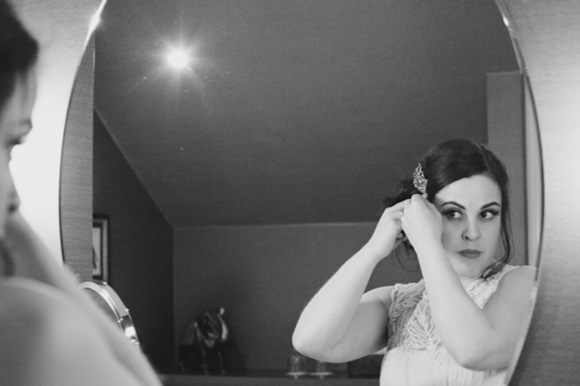 "My Bridesmaids and I decided loosely on a black tie/cocktail theme, and went with this for the bridesmaids' dresses. My adult bridesmaids wore different dresses; I'm really not keen on identikit matchy-matchy bridesmaids and as they both have very different styles and looks it suited them both better.
My sister-in-law, Stella, wore a strapless Reiss cocktail dress with a black top and a pewter skirt (with pockets – handy for tissues and lipstick!), and my friend Jill wore a beautiful fitted black shift dress with a crystal-encrusted bib from Ted Baker…"
"Both also wore black shoes – Jill's were black suede platforms with a pearl trim from Dune, and Stella – known for her love of ridiculously vertiginous heels – wore bonkers black suede platforms from Kurt Geiger."
"We had been to One Devonshire Gardens before for afternoon tea and had one of those ridiculous conversations where we imagined evoking squatters' rights and never having to leave. It is in the west end of Glasgow, the quirky, arty part of the city, and has the most peaceful, intimate feel.
We wanted to get married somewhere in the city, but as we were planning a small wedding with only 45 guests in total, finding a venue the right size and with the right kind of atmosphere was a bit of a challenge. Darren and I really, really love our food and it was important to us that our choice of venue allowed us to indulge this love (oh, how we indulged!) and really spoil our friends and family, and we were so impressed by the service we received from our very first meeting with the events staff. You have the use of your own townhouse for your wedding, which means no hotel guests wandering in and out, and a lovely suite of rooms for the ceremony, meal and drinks. From the minute my bridesmaids and I checked in the night before, we were spoiled rotten – nothing was too much trouble for them, even sourcing me decongestant tablets on the morning of the wedding when I felt the start of a cold coming. It made me wish I always had a tartan-trousered butler following me around ready to attend to my every whim!
Another important part of our wedding was the party at night; we love music, dancing and drinking, as do our friends, and we wanted to have our party somewhere that really fitted the bill. As our wedding was on a Sunday, we were able to hire the Network Bar at 29 Private Members Club in the city centre: a really cool room with exposed brick walls, comfy sofas and a just-the-right-amount-of-tacky light up dance floor! The change of venue meant a school-bus type journey between the two venues with lots of singing and silliness on the way there. David Smith, the wedding co-ordinator at 29, was absolutely brilliant with all of his suggestions and help…"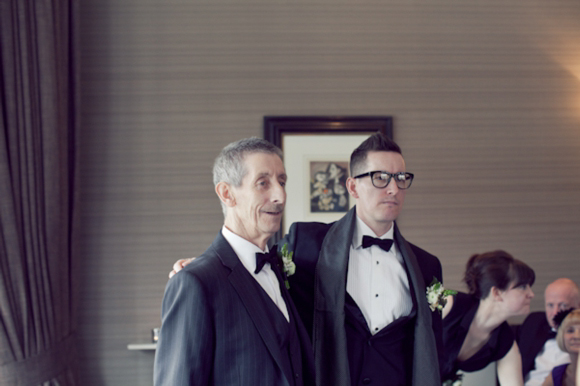 "My dad gave me away. The photograph of him seeing me in my dress for the first time is one of my favourites, and waiting with him in the last few minutes of calm before walking down the aisle was one of the most special moments of the day.
Darren and I decided on the song 'Pure Imagination' from the film 'Willy Wonka and the Chocolate Factory' for me to walk down the aisle to. We chose this song as we wanted something a little bit different, and we love the lyrics and the feeling it gives you when you hear the first few notes. It's just a song that makes everyone smile. We walked back up the aisle together after the ceremony to 'God Only Knows' by the Beach Boys, and during the drinks reception and meal we played two of our favourite soundtracks from the films 'Juno' and '500 Days of Summer'…"
"It was important to us to have a Humanist ceremony. Scotland is one of the few countries in the world where your wedding can be conducted and 'solemnized' by a Humanist celebrant, and it was a hugely important part of our day. It meant we could effectively design our own ceremony by writing our vows, choosing any readings and music we wanted, and essentially personalise the ceremony completely.
We were fortunate to be able to book Paul Harkin, the same Humanist celebrant who had married my brother and sister in law two years previously, and he performed the most lovely ceremony which we really felt reflected us as a couple (). I really loved our wedding readings, which included song lyrics, an excerpt from a children's book and a poem, all of which fitted beautifully with the sentiment of the day. As part of a Humanist wedding, you and your groom write a little bit about each other and send it off to the celebrant in secret, so there's a lovely moment when you hear what your husband/wife really loves about you. It's simply lovely…"
"We only had one usher – my brother, Ian – who wore a skinny tuxedo and bowtie from Topman and shirt and shoes from Next…"
"Darren had a best woman, Jill, instead of a best man, and whilst initially we got a bit carried away with visions of Carrie Bradshaw and her tuxedo and crown in 'Sex and the City', we eventually came to our senses when we came across the most amazing tuxedo jumpsuit in Topshop. It was sleeveless and black with tuxedo lapels, and fitted both her style and the style of the wedding perfectly. She also wore splendid black suede Mary-Janes from Dune and did some DIY with her corsage after the ceremony by turning it into a belt…"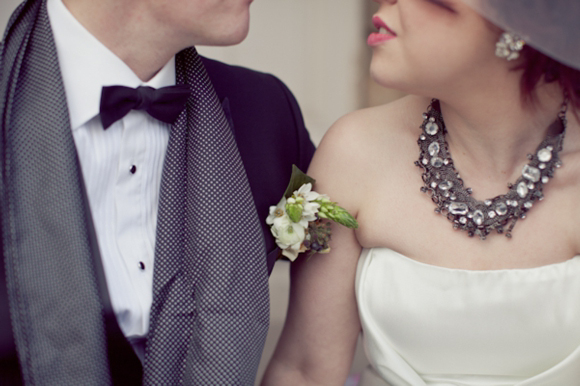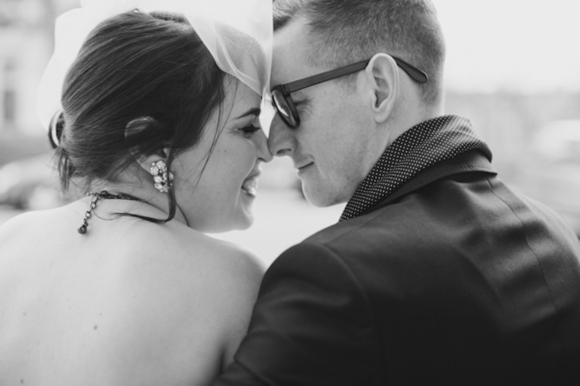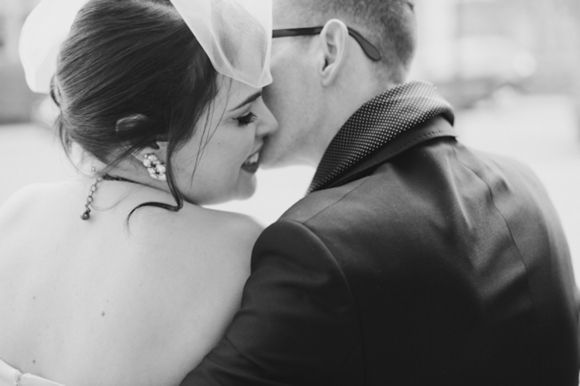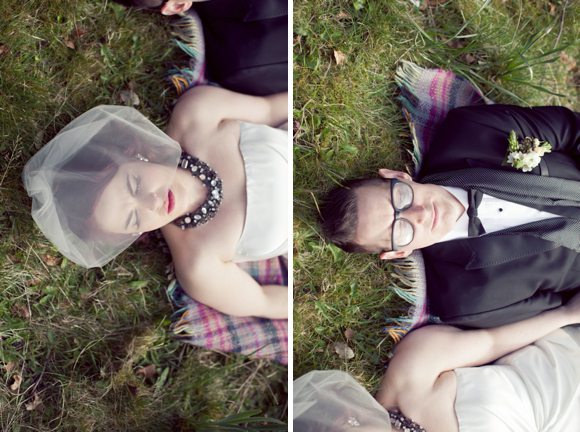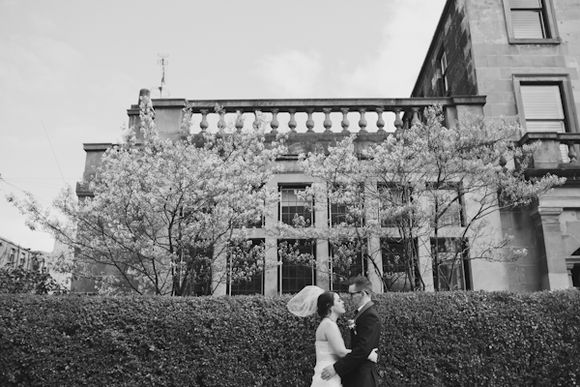 "The other DIY piece was my table plan box; I wanted something along the line of library lending cards, so I bought a second-hand telescope storage box from a junk shop and roped my dad into making a little baize-covered tray to store second hand library catalogue cards from Vintage Carolina on Etsy. I wrote each guest's name and their table number along the top, then sorted them into alphabetical order using craft index card organisers. Finally I begged and borrowed old-fashioned library stamps from school for decoration and it was done – it did confuse a lot of people but I loved it anyway!"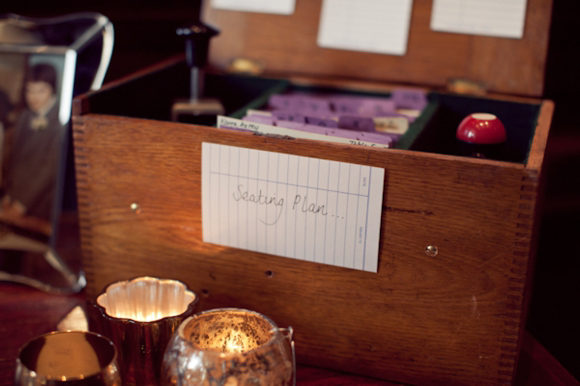 "We packaged them in little cellophane bags with glittery gold pegs from The French Nest on Etsy which was actually a sneaky extra favour – our friends play a really juvenile game involving surreptitiously 'pegging' each other when no-one is looking. It wasn't long before there were glittery pegs hanging off inappropriate parts of people's outfits, including me being the first one pegged by one of our more sensible guests!"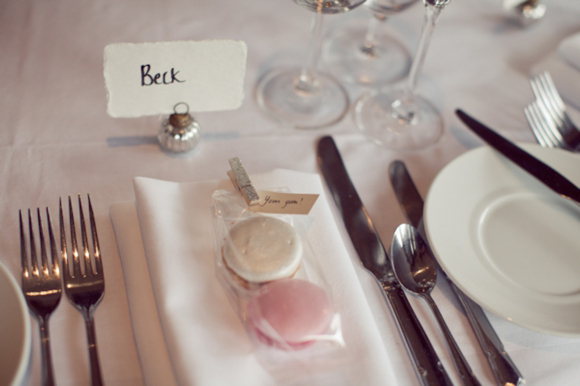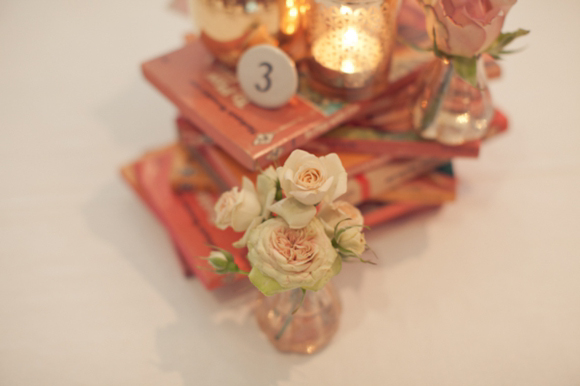 "Sophie, our florist from I Heart Flowers, added individual vintage style roses in single stems to the vases, and I used individual vintage drawer handles as table numbers from a fabulous local shop, Pierrot and Coco…"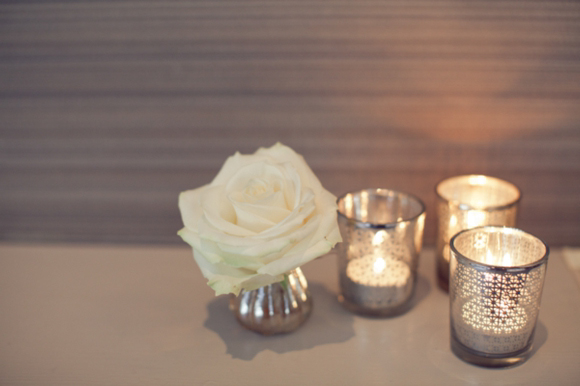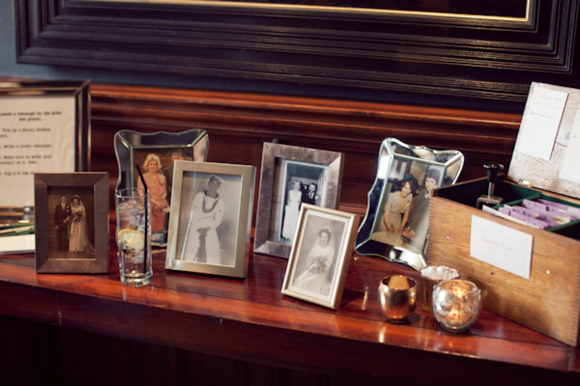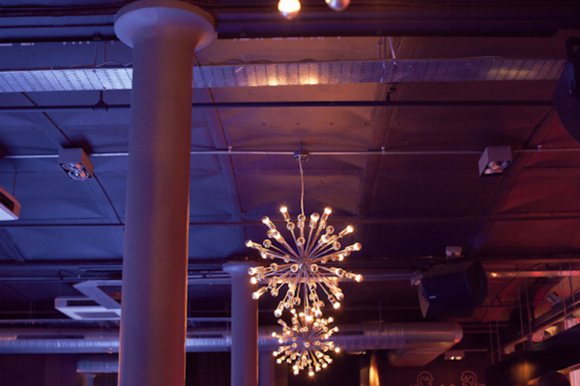 "Our first dance wasn't a typical wedding song – we went for 'There is a Light That Never Goes Out' by The Smiths. Darren is a huge Smiths fan, and in the 9 or so years we've been together I've become a convert. Also, is there a more romantic sentiment than 'if a ten ton truck kills the both of us, well – the pleasure, the privilege is mine'?!
We then also had a surprise dance for my dad and I to do to 'Home' by Edward Sharpe and the Magnetic Zeros – a song my dad and I both love – he knew nothing about it and seeing the look of surprise on his face was so sweet…"
"Aside from the food, our other major priority was to throw an amazing party with lots of fantastic music. We love live music, and have quite varied and eclectic taste, and wanted something that all our guests would love. We searched for ages for a DJ that would fit the bill (i.e. someone that wouldn't play Abba, YMCA or other wedding cheese!) and were lucky enough to come across Dan Moore at The Hi Life.
Mark, the owner of the agency, was really accommodating, and they have a music planner on their website which lets you pick around 30 tracks to give the DJ an idea of the music you like. This was brilliant for us – it meant that we could have a really broad range of music from reggae and ska to indie and dance, as well as a few retro classics for earlier on in the night for the 'older' guests. He played to the crowd perfectly, even playing a 45 minute chunk of dubstep and hip-hop very late in the night when it was just me, Darren and our friends left on the dance floor doing various embarrassing dance-offs (and yes, LMFAO might have just sneaked its way in there!).
We had decided to leave it at that, until about a month and a half before the wedding when my friends and I were at a fundraising night at a pub in the west end and we came across the Daddy Naggins – an amazing 7 piece bluegrass band who not only play bluegrass and country but also do bluegrass versions of Lady Gaga, Beyonce, and – one of my favourite memories of the night – 'Boom Shake the Room'! We booked them two weeks before the wedding and we're so glad we did – they got everyone going for the first two hours of the party and the dance floor was totally packed from the start of their set onwards…"
Words of Wedded Wisdom…
"The first piece of advice I would give would be to remember that you had a life and a personality before you became a bride, and to keep things in perspective! It's so easy to become deeply embroiled in wedding planning that all you do is look at wedding blogs and all you talk about is weddings. Repeat carefully to yourself: my wedding is not the centre of the universe.
It's good to have a couple of people who want to hear all the minutiae, but don't let it become your only subject of conversation. Having said that, planning a wedding is really intense, and coming back down to earth after your wedding and honeymoon can be a bit depressing…we had lots of lovely things planned to catch up with friends and family just after our honeymoon, and were lucky to receive some generous wedding gifts that allowed us plan a couple of weekends away in the few months after our wedding. I recommend this – otherwise you might never get back up off your sofa!
My second piece of advice is to really, really enjoy your day. Spend time with your husband. Hug people lots. Don't spend ages talking to people you 'had' to invite – better still, don't invite them in the first place! And don't listen to people who try to tell you what you can and can't do: it's your day – do what you like. Don't listen to people on blogs who say that moustaches and teacups are 'so last year'; no they're not – moustaches are always, always fun! And if you want to make a bride's speech, do it – I did, despite the fact that some people thought it was a bit strange.
Basically, please yourself and personalise your day as much as possible. At the end of the day, it's about you and your husband. Be a little bit selfish…"
Here here! Bravo Rhona!

"When Darren and I got married, we had been together over nine years, and our wedding felt like the next natural step for us. We just wanted to get all dressed up, eat good food, drink a lot of champagne and celebrate with, and spoil,  our favourite people in the world. We were so lucky that this was exactly what our wedding day was like – it was just perfect.
I initially went into a wedding blog-visiting-frenzy when we first got engaged, but I soon grew a bit sick of what I felt were very slick, over-styled American (or American style) wedding blogs that seemed to feature terribly polished weddings devoid of any personality. The ones I kept going back to time after time were Love My Dress, Ruffled, 100 Layer Cake, and Grey Likes Weddings…"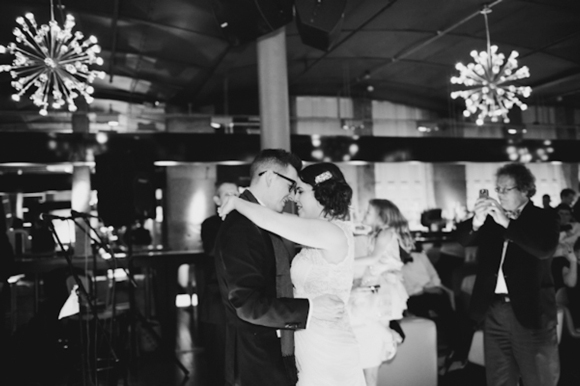 I know I've said it before, but seriously, this is one of my bestest most favourite weddings on Love My Dress ever ever ever! I just adore it and am so super extra pleased I had a tiny small role to play in it's coming together 🙂
Huge congratulations Rhona and Darren – thank you both so much for allowing me to feature your beautiful, stylish, wonderful day.  And thanks as always to my Glaswegian friend and photographer, Caroline Weiss of Candysnaps…
"When I was writing our entry for the wedding photography competition on Love My Dress, I can remember Darren getting annoyed at the ridiculous amount of time I was spending on it (we were trying to watch a film at the time!) – but I'm glad I did! I don't have enough superlatives in my vocabulary to describe how fantastic Caroline from Candysnaps is; she is completely unassuming and blends right in, but managed to capture the atmosphere and spirit of the day perfectly."
I'd really love your comments and feedback on this wedding – which is your favourite bit??
Much love,
Annabel
♥
Photographer – Candysnaps
Venue – Hotel du Vin at One Devonshire Gardens, Glasgow, following which they had an evening drinks party at the Evening party: 29 Private Members' Club
Brides dress – Sarah Arnett {discontinued} via Maida Veil + Tadashi Shoji via Nordstrom for the evening
Brides veil – Twigs & Honey, on Etsy,
Brides shoes – Sam Edelman 'Lorissa' in black suede
Brides accessories – Bib necklace via Kenneth Jay Lane + 1950's crystal earrings via The Dresser's Room + BHLDN hair clip
Groom – Black tie, Tux & Shoes Ted Baker + silk scarf Slaters + bowtie Topman + pin tuck shirt Gieves & Hawkes + pocketwatch from Mr Ben
Bridesmaids – Reiss + Ted Baker
Flowergirl – Monsoon
Florist – I Heart Flowers
Cake – Friend
Favours – Macarons + glittery gold pegs from The French Nest on Etsy
Decor – vintage penguin books + lustre vases from Cox & Cox + vintage drawer handles from Pierrot and Coco
Entertainment – The Hi Life {DJ} + Daddy Naggins
Humanist Celebrant – Paul Harkin
Hair Stylist – Debbie from Gary Thomson Hairdressing
Makeup Artist – Jen Reilly