Morning my gorgeous lot!!! I love to start the week off with a bang so let's get right in to the fun, colourful and party-vibe wedding day celebrations that belonged to Sara and Dave. I absolutely love this wedding!  It is so much fun!!
Sara and Dave tied the knot on 14 April 2012, with a ceremony at Stoke Newington Town Hall in London, followed by a reception at the very cool MC Motors in Dalston Lane.  Sara wore a fittingly very cute polka dot dress by Candy Anthony…
"My dress was from Candy Anthony and was so much fun to wear! I wanted a dress that felt like "me" and that I would not feel too out of place wearing, while still being bridal. It was perfect.
I loved the shorter length and the fact that I could dance to my heart's content without tripping over, and it gave me a chance to show off my shoes too!"
Love My Dress Wedding Blog – Photography Copyright (c) 2012, David McNeil
"For the reception we wanted to have less of a traditional feel, and more a big party with all our family and friends, with good food, drink and music, and lots of personal touches. We found the beautiful MC Motors by pure luck, and as soon as we saw it we knew it was perfect – so full of character and so many lovely spaces for us to fill and decorate!
There is a main warehouse and a group of smaller industrial units on the other side of an amazing victorian street that runs right down the middle. After being bombed in the war, the street and the warehouse were skylighted, which means the whole space is beautifully light and meant we were able to have a traditional street party feel to the wedding, whatever the weather!"
"We wanted the flowers to look vibrant, fun and relaxed, so I chose a mixture of my favourite brights from the wholesalers: ranunculus, freesias, anemones and viburnum opulus and a friend put them into jam jars for us for the tables. My bouquet, the buttonholes and bridesmaids posies were put together with the same flowers by the brilliant ladies at Rebel Rebel…"
"My bridesmaids were five of my closest friends, and I wanted them to feel happy in their outfits. We originally planned to choose a colour and then for each of them to choose a dress in a style they liked, as we thought it'd be impossible to find one dress that everybody felt comfortable in. We met up one Saturday morning in Oxford Street, to have a look for a colour that might work, and one of the first dresses we found was a beautiful Karen Millen coral tea length dress.
All the girls loved the dress, and rushed to the changing room to try it on…and it was like magic – they all loved it and it looked amazing! I loved the bright colour of it. Job done in one short hour.
I bought each of my bridesmaids an embroidered necklace with their initial on, each one in a different colour, from Merriweather Council on Etsy…"
"I really loved the more relaxed feel that tea-length wedding dresses have.  I wanted something that I would feel comfortable in, reflected my personality and that would allow me to dance all night without falling over my dress (I am quite clumsy)! When I tried my dress on, on I just couldn't stop smiling – I loved it straight away and didn't want to try on any others!" 
"Dave's Dad drove us through Stoke Newington from the ceremony to the reception in his vintage Ford Zephyr, while the rest of our guests were taken in an old red Routemaster bus. Our two year old nephew in particular loved this and didn't want to get off when they arrived at the reception!"
"We had a wedding tree for everyone to sign, instead of a guest-book. This was from Etsy and will look so beautiful in a frame on our wall. We also had a dress-up area with a photobooth, which was hilarious! And I decorated one of the rooms with lots of sweets and lollies for a late night sugar hit! In the corner we set up a projector with a photo-loop of photos from my hen do and Dave's stag do…"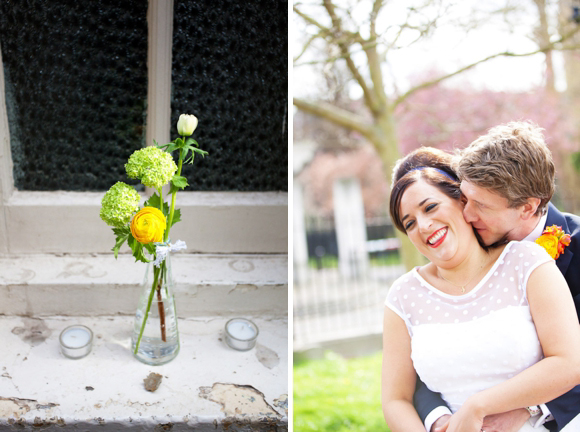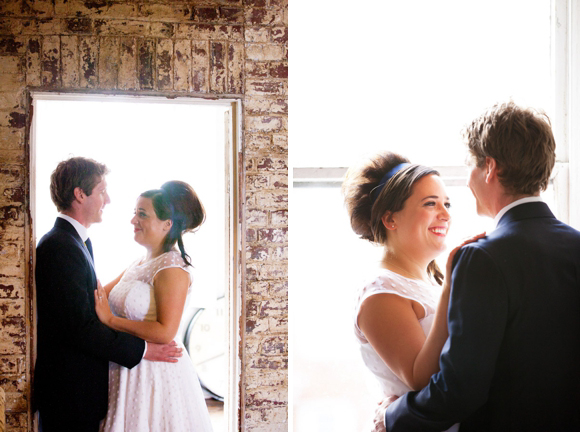 "We decorated the main warehouse with brightly coloured paper pom poms and some giant 3 foot yellow helium balloons in the street, both from Beautiful Balloons…
These had such a big effect and really made the room feel colourful…"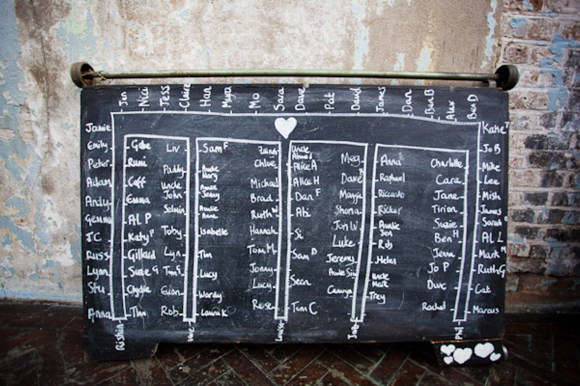 "Dave's ushers paid homage to Dave's love of the 80s film "Cocktail" by creating a delicious cocktail to serve after the meal at the reception. We bought a neon  "Cocktails and Dreams" sign for their bar area and got fully into the role, even changing into hawaiian shirts to serve!"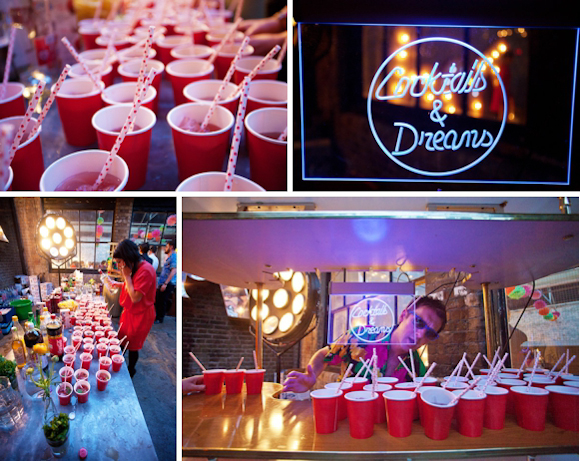 "My beautiful shoes from Emmy were ivory suede with a white silk bow on the back. They were soooo comfortable! My sister bought me some "I do" stickers for my something blue, which I stuck to the soles…" 
"A close family friend and hairdresser Jon did the hair for my bridesmaids, my Mum and I.  I did my own make up as I knew exactly how I wanted it to be, and it was a good excuse to go to Bobbi Brown for a makeup trial, and to treat myself to some new makeup and brushes!"
"I wore a gold swallow necklace from Alex Monroe which was a wedding present from Dave.   I also wore a pair of diamond earrings which my sister gave me on the morning of the wedding – she gave them to me once I thought I was ready to leave and I promptly burst into tears when I saw them! Cue eyelashes falling off and emergency make-up reapplication!
I wore a piece of ribbon for my beehive from John Lewis!"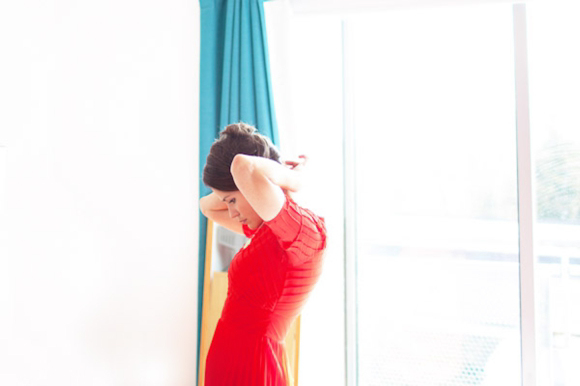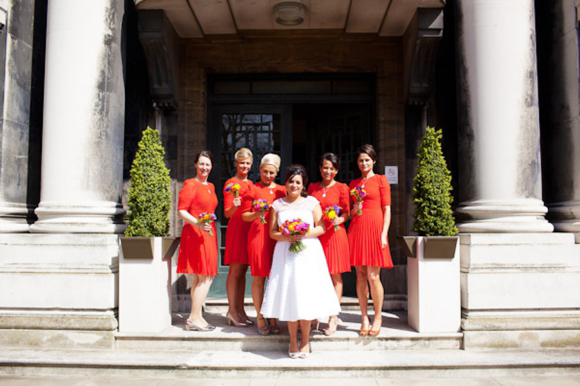 '"My Dad gave me away, and I walked down the aisle to an instrumental version of Van Morrison's 'Crazy Love'. 
"Dave wore a suit by A Suit That Fits.  He, his best man and four ushers all wore the same slim navy ties. To add a flash of colour they decided to wear yellow socks, which were a subtle nod to the informal nature of our wedding and made me smile every time I got a flash of them!"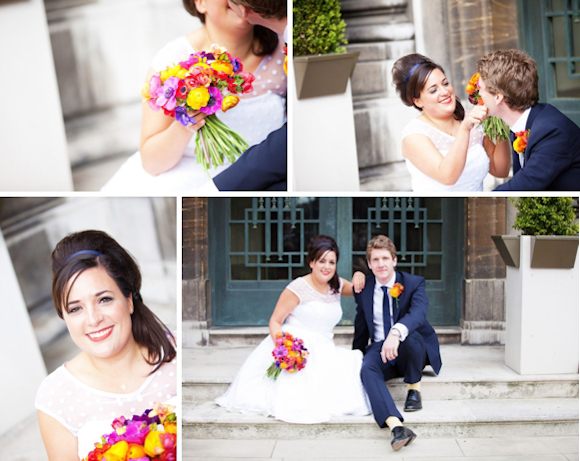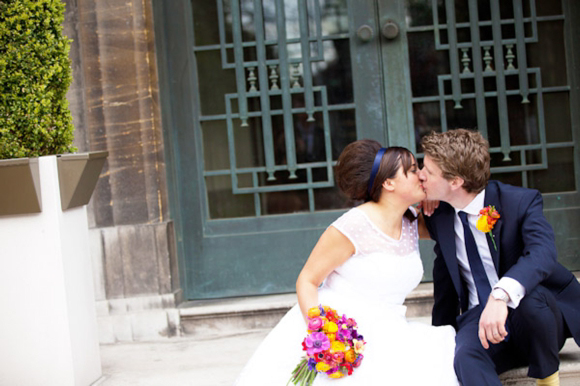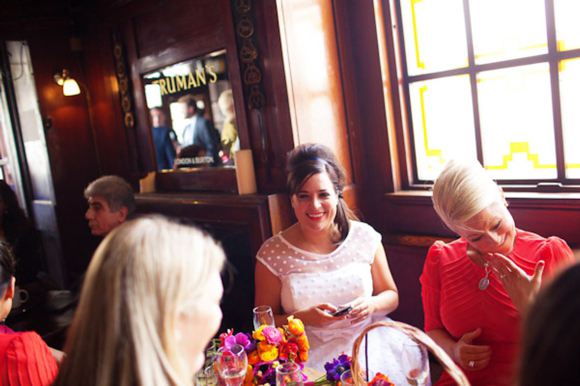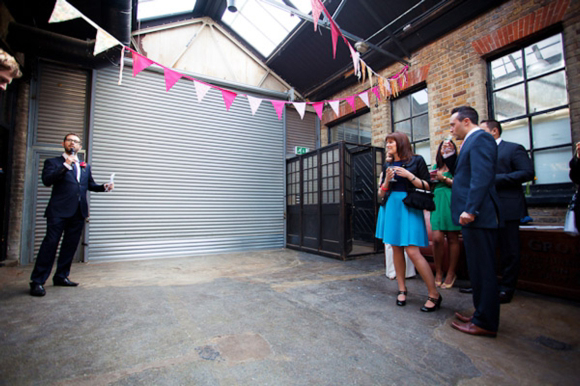 "I was given lots of amazing Cath Kidston fabric by one of my bridesmaids, which one of our close family friends Meg kindly whipped up metres and metres of bunting which we hung in the alleyway and in the old Victorian street, which we used as the bar area at our reception.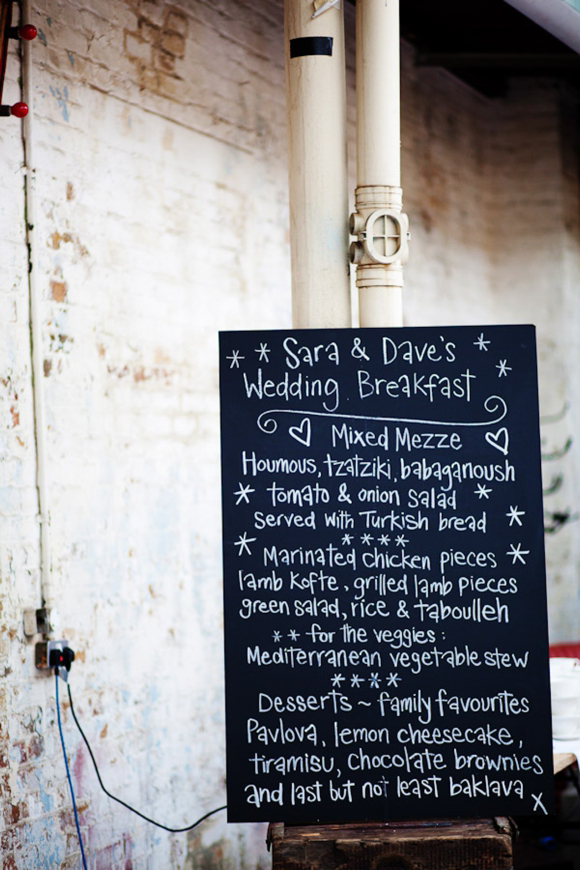 "Our wedding cakes were homemade (by me!). They were 3 vanilla sponge cakes filled with buttercream and my Auntie's homemade loganberry jam…"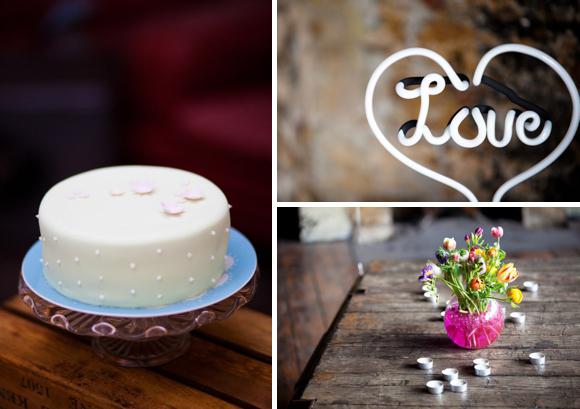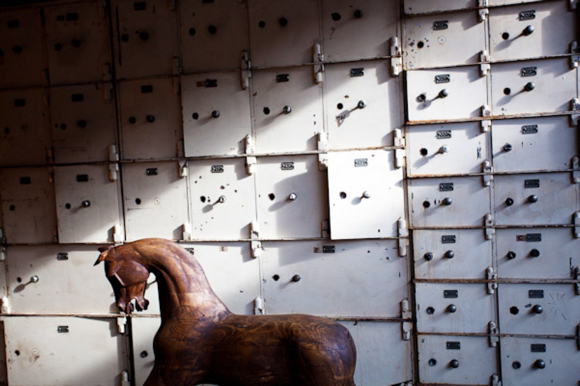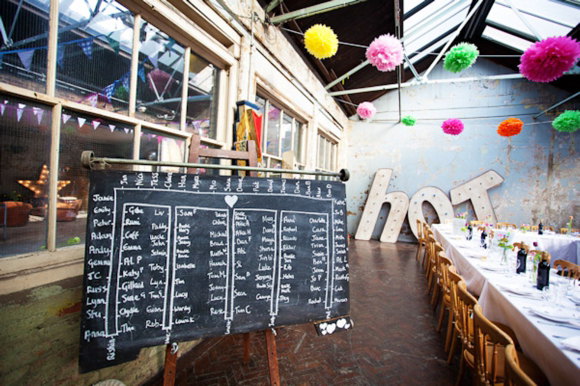 "My bridesmaids, together with the ushers put together a brilliant quiz about Dave and I, which they laminated and put on the tables with some marker pens, for the guests to fill in at the tables before dinner. As we had long tressle tables this was a great ice breaker and got everyone talking."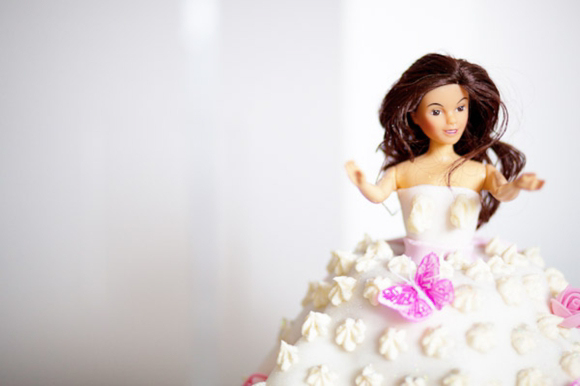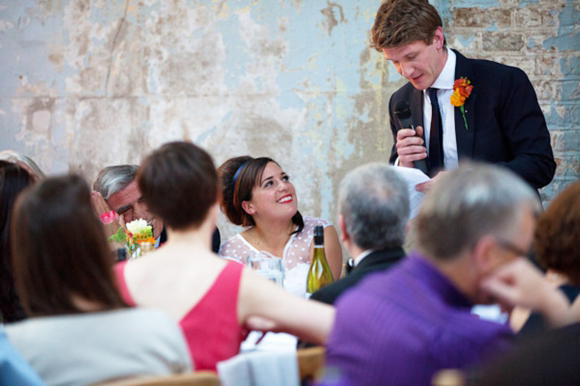 "We both love music so it was really important to us to book the right DJ, and the Wedding Smashers were perfect. They live in the next road along from us and as soon as we met them we knew the dance-floor was going to be full all night…and it was! We couldn't have asked for more ☺"
"The favours were homemade by our Mums: Dave's Mum made chocolate truffles and my Mum made almond calissons and we put them in gold boxes. We also had personalised name badges from Wedding in a Teacup for everyone to wear  and indoor sparklers on the tables…"
Words of Wedded Wisdom…
"Stay true to yourselves! Planning a wedding is so much fun – if you keep the focus on you as a couple rather than trying to please everybody it's a lot easier! You can create whatever kind of day you like and there are so many ways your wedding can reflect your personality if you want it to, and your guests will love all the personal touches!
We wanted our wedding to be a reflection on us as a couple and that was kind of our "theme" in the end. We wanted to keep it as relaxed as possible, so that we could focus on having fun, and that is what we did!"
What a day! So much fun! Sara and Dave, thank you so very much for sharing all this detail and your beautiful day with us, and huge congratulations 🙂
And thanks as always to super-star photographer David McNeil for sharing these photographs…
"Both Dave and I are camera phobic and so were really keen to find a photographer that could capture all the moments of the day without too many "posed" shots. As soon as we found David McNeil we knew we had found our man! David is super talented and a lovely guy – he put us at ease the first time we met him and it was so easy to relax in his company. He is a miracle worker and we now have so many amazing photos of the day – I cannot recommend him highly enough!"
Pop back at lunch time to see a gorgeous little super-8mm movie of this very wedding! 😉
Much love love all,
Annabel
♥
Photographer – David McNeil
Venue – Stoke Newington Town Hall + MC Motors
Brides dress – Candy Anthony
Brides accessories – Alex Monroe necklace + diamond earrings
Brides Shoes – Emmy
Grooms suit – A Suit That Fits
Bridesmaids – Karen Millen
Florist – Rebel Rebel
Cake Designer – The Bride!
Transport – Vintage Zephyr owned by family friend
Entertainment - The Wedding Smashers