"It's not about the venue or how much money you have or haven't got to spend. It's about taking your vows to the person you love and having all the people that mean the world  to you there to help you celebrate. We could have had the wedding in a pig shed and it would have been amazing! It's the thought that counts…. and the photographs.
Invest in an amazing Photographer to get your memories to last forever!"
Hello folks 🙂 Got that Friday feeling? I have!  I'm just about to pop out for the morning, but wanted to leave something beautiful behind to keep you smiling 🙂
Jason and Amy, the new Mr and Mrs Long, tied the knot on 21st April at Lanivet church.  Amy grew up in the village of Lanivet and the couple chose to hold their reception in the village hall in Lanhydrock, a Grade 2 listed building with 'lots of character, a blank canvas & lovely vintage vibe'.
Amy wore the Alice dress by Jenny Packham, a purchase from County Cream Bridal Truro…
"I chose this dress for the quality of fabric 100% silk, the pretty detail the pearls. Also, it fitted off the peg so only small alterations needed to be done. It was meant for me!  I wore the dress with a chapel length veil with beautiful lace trim, brought as a gift from my lovely Gran…"
Love My Dress Wedding Blog – Photography Copyright (c) 2012, Staple Photography
"Fleurtations provided all our florals.  Our flowers included foliage, reds, blues, pinks, yellows & greens.  I did a lot of research on wedding flowers and wanted something unique & eye catching something that looked wild & country Garden-butterfly flowers…"
"Fleurtations also created a beautiful floral circlet for my head to match the wedding flowers.  The bridesmaids and flowergirls also wore circlets…"
"The hall was Grade 2 listed, We love the vintage style in fashion at the minute. We like the home/Hand made feel and we wanted our wedding day to really suit and reflect who we are.  We are definitely not Posh! … so a glitzy Hotel wouldn't have suited us at all. We went with comfort & family in mind.
The hall was only 10 minutes away from the church. Dad supplied the Alcohol all day & night so we wanted our friends to be able to let their hair down & enjoy the day without worrying about transport or how they would get home!  Also, we didn't want a venue an hour away from the church. Keeping everything local was important to us…."
"Jason & I have been together for just over four years and are a very happy couple born and bred in Cornwall.
We met at a boxing class and were each others spa partners for a while. During this time we got to know each other & after much persuading on Jason's behalf we finally went out on a date. We hit it off and here we are four years on as husband & wife…"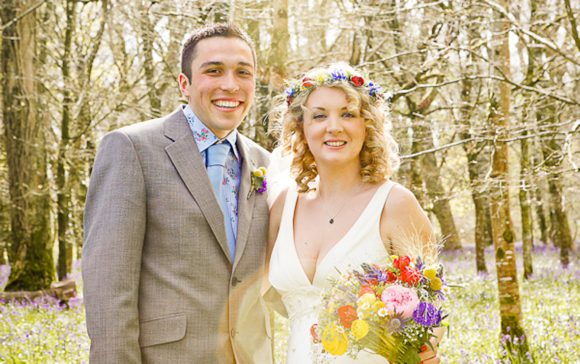 "Eighteen months ago Jason took me down to a beautiful place on the riverbank called Penpol Creek near the beautiful village of Lerryn. He had been there the previous day and had made a clearing on the river bank, cleared the brambles & made a romantic setting for a picnic to surprise me the next day.  It was here armed with humous & ham sandwiches, Lindt chocolates (my Fave), and some sparkling wine where bent down on one knee on a muddy river bed Jason popped the question. Without hesitation I said YES! 
And so the wedding planning began.  We got married on the 21st April 2012 & it was truly the best day of our lives so far…"
I adore the homemade style of this beautiful sponge layered wedding cake!
"My Amazing Mum made our cake for us. We had a natural fruit stacked sponge cake & also an old fashioned fruit cake just to keep everyone happy!"
"We got married in Church in the beautiful village of Lanivet where I grew up & where my parents live and we held our reception in a grade 2 listed Village Hall on the outskirts of Lanhydrock. The theme of the wedding was based on Butterflies & had a vintage feel throughout.
 
We collected teacups & Saucers for our 100 guests, employed a team of caterers to carry out the amazing food on the day & had a Disco as well as a Folk/gypsy style band playing all night long. Not forgetting the local Morris Men who came to wish us well on the day..."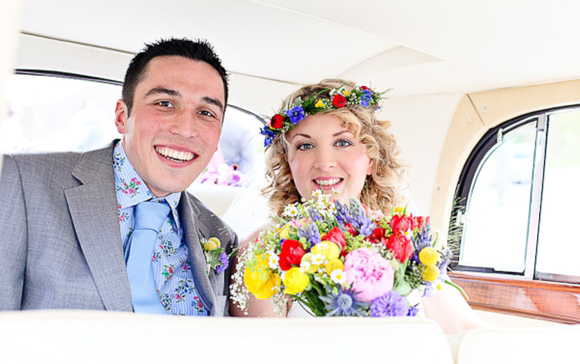 "It was our dream wedding day, we didn't want the run of the mill wedding we wanted a blank canvas so we could make our day as unique as possible. 'Vintage & ethereal' were two words that focused me planning our big day. I think we managed to capture these quite well & everyone was so pleased & had such a great time at our wedding which is totally reflected in the pictures.
 
I Used Love My Dress nearly everyday for inspiration for our wedding & it was my favourite of all the wedding blogs…"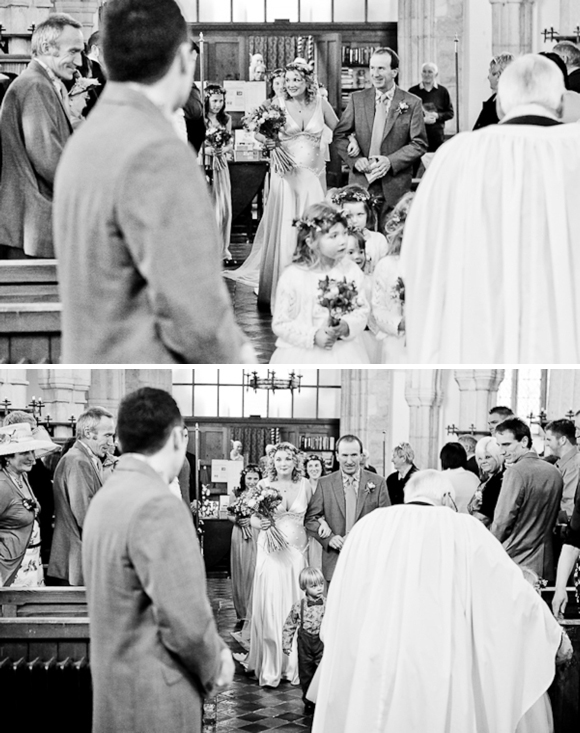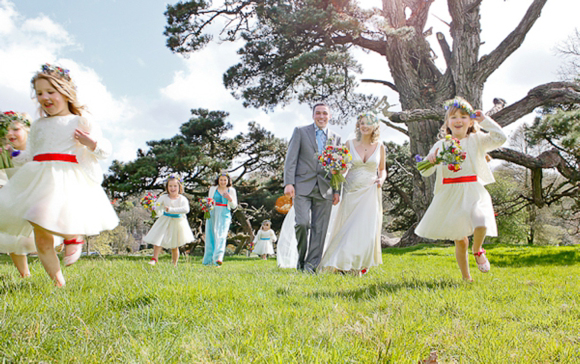 "As a favour, everyone had either a Thorntons Butterfly or heart lollypop and a Packet of butterfly attracting flower seeds-presented in brown paper bags stamped with butterfly image!"
"We used cream fabric to drape the gory curtains that were in the hall & to brighten the palce up. Mum's Friend Lisa made 80mtrs of Homemade Bunting to Hang. Also mum made some home made wedding flower arrangements to hand on hooks around the hall…"
"For our first dance, we chose Louis Armstrong's 'We have all the time in the world'….
Have you ever seen anything so utterly delightful?
Huge congratulations Amy and Jason, and huge thanks for sharing your beautiful wedding day day with us.  Thanks also to Rickie Smith-Staple of Staple Photography, who has kindly shared these beautiful images…          
 
"Our Amazing Photographer Rickie Smith-Staple Photography Cornwall. Very Professional & one of the loveliest ladies you will ever meet. Goes above & beyond call of duty."
What do you love most about this wedding guys? I'd love for you to leave Amy and Jason some love…
Much love,
Annabel
♥
Photographer – Staple Photography
Venue – Lanivet Church + village hall at Lanhydrock
Brides dress – Jenny Packham, a purchase from County Cream Bridal Truro.
Brides veil – gift from the brides Grandmother
Brides shoes – Vivienne Westwood's Melissa in cream with red heart
Grooms Suit – Martin & Budge, Bodmin
Bridesmaids & Flowergirl dresses- Hand Made by the bride's mum's friend
Flowers – Fleurtations
Cake – Made by the bride's Mum
Transport – Wedding Cars of Cornwall, a 1954 Alvis Grey Lady & 1960 Alvis-Beautiful Cars & Brilliant chauffeurs
Entertainment – Biere De Luxe – a folk/Gypsy style Band-amazing! Family Friend Disco & The Bodmin Morris Dancers.
Catering Company – Tinks Catering, based at Millpool near Bodmin {highly recommended}