….don't blame me if you can't get Julie Andrews out your head all afternoon now. It's BHLDN's fault!
Ladies, you need to get your self RIGHT on over to the BHLDN website whilst your twiddling your thumbs waiting for hometime, because one of the coolest online bridal shops in town has a sale on and it is fabulous! 
BHLDN is the bridal brand belonging to the hip womens clothes, accessories and homeware label, Anthropologie.  The name 'BHLDN' was inspired by the Dutch word for 'to keep'.
he items below are just a fraction of the number of products that have been slashed in price and are some of my very favourite pieces I've been swooning over this afternoon…
"Our roots are with Anthropologie, so a passion for experience and creating one-of-a-kind moments runs deep. But our offering speaks more to the not-so-everyday occasions—ours is a voice that celebrates a woman's most anticipated milestones. And one that gives tradition a twist…"
Love My Dress Wedding Blog – Image Credits BHLDN
Above the Couturier Skirt and Bound Together top, and below, the Cockle Shell Skirt and the Mazunte Clutch…
Greenbow Lace Gown and Blushing Crinoline Sheath…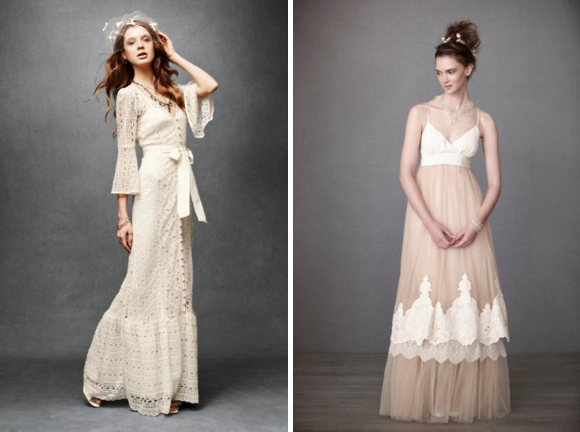 "We want, more than anything, to help a woman create an event that reflects her own unique perspective… to a tee. We want to give a bride that edit she's been searching for—with heirloom-quality wedding gowns, artisanal hair adornments, footwear, and lingerie. And we want happy bridesmaids—in mix-and-match frocks with rich hues and unexpected details…."
Sweet Tea Gown and Swirling Platinum Gown…

 Misty Bramble Jacket and Purse Seine Neclace…
Pompom Shoe Clips, Bow-topped Sling Backs and Topiary pumps…
The Fortitude Swivel Frame and Rolling Hills Hat…

Scalloped Platforms, Aquitani heels and Pompom Shoe-clips…
Lakes Edge Top Hat, Ancient-To-Antique Collar and Well Versed Turban…
Honeybloom Earrings and Comme Il Faut Dress…
Whipple Tree shoe clips, Danseuse Earrings and Iced Brier Shoe Clips…
Greenery Swags and Pitter Pat Tins…
Airy Cloche Food Cover, Drink Me Drink Me Stirrers and Gilded Bridesmaid Card…
Ripe Meadow Clutch and the Mirage Shimmer Bag…
Below, rustic table number sleeves, Broad Winged Dove Clips and Banded Guest Diary…
Red Hot Confetti and Chalkboard Hangtags…
Just a quick word of warning for UK buyers – because when BHLDN orders are shipped from overseas, your package may be targeted for customs charges of import tax. It's not usually very much, but can be an unwelcome surprise, so just something to be aware of. Don't let it put you off ordering from BHLDN, I have purchased from the site before and been really pleased with how quick and beautifully packed my product arrived – I purchased these gloves to wear to the Love My Dress Summer Soiree last year and they were beautiful!
Let me know what you fancy getting your bride-to-be, or happy newlywed BHLDN lovin' paws on!
Much love all,
Annabel