The wedding feature this afternoon comes to you from the Isle of Wight and was sent in by photographer Jason Mark Harris.
Alice and Matt tied the knot on 28th July 2012 with a ceremony at St Agnes Church, Freshwater Bay at the Isle of Wight – a beautiful thatched roof building, followed by a blessing and reception at Afton Park in the same location.  I love the florals in this wedding, they are so pretty (and Pinterest worhty!) elegant simplicity of Alice's wedding dress – a creation by designer Jacqueline Byrne for Luellas Boudoir… 
"My dress was designed by Jacqueline Byrne for Luellas Boudoir
in Wimbledon Village.  It was the first dress I tried on and I fell in
love with it immediately. I had an idea of the sort of dress I wanted
and this was absolutely it"
Love My Dress Wedding Blog – Photography by Jason Mark Harris
"I love the beading and detail on the sleeves
and at the back, I love the fact that the tailoring was simple, elegant
and classy, and I loved the way it moved when I walked in it, I felt
amazing in it and knew it was the dress for me as soon as I tried it on.

It was made to measure and it flowed and hung perfectly. It was unfussy
and just stunningly beautiful. Plus, my dad would have loved it." 
"Caroline at Gardenia Florists was
very helpful and immediately got the ideas behind the day – the flowers
she provided were stunning. I did not have a particular bloom in mind,
but wanted the flowers to be locally sourced, in season, and
sustainable. I wanted the flowers to look a little like they had just
been picked from a local meadow, which Caroline created perfectly. I had
a simple tied bouquet, my bridesmaid Louisa a smaller version, and an
even smaller one for Holly, our flower girl."
"To match the style of the
day Caroline delivered a bucket of completely mixed flowers to Afton on
Saturday morning and three of my closest friends spent an hour
organising them into bunches. I had spent the months running up to the
wedding collecting mismatched glass vases and jugs from charity shops to
add to the feel of the décor. These were tied with Buchanan tartan
ribbon, and were really effective as no two bunches were the same –
exactly as I had envisioned it being!
Caroline also provided the
buttonholes, which we wanted to be simple and not too big, they were
sprigs of rosemary around small berries."
"We have had a family home in Freshwater Bay, opposite St Agnes for
15 years. We got engaged last year, three weeks before my beloved father
died, and as we were planning the wedding my dad said he had always had
an image of us walking out of our front door, across the road and into
the thatched church – it is a stunning location and my dad made that
decision in our minds. Matt and I have spent many long weekends on the
island, and got engaged on Freshwater Bay.
St Agnes Church is so beautiful we did not need to do much at all.
The day before the wedding my mother-in-law and her friend Fizz tied
stems of dried lavender on the sides of every other chair on the row
ends using simple raffia to secure them, and on the other chairs they
tied Buchanan tartan ribbon."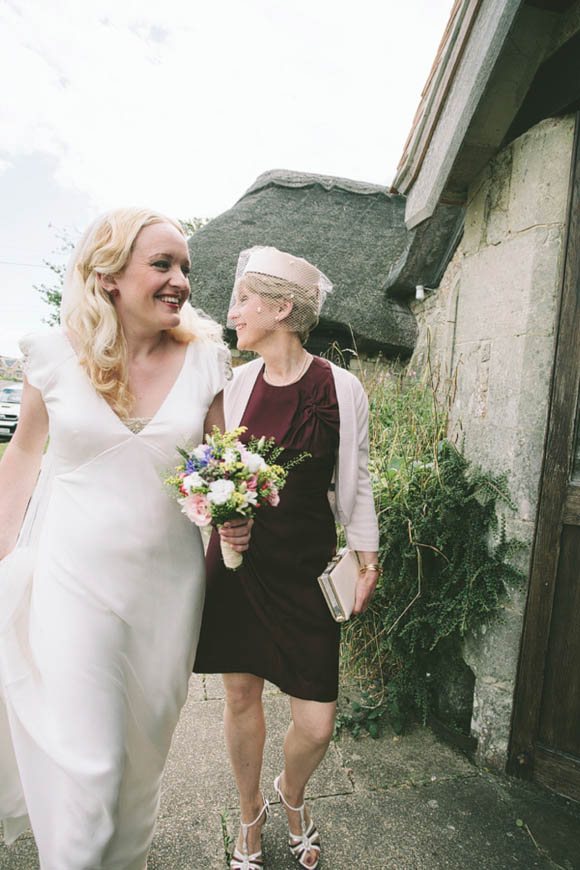 "Afton was one of our
favourite places locally to our place, and we have been going there for
many years. We love the rustic, unaffected style of it, and knew it
would be a stunning place for the reception."
"I really love pretty things, and wanted the wedding day to be
full of them, and although we did not want an obvious 'theme' or colour
scheme, we wanted little things to tie together – wild flowers,
mismatched china, snippets of Buchanan tartan in the church, tied onto
vases and on the menus without being too obvious. 
We
wanted the day to be a blend of the two very different places we spend
our lives, West London and West Wight, this was most clear in the design
of the invites, orders of service, table numbers and seating plan and
menu, which were designed by Michael Dowell.
Michael sat down with us early on and discussed how we wanted our
invites to look, and the things that we important to us."
?We discussed
the bunting, including one piece of bunting in Buchanan tartan, the
apples and cups and saucers, a 'logo' – the Matt and Alice from the
front of the invites, and the colours – these were taken from a row of
houses on Portobello Road, round the corner from where I went to school
and spent many a formative evening, and the location for my hen do.
Michael suggested the style and the folder presentation and font, and we
wrote all the copy that Michael added to his design.
We loved the
designs, and used the same style for the orders of service, menus and
seating plan. One of the nicest touches was the stamp we had made with
the Matt and Alice logo, which Matt thought of – we used this to stamp
the envelopes we sent the invites out in, and the backs of everyone's
table places – we will us them on the thank you cards too."
"My shoes were ivory silk shoes by Freya Rose, from Luella's again, and decorated with vintage shoe clips from Luella's.
My bridesmaid had given me a vintage brooch with some delicate blue
and clear stones on it that was pinned to my hair at the very top of my
veil – it was my something old and something blue."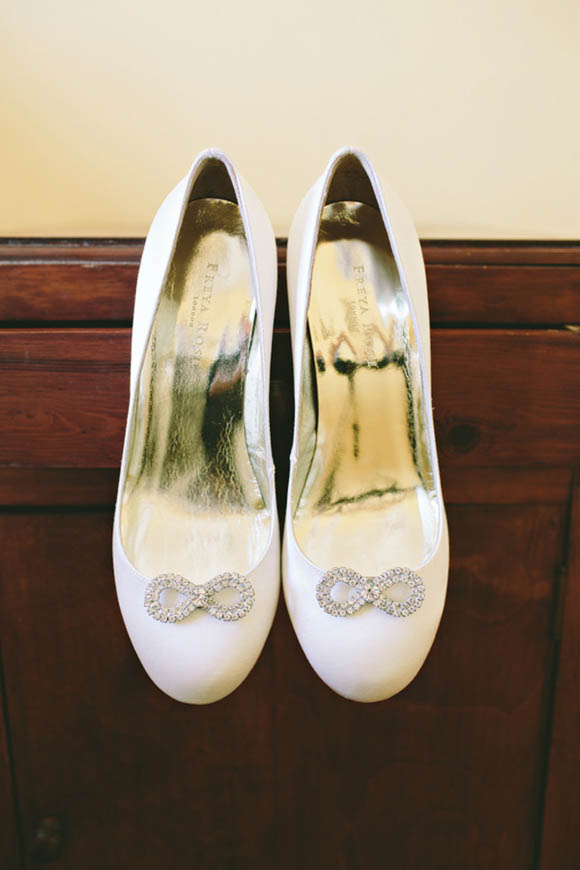 "Matt and I met at my late father's coffee shop and delicatessen in
Hammersmith, nearly eight years ago. Matt was a customer and I was on my
Christmas break from university, and helping my dad in the busy run up
to Christmas. Matt used to come in most mornings for a coffee, and had
been for a long time, but we had never overlapped. He came in everyday
after that, up until Christmas eve, and when we opened up again after
Christmas he was there – he drank a lot of coffee over those weeks.
We
went out for our first date to the Queen's Head in Brook Green and
talked all night, sinking three bottles of Chablis! Several years later,
a house, a cat, a couple of career changes and we made it down the
aisle."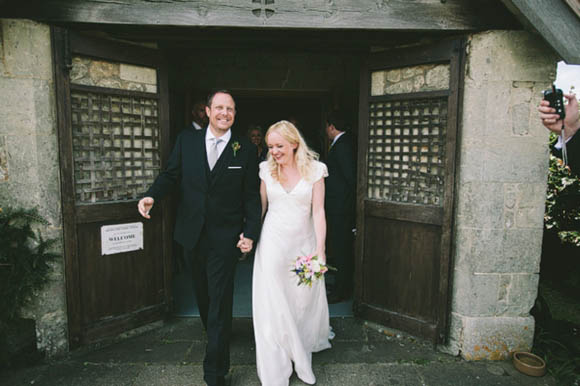 "We hired a vintage bus from John Woodhams
to deliver the guests from the church to Afton, with Matt and I
travelling in the final journey. It was absolutely lovely. John had
decorated it with a bridal ribbon and everyone loved it.
As our place is opposite the church, we walked across the road into the church.
As
transport is very limited in this part of the island, and we knew our
friends were all up for a party, we hired the local FYT bus, a volunteer
run minibus service that provides daily transport to West Wight. They
were great, and did two hours of shuttle runs, dropping our guests off
at their various b and bs in West Wight."
"The cake was from Alison McCallum of Centrepiece Cake Designs.  It
was a four-tier cake with two sponge tiers, one carrot tier, and one
chocolate, and was simple in design, iced white, with delicate iced
flowers around the top rim of each tier and gently cascading down the
sides. We asked for the cake to be decorated with fresh and wild
flowers, which Alison did for us on the morning of the wedding, and the
cake stand was a natural wood cake base, which added to the design and
feel of the day.
We chose the cake as it was delicately designed and not
too over the top or flamboyant, and would be possible to decorate as we
wanted. The cake was absolutely delicious, and much to our surprise was
completely demolished by our guests, who absolutely loved it!"
"We wanted the atmosphere of the day to be relaxed and comfortable
for our guests, but also maintained the specific style of the day, so we
had quite detailed requests for the styling of the reception venue. 
We
wanted a simple marquee without anything too ornate or fussy. We wanted
coconut matting flooring, three long trestle tables so everyone could
mingle and move around, and no top-table. We had festoon lighting, which
looked lovely.  We decorated the tables with the various
flower receptacles, and the tartan ribbon as mentioned, and the cups
and saucers were part of the décor. The menus and table numbers we
designed by Michael Dowell, who also created our invitations and orders
of service as detailed below."
"Our wedding photographer Jason is an incredible wedding
photographer. Before the wedding he had been described to us as 'the
very best on the island', and we would absolutely support this. His
attention to detail, conscientious approach to his work, and ability to
capture the essence of the day as well as make everyone feel comfortable
around him.
He was brilliant, and seemed to capture everything, despite
never feeling like he was in our faces. Before the service he was
calming and easygoing, and even knew exactly when I needed a glass of
champagne! The photos are absolutely stunning and we cannot recommend
him highly enough and everyone is delighted by the photos he has made
available to our guests."
"I wore some red glitter love heart stud and a red glitter love
heart ring from Tatty Devine.  I have a large collection of Tatty
Devine's jewellery, and thought these two were the perfect way to
personalise a traditional bridal style. I love the quirky style of these
pieces and am not much of a dangly earring fan, so wanted something fun
and personal to my style – they were the first thing Mat commented on
in the church!"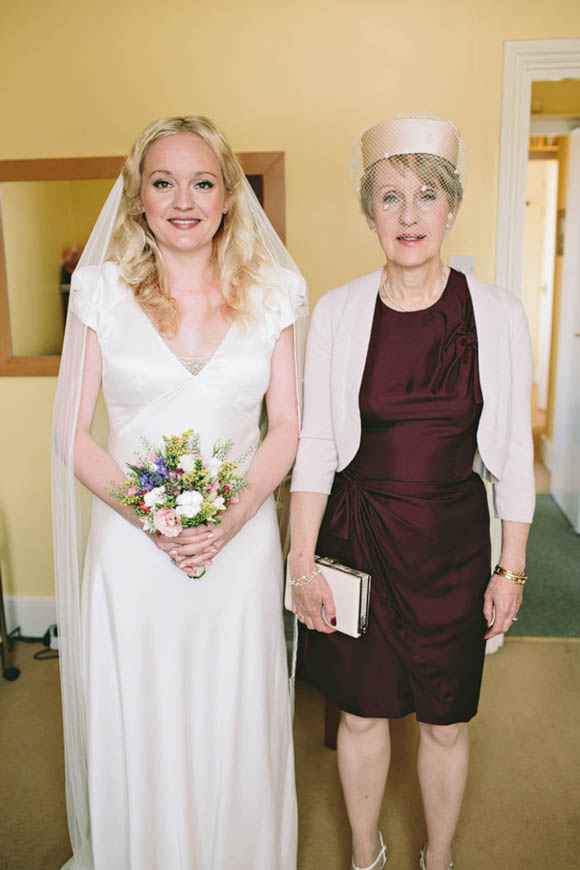 "Matt had a tailored navy blue three-piece suit from Hugo Boss. 
He also wore a pair of skull cufflinks by Alexander McQueen, bought
from Mr Porter, and for most of the day wore his favourite Persol
sunglasses. His shirt was from Hugo Boss and his tie was from Paul
Smith. His shoes were from Jones the Bootmaker."
"Matt proposed on Freshwater Bay promenade in
April 2011, just after a sunset meal of fish and chips in their paper
and prosecco in plastic glasses – we would quite often sit and watch the
sun go down over the bay so I wasn't aware anything was different –
although Matt had literally poured a huge glass of wine down my neck
that afternoon, so he must have been nervous! It was during the last
three weeks of my dad's life and totally unexpected as we had been so
preoccupied with my dad's care we very nearly did not make it down onto
the island that weekend; Matt had asked my dad's permission to ask me,
and it really meant a huge amount to my dad that Matt was so formal and
honourable about it. It was a complete surprise, and the perfect place
and time – and he picked a blinder of a ring!
Although
even at this point we had no idea how close to the end my dad was, I am
so grateful that I was able to plan the day while he was still alive –
everything about the day was planned within the first week after we were
engaged, bookings were made and the style was decided upon, my dad
would have loved everything about the day."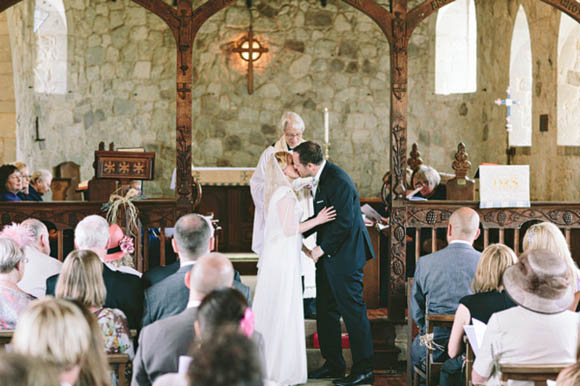 "My friend Jennie had
painstakingly spent hour upon hour making 100 metres of bunting, all
hand cut and stitched, and made from vintage fabrics she had collected
from Freecycle, Ebay and charity shops. This was hung around the marquee
and looked beautiful. Jennie was also in charge of the flowers at Afton
on the wedding morning, and did an absolutely fantastic job – she
deserves a mention for being one of the most committed, talented and
reliable friends – she not only gave up time and energy, but listened to
all my ideas and worries for months and months!"
"We had spent the year running up the wedding collecting
vintage china teacups and saucers, mainly from charity shops and car
boot sales, and a stall on Portobello Road. My mum, mother-in-law, and
friend Jennie helped by picking them up whenever they spotted them. Each
guest had their own cup and saucer to take with them, tied with brown
luggage labels with their name on, and the 'Matt and Alice' stamp. They
looked beautiful, and people seemed to love them and the fact that they
we (almost) all different really added to the mismatched style of the
day."
"My father-in-law arranged a two hour set played by the Goose Island Syncopators,
an island jazz band, who were incredible. They got everyone up on the
dance floor, and created such a lovely atmosphere. Their music was
excellent, and they really helped gear everyone up to party for the rest
of the evening."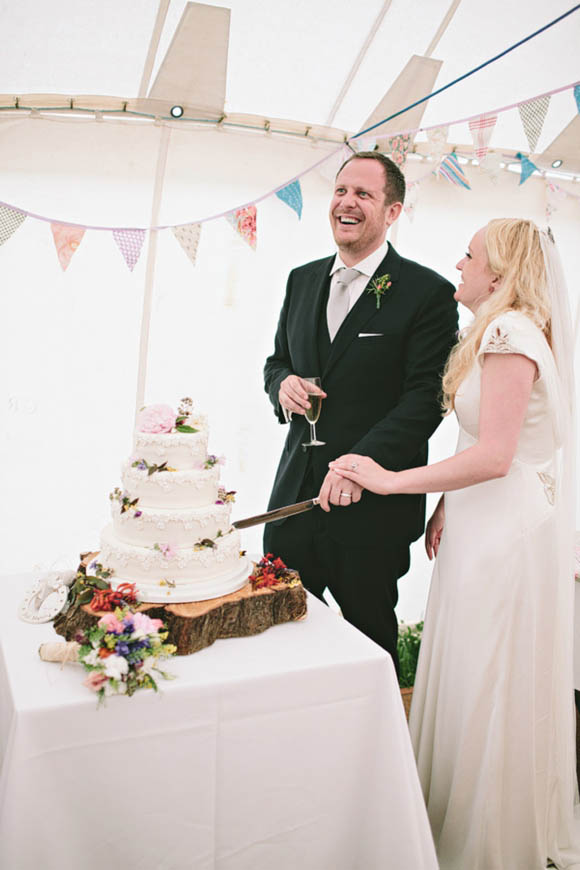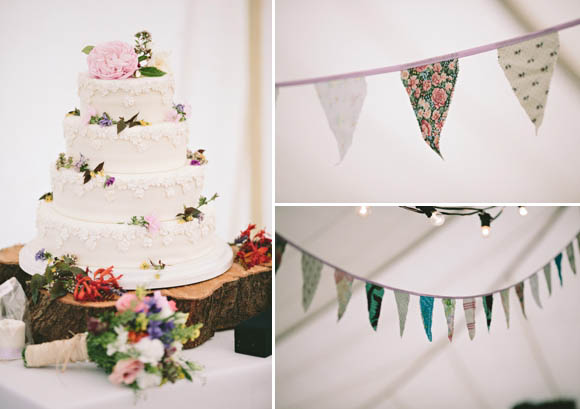 Words of Wedded Wisdom…
"All my friends laughed at me
for making so many lists – Paul at Afton even had a list of my lists,
but for me the big things were always going to be smooth as we had great
support from family and a crack team of ushers – for me it was all
about the little details, so I did not mind a bit of ribbing!
I would
say to a bride to be that  if there are little things they really want,
don't worry about seeming a little pushy, or dare I say it
'bridezillaish', the little details were what people noticed, and really
made the day special. Also, don't try to do everything yourself – make
sure you have plenty of (reliable) family and friends who you let help
you, it makes such a difference!"
Just a lovely relaxed wedding day with elegant, achievable style ideas for your own beautiful day.
Are there any other readers out there wearing Jacqueline Byrne for Jacqueline Byrne on their wedding day? (see Luellas Boudoir who stock exclusively)
Annabel
Credits
Photographer – Jason Mark Harris
Venue – St. Agnes Church + Afton Park, both at Freshwater Bay, Isle of Wight
Brides dress + Veil – Jacqueline Byrne for Luellas Boudoir
Brides shoes – Freya Rose via Luellas Boudoir
Grooms Suit – Hugo Boss
Bridesmaids + Flowergirls – Coast + Monsoon
Cake – Centrepiece Cake Designs.
Florist – Gardenia Florists in Newport, Isle of Wight
Transport – John Woodhams
Hair and make-up Artist – Lynsey-Marie Lamothe, Isle of Wight Beauty
Entertainment – Goose Island Syncopators