"Men seldom make passes at girls who wear glasses…"
Oh Dorothy Parker, you got it so very, very wrong.
I'm always curious as to why a bride would wear her dress (or any wedding dress infact) in a 'pre-wedding' shoot like this one, but frankly, who cares when the images are as fab as this?  Toronto based Zahra and visited Paris recently to have these romantic and rather cool photographs taken ahead of their wedding, by photographer David of Modern Vintage Weddings.  I am looking at these and chanelling my inner Audrey, and damn, I love those cat's eye spectacles!
"I was thinking of the stunning Audrey Hepburn in the movie 'Love in the Afternoon", which was shot in Paris. I love the essence of 'old Hollywood
glamour' – women back then were the epitome of classy yet sexy.
Paris of
course is known to be the city of love with a rich history, so it
brought out this nostalgic feeling that fit perfectly with the old
hollywood style we wanted to evoke through our photographs…"
Love My Dress Wedding Blog – Images Copyright (c) 2012, Modern Vintage Weddings
That dress is rather gorgeous isn't it? Just incase you were wondering, it's a Justin Alexander design, and Rob is wearing a suit by Canali… 
"We reviewed our photographer David's work on the internet, and his
attention to detail was inspiring. He managed to extract the vintage
from the past and firmly implant it into the present.It became clear
that throughout his photographic expression that we shared a common vision."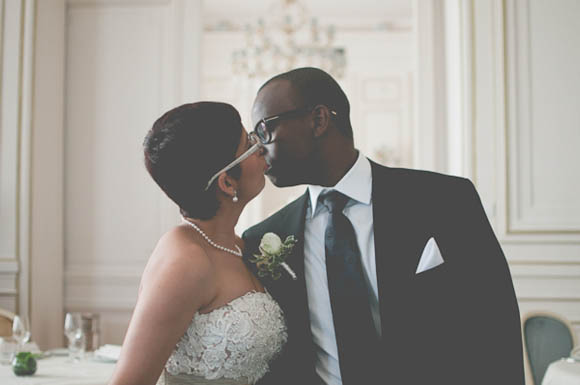 "I
was very pleased with both the results as well as his professionalism.
His commitment to the art we created was invigorating throughout a long
day of photo shoots. Reflecting on our time in Paris, I have to say the
day we did our pictures was one of the best memories of my life and it
wouldn't have been possible without David!"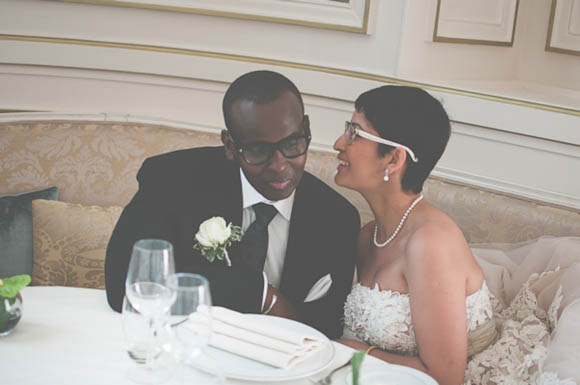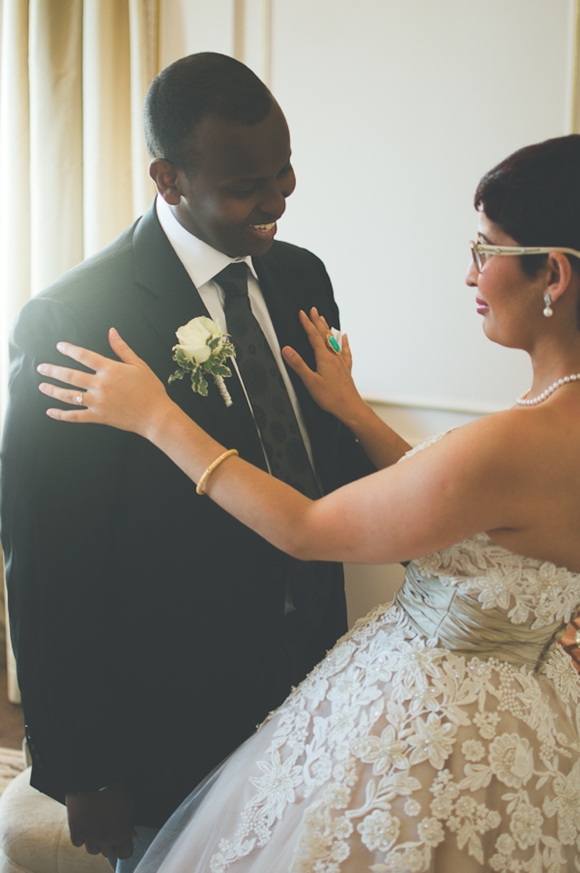 These photographs were shot on location at the Hotel Chateau Mont Royal Chantilly (where Zahra prepared for the shoot) and the George V Paris, Four Seasons hotel, where the images towards the end of the shoot took place.  It's a hard life for some eh?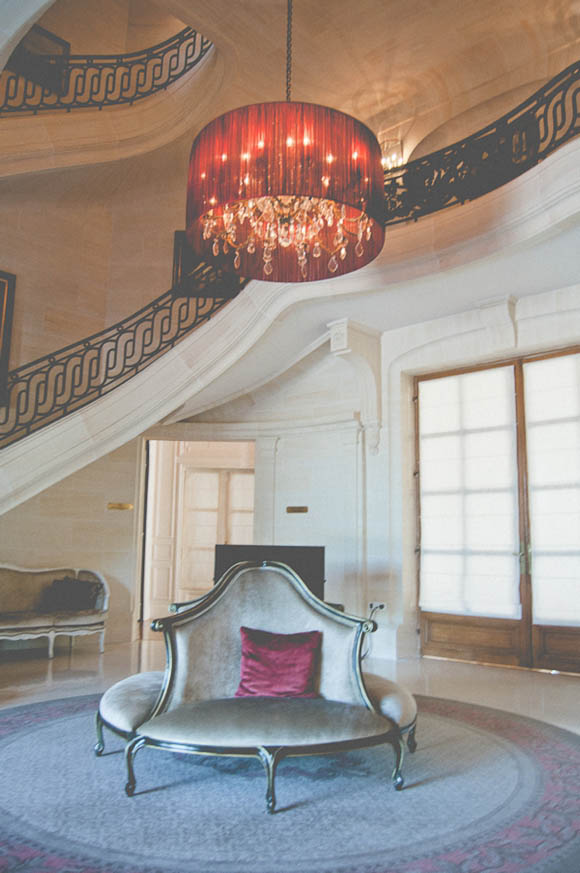 And I had to do a huge full on shot of these Badgley Mischka beauties. I don't like to disappoint you…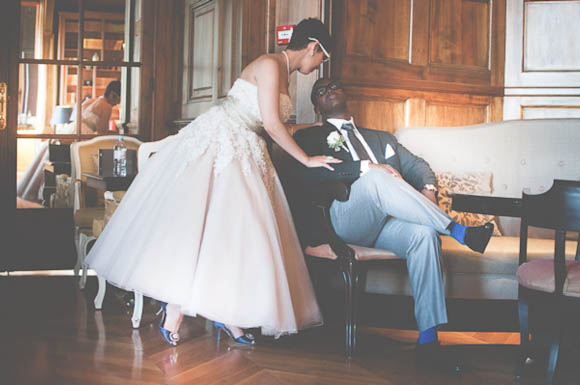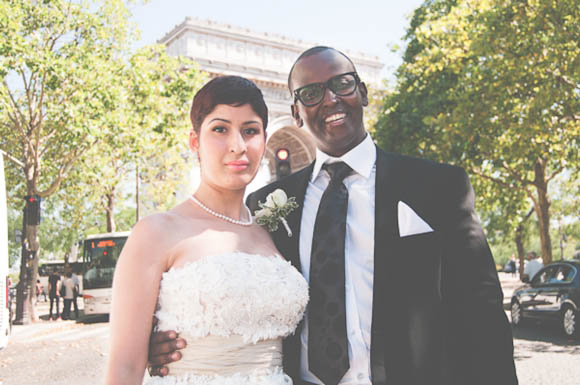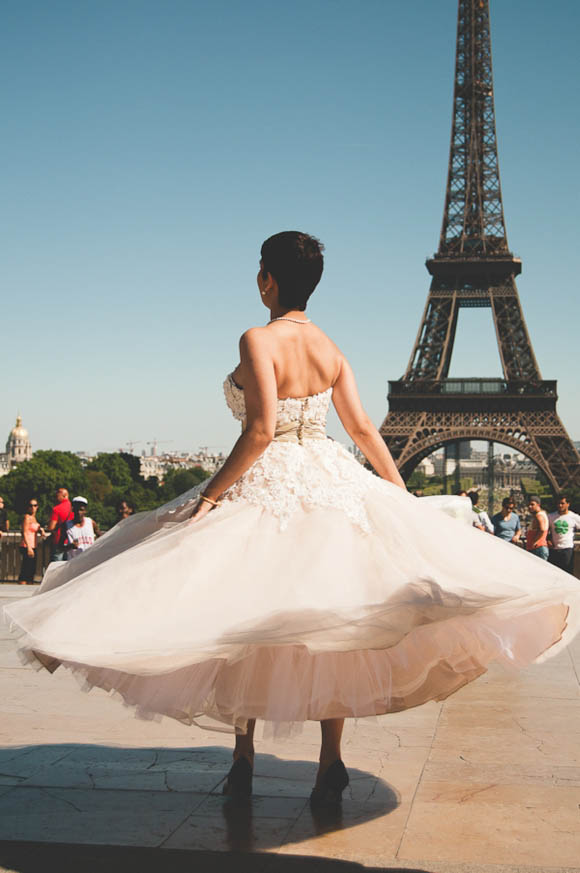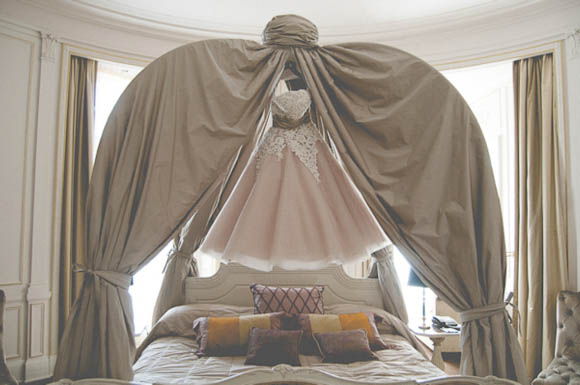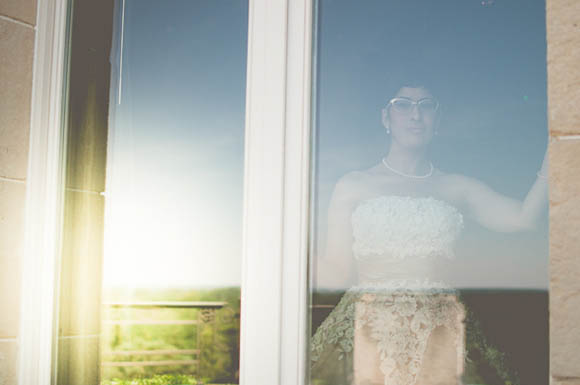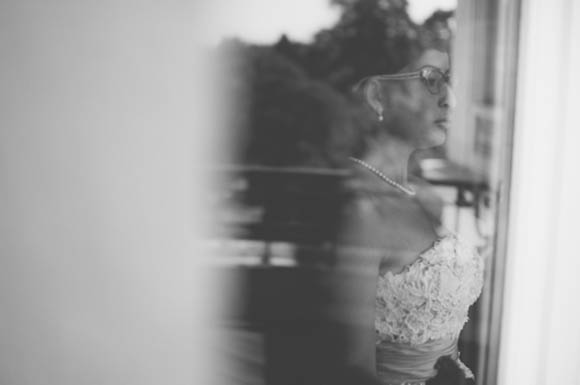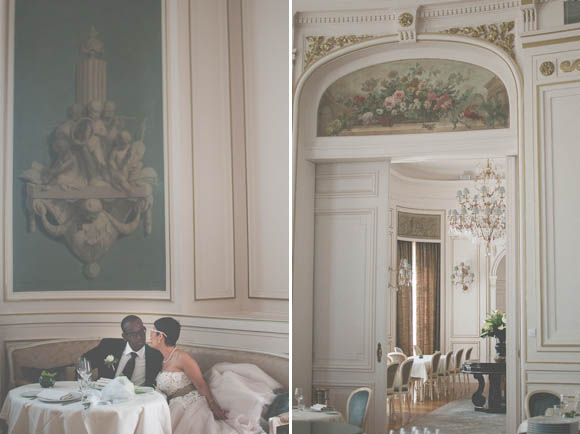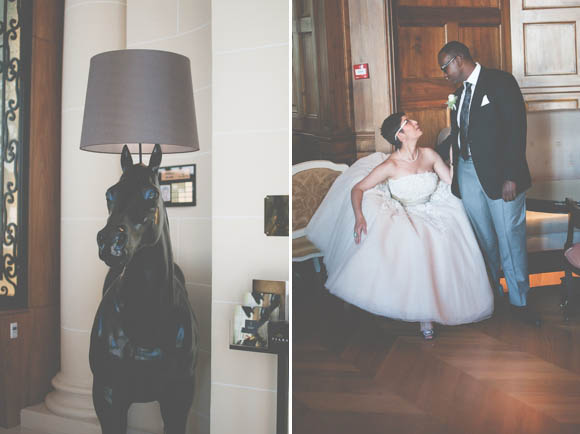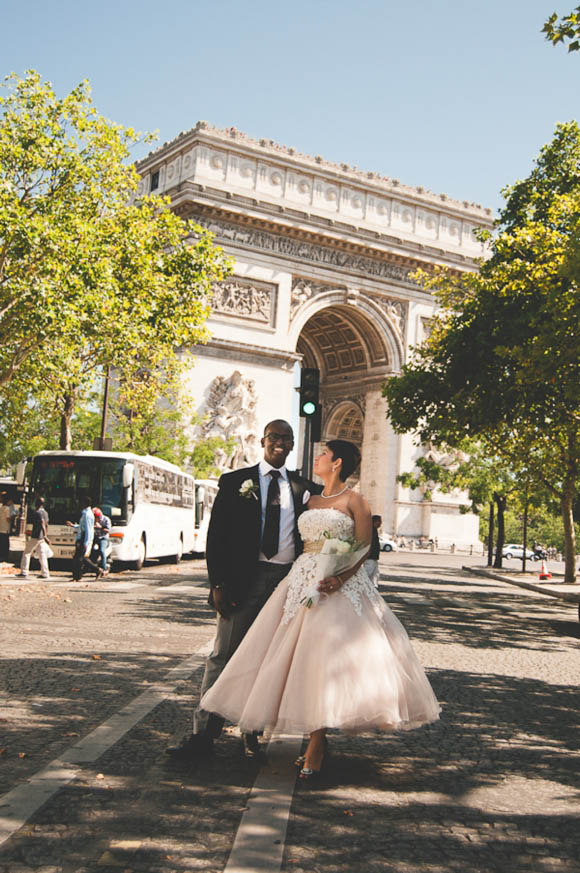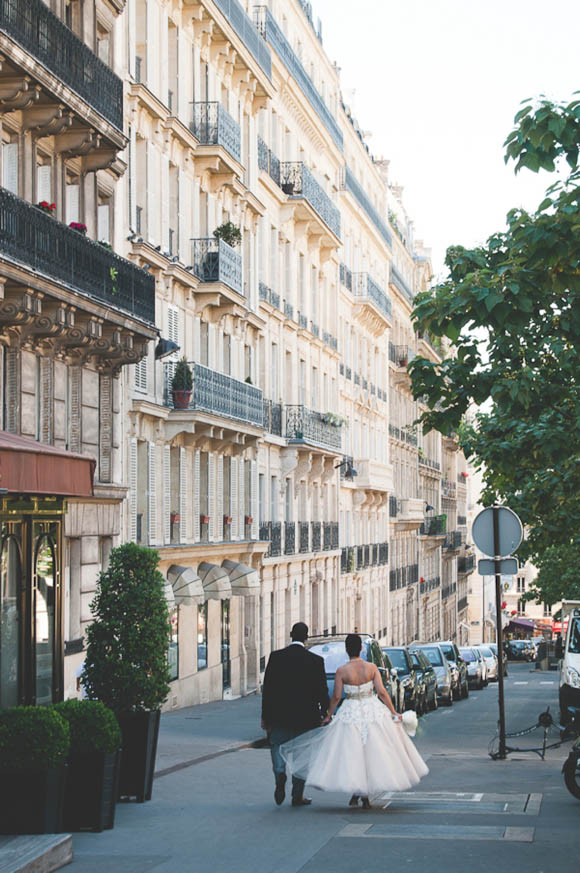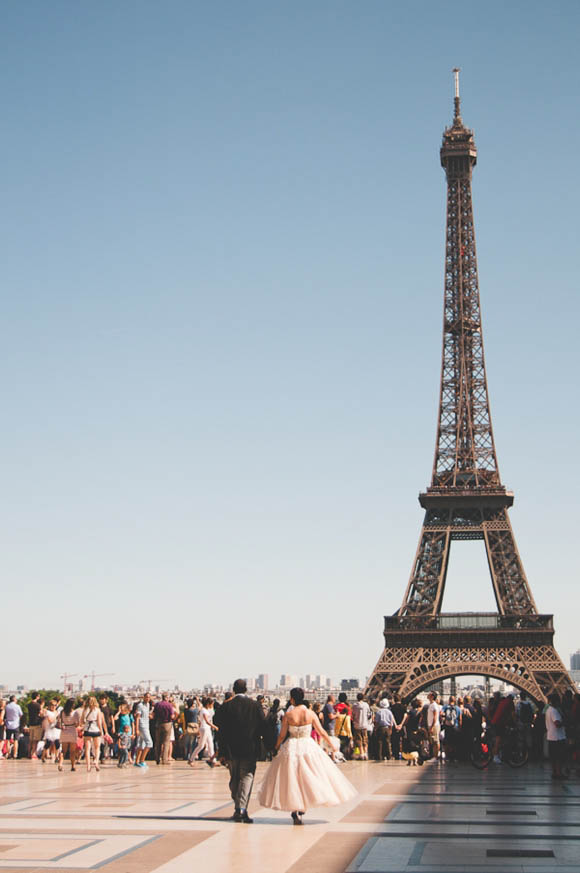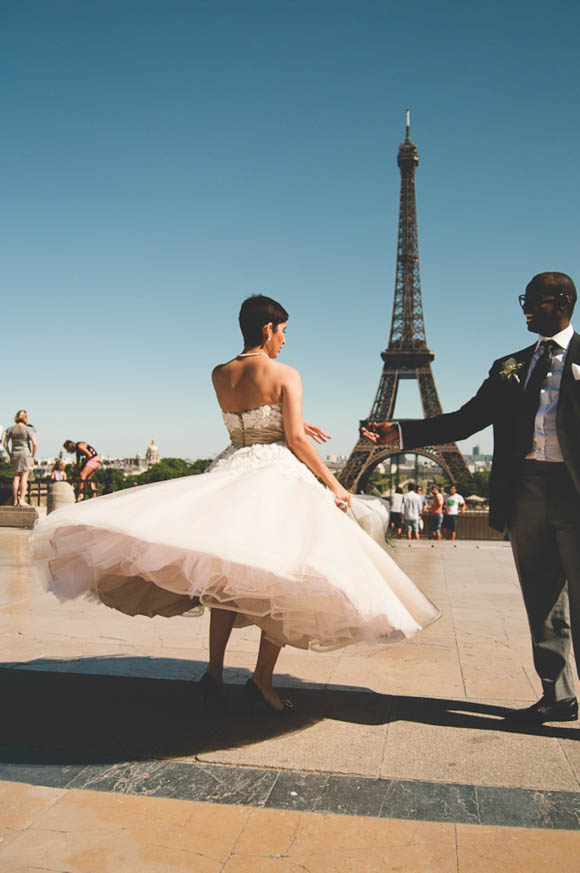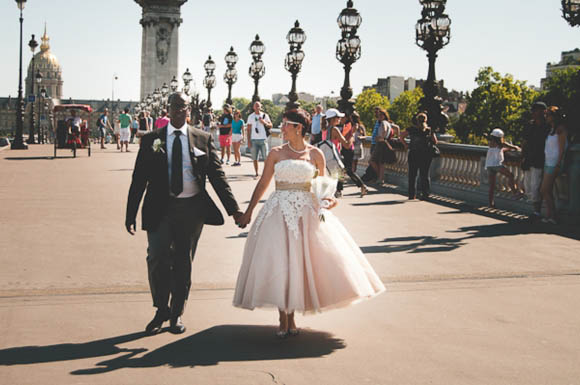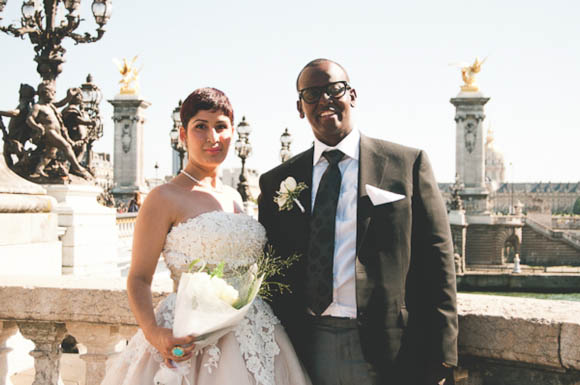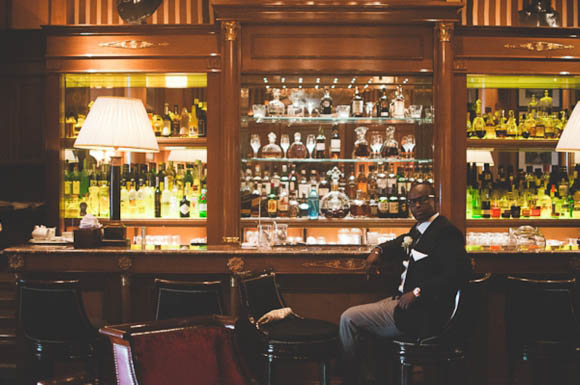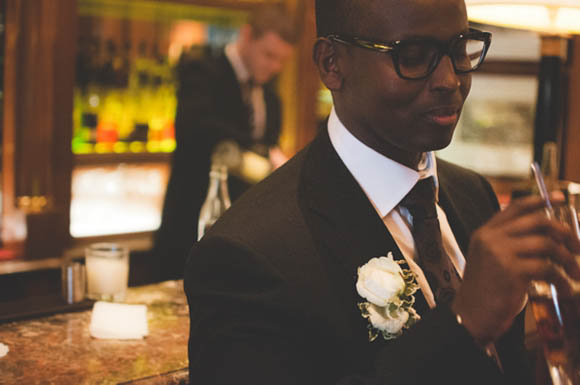 Not content with a beautiful set of images, the couple also had this cute super-8 style movie shot during their romantic frolicks and streets of gay Pareeee…..
Love My Dress Wedding Blog – Film Production Copyright (c) 2012, Blue Dragonfly Films
Oooh-la-la!
I really love this shoot. It's decadent and romantic and a little bit fabulous.
Get your fix of more Parisian romance right this way. And if you want to see more brides looking damn sexy in their spectacles, go here.
A huge thanks to David of Modern Vintage Weddings for submitting these gorgeous images. You can find out more about Modern Vintage Weddings via the website, Facebook or Twitter.
Annabel
Photographer – Modern Vintage Weddings
Film Production – Blue Dragonfly Films
Shoes – Badgley Mischka
Dress – Justin Alexander
Rob's suit – Canali
Zahra 's engagement ring – Tiffany
Hotel locations – Hotel Chateau Mont Royal Chantilly (Prep location) + George V Paris, Four Seasons for the later part