'Florence 2013 has options for every Temperley
Bride, from structured to soft, from voluminous to intricately draped. Each
dress has to be the perfect blend of functionality and fantasy; a bride must
never feel overwhelmed by her dress but allow them to be the ultimate version
of themselves.'
Alice Temperley, MBE.
Love My Dress Wedding Blog – Photography Copyright (c) 2012, Temperley London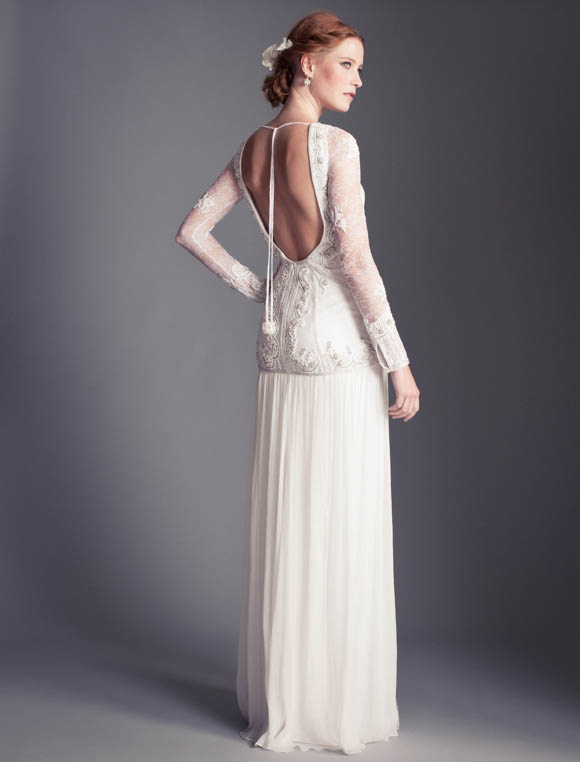 Just when I thought Alice Temperley
had completely nailed it with
her divine collection of bridal wear designs, she has yet again taken my
breath away with some knock-out new additions to her established Temperley London line.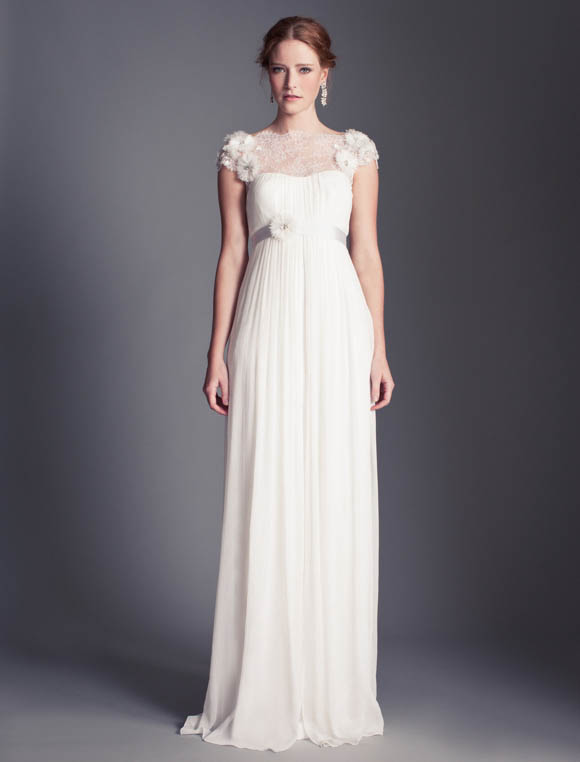 The 'Temperley Bridal Florence 2013 Collection', which will be launching to main stream press next month, oozes Alice Temperley's floaty, ethereal, elegant and wonderfully feminine signature.  From delicate full length sleeves in the finest of laces available in the world, to seductive, low scooped backs revealing the female form in a beautiful sensuous light, to simply exquisite signature draping, it's all here in this latest collection that truly define Temperley style, and was largely inspired by film noir screen sirens.
"I love designing bridal; creating
true fantasy dresses is my definitive ideal of design – and that they become
such an important part of someone's life is a real honour -  It is an honour when any woman chooses
to wear your clothes, but when you are selected to create their wedding dress,
there is no higher privilege."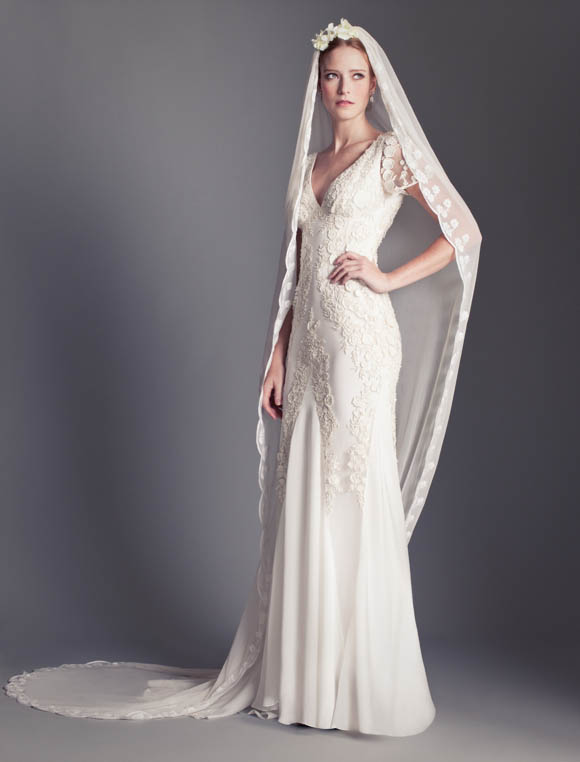 This latest collection features twelve new styles, such as the ultra feminine Viva Dress (very top image, and below); a long sleeved
Chantilly lace and chiffon column gown with hand stitched Swarowski embroidery.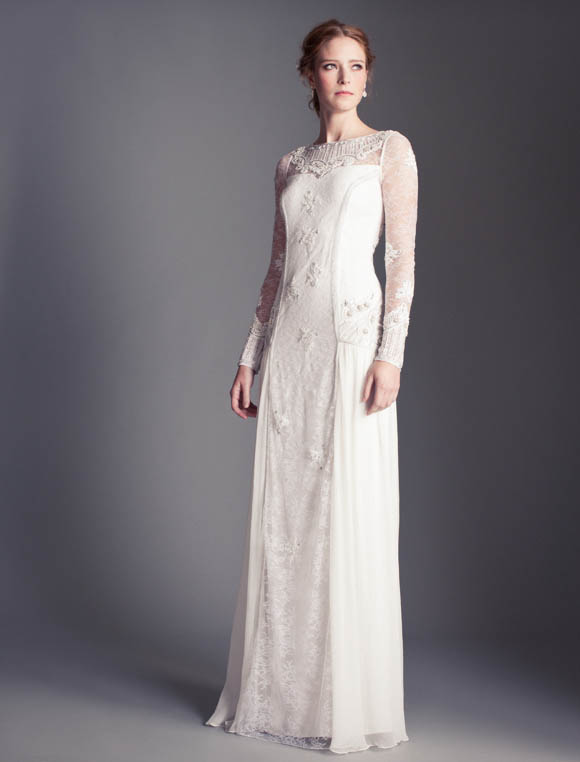 The Bluebell dress (pictured below) incorporates a soft fluted drape and hand stitched
embroidery, while the voluminous Clematis Dress has a structured corset with
corded French lace bodice and skirt. The romantic long sleeved Flora Dress,
with a full silk chiffon skirt and open back, has intricate detailing with engineered
floral stitch work embroidery and hand cut flowers on tulle.
The Clematis dress…
The Flora Dress…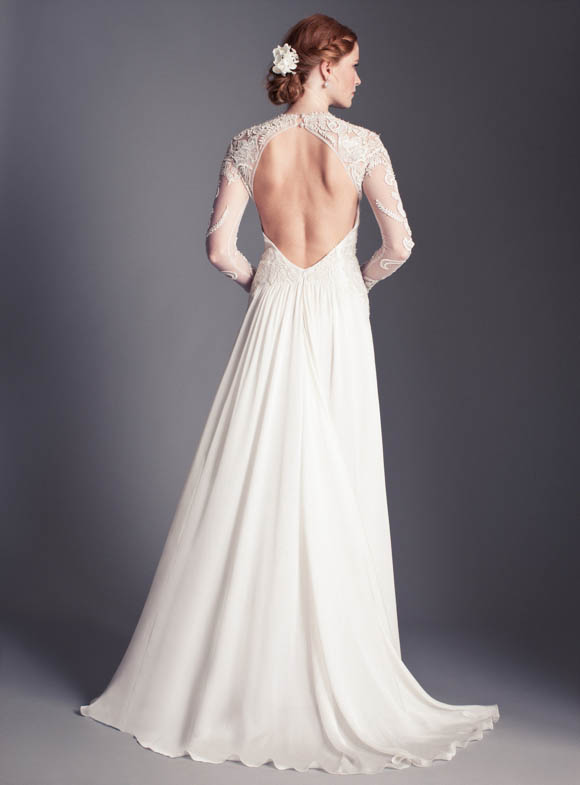 …and from the front…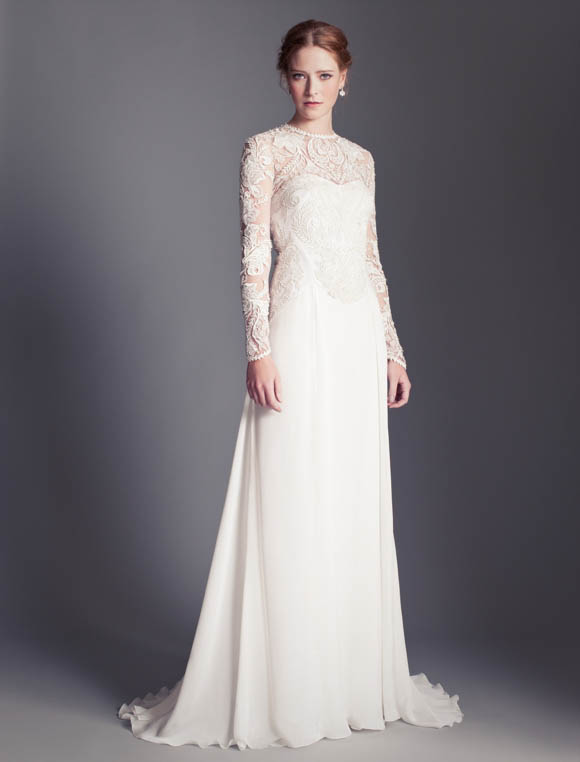 Temperley London also offers accessories including decadent head pieces and brooches,
embellished sashes and an expansion of shrug and veil categories in beautiful
materials such as rabbit fur and embellished French laces with five new shrug styles
introduced as part of the new Florence 2013 collection.
In a lovely little touch for brides, each dress in
the Florence 2013 collection has a delicate blue 'forget-me-not' flower
embroidery on the inside for the bride's 'Something Blue' as a personal touch from Alice.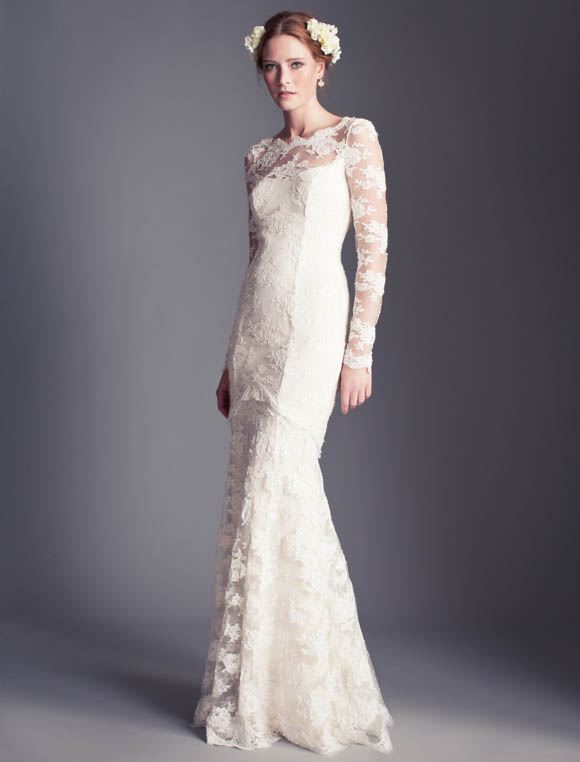 With the
launch of Florence 2013, Temperley is also expanding its US bridal offering by transforming
its Los Angeles store to a bridal destination – fabulous new for US bride!
From January 2013, the beautiful
and intimate Temperley London boutique, located on 8452 Melrose Place in West Hollywood, will have bridal as its focal point
with a complete selection of Temperley Bridal, including exclusive styles and
special services.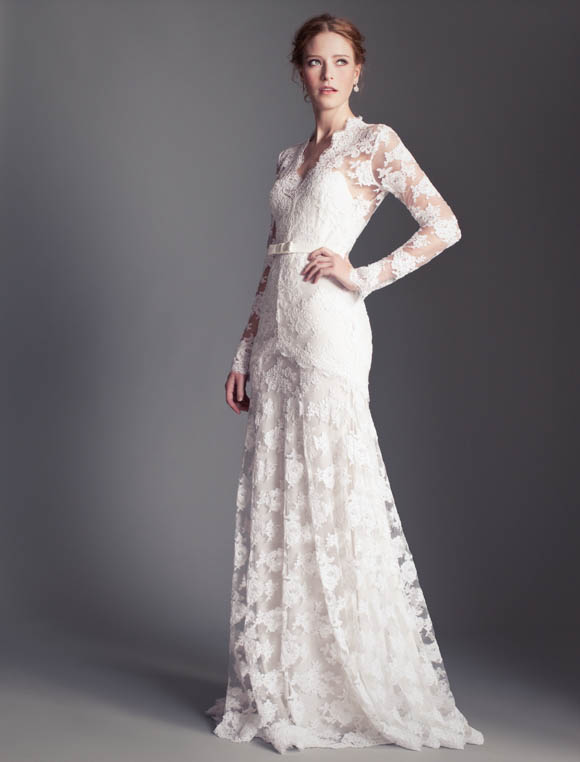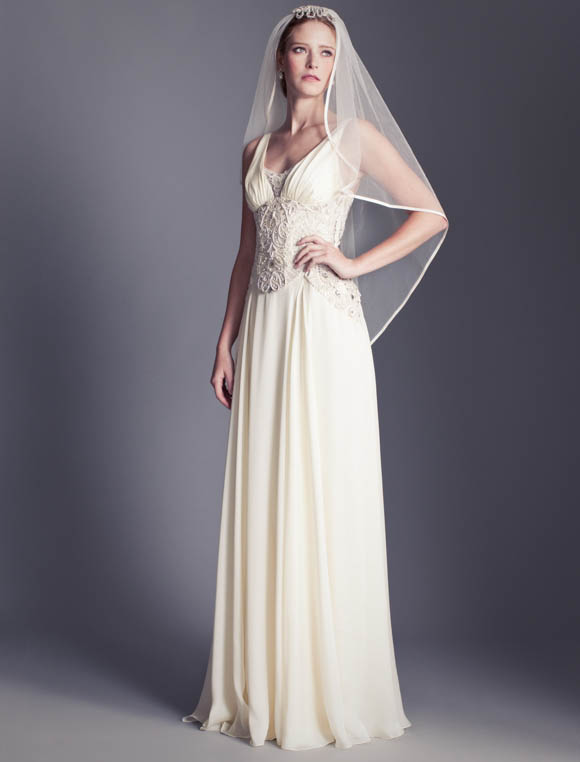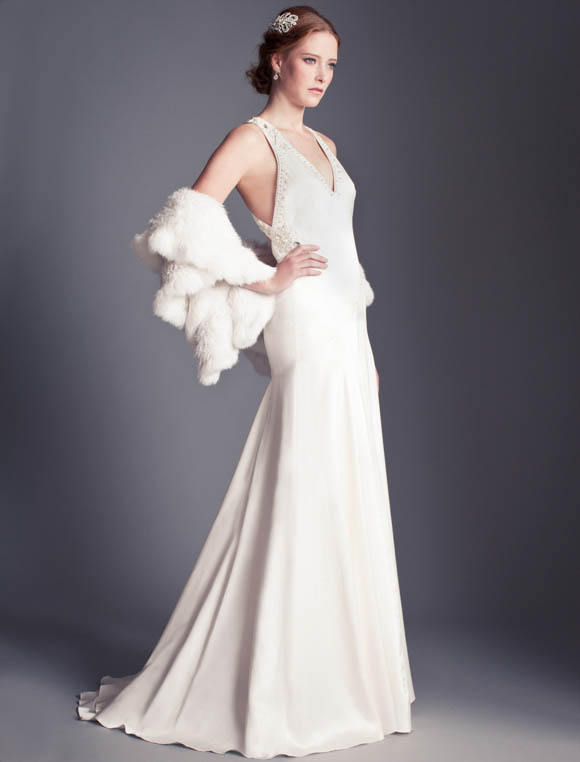 Prices for the  Temperley London classic range (pictured below from hereon) are very
competitive: gowns start from £2,200 / $3,070 / €2,455 for the Chloe and
Draped Scarlett dresses (pictured immediately below) and raise to £6.600/ $9215 / €7,365 EUR for the
to the Crystal Imara Dress – pictured below.  Couture dresses, designed
by Alice
Temperley herself, starts at £10,000 / $14600 / €11400.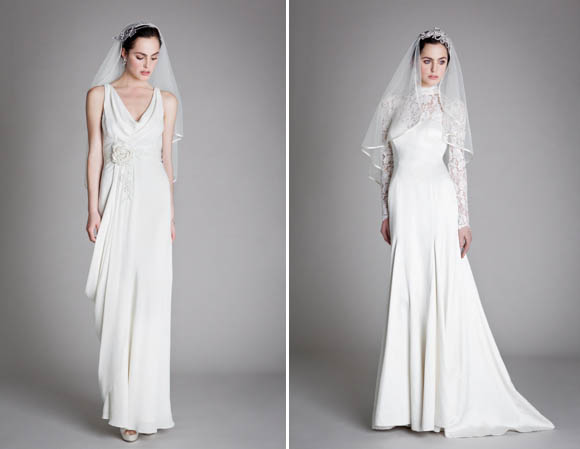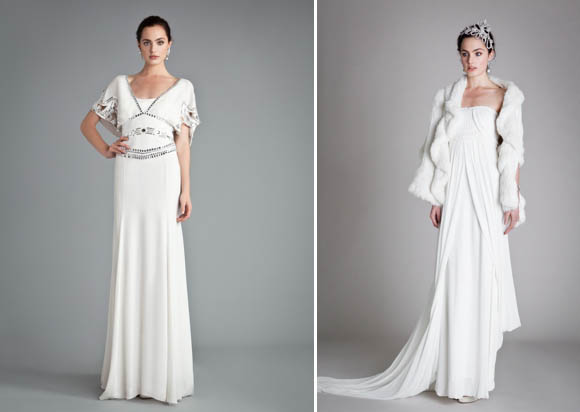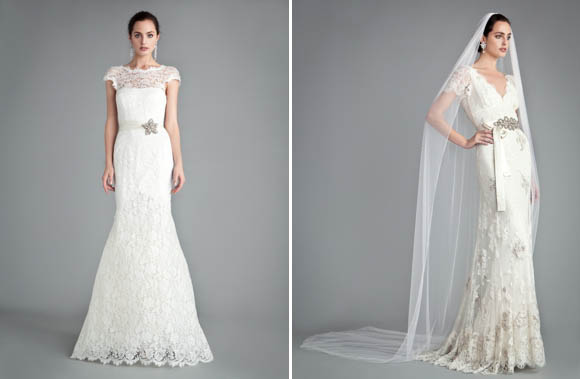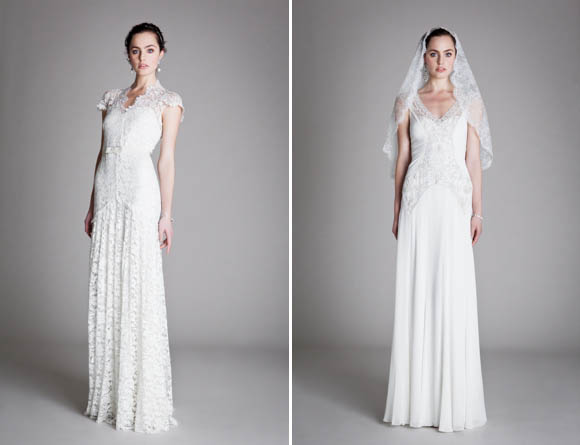 The Temperley London line evolved
after Alice's own wedding in 2002 to Lars von Bennigsen when she received many
requests from friends to also create their wedding gowns.  Bridal is now the astest growing
area of Temperley London, who produce two full bridal collections a year including
retail and wholesale collections.
Appointments can be booked online at temperleylondon.com or by telephone
directly through the boutiques – for details and further information, visit www.temperleylondon.com.
You can see more from Temperley on Love My Dress right here.
Swoon-swoon-swooooooon!
Favourite frock anyone?
Annabel