Morning all! A little late with the morning post today (a combination of a very busy few days planning my daughter's 7th birthday today and a few technology glitches), but hey, it's OK, we're on track, and we have a day full of features to share with you as usual.
Not many people can pull off a backless dress and slinky gown with such chic elegant aplomb in the same way that Lou did on her wedding day to Jon back in August this year.  The couple's totally relaxed and fuss-free nuptials took place at Chelsea Old Town Hall, followed a reception at the salon at the Cheyne
Walk Brasserie…
"I was
originally going to go for something quite low key and the thought of
the cost of wedding dresses was rather excessive. My friend convinced me
to go to a Jenny Packham sample sale, it was the second dress I tried
on and I loved it instantly – the beading detail was so intricate and
delicate but still quite subtle, and it had a drop dead gorgeous
open back…"

Love My Dress Wedding Blog – Photography Copyright (c) 2012, Maureen Du Preez
"It was totally worth it. It was really light and easy to
wear and I was so lucky as our actual wedding day turned out to be the
hottest day of the year in London. (I did have my Gran's vintage fur
cape on stand by in the event of inclement weather!)"
Check out that back. Swooooon-orama!
"After seven years of being together, Jon planned a trip to Paris
over Easter – he proposed in the Jardin du Luxembourg, it was the most
romantic and perfect setting.  Within two weeks, we had set the date for
August this year."
One of the other fab things about this wedding? Lou had a 'bridesman', seen here rocking his Lanvin bow tie….
"Our photographer Maureen Du Preez was absolutely amazing, I met her twice before the actual day at the
venue to discuss what we wanted and she was receptive, enthusiastic and
very professional. Maureen kept a perfect balance between formal and
natural shots, she knew we were'nt too comfortable in front of the
camera and her direction was great. I could not have been more thrilled
with the final result! My bridesmaid and her boyfriend ended up with the
bouquet and garter, got engaged a month afterwards and Maureen is
now doing their engagement shoot!"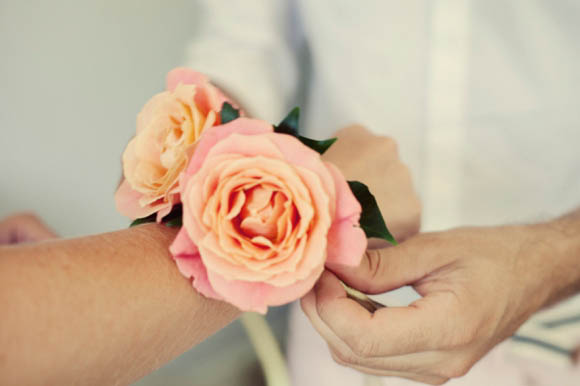 "I actually walked down the aisle with my husband to be.  We kept
our ceremony really short & simple, we were'nt to occupied with
the vows, it was just about celebrating our day with the closest family
and friends…"
"My favourite part of the day was probably  just
after the ceremony walking out onto Kings Road and having confetti
thrown at us, strangers were taking photos and people hooting in their
cars as they drove by. I also really loved getting to our hotel after
our party, we had champagne and strawberries waiting for us and a
beautiful view of London."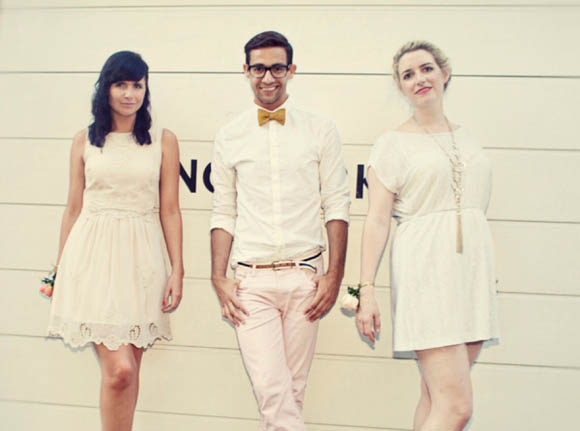 "We loved the Cheyne
Walk Brasserie, as it has huge windows with
beautiful views of the Thames and a very French feel with gorgeous
lighting and chaise lounges. We had quite a small budget and I wanted a
chic venue that would do canapes and drinks without a huge booking fee."
Words of Wedded Wisdom…
"Dont worry about what you
think people might be expecting from a wedding, tailor the day to suit
you. Most importantly, ENJOY every last second, it goes by so fast. . 
Dont stress about tiny details, that only person that will notice it is
you"
God I love it when a backless wedding dress looks this darn fabulous.
Who else is going backless? Come on, don't be shy!
Big thanks to photographer Maureen Du Preez for sharing these images today, and congratulations to you both too Lou and Jon.
Much love,
Annabel
Photographer – Maureen Du Preez
Venue – Chelsea Old Town Hall + Cheyne
Walk Brasserie
Brides dress – Jenny Packha
Brides Hair Accessories – BHLDN
Brides Shoes – Christian Louboutin
Grooms Suit – Top Man + Tie & Cufflinks by Hawes & Curtis
Bridesmaids – Oasis dresses + LK Bennet/Zara shoes + Anthropologie hair accessories
Bridesman suit – Uniqlo  + Rolando Sturlini + Lanvin bow tie 
Florist – Lubi Lu
Cupcakes – Cakes by Nikki
Hair and make-up Artist – Katy Gill