Morning everyone, this wedding comes to you from the pretty Preston Court near Canterbury in Kent, where Michelle & Peter tied the knot on 19th August.  With them on the day was photographer Eliza Claire, who took these lovely photographs as the couple celebrated their marriage.
"We met at work; Peter had planned an unusual and fun proposal (see later) but it wasn't to be! Instead he proposed on Christmas day.  He is a musician and sings as a lay clerk in Canterbury Cathedral every day. Christmasses are a wipe out (Three services! – he's gone for most of the day, but has an hour window over lunchtime).
That little window was the best Christmas /Christmas present I ever had! We wanted to get married as soon as we could (we already have five children and I am forty next birthday – eeek!) so we started planning straight away. We were married within eight months."
 Love My Dress Wedding Blog – Photography Copyright (c) 2012, Eliza Claire
"Peter's mum is a Florist and took care of  everything
'flowery'. I got to go to the wholesalers and hand pick the flowers for
my bouquet – she did a wonderful job."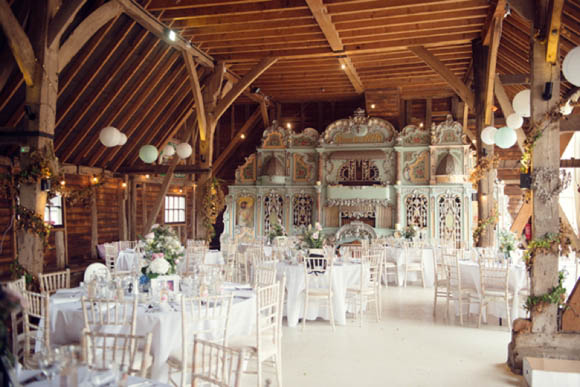 "We designed and made everything ourselves; the website,
invitations, program of service, the seating plan, the table favours,
the place cards, the menus, the bunting (with everyone's names on) – everything!  It took ages but was so worth it."
"We used our own beloved red 1972 VW campervan to take the bridesmaids, and my Mum.  We also hired a brilliant 1961 Hillman Minx, from Simply Stunning Cars for Dad and me. Dad had always wanted one 'back in the day' but could never afford one, so this was his treat!It
had been playing up (as all vintage cars are prone to) and they weren't
sure it was going to get us to the venue. It didn't!! Luckily, they had
also sent the Rolls Royce Silver Shadow, so when we broke down half way
there, there was another car to scoop us up so that we could arrive in
style! We giggled a LOT on the way there! Three vintage cars instead of
two!"
"The venue is pretty enough as it is, but we used some paper
lanterns, and I had made some cushions from vintage fabric with names
and dates embroidered on."
"Our photographer was Eliza Claire – whe
was so great. We had a tricky start to the day (My bridesmaid heard
first thing that her Mum, who was terminally ill, had been taken into
hospital – she couldn't get here to begin with so I had no help). Eliza
just scooped up the littlest boy and girl and looked after them so I
could start getting ready – the photos had to start later. And when they
did, what an amazing job she did of them.
I really do think her pictures
are the perfect advert for her services. I recently wrote this message
on her Facebook page about her blog, and how it helped me chose her to be our
photographer;  'Eliza, your photographs really do speak for themselves;
sing & shout for themselves, in fact. And that is exactly what your
blog shows. It documents your work so clearly, and each entry glows like
a perfect, clear little wedding filled snow globe!! I saw it and (along
with your very pretty and well designed website) wanted to be one of
your happy couples."
"I went to the Canterbury branch of Teokath.
It was the only bridal shop I went to, and only tried on five dresses. I
was in love with a Lucan Mandongus dress, but I wasn't 100% sure – it
was all a bit floaty. Mum pleaded with me to try on the Eden design by Jenny Packham, and as
always, she was right. It was the most beautiful moment – I shed a tear when I saw my reflection.  I fell in love with that dress right there and then; mum's always know best!
I loved the 20s feel of the dress. It is heavily beaded and
sequinned and moves so gracefully. It definitely has a personality of
it's own: confident; self-contained; elegant yet radiant , and like
magic,I felt as if I were all those things when I was wearing the dress.
Clever Jenny Packham!"
"My absolute favourite part of the day, without a doubt, was the
service. We really meant every word we said, and every other spoken or
sung word was as honest and pertinent as it could possibly have been.
Peter is a musician and wrote a piece of music for choir and harp (Set
Me as a Seal) which was performed for the first time during the service.
It was the most beautiful sound (helped by the fact that it was sung by
members Canterbury Cathedral choir). I felt like the centre of the
world was right there."
"Our vows were very traditional; 'Love is a temporary madness', and 'Desiderata', a poem written by American writer Max Ehrmann
– it is such a 'sensible' yet touching poem; I think it encapsulates
everything that is desirable in life! and the de Bernieres snippet is
just divine!"
"We were keen to marry in a church, and though the Cathedral was
potentially an option, as soon as we'd visited the venue and seen the
gorgeous church which is tucked away but right by (and near our homes),
we no longer had a decision to make – it was all perfect.
I love vintage
style, and the beautiful original working mechanical organs (one art
deco and one  older), in the barn, and the working carousel. The rest
was easy – the venue was the starting point and everything else just had
to compliment that!  We were keen not to have a 'theme', but rather a
very pretty and charming sentiment of  loveliness (with some cheeky
humour thrown in!)."
"Our tables were all
dedicated to iconic, romantic couples from history, fiction and life. We
collected some great vintage images to frame as pictoral labels for the
tables. We managed to find original cuttings from old film magazines,
book covers, old photographs. The tables ranged from the desperately
romantic (Cathy and Heathcliff, Romeo and Juliet, Samson and Delilah) to
the rather more kitch (Danny and Sandy, Barbie and Ken, Tarzan and
Jane), and even included a table dedicated to my nan (Nan and Bill!!!).
(The guests had to find their name and number on the bunting, then
locate the 'lovers' that corresponded with their numbers).
When we
looked round the finished room I felt so extremely proud!
"Devon Sproule is a favourite singer songwriter of mine.  I
have travelled far and wide to see her perform. Peter had somehow
organised that she would propose for him in a song at one of her gigs,
but the date was changed and it all fell through. Luckily she came and
performed at the wedding instead… we are SO lucky! She was awesome!"
"The wedding favours were also the name place cards. We printed some
little envelopes and put some sunflower seeds inside. We added some
instructions on how  to 'let the love grow' and wrapped the package with
a cut out of the guest's name and a carousel horse silhouette. It was
cute – probably hard to picture in your head! Our lazer cutter had a big
role to play  in making all our bits and pieces."
"Our four boys aged between 14 months and 10 years all wore exactly the same striped linen shorts and waistcoats from Little Linens."
Words of Wedded Wisdom…
"Be true to yourself.
Don't get carried away trying to create a theme because it seems like a
good idea, or because it looks pretty in magazines. The wedding should
be about you, as a couple.
And also: chose a good
photographer! This was so important to us. The day whizzes by in a
flicker, and your memories are very much enhanced by the pictures you
have.
The only thing that maybe I would have done differently is to
encourage our guests to write in the guest book. We had a lovely
turquoise vintage typewriter in the bar with a sign to show what it was
for, but we should have mentioned it in the speeches, or at sometime,
because lots of guests didn't see it."
Awww, I love that last photograph – Michelle and Peter, thank you so much for letting me feature your beautiful love-filled day.
Jenny Packham rules the pretty, elegant, vintage inspired wedding dress world, doesn't she? Are there any other brides wearing Eden too, I'd LOVE to hear about your wedding plans.
You can see more beautiful photography from Eliza Claire on Love My Dress here – and check out these Packham brides and Preston Court weddings too!
With much love,
Annabel
Photographer – Eliza Claire
Venue – Preston Court
Bride's dress – Eden by Jenny Packham, via Teokath
Brides shoes – Bloomingdales, Ivanka Trump 'Natalya'
Brides hair accessory – Rainbow Club, via Teokath
Grooms Suit – Jaeger
Bridesmaids Dresses – Monsoon
Flowergirls – Next
Pageboys – Little Linens
Florist – The Groom's Mother
Entertainment – Devon Sproule
Transport – Simply Stunning Cars