Afternoon my loves.  As you sit reading this, I'll be sat around a table in a very, very beautiful room at the delicious Fetcham Park in Surrey, with a whole bunch of wedding industry people, deciding who should be the national winners for this year's Wedding Industry Awards. EXCITING! And indeed, I'm so excited for all the regional winners so far – very, very well done guys, I can't wait to meet you all next month for the awards party!
This wedding is one that caught my eye on Facebook.  I was instantly smitten with bride Hannah's gorgeous 1960's style bridal outfit and after scrambling to ask photographer  Emma Lucy if I could feature these images, I was extra delighted to find out that bride Hannah wore a dress by one of my fave designers in the UK, the one and only Joanne Fleming.  Ben and Hannah tied the knot on 10th November 2012, at The Royal Pavilion in their hometown of Brighton…
"Well, this is quite a good story; a few years ago, before Ben and I got engaged, we had the most wonderful experience created by Dream Think Speak.
Dream Think Speak are a creative drama company who create unusual
interactive installations and performances.  This one was called 'Before I Sleep', which was inspired by The Cherry Orchard…"
Love My Dress Wedding Blog – Photography Copyright (c) 2012, Emma Lucy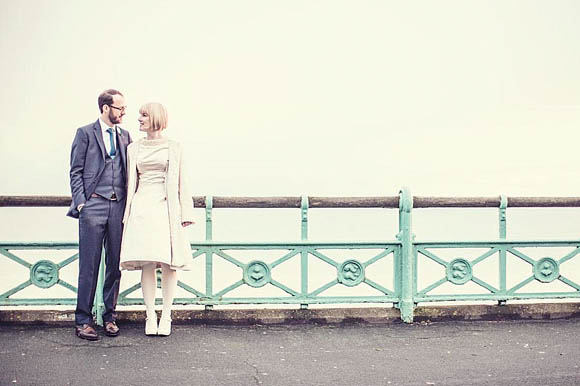 "'Before I Sleep'
created a series of miraculous journeys through the hidden interiors of
a long-forgotten department store, in the centre of Brighton.""As
part of this experience, we encountered a department store, where all
the staff spoke in different languages in the different departments that
they had created.  I was immediately drawn to the ladies clothes
department where high up on a mannequin was a gorgeous 1960's style
wedding dress, complete with pearl bateau collar in true Jackie O
style.  I loved it, which must have been obvious to the two Dutch ladies
who quickly whisked me into the changing room where they squeezed me
into it.
When I emerged, I saw Ben's expression and I knew
this was the dress for me.  Should he ever propose of course. 
Thankfully the dress designer and maker was local and had a studio
opposite The Royal Pavilion in Brighton – Joanne Fleming Design."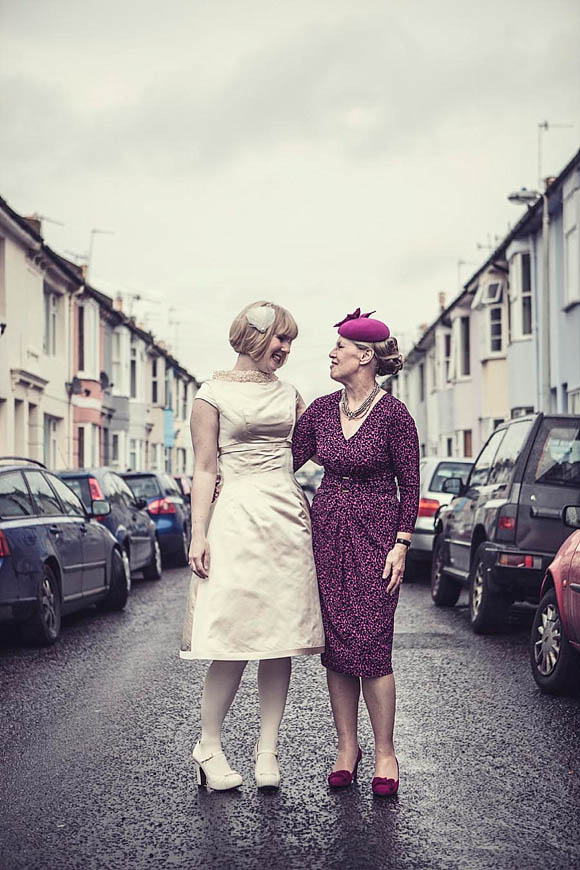 "After getting in touch, Joanne
hand made my 'Audrey' dress in a golden-ivory duchesse satin and
carefully decorated the collar with matching pearls.  Joanne was
fabulous and I already miss the excitement of entering her studio and
the beautiful dresses she had all around."  "We decided very
quickly to get married in our hometown of Brighton, which is not where
either of us grew up.  Hannah is from Gloucestershire and Ben from
Shrewsbury in Shropshire originally, but we both love Brighton so much
it was the obvious choice.  Also, logistically it we realised it would
be easier to organise a wedding in the town we live."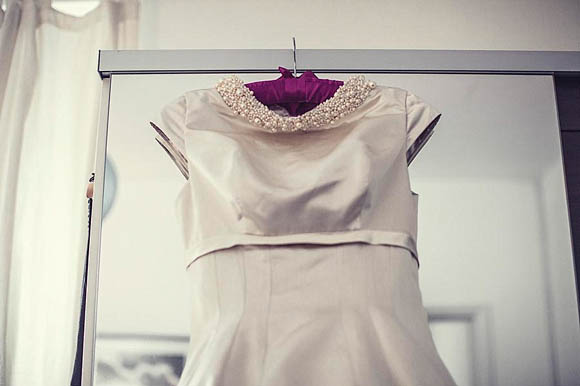 "Oh my, I love my wedding shoes.  Onita by Chie Mihara. 
Chie Mihara makes the most beautiful shoes, and her wedding collection
is no exception. It took me a while to choose which shoes to go for as
there were so many beautiful exhibits. I went for Onita because the
design was in keeping with the 60's vibe I was going for with the dress."
"Ben and I are an internet dating success story.  We both signed up to the
Guardian Soulmates site in 2009 and we were each other's first date.  We
met on 26th March in both of our local pub The Prestonville Arms in
Brighton and we hit it off immediately.
We were both expecting to kiss a
few frogs, so to speak, so were surprised to quickly realise this was
something much more.  After a few dates Ben asked me if I wanted to be
his girlfriend; a straight-forward question my mum and Auntie Ann were
very impressed with! We moved in together in October 2010."
"We were planning a holiday to Japan in October 2011, a holiday that
I'd not failed to notice would supply many opportunities for romantic
moments, but I was convinced that Ben was not interested in getting
married.  Finally on 24th October, off a deserted and stormy cliff on
Ishigaki Island, Japan,  Ben shouted at the top of his voice "Will you
marry me?".
I gave him a moment to make sure he meant to say this and
not just something that felt like a good idea in the romance of the
moment.  He'd brought a leather ring with a red button hidden in his
pocket to unveil at the right moment (and there were plenty of them
believe me).  He had also asked my Dad the week before we left so I knew
he was serious.  I shouted, "Yes, please" out to sea.  It was a
brilliant moment."
"I have always felt very comfortable in the style of the 1960's,
I love shift dresses and bob haircuts.  I love mid-century furniture
too so a 1960's style dress was perfect!  Ben was inspired by the sharp
suits and brogues in the TV series Boardwalk Empire which is set in the 1920's and 1930's.
The Royal Pavilion and Proud Cabaret Brighton also have an early 20th
century tone and style too, from their hay-days I guess, and we wanted
to be in keeping.  We mixed up our styles and eras completely but
because we both went for new outfits with a nod to our respective eras
we avoided the fancy dress potential there."
"We also love colour, using it carefully so as not to look too
childish or circus clown.  The colour idea started with my bridesmaids
tights; teal, forest green, ocre and red were colours that ran through
the day from the tights, invitations, ushers braces and ties, and
colours of the jelly beans in Kilner jars for the favours."
"My bridesmaids were all very different so I didn't want to make
them wear dresses that were too uniform. This way they could chose a
style that suited their shape and size.  The two rules were: black and
knee length.  This way their dresses would show off the fabulous
coloured Tabio tights. Emma's was a simple and stylish shift hand made
by her very talented Mum, Jo.  Isla chose a lovely Monsoon dress with
lace arms. Lowri found a lovely dress in a local boutique in Shrewesbury
with a sweetheart neckine.  Shelly found a French Connection shift
dress with a lace bodice.
The bridesmaids necklaces were a present from me on the day – Silver jigsaw puzzle pendants made by Gorjess Jewellery found on Etsy.com.  Jess made these in Stirling silver and they were great quality and made very quickly.  They also wore Johnnie Loves Rosie feather hair clips hair accessories and fur Stoles from Joules. These were a last minute idea, but really brought their look together.  I also purchased coloured tights from Tabio. 
I love Tabio tights, they practically last forever and the colours are
spectacular. The black arm warmers were also a last minute attempt to
keep the bridesmaids warm for the photos.  These were £4 a pair from
Ebay!"
"We went to see a couple of venues but The Royal Pavilion just stands out for obvious reasons.  With it's
stunning Indian inspired exterior and Oriental inspired interior, the
opulence of George IV elaborate style and the intimacy of the Red
Drawing Room where the ceremony took place, it was just right for us."

"We all took taxi's to the Pavilion for the ceremony. 
The best bit though was the 1960s routemaster we hired to transport the
guests from the Pavilion to Proud Cabaret after the ceremony.  Ben's
sister / my bridesmaid, Lowri, made miles of different coloured paper
chains to decorate the bus with and they looked fab! Thanks Lowri!"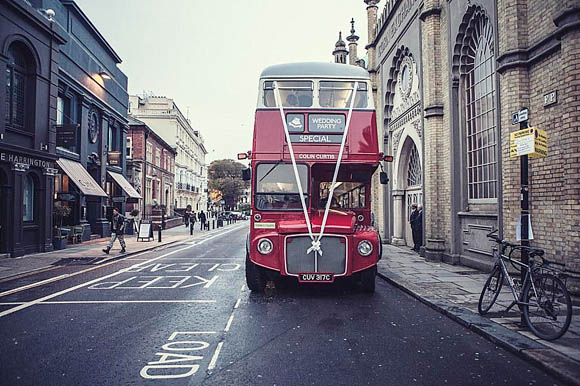 "Ben has always been a big fan of vintage checked suits and was
determined that this would be the route for the wedding. It was an
opportunity not to be missed to have a fully bespoke suit made (and what
an experience!). A lot of different check patterns were considered but
during a visit to Hugo Morris one day, Ben spotted a member of staff
wearing an incredible 3-piece birds-eye suit in navy blue. It was love
at first sight and had to be the suit for the wedding.
Mark Jenkins and his team at Hugo Morris in Brighton have been fantastic during the process and the quality is second to none."

"Ben designed everything starting with the invitations, to the table plan and name cards for the tables.  He even made us a website! There
was a predominantly red and white theme with some teal and yellow
accent colours.  Ben used an image of the Royal Pavilion and designs
taken from the exterior of the building to make borders and shapes to
frame the text.  I'm so proud of his work, he spent a long time
designing everything.
Everything was printed by L&S Printing in Worthing, owned by Aaron Lomasney who did a fantastic job!"
"Our photographer Emma Lucyis THE best wedding photographer around and a thoroughly lovely person.
Emma
was hired first by our good friends Vicky and Ted for their wedding in
April.  Vicky had so much praise for Emma that when we met her in a tea
shop in Brighton we weren't surprised at all that we hit it off and
signed her up almost immediately.
Emma uses a documentary style; this
suited us perfectly.  Emma has
a knack of making people feel relaxed in front of the camera and an
engagement shoot a few weeks earlier at the Sea Life Centre helped with
my camera shyness.  Emma is a great communicator and is also very
efficient and knows when she's got the shot she wants and moves on.
Great girl!
I would now consider Emma a friend, and we were so happy for her to be there to share our wedding day!  She's such a laugh too!"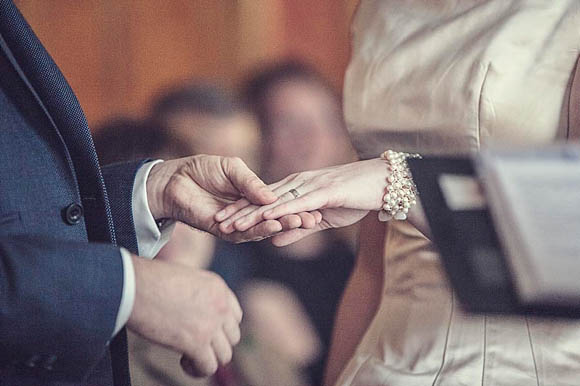 "Norie Fugimori from The Flower School Brighton is a lovely friend of ours and did a wonderful job on the flowers.  Norie
was very professional and helped us decide what flowers to go for.  All
I knew is that I wanted to carry an Arum Lily like my mum did on my
parents' wedding day.
November is quite a tricky time
for wedding flowers we discovered, particularly when I was attracted to
peonies and spring flowers.  We decided on white Orchids for the
bridesmaids corsages as they are beautiful and in season in November.  
I've never seen such large orchids and Norie decorated them with white
feathers in keeping with the feather details elsewhere. Norie suggested
that white flowers always look great in photographs and are timelessly
elegant, so we took her advice.
Norie
also made a 'long and low' display using orchids, feathers and dark
green foliage to decorate the table of the Pavilion.  We took this along
to the Ballroom to make the most of it!"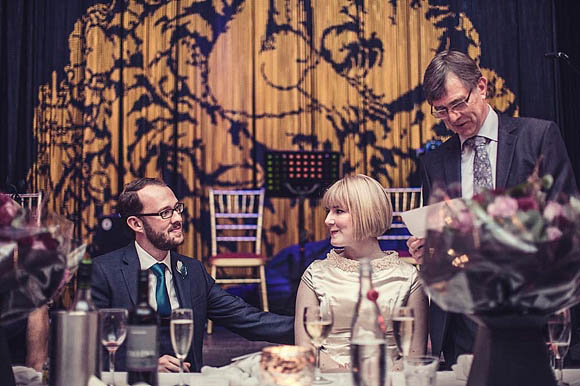 "Our reception was a the Proud
Cabaret in Brighton.  I have spent many nights watching live music
when I first moved to Brighton in the Proud Cabaret Brighton when it was
a little more down at heel and known then as the Hanbury Ballroom.  I
loved the understated elegance of the Grade II Listed building, but when
we found out it was due for a revamp, we were very excited. They did a
wonderful job updating the interior and installing a very dramatic
'titanic' style staircase.
The ballroom was down at heel no more and
was transformed into a stylish den with snakeskin covered booths and
chandeliers and a selection of very naughty framed pictures in keeping
with its usual cabaret and burlesque shenanigans.  It worked very well
with the style and tone of the Pavilion too.  One of the biggest
compliments of the night was from my old housemate Tom; "This was
definitely not a themed wedding; it was actually like we'd stepped back
in time to the 1930's."  That's what we were going for."
"Wedding favours was something we couldn't decide whether to bother
with – it seemed like quite an expense in addition to everything else,
for what could have been something useless or unwanted by the guests.
Ben
came up with the idea of filling small Kilner jars with Jelly Belly
jellybeans, all in our four accent colours.  We both love jelly beans,
and thought it would be a popular choice.   It was quite a job filling
up the jars, and half way though realising we'd miscalculated and bought
enough to half fill the jars which looked rather mean.  Ben and I took a
trip to Charlie's, a sweet shop in the Lanes, where we bought loads
more and set to work filling the jars to the top.  All the jelly beans
were gone at the end of the night, so people must have liked them!"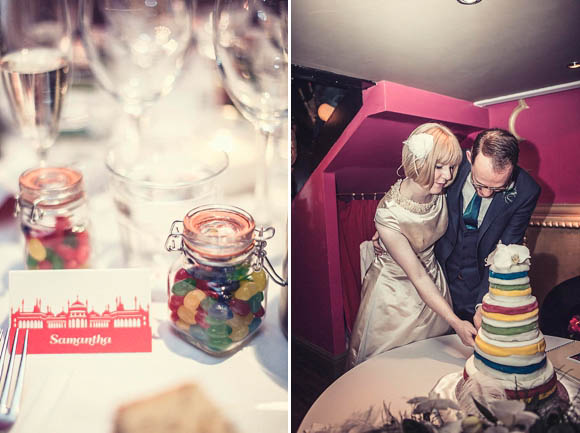 "Our first dance was to 'Way Down Hadestown' by Anais Mitchell.  We
went to see Anais perform her Folk Opera 'Hadestown' in Glasgow at the
beginning of 2011. It tells the story of 'Orpheus and the Underworld'
with Anais performing the lead as Eurydice.  Songs from this album
featured many times during the day.  We chose Way Down
Hadestown because it is so much fun, it went with the venue, and was a
good marker to change the tone of the wedding from daytime to party!"
"The Hot Potatoes are a Gipsy Jazz band we discovered in the
Snowdrop pub in Lewes.  We'd investigated a few typical wedding bands
but weren't convinced by any of them.  As soon as we heard the Hot
Potatoes, we immediately asked "do you do weddings" to which the band
leader Jerome said "yes we do".
They were absolutely
stunning, such great musicians and a very talented band.  Everyone loved
it, and the music was a little bit different but fitted in with the
venue and tone for the evening we were after: refined, but super fun! 
Jerome was very professional and it was a pleasure to have them with
us."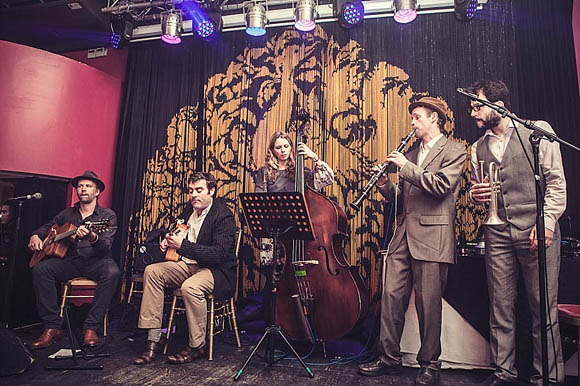 Words of Wedded Wisdom…
"Inspiration
will come to you, so don't stress if you don't have fully formed ideas
from the beginning.  It's really fun as the ideas emerge.   Take
inspiration from anywhere not just wedding stuff – what you like, your
style, what you like to do and where you like to go are equally
inspiring.   I used Pinterest a lot to gather images for inspiration – I soon
noticed a pattern emerging in the styles and things I like.  Don't
share your ideas on Pinterest or Facebook though – everyone will know
your secrets before the big day. 
Break the planning into phases, it doesn't seem like such a
mountain to climb when you break it down into manageable chunks.  And,
tick off little things when you think of them – there's nothing more
satisfying that seeing that to-do list getting shorter.   If you have to scratch the itch, only buy one traditional bridal
magazine, or borrow one if you can – you will see the same advice and
styles over and over again.
Once you have decided what you both want, go with it.  Talk to
people and get ideas of course, but be clear to your bridesmaids and
others once you've decided.  My experience is that they want you to lead
and trust you to make the right choices. Take advice
but only advice that resonates with you.  I think lots of people
suddenly understood when they saw the day play out as we'd planned. 
Stick to your vision, enjoy it, and everyone else will too!  Take some friends to the food tasting, Ben and I were stuffed after 6 starters, 5 mains and 5 puddings!
The
only minor thing I'd have done differently is make sure the DJ is clear
about the music we wanted for the party after the band.  In hindsight
this was the bit that I'd dreamed of growing up – not the dress or
marrying prince charming, the songs I wanted to hear at my wedding. 
They didn't quite materialise.  On the whole though, not a big deal!"
Huge thanks to the fabulous photographer that is Emma Lucy for sharing this gorgeous couple's 60's inspired nuptials with us – thanks Emma!
Who adore's Hannah's dress as much as I do, and do I have any more
60's fans reading this right now? Spread the love people! I want to hear
all about your wedding plans 🙂
Big retro love all,
Annabel
Photographer – Emma Lucy
Venue – The Royal Pavilion +
Wedding Dress – Joanne Fleming Design
Wedding Veil – Lilly Bella
Bride's shoes – Onita by Chie Mihara
Groom – Hugo Morris
Bridesmaids – own dresses + Johnnie Loves Rosie feather hair clips, Fur Stoles from Joules, Coloured tights from Tabio and arm warmers from EBay.
Entertainment – The Hot Potatoes
Transport – 1960's Routemaster Bus
Favours – Coloured Jelly beans in Kilner jars
Florist - Norie Fugimori from The Flower School Brighton