Oh sweet blog readers, I have such a treat for you this afternoon.  Please meet Vicki and Alex, who tied the knot with the most spectacular sunshine
filled Italian wedding at Villa Catureglio – a private villa about 30
minutes from Lucca, in Tuscany.  There to capture all these beautiful details, that dress to die for and those bridesmaids frocks from Marks and Spencer. I know!!
These photographs were taken
by one of my favourite UK photographers, the gorgeous Laura McCluskey. What a fabulous time she must have had capturing all this love and enjoying the beautiful surroundings.
"We wanted to ensure everything was in keeping with the venue and
the surroundings.  We were in rural Italy, in a beautiful 13th Century
building surrounded by mountains and olive groves so our main aim was
not to detract from that. We wanted everything
to be rustic and authentic, with plenty of colour, but no bling!  We
wanted it to be really relaxed, but really fun at the same time."
 Love My Dress Wedding Blog – Photography Copyright (c) 2012, Laura McCluskey
"We
hung about 100 yellow pom poms from the ceiling above the dancefloor,
and hung fairy lights all around the barn.  We took our pom pom research
very seriously and ordered lots of samples to get the right colours  –
at one point he had them hanging all over our kitchen at home!
We
bought them from Deco Pom Poms,
who we found through love my dress.  We took them all out in our
suitcases flat packed and spent the Thursday afternoon before the
wedding fluffing them up over a few glasses of prosecco."
"My dress was from the utterly fabulous Fur Coat No Knickers, which
was recommended by a friend. I was really hoping to find a genuine
vintage dress and my whole experience with the girls at FCNK was just
lovely.  I found a couple of dresses that were great, but when I put
mine on I just felt amazing, and I knew it was the right one for me.
The
girls completely reshaped the top, making a new bodice from the lace
and adding buttons down the back.  I loved going to Fur Coat No Knickers for all my
fittings, it was one of my favourite things to do while we were planning
the wedding!  Laura and Emma are so lovely, totally brilliant, and
clearly love what they do."
"I loved the lace of the dress, the shape, the length, the
subtle colour, and I loved how romantic it was, but so much fun at the
same time.  I loved the way it flattered my curves, and I even loved
everything that went under it.  I wish I could wear such a brilliant
petticoat in everyday life!  As I said before, it just made me feel
amazing!" 
"We didn't provide favours as such, but we tied everyone's place
cards to a small olive branch with a yellow ribbon which looked really
pretty.  Lots of people took those with them."
"Emma at Fur Coat No Knickers made me a birdcage
veil, customised with bits of lace from the dress.  I loved the way it
looked, and actually kept it on all night, until we went to bed at
around 5.30 in the morning!"
"My bridesmaids dresses were from Marks and Spencer,
of all places!  I wanted the girls to feel comfortable in what they
were wearing, and these were the perfect colour to match the
sunflowers.  We hadn't noticed before, but on the day of the wedding we
realised how perfect the lace was to compliment my wedding dress, an
added bonus!
I bought my bridesmaids bracelets from Latham and Neve.  They were silver, with some gold plated detail to reflect the yellow on the day."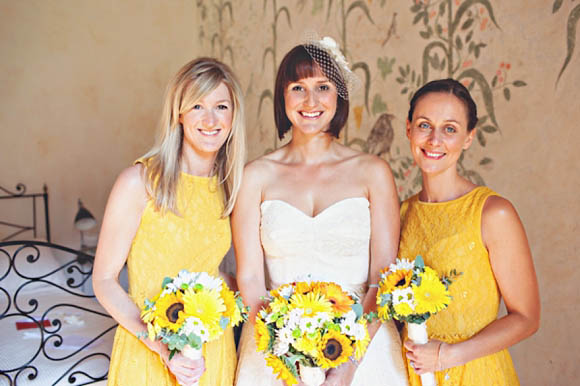 "My shoes were by Rachel Simpson, also from Fur Coat No Knickers .  They were the ones I tried my dress on with originally and were just perfect…"
"My brother gave me away, which was lovely.  I was keen to arrive at
the ceremony behind the guests but this involved a walk on slightly
challenging terrain all the way around the villa and gardens."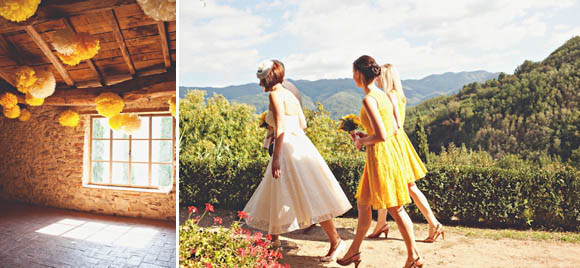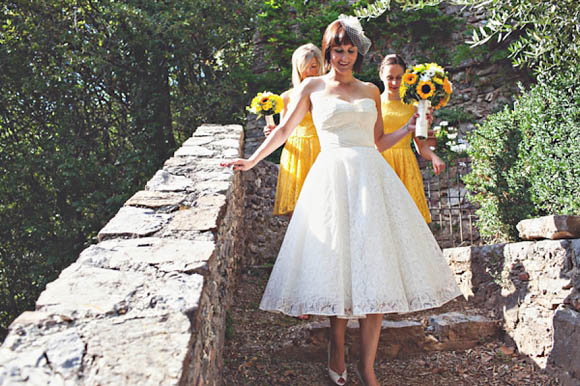 "As sunflowers grow locally and are a favourite of mine it was an
easy choice.  We knew they'd look great in the sunshine too.  We bought
them from Sabrina, the local florist in the village, and Alex's Mum did
all our flowers for us.  She did the three bouquets herself; a mix of
sunflowers, gerberas and chrysanthemums, and all the table arrangements
with a little help from some of the guests.  It was a huge job for her
to undertake, and the flowers looked beautiful."
"We wanted a small, intimate wedding with our family and
closest friends.  We love our holidays and we had this idea that we
could turn our wedding into a big holiday with everyone.  Villa Catureglio was recommended by a friend so we always had a good feeling about it.  We
arranged viewings at a few places around Tuscany and as we were driving
away from Catureglio we knew it suited us perfectly, it's just a really
special place.
Our brilliant planner, Kate, does all the
event planning for Villa Catureglio.  She was great, dealing with all the
local suppliers, arranging the marriage itself with the town hall, and
also acting as our official translator during the ceremony.  She was
there all day to sort any last minute jobs, and deal with any
emergencies, should they occur (which they didn't – phew!)"
"We had the party after dinner in the old stone barn at Catureglio,
and we went all out in here!  The 'bar' was at one end, then the dance
floor was in the middle and we had a tripod, our guest book and a
polaroid at the other end.  We also had chalk boards for people to write
messages on for the photos and a lot of moustaches.  All of which were
extremely popular!  Our friends and family were invaluable here, and
spent most of Friday getting the barn set up."
"The completely brilliant Laura McCluskey
took our photos.  She was an absolute delight from when we first met
her for a coffee.  We found her while researching through various
wedding blogs and really loved her style.  It was really handy having a
London based photographer as we met up with her a couple of times before
the wedding itself.
She flew out on the Friday and got
to know everyone at the pizza party the night before, and she worked so
hard all day creating our beautiful images.  She was unobtrusive but
always in the action.  Nothing was too much trouble and she was so
helpful.  She even got me into my dress when my bridesmaids struggled
with the buttons!
Laura captured our day perfectly, and
when she finally put her camera down at around 2am she came back for a
bop on the dancefloor for another hour or so – brilliant!"

"The views from Villa Catureglio are beautiful and we wanted to be outside
as much as possible to enjoy them, so we didn't worry too much about
the décor during the day.  We dressed the tables in white and chose
simple settings, then decorated with vases of sunflowers, pots of herbs
and candles, with fairy lights in the trees for after the sun had gone
down."

"Alina, a local hairdresser, did my hair, my mum's and the
bridesmaids.  I had a trial in her salon in May and she came up to the
villa on the wedding day.  She doesn't speak English, but we understood
each other well enough with a bit of gesticulating and repeated use of
the word 'volume' in a variety of accents!"
"Alex got his suit made from Cad and the Dandy,
another recommendation from a friend.  We loved going up to Saville Row
on a Saturday for his fittings and we always went for a celebratory
lunch in town afterwards!  Alex found his tie in Hugo Boss in Selfridges. 
His shoes were his lovely Italian shoes that he wears to most
weddings.  He didn't feel the need to do anything differently for his
own!"
"My friend Sophie of Chic Beauty UK
did my make up.  It was really lovely to have a friend doing it because
I was so relaxed.  The trials were good too as I just popped over to
hers each time!  I was really keen to look like me, but on a really good
day, and she totally achieved that for me.  She's usually based at her
salon in Bournemouth."
"I wore my Nan's diamond and sapphire bracelet.  It was a gift
for her 21st birthday and so, so beautiful.  It was my something
borrowed and also my something blue.  My something old was my dress and
my shoes were new.  My earrings were vintage 50s style, from Queens & Bowl, found through Love my Dress."
"Alex and I met at University and we've been together for 13
years now.  He proposed on new years eve in Edinburgh, where we'd
decided to spend new year quite last minute.  We loved Edinburgh, and
had a brilliant weekend celebrating!"
"We took about 7
months to plan the wedding.  It was pretty busy, especially as we were
getting married in another country, but we were really keen to marry
this year, particularly as we'd taken so long to get round to it!  We
went out to Italy in February and booked the venue soon after, and then
went back in May to see the caterers, florists, hairdressers etc. 
Having Kate on hand made all the big jobs pretty simple.
We
left lots of things to the last minute, particularly all the little
details, but I'm sure we'd have done that however long we had!"
"Il Fattore
supplied all our catering. They are based in Prato, about an hour and a
half from Catureglio, and Kate assured us they were brilliant so we
were happy to take her advice.  We spent a very pleasant afternoon in
May tasting various courses, wines and proseccos.  We chose to go with
traditional Tuscan fare, in keeping with the location.  The guests were
extremely well fed with the apperitivos, with a whole leg of palma ham
among a myriad other things.  The deep fried parmesan went down
extremely well!  We then had an Italian 4 course dinner as the sun went
down.  The food really was a highlight for us!"
"We hired local band, Il Mandolino, to play during the ceremony and
then throughout the apperitivo.  They were brilliant, four Italian guys
who played lots of lovely jazz and swing with some old favourites and a
bit of an Italian twist.  They seemed to smoke cigars throughout most of
their performance which we quite liked too, very cool!"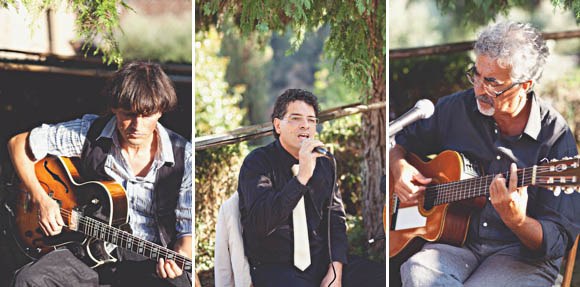 "Our caterers Il Fattore supplied our wedding cake.  We chose a traditional
Mille Foglie  Italian wedding cake, because it looked great and was
absolutely delicious!"
"For the party after dinner we put together a play list
ourselves.  We had a strategy to have every song as a floor filler which
worked brilliantly!  We had plenty of old favourites on there that we
knew particular guests would enjoy.
Our guests
were on fantastic form all night and there was definitely no problem
getting the party started!  I believe the last men standing finally
called it a night at around 6am!
I
love all of the photos from the barn, the pom poms and fairy lights
look amazing, especially when there's a bridesmaid in yellow anywhere
near!"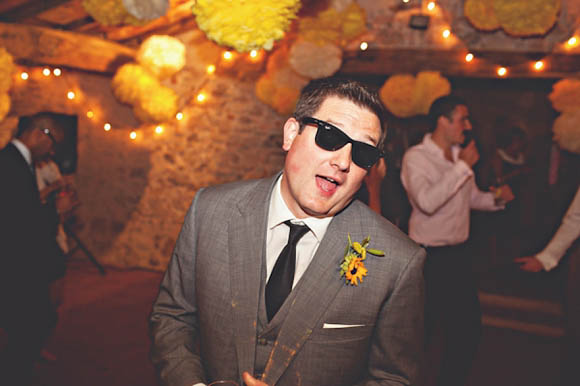 Words of Wedded Wisdom…
"Do what you want to do.  Make a decision about everything, rather than just assuming you should do the norm.  We started off not wanting any of the traditional things, like being given away, a first dance, cutting the cake etc, and we actually ended up doing all of those things, we just did them how we wanted to.
I was obsessed with wedding blogs, they just suited me so much better than the magazines.  I also pulled loads of ideas together on pinterest.  This was really useful because it was easy to keep the boards updated with our latest ideas and meant we didn't forget anything as we went along.
Most of all though, enjoy it!  Don't be overwhelmed by the occasion, all you're really doing is celebrating that you want to be with the person you love for ever.  Lovely!"
Goodness gracious, so so beautiful, so much fun, so happy, smiley and sunshine filled! And honestly, I've never had such a run of weddings so close together which share such a huge fondness for the delightful sunflower! (<—see more sunflower willed weddings by clicking the link!).
What's not to love about this gorgeous affair? What do you love most? The Fur Coat No Knickers gown, the exquisite backdrop at Villa Catureglio?
With much love,
Annabel
Photographer – Laura McCluskey
Venue – Villa Catureglio, Italy
Wedding Dress + Veil – Fur Coat No Knickers
Bride's shoes – Rachel Simpson via Fur Coat No Knickers
Bride's accessories – + 1950' style earrings from Queens & Bowl
Groom – Cad and the Dandy + tie via Hugo Boss in Selfridges
Bridesmaids Dresses – Marks and Spencer + Latham and Neve bracelets
Flowers – purchased by the bride & groom, via Sabrina, the local florist in the village
Entertainment – Il Mandolino, a local band
Yellow Pom Poms – Deco Pom Poms
Catering + Wedding Cake – Il Fattore
Makeup Artist – Chic Beauty UK