Morning wonderful! Now, as of next week, we'll be shutting up our laptops and taking our annual Christmas break here at Love My Dress – spending precious time with family and friends, as we do every Christmas. And that, lovers, means that this week, we're going to have a little bit of good old fashioned fun in betwixt the usual wedding inspiration and beautiful images. Let's face it, most of us are on Christmas wind-down now anyway, so we thought we'd keep it light hearted.  But fear not, I have personally kept some of the very best until last and I have some belting weddings up my sleeve for this week, possibly my fave of the whole year will be featured this coming Friday – please set your reminders as of now ladies and gentle people.
Right now though, let's enjoy the theatrical surroundings of Emma and Dan's wedding, who tied the knot on 1st September 2012 at Harrogate
Theatre, followed by a reception at Majestic Hotel, Harrogate. The lovely photographers James and Lianne submitted these images…

"We both
have a background in theatre and I grew up in Harrogate.  We
met doing drama at university, but didn't know each other very well
while at uni – just in passing really. We did a play together and had a
few classes together. We started going out in 2004, when we were both
living with mutual friends in share houses in London…" 
Love My Dress Wedding Blog, Photography Copyright (c) 2012, James and Lianne Wedding Photography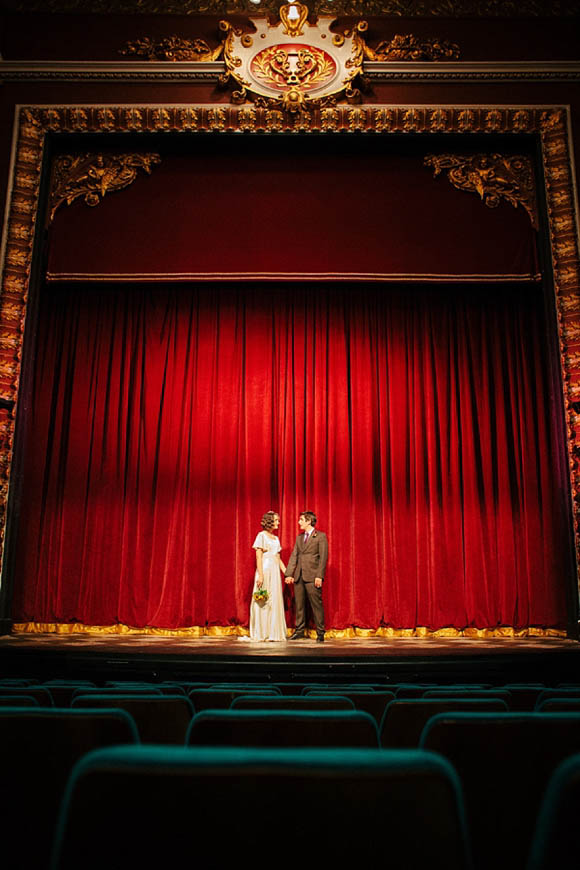 "Neither of us are religious people, so we knew we didn't want a
church wedding. However, we wanted to still have that sense of ceremony
and ritual that churches can provide. We thought a theatre would be very
fitting in that respect, and perfectly suited to our love of, and
background in, the arts. 
We were so excited to find that Harrogate
theatre had recently become licensed for civil ceremonies. It was my
local theatre when I was growing up in Harrogate and I have fond
memories of seeing plays there over the years.  We
also knew that we wanted a vintage feel to the day, nothing too
prescriptive – just a hint of old time glamour. The day also had a few
styling features inspired by Twin Peaks – one of our favourite TV shows.
The red curtain and chequered floor in the main theatre worked
perfectly for this, as did the hotel…"
"Our Florist was Leafy Couture; I
wanted something bright and vibrant but that would also tone in well
with my vintage style dress. I have always loved sunflowers and think
they always look cheerful – I thought they'd look great against the
purple bridesmaid dresses too. I had also seen a post on Love my Dress
about 'succulents' in bridal bouquets that I really liked – so Leafy Couture managed to tie this all in together."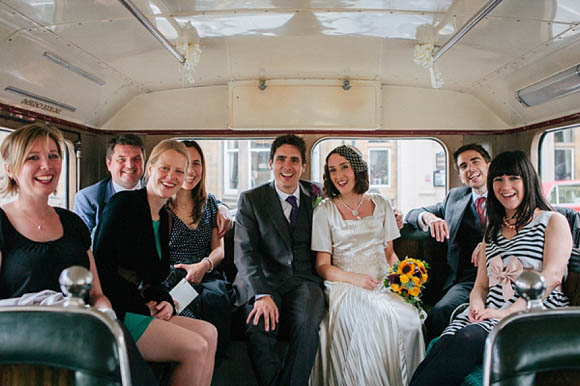 I love Emma's 1940's inspired wedding dress, that she made bespoke;
"My dress designer Emily is
the wife of someone I went to university with. He actually let me know
on Facebook that she made bespoke wedding dresses and pointed me towards
her website. I saw some photos of Emily's past creations and met her
for a coffee to chat through some ideas I had for my dress…"
"Emily was so
brilliant at translating all the ideas I had in my head into actual
designs. I thoroughly recommend her if you want something totally
unique…"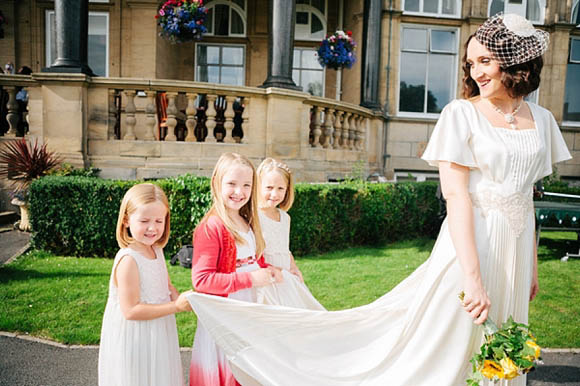 "We weren't actually going to have a cake, but my mum was really
keen to get us one – and I'm really pleased we did. Dan didn't really
mind how it looked – just as long as it tasted good. We went for a mix
of chocolate and plain sponge – decorated with fairly simple art deco
shapes – an era I love."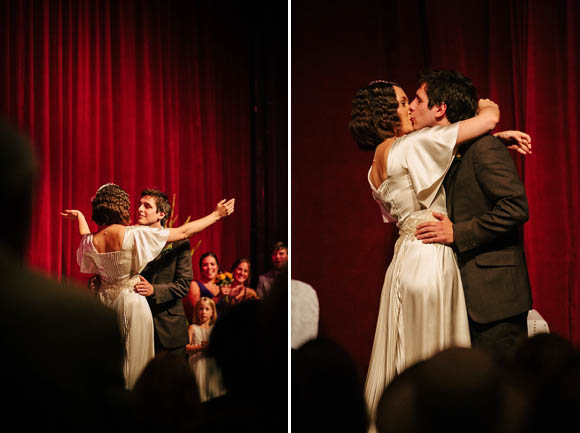 "Our photographers were James and Lianne.  They were fantastic and really went that extra mile to make sure we
had truly special pictures of our day. They even came on a 'site visit'
to the theatre with us to check out the space beforehand and did a
little test shoot with us. 
They were brilliant at
communicating well with us about the details of the day and always
seemed genuinely excited about photographing our wedding.  They have a
truly creative approach to their photographs and captured some fleeting,
beautiful moments. They are also completely non-intrusive on the day –
unlike some photographers who shout orders at everyone!"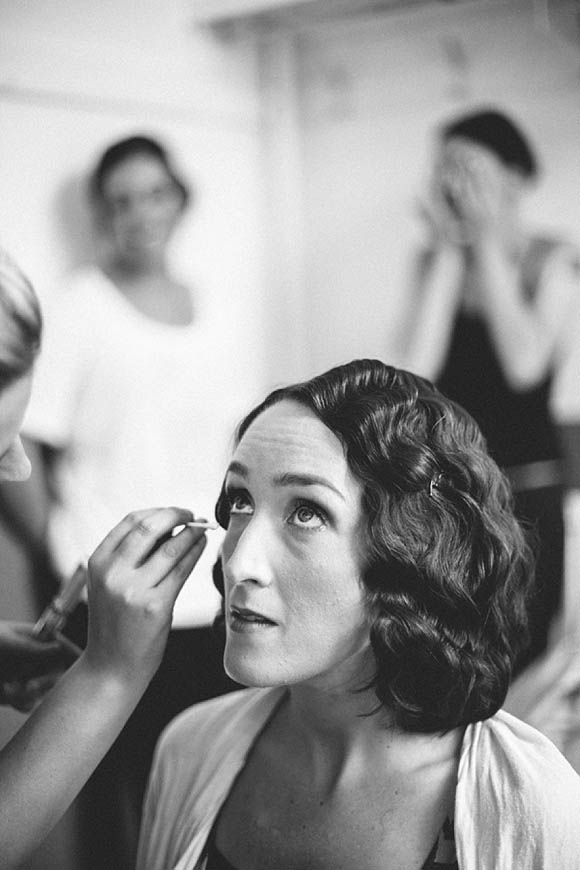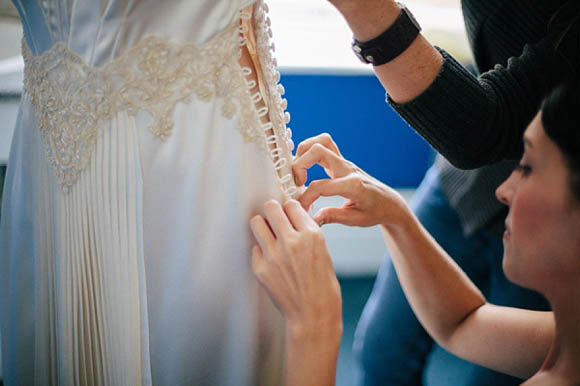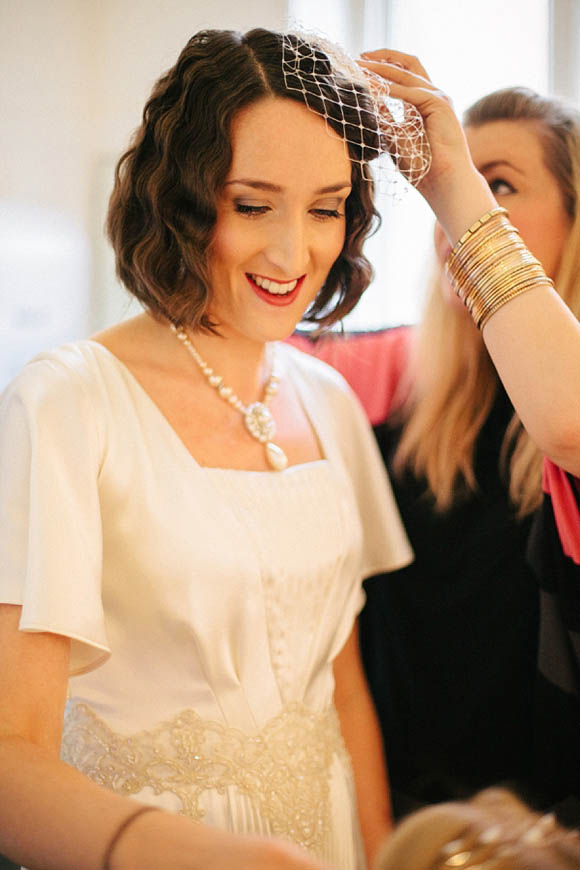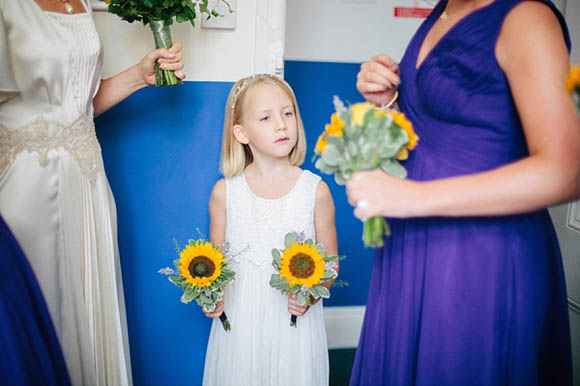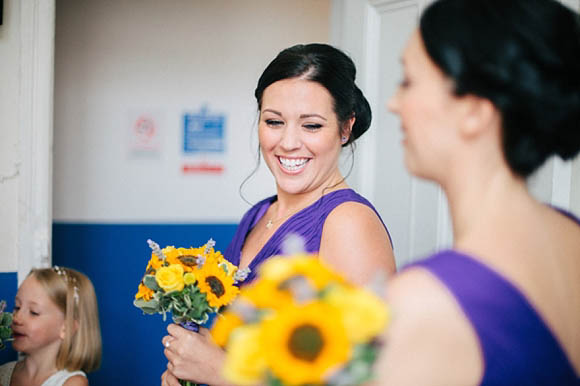 "I walked down the 'aisle' to the sounds of 'Simply Strings Trio' who played Here Comes the Sun
by the Beatles.  Walking into the theatre and seeing Dan on stage and everyone we loved in the stalls  was magical.
Our ceremony readings included a lovely poem
chosen by our friend Caroline, Ithaka by C P Cavafy and a very funny
poem chosen by our friend Nick, I Need You by John Hegley.   Our
bridesmaid Lizzy also sang a beautiful version of Bjork – Like someone
in Love."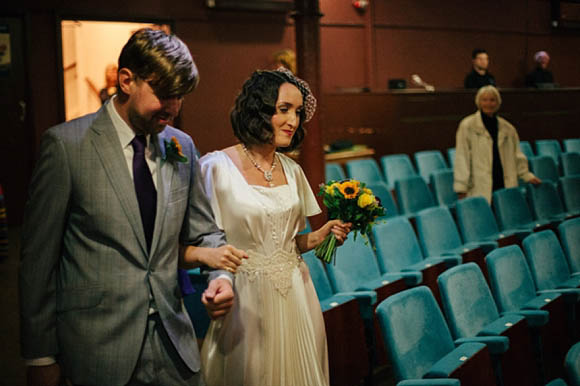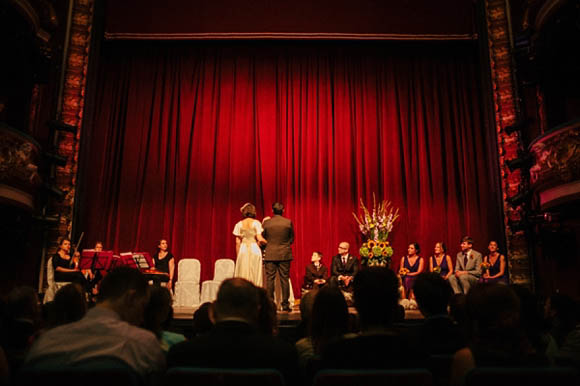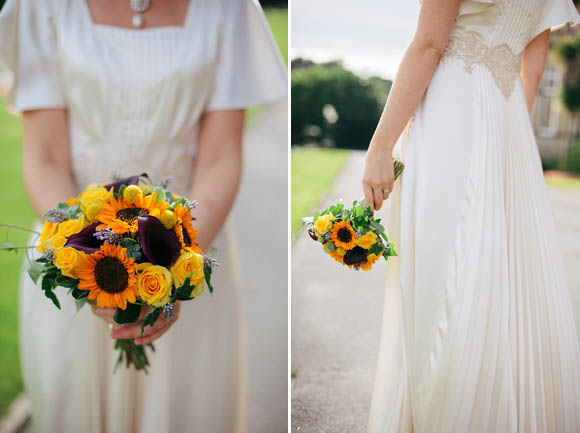 "I have just set up a tea company
so I was keen to have a bespoke blend of tea for our wedding favours.
The little tins of tea were actually provided by Blends for friends
www.blendsforfriends.com – who made a lovely earl grey blend that
incorporated sunflower, cornflower and lavender to match the bouquets." 

"We hired The Retrosettes
to entertain our guests and they were absolutely brilliant and I highly recommended them. They put their own
vintage twist on contemporary hits and everyone loved them. They play
songs you know and love to dance to, but in the band's own quirky style."
Words of Wedded Wisdom…
"Try not to worry about
things going wrong – even if it does, you just won't notice it at all on
the day. Everyone is there to have a good time and celebrate with you,
not pick fault. 
Also, on a more practical note, if you
have quite a long period between your ceremony and dinner, I'd suggest
keeping people well fed (we had hearty sandwiches, pork pie and ice
cream) and possibly some kind of activity. We booked table tennis tables
and they were lots of fun."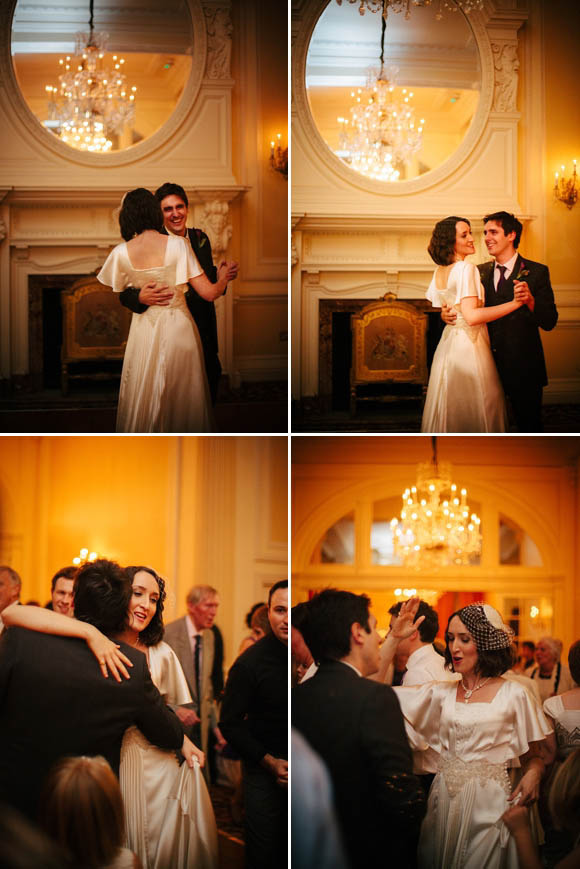 God I love the weddings I get to feature on these pages, they are always so ruddy gorgeous.
I'd really love for you to show some love and support to the bride and groom, and the suppliers listed below. You know, as I blog my final week of wedding inspiration for 2012, I feel so very, very grateful to all the people who help make these features possible for me to share with you guy, from the photographer to the entertainers, the designers and the bus drivers! Please let's get in to the festive spirit and show a little love by way of some kind comments today.
Big thanks to James and Lianne Wedding Photography, superstar wedding photographers for sharing these lovely images.  
Much Monday morning love all,
Annabel
Photographer – James and Lianne Wedding Photography
Venue – Harrogate
Theatre + Majestic Hotel, Harrogate.
Wedding Dress – Emily Macdonald Bridal, London
Brides Shoes – BHS (£12 in the sale!)
Brides Accessories – Necklace via Liberty in Love *Highly recommended*
Grooms Suit – A Suit That Fits
Bridesmaids Dresses – Coast
Flowergirl Dresses – Next
Florist – Leafy Couture
Cake – Piece of cake, Harrogate (telephone 01423 560101 or email [email protected])
Favours – Tea by Love and Leaf (owned by the bride)
Entertainment – The Retrosettes + singer Louise Hobley
Transport – Yorkshire Heritage Bus Company
Hair and make-up Artist – Alison Clegg at Beauty Call