Eagle eyed Love My Dress readers may recognise the couple who feature in this afternoon's wedding.  Alison and Michael have already graced these pages see, when their beautiful farm engagement shoot, photographed by Blackbox Photography, was featured on Love My Dress in October last year.
Alison and Michael tied the knot on 11th August at Rossorry Parish Church Enniskillen, where five whole generations of my family on Alison's Mother's side had been married. What a wonderful family tradition to have carried on.  Their reception took place at the Lough Erne Golf Resort, just beside Alison's family's farm, which is soon to be made famous in June next year when it will host the G8 summit!  The couple even stopped off at the farm after the ceremony for some photos.  I adore the elegance of this wedding, Alison looks so incredibly elegant in her beautifully beaded Jenny Packham dress…
"On 30th April 2011, my Mum, Sisters and I visited a wedding dress
boutique still on a high after having been part of the crowd witnessing
the royal wedding on 'The Mall' outside Buckingham palace.  Towards the
end of my one hour appointment I tried on a very structured satin
Suzanne Neville dress called 'Idolize' which my mum had suggested I
try.
It felt really comfortable to wear and as soon as I walked out my
mum and two sisters eyes welled up with tears.  I thought 'wow this is
the one' and twirled and pranced around.  Whilst biting my lip at the
cost and the impending decision I was offered 10% off if you purchase on
your first appointment.  I fell for it, paid my deposit and left the
shop glancing back at the dress on the hanger with butterflies in my
tummy…." 
Love My Dress Wedding Blog – Photography Copyright (c) 2012, Black Box Photography
"Over the next few months I became an avid reader of Love My Dress, and became a bit obsessed with wedding dress designer Jenny
Packham, and was beginning to wonder if I had maybe rushed into the
other dress; six months before the wedding my mum and sister flew over
to London to accompany me to an 'accessories appointment' during which I
could try on a sample of my Suzanne Neville wedding gown with all the
accessories the shop had to offer.  But it just didn't feel right at all, and after a sleepless night, I told my mum how I felt and
she admitted to feeling the same.
We both sat on laptops looking up
alternative dresses but I just kept coming back to a Jenny Packham dress
called 'damask' which I had seen featured here on Love My Dress on the
Fetcham park feature.  After making a few enquiries I was able to try it
on in my size in the Jenny Packham ready to wear boutique a few days
later."
"Thankfully I was able to transfer part of the deposit paid on
the Suzanne Neville dress towards the Jenny Packham dress.  Michael
thought I was mad and just being indecisive but I am so glad I went with
my heart and pushed for the dress I loved.  I used my inheritance money
from my grandfather to pay for it and I know he wouldn't have minded
one bit.  He loved style and fashion and I'm sure he would have been
proud of me on my wedding day.
I adored the detailed beading on the dress particularly the dropped
beads around the arms.  It was really comfortable to wear and felt
extremely glamorous.  I also loved the sound the beads made as I moved. 
I felt fabulous!"
"I discovered Vicky Trainor through Love My Dress, and adored her 'Vintage Drawer'  crafts.  I ordered one of her DIY kits and was inspired
to have a go at making the table names, place names and reception
signage myself.  It turned out to be a huge project and required the
help of all of my family with my sisters Jenny, Lauren and Nikki, my
mum, mother-in-law and my Nana Brown all putting in a huge stitching
effort!  I loved the finished product and the mis-matching and
individualised name places we were able to create."
"Some of our friends
said they redecorated their bedroom using their place names as
inspiration.  The place names acted as our wedding favours as well as a
few pairs of flip flops for dancing later in the evening."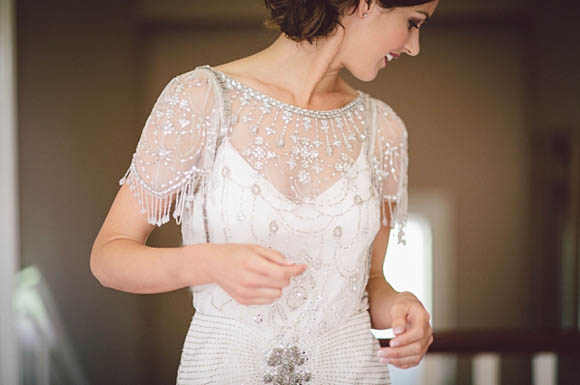 "Finding the bridesmaids dresses proved to be the most difficult
decision of all and led to many a blazing row with all my sisters sacked
and reinstated at least twice!!  Having my sisters meant that they
could be 100% honest about what they they did and didn't like.  They
each had very different ideas about what they wanted – one said nothing
strapless, two said they would only wear full length, and the other
vetoed anything satin!  My mum and mother in law later declared their
hatred of the colour celadon – a sage green shade from Dessy – which I
had settled on and thought would compliment my pale pink blooms. In the
end just 3 months before the wedding we finally settling on powder blue
full length strapless Belsoie bridesmaids dresses. We bought the dresses
from a lovely shop in Hillsborough, Northern Ireland called Petticoat Lane."
"I had a very strong idea about what I wanted my wedding flowers
to be.  I had in my head the notion of loose, billowing, natural
looking, pastel coloured arrangements with mainly homegrown flowers. 
Thankfully the florist was keen for us to use our own blooms so my mum
began planting rows of sweet pea and dahlias and we begged, borrowed and
stole suitably hued hydrangeas from friends and neighbours gardens."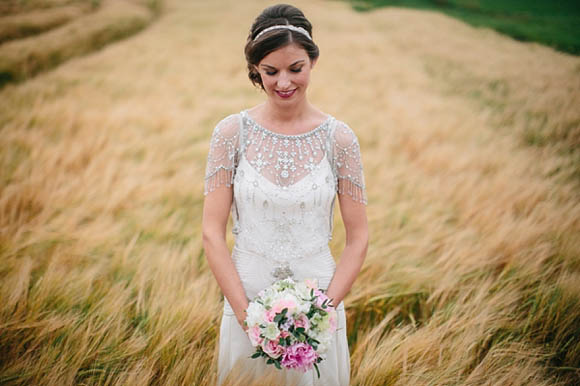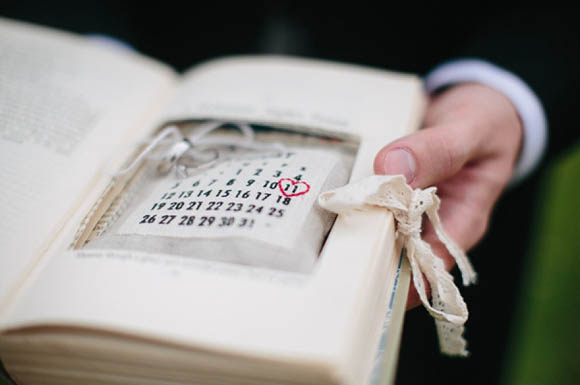 "My Nana Moore was always an ultra stylish lady and I know she would
love to have been at my wedding. She died several years ago but I
wanted to remember her in some way on my big day. When she died she left
me a grafton tea set dating back to the 1920's. I was inspired by floral
arrangements in teacups from a wedding featured on love my dress and my
desire for a vintage themed wedding grew from there.  We spent our 20
month engagement trawling ebay, etsy, charity shops and vintage wedding
fairs for tea sets, embroidered table cloths and vintage suitcases.
During our evening reception one of my aunties commented that 'nana was
with me all day today' and we both shed a tear.  I'm so glad that the
vintage touches evoked memories of my nana in other members of my
family.
My Auntie Melanie made the cake which we had professionally iced. 
My sister Jenny and family friend Sheila made the Guinness, carrot and
white cakes which also went down a treat."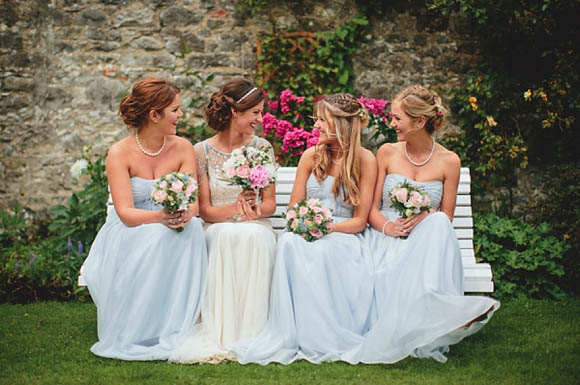 "What a fantastic service we received from our stationery supliers, Hello Lucky
– Iain was always on hand to answer any queries and our guests
commented on the beautiful design of our invitations 'noveau peonies'."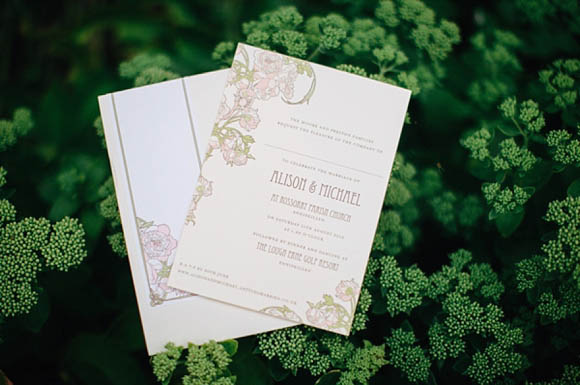 "Our photographers were  Black Box Photography.  We have
known The Lous for years having gone to secondary school together.  We
booked them about 4 days after we got engaged in December 2010.  We had
such a good vibe from them and absolutely loved their work.  They were
absolutely brilliant on the day.  Louis turned up in the cutest wee bow
tie and Louise was such a calming influence on the morning of the
wedding.  It was just like having close friends photographing our
wedding rather than wedding photographers.  We trusted them entirely and
we are absolutely thrilled with our wedding photographs.  We couldn't
recommend them more highly and are just sad that our photographic
journey with them has ended."
"Emmy
was hands down my favourite bridal accessory supplier.  She was one of
the warmest and most genuine suppliers I met.  I never felt rushed or
pressurised when I visited her gorgeous boutique.  I ended up having
both Emmy shoes and hairpiece.  I absolutely adored my blue-grey kitten
heel peep toe beauties.  They were so comfy and acted as my 'something
blue' on my wedding day.  When Love My Dress ran the ebay wedding
auction for Oxfam I was the winning bidder on a £200 Emmy voucher which I
used to buy my hairpiece.  It was originally on a hair band but Emmy
adapted it onto a ribbon for me.  I loved it and it was delicate enough
to compliment my dress and give a nod to 1920's fashion."
"My dad Charlie walked me down the aisle.  Our journey to the
church wasn't much different to any other.  His chatting to the driver
about the age of the vintage car really put me at ease with the
normality of it!"
"The flower girl dress was a No1 Jenny Packham from Debenhams. 
When my mother in law first showed it to me I wasn't sure whether or
not it would all look too sparkly and blingy next to my dress but when
we had a full dress rehearsal with the bridesmaids I realised it was
perfect.  My flower girl Holly loved how it floated out when she spun
around.  Her wee face was a picture throughout the wedding day.  She had
an absolute ball and danced the night away until 1.30am!"
"Our table
trivia went down a treat.  We thought of an interesting/amusing
fact about each of our guests and put them in a box at each of the
tables.  Each guest then read out a fact and the others had to guess who
it related to. Throughout our wedding meal we could hear hoots of
laughter throughout the room, making Michaels efforts until 2am the
night before the wedding getting the trivia prepared, all the more
worthwhile!"
Words of Wedded Wisdom…
"When the day comes, relax and enjoy
every second.  One of my main worries was about walking down the aisle
but as my cousin's wife Rebecca pointed out no one is there to judge
you.  They are all there because they love you so take it all in and
feel the wave of warmth and happiness from your guests as you walk in to
church and let it carry you down the aisle to the love of your life
waiting for you with a big smile on their face! It really is the most
incredible feeling.  The ceremony was our favourite part of the day.  It
gives me tingles on my neck even thinking about it now!
Someone
also advised me that when the day comes there is nothing more you can
do.  You have to hand over responsibility to all the suppliers from the
make up artist to the hotel staff.  Let them take the stress away from
you and do their jobs.
Don't rush into the dress! Don't fall
for 10% off on your first appointment or feel pressurised into making a
quick decision.  Go away and have a look for the dress online- see if
there are photos of it on blogs etc and see if it still fills you with
the same feeling, then go and try it again.  In a few months you might
feel so differently about it, as I did, and it was a costly mistake."
"Don't
be afraid to have a go at DIY projects yourself.  I never thought of
myself as particularly arty but I have a new found love of all things
crafty.  My wedding projects brought all generations of the family
together – I got my Nana roped into making the place names and the
flower girl enjoyed helping to stamp the children's name tags with the
ink and letter stamps!  Celebrate one month wedding anniversaries
during your first year of marriage to help to keep wedding blues at bay
and to remember that amazing day you had together not so long ago – even
if it's on a week night just going out for a simple dinner is so
important so that you don't pass each other by in the craziness of working life.
Read wedding blogs! Don't bother with
magazines, leafing through page after page of tacky adverts.  Choose a
couple of blogs you like and read them religiously.  I thank you Annabel
for so providing so much inspiration and for opening my eyes.  If
we had an endless pot of cash I would love to have been able to hire an
'on the day coordinator' to help set up the function room and to
coordinate timings on the day.
The ceremony was our favourite part of the day.  There was such an
electric feeling in the air, we were both so happy and it was so
meaningful saying our vows to each other.  The Rev. Arthur Barratt was
also brilliant, making jokes about my lateness and generally making the
mood feel light and cheery whilst not taking away from the seriousness
of the marriage ceremony.  I also really loved the point
at which Michael picked me up and spun me around on the dance floor. 
It just summed up how we felt all day – elated! I also enjoyed just
really letting my hair down and pulling off some crazy moves later in
the evening."
Elegant, chic and rather a little big gorgeous don't you think?
Thank you so so much Alison and Michael for sharing your beautiful day with us all, I'm genuinely thrilled you were able to come back and be featured after your fab engagement shoot and I'm so pleased Alison that Love My Dress was so helpful to you in planning your wedding.
Lovers out there reading this, anyone else wearing this gorgeous Jenny Packham dress on their wedding day, or planning on some DIY embroidered decor like Alison?
Much love,
Annabel
Photographer – Black Box Photography
Venue – Lough Erne Golf Resort
Wedding Dress – Jenny Packham
Brides Shoes & Hair Accessory – Emmy
Grooms Suit – Ludlows, Lisburn Rd Belfast + Mulberry cufflinks
Bridesmaids – Petticoat Lane
Flowergirls – No1 Jenny Packham, via Debenhams
Florist – Timothy Elliott Flowers (no website)
Cake Designer – Bride's Aunt
Entertainment – Glen Houston Entertainment – Band – Backbeat and DJ – Kevin McMullan
Cars/Transport – Bygone Days Wedding Cars
Hair and make-up Artist -  Rachael Spence
Stationery  – Hello Lucky