Some folk turn their nose up at the idea of 'engagement shoots' – I know, they're not for everyone but there are some that really melt my heart.  Then there are those that make me smile, perhaps because the couple have had a lot of genuine fun in the process of having the photos taken – maybe even dressed up and gone all out with a bit of fancy styling for the occasion, like Becky and Jason here…
"Our idea for the engagement shoot stemmed from a few things
actually. One of the main reasons was that we wanted to have fun with
the shoot, and not have "normal" photos taken of us. Our amazing
photographer Sassy from Assassynation deserved to have something a bit
out of the ordinary to showcase her talent!
Sassy had suggested that she
loves Jack Vettriano, I love vintage-inspired things and Jason has
always wanted to be a pilot, and it just came to Jason one afternoon; we
should do a 1940's inspired shoot! And so, when we let Sassy know our idea, she
suggested the venue which is a beautiful old wartime village, and Jace
and I went to get the costumes. It was so much fun! It also happened to be my birthday too!"
Love My Dress Wedding Blog – Photography Copyright (c) 2012, Assassynation
"We're so proud to be on Love My Dress! I've been reading it since
I've been planning my wedding and found it very inspirational. 
Jason and I met when we were fourteen and had shared
mutual friends since then, so we've known each other twelve years now. We lived
our separate lives for a while after we first met, but often met in pubs
with our friends. We were flirting like mad about 6 months before we
got together.  It was a little ridiculous to be honest, but after New
Years Eve 2009/10 we knew we were meant to be together. He asked me to
be his girlfriend on January 19th 2010, and we are due to be married
January 19th 2013 (we can't wait!)"
"Almost eight months after going out, we were living on Cloud 9 and
booked a trip to Berlin and Paris for Jason's birthday, September 17th.
He had had the engagement ring for a while and was even afraid of losing it!
But then, on his actual birthday, after the best meal we've ever eaten
in our lives, he surprised me and proposed to me outside Brandenburg
Gate in the evening, and it looked absolutely beautiful.
We flew to Paris the next day! It was the best feeling I've ever
felt. And our relationship gets better every day…"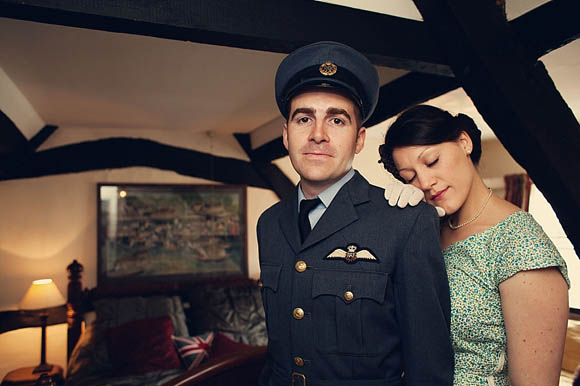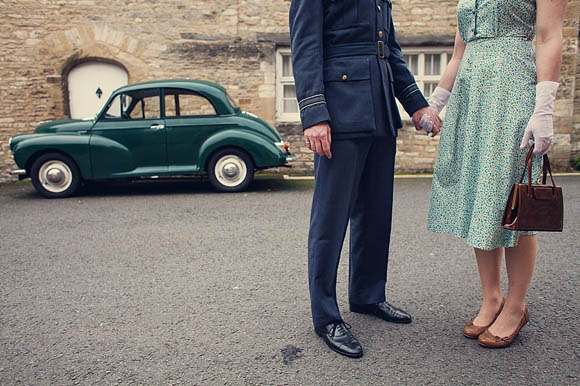 "We're very glad to have met Sassy before our wedding, and to have
made the bold choice to go out in public dressed in 1940's attire. We're
so excited for the wedding and to have the images on our walls forever
more!"
And I thought that was really rather sweet – if you can't dress up and have a bit of fun in front of the camera when you're in love, then there's something wrong with the world! Becky and Jason, I hope you have the wedding you always dreamed about – this SATURDAY! How exciting is that?
You can see more  of Sassy's work on Love My Dress, and for all lovers of 1940's style, take a browse through these pages too.
With much love all,
Annabel