Good morning my loves, here's something mighty pretty for you this morning – the kind of which that brings Midsummer Nights Dream to mind with all it's pretty floral styling and laid back, rustic, outdoorsy vibe.
Lucy and Sam tied the knot on 30th June 2012 at Eyam and then Shatton in Derbyshire and these charming English country wedding photographs were sent in by photographer Matt Brown.  Lucy didn't half look the prettiest bride in her Sassi Holford wedding dress and floral crown…

"I was quite clear about the atmosphere and theme I wanted to
create. I wanted our wedding to be as outdoors as possible, laid back
and rustic. The overall theme was  'midsummers nights dream', I wanted
it to feel like a magical evening for us and the guests.
My Sassi Holford wedding dress wasn't the type of dress I expected I
would get! But I loved the materials and I felt amazing in it. Despite
trying quite a few on, it was the dress I kept dreaming of…"
Love My Dress Wedding Blog – Photography Copyright (c) 2013, Matt Brown Photography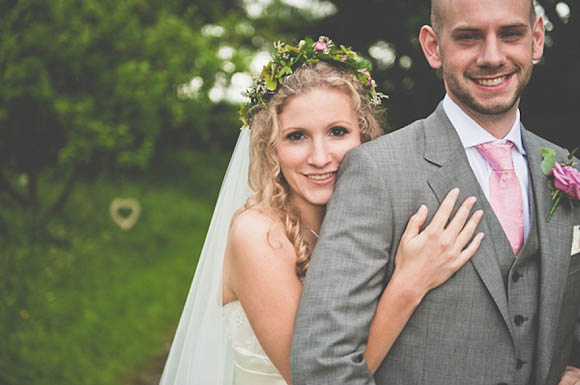 "Since childhood I had dreamed of the time when I would walk up the
aisle, so the most memorable moment was just outside the church when I
just got out of the car. I felt so happy and when I saw my mum we both
got a little tearful.
We had spent many years talking about weddings and
I was about to walk down the aisle in my beautiful dress to meet the
man I love, with all my family and friends around me. It was a magical
moment…"
"Sam and I met 8 years ago in Leeds, we have had many adventures
together – living and working abroad, travelling, and building our
careers. We had talked about our wedding for several years and we knew
what we wanted.
Sam proposed at the time when we felt settled, we'd just
bought our first house, had our pets, and felt secure in our careers,
it was the perfect time to set our plans into action! We were engaged
for 18 months."
"As sometimes bridesmaids can sometimes be compared I wanted
mine to feel really special in their dress and it to look unique so I
choose the colour and material and they all chose an individual style
from B2 and Belsoie."
"I knew I wanted lots of ivy and greenery to create a rustic theme, I
liked the muted pink roses added a good accent colour. I loved my
flowers, I think they fitted the theme perfectly and transformed the
venue from bland to beautiful. We also had rustic wicker hearts and
slate boards, and used moss to make it feel earthy and natural."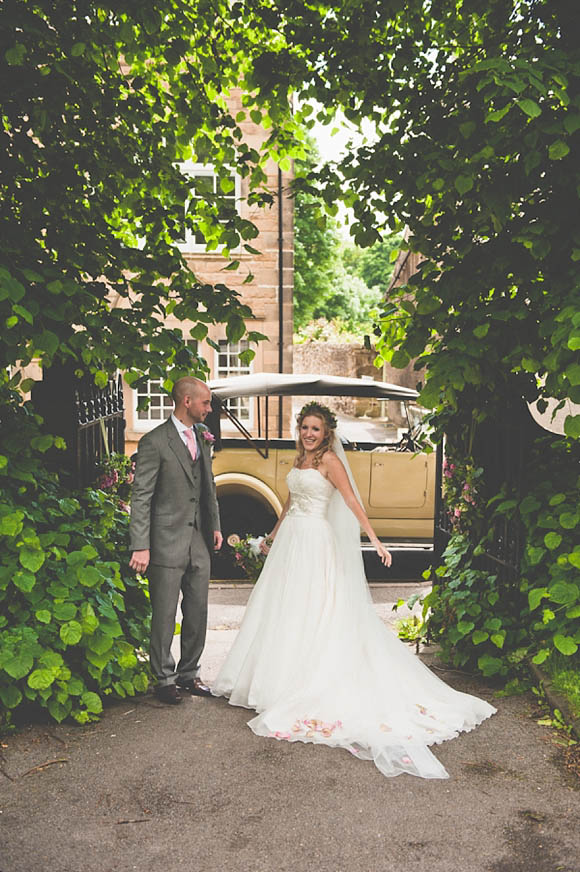 "We chose the church in Eyam as it is where my grandparents were
married and my father christened. We wanted our reception to be laid
back and to be as much outdoors as possible, we found the barn and field
in the little village of Shatton which we thought was perfect. For us
it was also a 'blank canvas', so I could decorate and set up in a way we
wanted rather than it being very prescriptive.
We used Papakata teepees which added the space and a rustic, outdoor style to the venue."
"We hired vintage cars, I found this company called Avrils Cars on
the internet and went to go and meet them. John and his friend Steve
were so enthusiastic about their cars and they have been lovingly
restored. They were so friendly and accommodating on the day, and really
helped make our wedding special, the cars looked fantastic too!"
"I had no ideas about the cake, so my mum and dad organised this for us via Cakes by Rachel Edwards. 
They took the theme to the supplier and design it for us. The first
time we saw the cake was when we walked into the venue- it was a really
lovely surprise."
"In terms of decor, we had lots of flowers, lots of ivy, wicker
hearts and I used slate boards to write notes to the guests. I wanted
the every guest to feel that they are an important part of our lives and
that we were grateful that they could come and help us celebrate, so I
hung photo of each guests all along the wall of the outside barns. It
was really nice to hear our guests sharing our stories with each other.
Also in the outside barn we hung little tea lights from mini vases from
the ceiling, with twisted ivy, it looked incredible when it started to
get dark and were all dancing in the celeidh. We also provided free beer
which we asked our illustrator to create a caricature of us to stick on
as labels, we called it 'the ramblers' given our love of trekking.
Going to weddings there is nothing worse than sore feet when you want to
dance. So I ordered a big pile of slippers and guests helped themselves
when their feet got sore from their heels."
"Matt Brown,
was our photographer. He did a great job and really captured the unique
and special elements of our day. He was great at getting the shots
without our whole day being taken up by a series of 'photo shoots'. It
was a priority for us to be able to enjoy our time with our guests, and
he very much respected that but was still able to get great shots of us,
and our family and friends. We love looking at our pictures as we feel
it shows a great story of what our day was like. We would definitely
recommend Matt to others."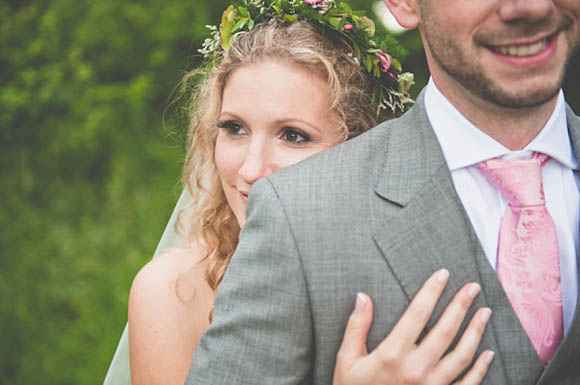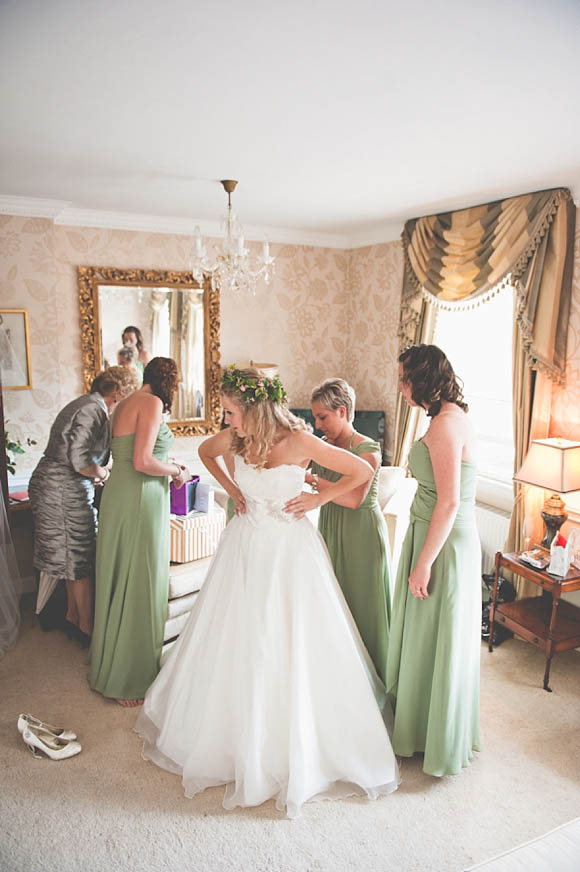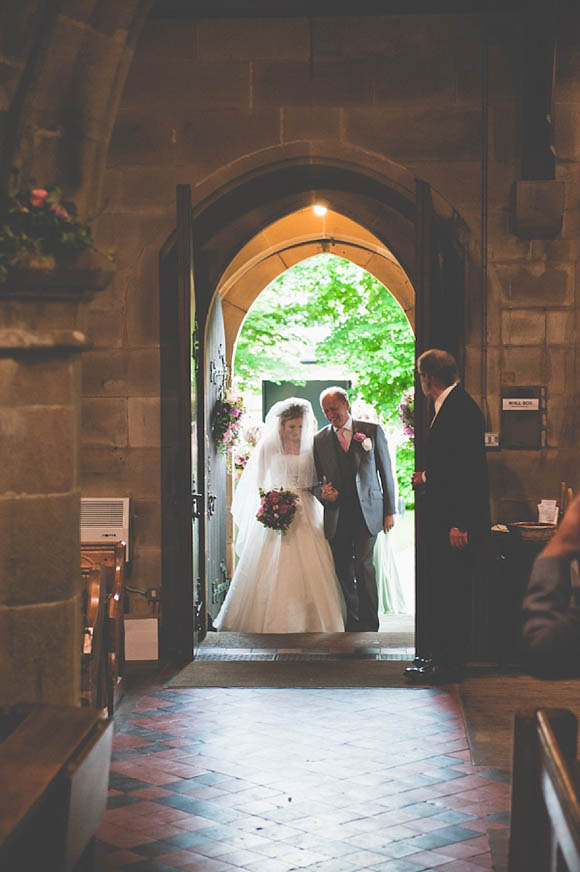 We sat down with the vicar a few months before the big day and went
through our vows, what we wanted to include and what we didn't. It was
great to be given a choice and having that time together meant we really
understood the meaning to our vows.  My brother and Sam's brother read
in the church for us. We chose a religious reading and an excerpt from
'The Prophet' by Kahil Gibran.
We felt that it represented what we mean
to each other and the vows we made – that we will give each other love
and support by respecting each of our differences, to stand together
through life."
"As I wanted a Midsummers night dream theme I thought that favours
should be little love potions. I bought little bottles and filled them
with fruity rum (our favourite drink) and added a note to each."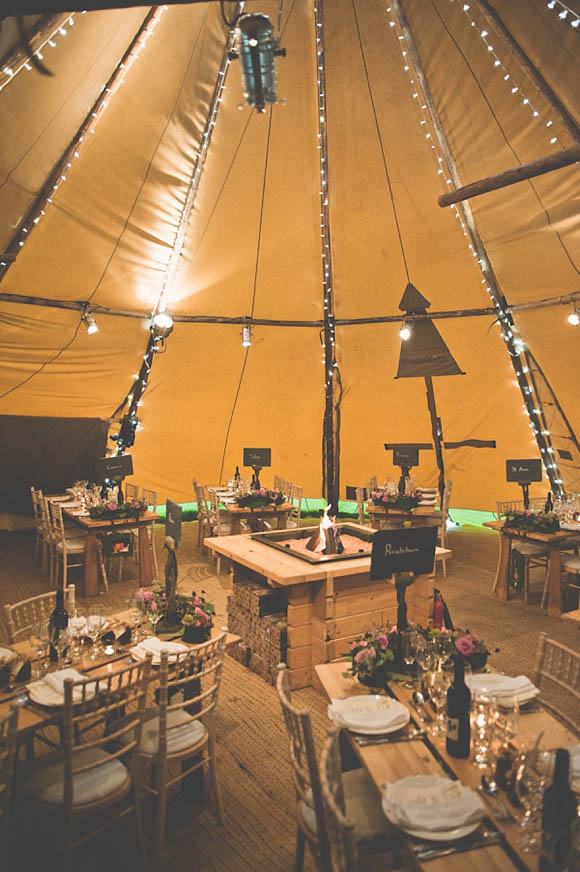 "We didn't want a formal sit down meal so we opted for a sharing platter for starter and a buffet dinner."
"The most emotional part was definitely the speeches, Sam stood
up and said a really lovely speech about us as a couple and then, at the
end, made the announcement that we are having a baby! Apart from our
immediate family no one else knew so the whole room cheered! It felt
like the perfect time to share our big news, and next big adventure, and
it meant even more celebrating.  We wouldn't have done anything
differently.
As many guests said it was a perfect day that suited us. I
loved that it was a little different, that I got to be creative, and
people had fun."
"We chose 'Underneath the stars' by Kate Rusby. We love her folk
music, it was also the song we listened to practically non-stop when we
travelled round New Zealand and Australia."
"As Sam's dad was a folk musician we decided to have a celiedh. We
put lots of lights in the outside barn and had everyone up dancing
together. The floor was full for the whole 2 hour set, we had aunts
dancing with friends."
Words of Wedded Wisdom…
"Enjoy the planning
stage, I loved this bit. It is a chance to spend quality time with your
family and close friends, and really get them involved. People will love
that you have asked them, and they will enjoy making it the perfect day
for you. I have lovely memories of my family and friends helping to
decorate my venue the day before."
Isn't that lovely? I LOVE dogs at weddings!  You can see more charming Midsummer Nights Dream inspired weddings and more too from photographer Matt Brown on this blog. You may also wish to lose yourself in a wild frenzy of blissful bridal inspiration over on our rustic, outdoor weddings, pink and tents/tepee weddings pages.
And, guess what…
"We are due our
first child in February.  We were two months pregnant when we wed and have
had a lovely six months together as newlyweds and parent's to be."
Hoorah and congratulations Lucy and Sam, that really is the very best of news!  And any day now then! Lots and lots of love to you both – you have such an amazing journey ahead.
I'd love to see some sweet reader comments about this wedding – what say you?
Much love all,
Annabel
Photographer – Matt Brown
Venue – Eyam and then Shatton in Derbyshire using Papakata teepees
Wedding Dress + Veil – Sassi Holford
Brides Shoes – Next
Brides Floral Crown – Florist (we're waiting to find out the supplier & will post here soon)
Grooms Suit – Grey suit from T.M.Lewin
Bridesmaids – B2 and Belsoie
Flowergirl Dresses – Monsoon
Florist – (we're waiting to find out the supplier & will post here soon)
Wedding Cake – Cakes by Rachel Edwards
Entertainment – Folk Ceilidh
Cars/Transport – Avrils Cars
Catering Company – Chequers Out