It's not often that we feature a post dedicated entirely (well almost) to the little ones, so this afternoon's feature is going to be a real treat for any of you looking for delightful headpieces and accessories for the little ones on your wedding day.
These lovely photographs were sent in by Katy Howieson, the designer behind 'What Katy Did Next'…
"The majority of this 2012 was spent making up bespoke pieces for
some amazing brides! Once their headwear is sorted one of their first
questions is – what can you make for my bridesmaids!? I created a couple
of everyday wear pieces for little ones earlier in the Summer and the
feedback I got for them was brilliant."
Love My Dress Wedding Blog – Photography Copyright (c) 2013, Sally Thurrell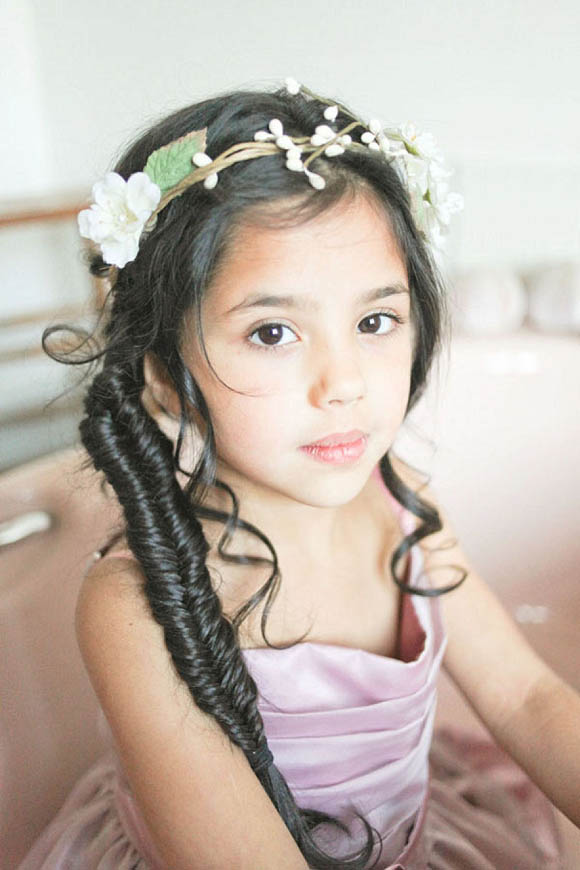 What a very pretty fishtail plait!
"There was no set inspiration for my collection, I simply wanted
to create a variety of styles that could be worn as bridesmaids headwear
or party pieces. The brides I have met at Wedding Fairs are constantly
looking for 'different' accessories for their maids and flower girls, so
I set about designing quality pieces that could work for little girls
as well as adults."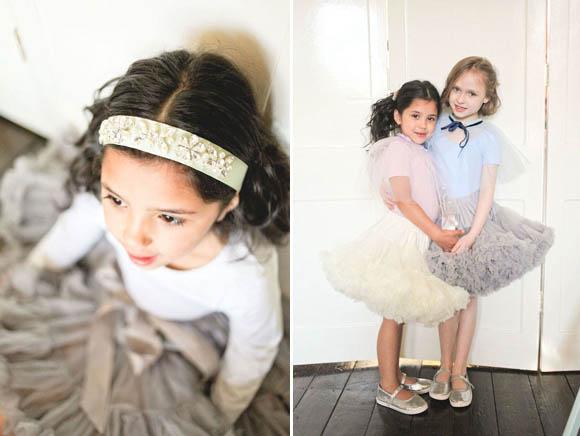 "The collection has a little something in it to suit all tastes –
quirky, vintage, traditional and sparkling styles that are all handmade
and easily altered in size and colour as well as being available on a
variation of fastenings. I have also created 'mini' versions of some of
my most popular designs from previous collections.
Prices range from £12 for a pair of hair grips and finish at £55 for the more intricate adult pieces."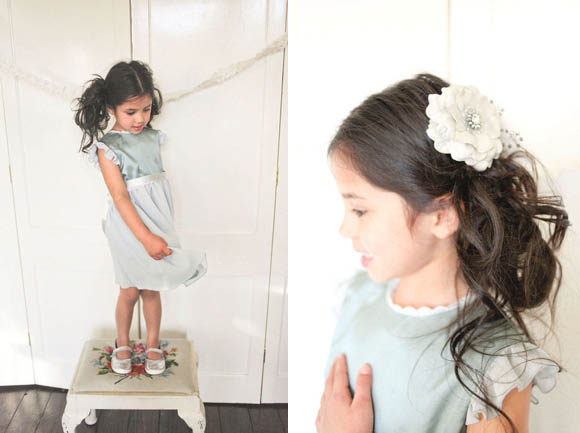 "Styling this shoot was a lot of fun! I was lucky enough to work
with some amazing suppliers. After sharing my ideas with dress designers
Alexandra and Anna from Make Me a Dress and Elena from Damigella D'onore, they created some breathtakingly beautiful designs specifically
for the shoot, which I teamed with perfect petticoats from Doris Designs. I also commissioned some quirky pom pom bunting and cake décor
from Thimble & Bobbin, which our three mini models went crazy for! 
The gorgeous hair styling was from Amy at All Dolled Up who was
so easy to work with and created some fabulous styles that suited the
shoot to a 't'…"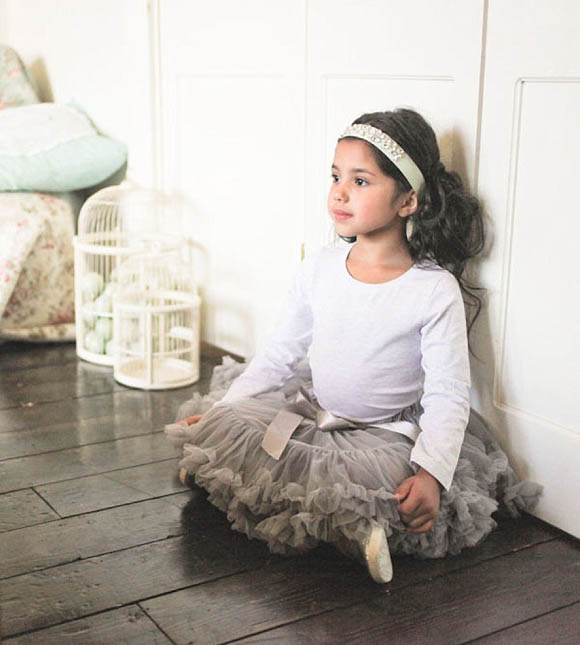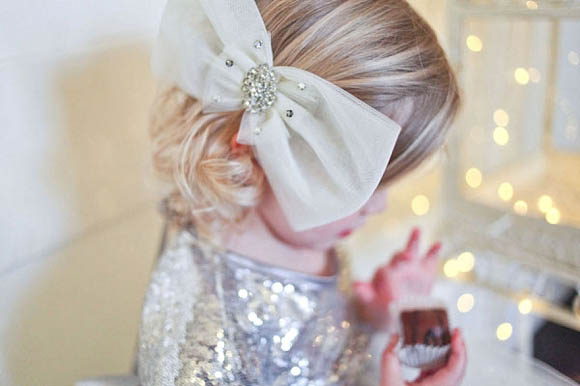 "Huge thanks to our four models and their Mums, Claire Baker for
the loan of her stunning home and photographer Sally Thurrell who
captured more than I could have hoped for and kept me calm and sane my
first time working with children…"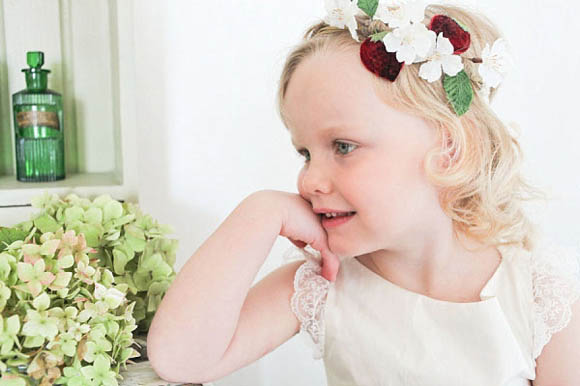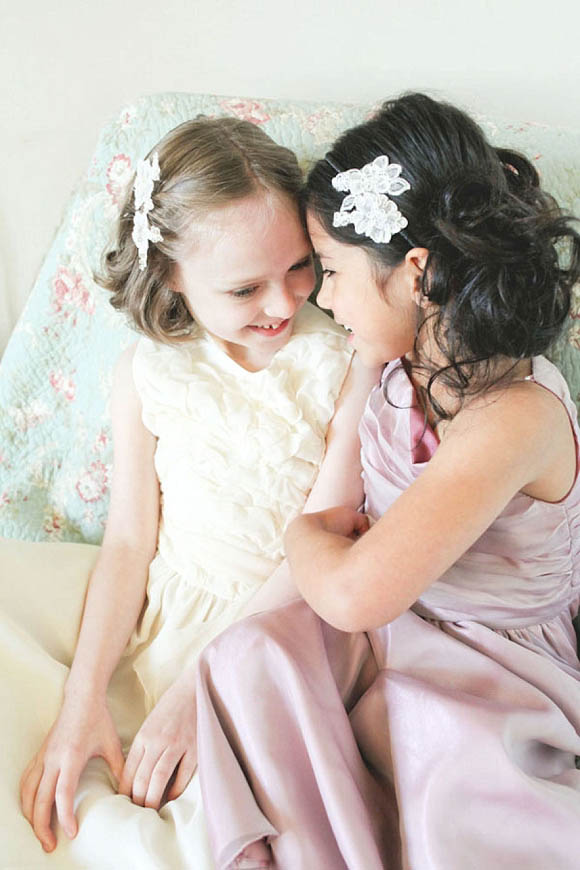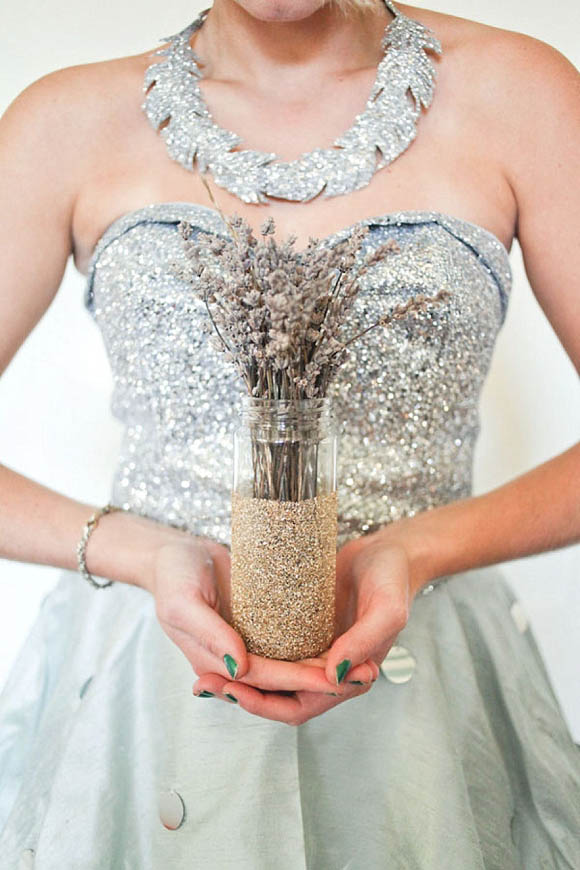 Darn gorgeous and just so delightful!  Huge thanks Katy for sharing these lovely designs with our readers.
Are any of you looking for pretty headpieces and accessories for the little ones at your wedding? I recommend you pay the What Katy Did Next website and online store a visit if so!  If you love what you see here, why not drop Katy a line today via her email [email protected], or via her Facebook or Twitter pages – Katy would love to hear from you and is on hand to help with any accessory queries you might have.
You can view more blog posts dedicated to the littlies right here.
Much love all,
Annabel
Credits
Headwear – What Katy Did Next
Photography – Sally T Photography
Dresses Paired with Wreathes – Damigella D'onore
All other Dresses – Make Me a Dress
Hair – All Dolled Up
Petticoats – Doris Designs
Pom Poms & Bunting – Thimble & Bobbin